More than 340 companies competed in ten categories in order to be spotted by the audience and then, being evaluated by our Jury. However, as long as we would love to reward them all, we can invite only 10# companies in each category.
And the audience has decided. Throughout December, the public voting took place on our website. More than 20.000 votes were casted, making it the highest vote count ever for the E-commerce Germany Awards.
Below, you'll find out:
what the verdict is
which companies qualified further
what the second round looks like
Companies selected for the II round of EGA 2022
Without further ado, let's check who qualified for the second round:
#1 Best Agency
#2 Best analytics / BI solutions
TGN Solutions International GmbH
Channable Feed Management & PPC Tool by Channable
beeRetail by Augimo Algoritmas
#3 Best Product Content Creation Tool
#4 Best Customer Communication Tool
#5 Best IT and Infrastructural Solution
Cookie Consent by OneTrust PreferenceChoice
#6 Best Innovation / New development in E-commerce
Omniconvert Reveal by Omniconvert
#7 Best Solution for International Expansion
#8 Best Logistics Solution
Spring Global Delivery Solutions
#9 Best Omnichannel Solution
#10 Best Payment Solution
payabl. powered by Powercash21
#11 Best Platform / Shop Software
#12 Best Sales Generating Tool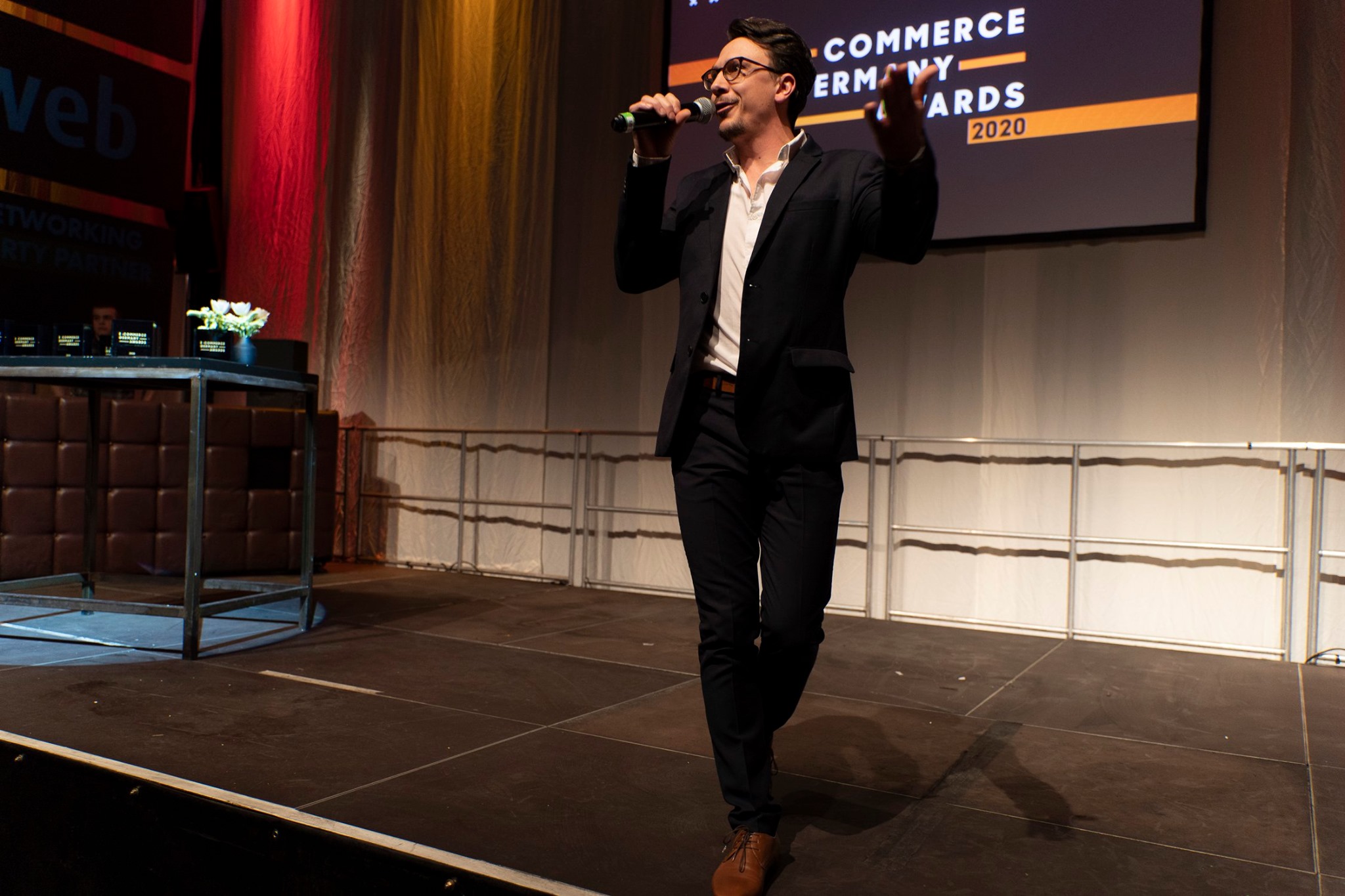 What now?
Now, it's all in our Jury's hands.
Jurors cast their votes using a special ballot handed out by the Organizer.
Our jury of respected members of the industry will rigorously evaluate the finalists and choose the winners who will receive the prestigious E-commerce Germany Awards 2022.
Who will be selecting winners? Check our Jury members:
Daniel Wishnia, Chief Digital Transformation Officer (CDTO)- Aroundtown S.A.
Ramon Pallaske, Program Manager EU – Web and Payments Audible
Lena Lüpping, Marketing Manager – BASF Coatings GmbH
Olga Spaet, E-Commerce lead – Daimler AG
Inés Fernández, Head of Research in the Brand department – Delivery Hero
Anna Zago, Omnichannel Market Coordinator – Esprit
Ole Schnieders, B2B Sales – Marketing – flaschenpost SE
Mia Marie, Antenor Cruz, eCommerce Channel Manager- GlaxoSmithKline Philippines, Inc.
Myriam Hollevoet, Specialist Order Management – HUGO BOSS AG
Michael Pietsch, Head of Fashion Platforms D-A-CH – Meta
Thomas Ficht, Head of Payment – MYTOYS Group
Saniye Laux, Global Head of E-Commerce – Porsche Design Group
Julia Laggner, Online Marketing Manager – Triple A Internetshops GmbH
Christina Wolff, Manager Sales & Campaigning – TUI.com
Marina Herranz, Head of Creative Operations Europe – Wayfair
Julia Santos, Online Marketing Manager –Mymuesli
Tino Hartmann, CEO – Baby Sweets GmbH
Sebastian Arendt, CEO – GartenHaus GmbH
Mihai Popescu, Head of Digital marketing Global E-Commerce – Esprit
Stephan Grad, Strategic Director – Overdose
Konstantin Guratzsch, Senior SEO Manager – Xing
Robert Schmidt, Head of B2C Commerce & Store Applications – Esprit
Fernando Angulo, Senior Market Research Manager – Semrush
René Ebert, Managing Director – SIBB
Oliver Prothmann, President – BVOH
Alexandra Pluymackers, Principal – Retail & Fashion – Infosys
Sanja Stojanovska, Product Manager – ratioform Verpackungen GmbH
Carolin Rode, Trading Planning and Campaign Manager – zooplus AG
Anne Powaska, Major Customer Executive – DHL Express GmbH
Floriane Gramlich, Director Product Zalando Payments – Zalando SE
For the purposes of determining the results of the Contest, the Organizer shall take into account both the points received by the Participants in the Internet User's voting and the Jury voting.
The award winners will be announced on the 4th of May 2022