The E-commerce Germany Awards are officially accepting submissions as of 1 November, 2018. Companies within the e-commerce sector are able to apply to one of the ten categories. The annual awards are given out for the second time in 2019.
E-commerce service providers are able to submit their company to one of the 10 categories in order to win the prestigious E-commerce Germany Award, presented by the E-commerce Berlin Expo. Companies are required to be active on the German market, and have impacted the German e-commerce community or greatly contributed with an innovation in the past year.
This year companies are able to apply to two new categories for the competition. See all categories:
Best Sales Generating Tool (from lead to the customer)

Best Customer Communication Tool

Best Solution for International Expansion

Best Logistics Solution

Best Platform / Shop Software

Best Payment Provider

Best analytics / BI solutions

The Best Agency

Best IT and Infrastructure Solution

Best Innovation in E-commerce
Participation in the E-commerce Germany Awards is free of charge for all companies. Following the submission period, companies are encouraged to collect votes by the public in order to elevate their company to the next level. In the final round of the competition the top 10 companies are being reviewed by a carefully selected jury who will eventually select the winners in each category.
Submissions to the E-commerce Germany Awards are accepted until 30 November 2018. Submit your company here:
www.ecommercegermanyawards.com/submission
To find out more about the E-commerce Germany Awards 2019 visit: ecommercegermanyawards.com.
Check out last year's winners: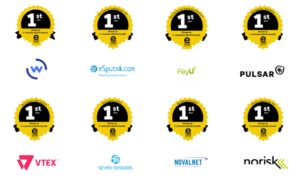 For further questions, reach out to PR-Manager, Charlene Pham at [email protected].
Find out more about the E-Commerce Berlin Expo 2019.
###
The E-Commerce Berlin Expo will be taking place for the fourth time on 20 February 2019 at Station Berlin. Doors will open at 10 AM and close at 6PM. The annual fair has become a leading e-commerce event in Berlin with representatives from Google, Otto Group and Alibaba Group as past participants. Learn more at: https://ecommerceberlin.com
###