You're familiar with the relationship between good health and regular exercise. We all know that exercising regularly is great for the body and mind. And yet, we do not give it the time, effort, and importance that it deserves.
Customer retention is like exercise. It's good for you. It's like a superfood for your business. But you probably don't pay it the right amount of attention. Let's change that, shall we?
What is customer retention? And why is it important?
Customer retention is simply a measure of how often your existing customers purchase from you again. It means that customers who bought from you once were happy enough with the purchase or the entire experience to purchase from you once more.
Did you know that acquiring a new customer costs 5 times as much as retaining an existing customer? Furthermore, Bain & Company found that increasing customer retention rates by 5% can increase profits for your business between 25% to 95%.
While most companies spend their time and resources acquiring new customers, market research has found that the probability of selling to an existing customer is 60 – 70%. Compare that to the probability of selling to a new prospect being just 5-20%.
What's more. Your existing customers are 50% more likely to try new products by your brand, and also spend 31% more when compared to new customers.
The point of these studies isn't to get lost in the numbers. But what they definitively prove is that customer retention is an extremely important factor in your online store's health, especially as competition gets tougher and the cost of acquiring new customers keeps climbing north.
To summarize, focusing on customer retention can lead to
Lower spend on customer acquisition
Increased profitability
Higher average order value (AOV)
How to Calculate Your Online Store's Retention Rate
Any metric can only be improved when you know what makes it important and how to calculate it. The first part's already covered.
In the case of calculating your store's retention rate, you need to look at a combination of metrics to get the full picture.
1. Repeat Purchase Rate (RPR)
The backbone of building a profitable business is knowing what percentage of your customers have purchased more than once from your store.
Smile.io in its case study found that while repeat customers only represent 8% of an online store's traffic, they represent 41% of the store's yearly revenue!
How to calculate the repeat purchase rate: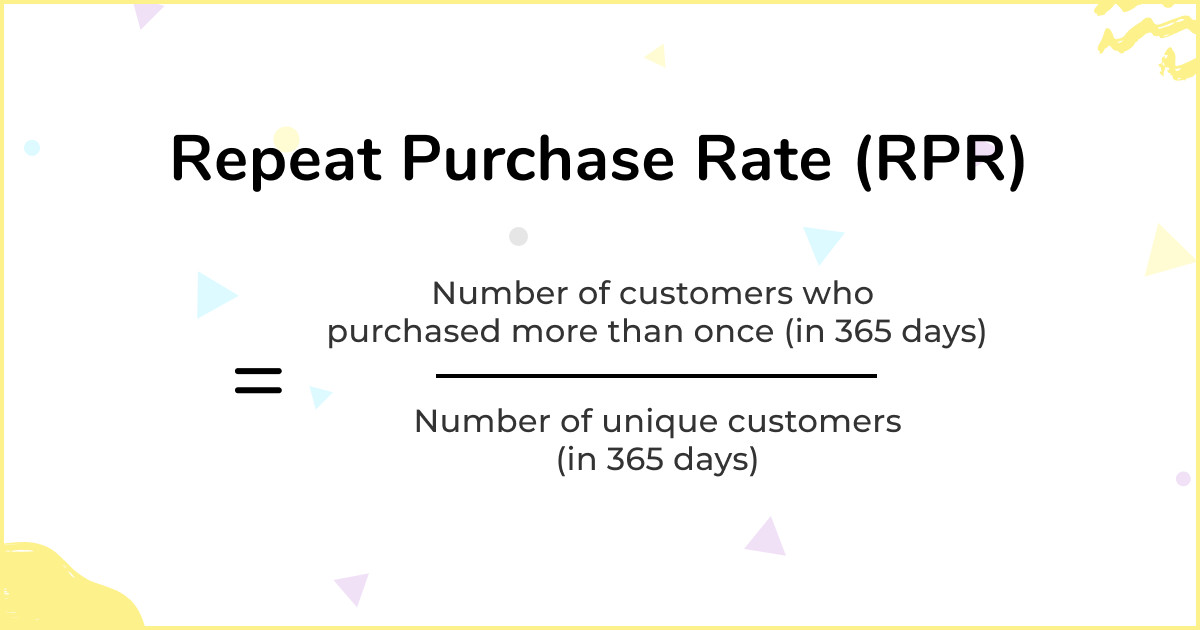 Take the count of customers who purchased more than once from your store in the past 365 days, and divide it by the total number of unique customers you had during the same period.
The time period doesn't necessarily have to be 365 days, it should be a long enough duration in which your customers might come back and purchase from you again.
2. Purchase Frequency (PF)
While repeat purchase rate tells you an overall picture of how many orders are coming from existing customers, purchase frequency adds an important dimension to the story. It informs you of how often customers are coming back to your store and purchasing from you again.
How to calculate the repeat purchase rate: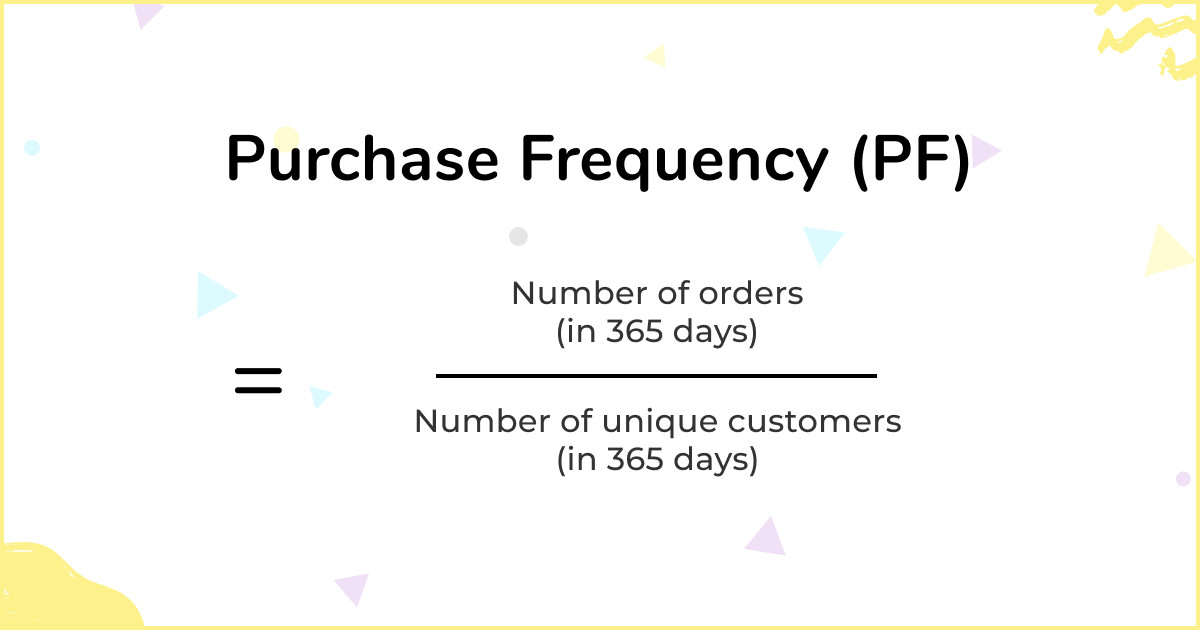 Take the count of orders in a time period (365 days is a good time frame), and divide it by the number of unique customers your store had during the same time period.
Taking a long enough time frame like 1 year will make the representation more accurate.
3. Average Order Value (AOV)
AOV is another crucial metric that informs you of how much an average customer spends when they buy from your online store.
A higher AOV has several implications, including allowing you to acquire customers more profitably. More importantly, it helps you make key business decisions like product pricing, shipping expenses, returns, and expenditure on marketing and advertisements.
How to calculate average order value: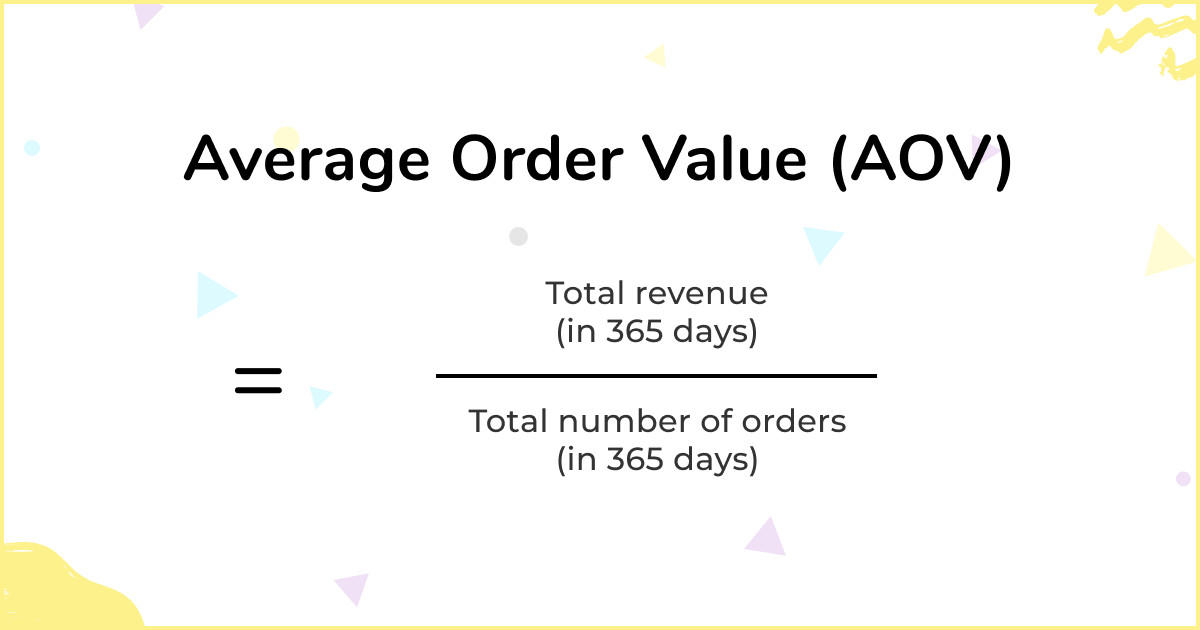 Calculating AOV is easy. Just take the total revenue from all orders, and divide it by the number of orders received during that time period.
4. Customer Lifetime Value (CLV)
The ultimate retention metric is Customer Lifetime Value. It informs you of how valuable each customer of your online store is.
CLV also informs you of how much customers value and love your brand, because higher CLV means customers are ready and willing to spend more with you.
How to calculate customer lifetime value: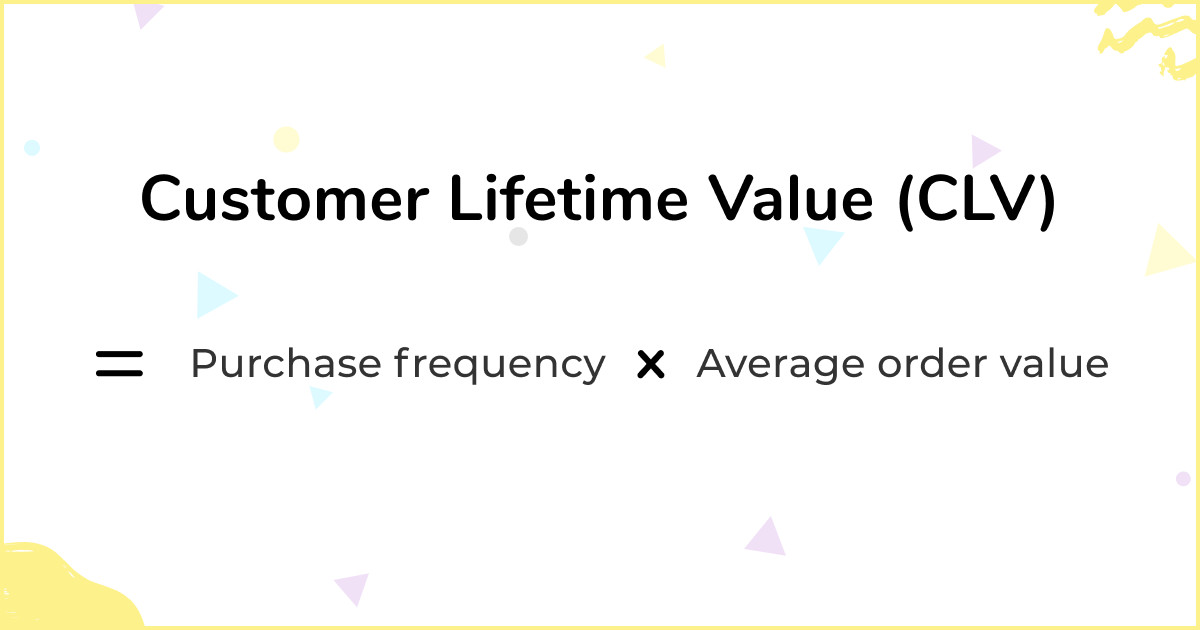 By meticulously tracking your store's CLV, it becomes easier for you as a store owner to maintain sight of and prioritize your customer retention strategies and not just be consumed with customer acquisition.
If your CLV increases over time, you know that your brand and online business are heading in the right direction.
Increase Customer Retention for Your Online Store with these 5 Strategies
1. Improve Your Customer Service
82% of consumers stop buying from a company due to bad customer service experiences. Furthermore, 33% of American customers consider switching to a different brand immediately following a poor customer service experience.
There are no two ways to look at it. Customer service for your online store is one of the most important factors that determine customer satisfaction and happiness. It strongly impacts a customer's decision to purchase from you again.
The good news is, it's not very difficult to deliver top-notch customer service. Here are a few things to keep in mind
Provide fast and friendly responses when customers ask for help or information.
Proactively inform and teach the customer about the products they purchase and the best ways they can derive value from them.
Be available in the right place and channels, such as social media, live chat, email, so that your customers find it easy to get in touch with you.
Consistently deliver good customer service, the first time and the Nth time a customer interacts with your brand.
It is possible to deliver delightful, friendly, and consistent customer service with the right mindset, team, and software. Support tools such as DelightChat that are tailored for ecommerce make it easy to deliver great customer service by bringing all your support channels and your team members under one screen.
2. Introduce a Loyalty Program
75% of consumers say they favor companies that offer rewards. The right way to craft an effective loyalty program is one where your customers feel like they are winning by spending with your brand.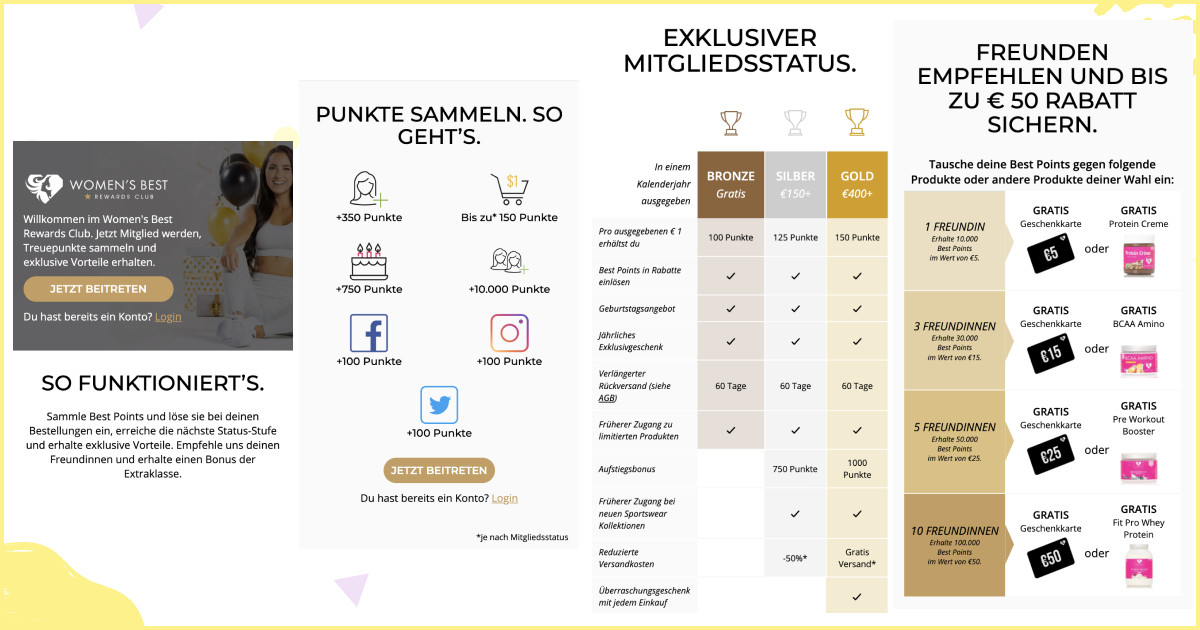 A few quick pointers on getting started with an effective loyalty program:
Reward customers from their first purchase, even before they have signed up. That way when they do sign up for your loyalty program, they have already accumulated their first points.
Reward customers for actions that are desirable to your brand, but also very easy for your customers to perform. Creating an account on your store, following your Instagram handle, posting a picture of their purchase, and using a #hashtag – these are low-effort ways for your customers to gain reward points and for them to build a tighter bond with your brand.
Set up tiered incentives that increase as a customer reaches higher tiers. For example, Women's Best gives free shipping to all GOLD members.
Give VIP treatment to your top-tier customers. These are your most loyal customers and therefore they deserve your lavish attention. Women's Best rewards their GOLD members with a 'Surprise gift with every purchase', which is not available in other reward tiers.
3. Have a Proactive Returns and Refund Program
77% of US consumers said they would buy again from a retailer that resends lost or damaged items quickly. 69% said getting refunds as soon as they return a package would make them a repeat customer.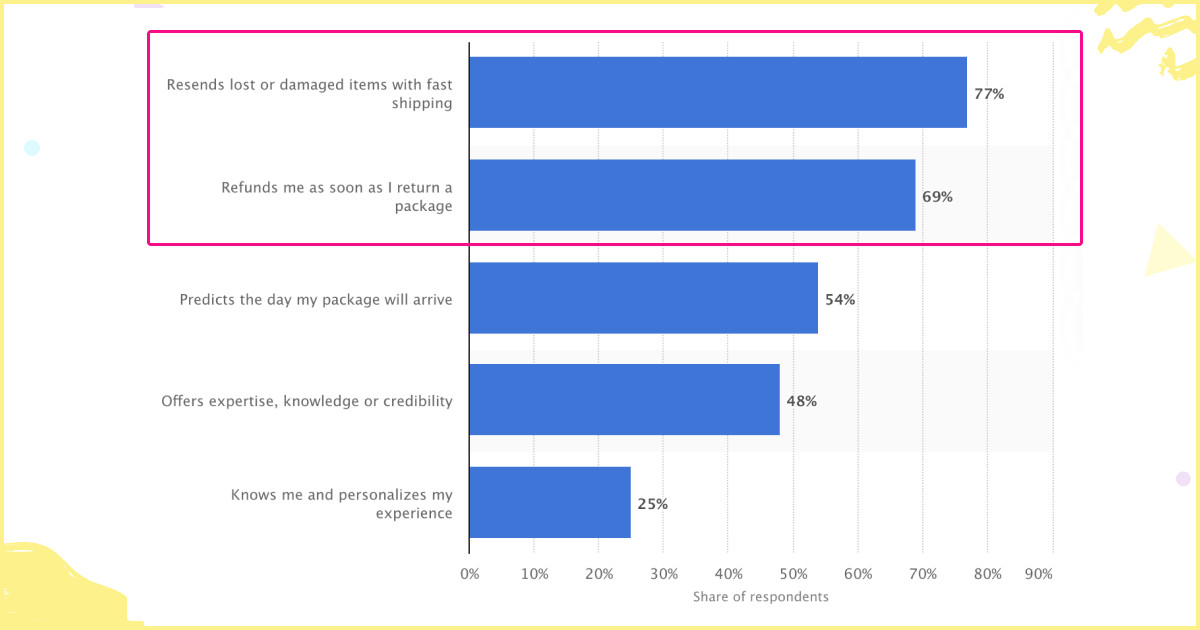 Before customers buy from a brand, they are plagued with thoughts such as "What if the product doesn't turn out the way I expected it to. Will they accept a return?".
While most consumers will be happy with their purchase and won't end up returning it, removing that worry from their minds would go a long way in cementing your position as a trustworthy brand in the minds of your customers.
4. Stand for and Highlight Your Brand Values
64% of consumers cited shared values as the primary reason for having a relationship with a brand.
It's human nature to want to associate oneself with others who share common values. Shared values build relationships, and this applies to the relationship between consumers and brands as well.
As we approach 2021, consumers care more than ever about what they support, what they stand for, and what they don't support. And therefore, it becomes increasingly important to identify what your brand stands for and to find the right ways to highlight your brand values so that it resonates with your audience.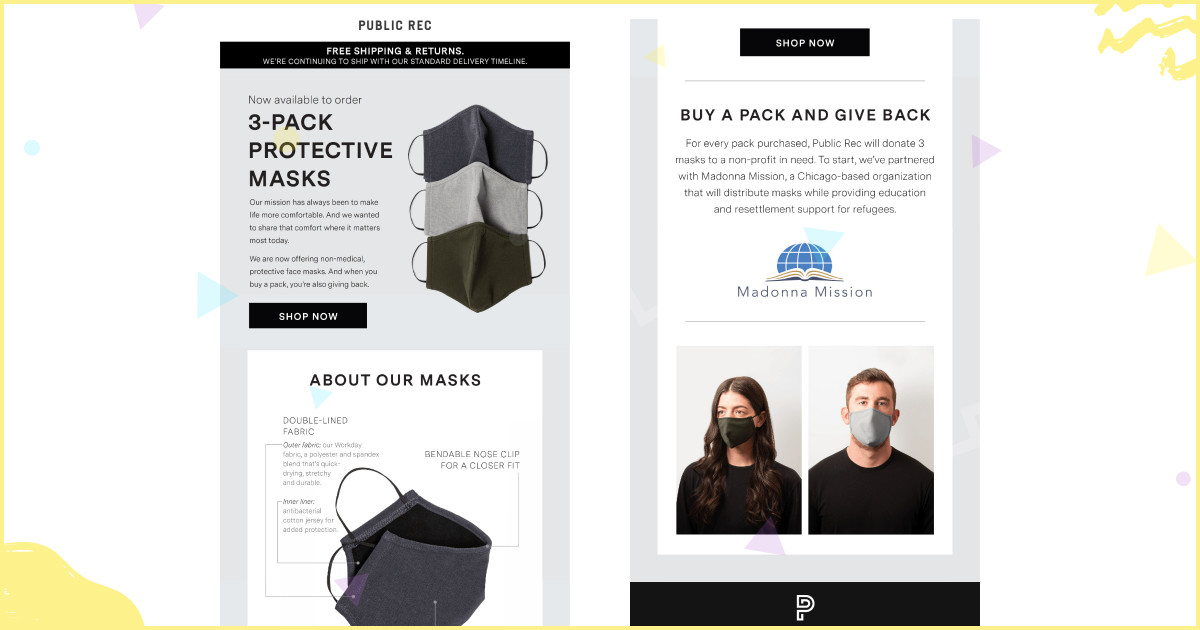 Here's a great example where Public Rec shows what they stand for by making their brand values part of their marketing emails.
5. Show that You Care and Appreciate Your Customers
Would people in your life continue being your friends if you didn't care about them? The answer is no. Then it won't be surprising to learn that 68% of customers stop buying from a company because they believe that the company doesn't care about them.
While the brand you create is a non-living entity, every single customer of your brand is a real, living, breathing human who has values, cares about things, and wants to feel accepted and appreciated by others. Your brand can build a special relationship by adopting and applying these values, not in isolation but across every touchpoint that your customers have with your brand and products.
Here are a few easy ways to show your customers that you care about them:
Send a personalized thank-you note to every customer who purchases from you. They just spent their money on your products. It's the least you can do to reciprocate and begin what could be a long and beautiful relationship.
Ask your customers for feedback on their purchase experience and about the product they purchased. Don't just send them a generic "Write a review" email using an out-of-the-box template provided by various apps. Create a flow and write copy that feels genuine and is honestly seeking feedback on how you can improve your product and experience. Customers can feel an honest attempt and they will appreciate it.
Share educational content that's specific to the products purchased by your customers. This could be how to best use the product and derive value from it. It could be entertaining content that shows funny and creative ways in which other customers are using your product. Use a task management software to allocate that work in your team. Such solutions help you save time by automating recurring tasks.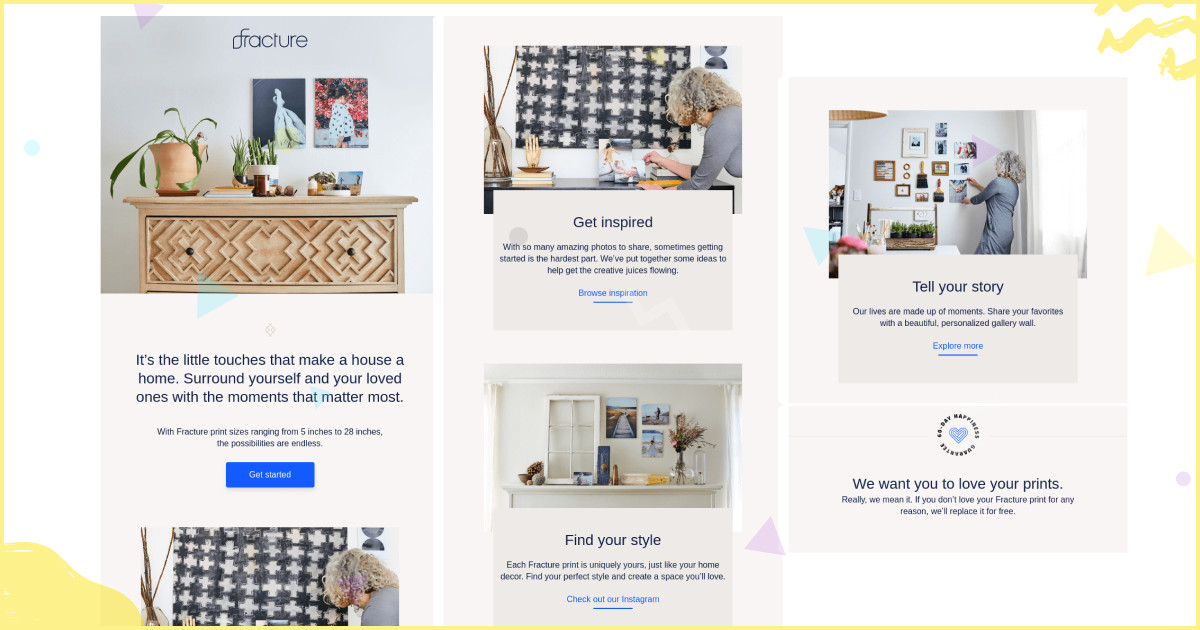 Here's how home decor and furniture brand Fracture shares educational content with their customers on how best to make their homes into beautiful living spaces.
Closing Notes
There was a lot to absorb in this post. So let's do a quick recap of everything you have learned:
Understanding customer retention and why it is important.
The most important metrics to track your online store's retention and how to calculate them.
5 data-backed strategies that can help you improve your online store's retention.
If you have yet to implement any of the strategies in this guide, I recommend that you first set up the metrics and track them correctly, followed by picking a customer retention strategy that's easiest for you to implement. Go from there and keep improving. You got this!