Customers who are shopping online should be well-informed about their orders. In fact, German customers are very demanding and preferred to be informed at every stage of the purchase. So it is retailers' responsibility to inform customers and make them feel secure about their purchases, especially in Germany.
There is still space for improvement. Communication ends after one email in case of 25% of companies. What can companies do to improve communication with customers? By starting cooperation with fulfilment centres. In that way, a lot of communication is resting on their shoulders. Many companies are also big fans of cooperation with logistics centres, but to start such collaboration you need to be sure that provider is legit.
What is the fulfilment centre?
Fulfilment centres make the work of e-commerce sellers a lot easier. It is their responsibility to store and ship all orders. These are companies that have a large warehouse and logistics base at their disposal. Thanks to the outsourcing of such company, sellers do not have to deal with shipping and the entire route of the order. Fulfilment centres do it for them.
What is logistics operator?
Logistics operators are companies that design and manage the supply chain of another company. They have everything under control. They rely on comprehensive supply chain planning systems to have everything under control and minimize the risk of fulfillment disruptions. One of the main responsibility of a logistics operators is to optimize the product acquisition' process. Such operators have to keep an eye on storage, transport and distribution to be effective for the company for which they work.
A list of the most popular fulfilment & logistics' centres in Germany
byrd is a fulfillment company focusing on order fulfillment in Europe. With 14+ warehouse locations, Germany is the stronghold of this fast-growing company. Products that are fulfilled range from supplements to cosmetics. Customers like Durex or Your Super trust this 3PL provider that also offers climate-neutral shipping.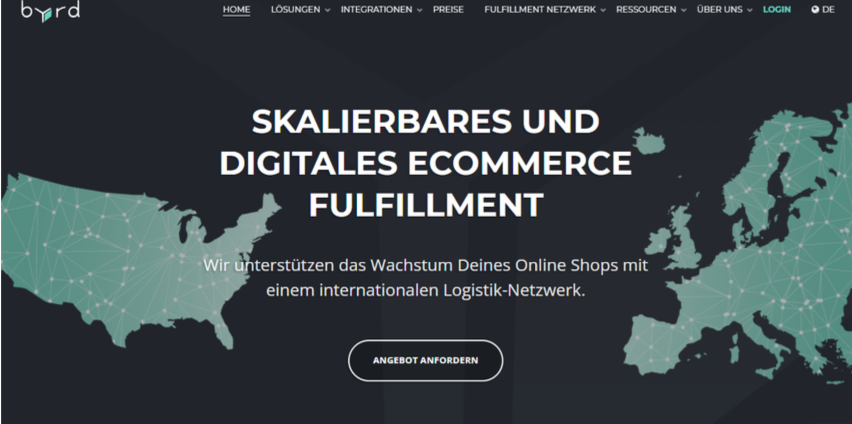 Sophisticated real-time-data-dashboard
Customized packaging solutions
B2B and B2C fulfillment
Self-service returns portal
European fulfillment network
Flexible shipping solutions
This fulfilment centre offers complete logistics services. It includes the delivery of products to warehouses, their storage, PO / SO management and delivery to final customers, regardless of whether it is a B2B or B2C market.
A big pro about DB Shenker is that it promises to help with such aspects as re-packing,
strategizing distribution facilities, merging in transit, co-packing and many more.
If you are using Amazon as a selling channel, you probably have heard that it has its own warehouses around many countries. Fulfilment by Amazon is one of the most popular options. The main factor is the popularity of Amazon. In this case, the seller does not have to worry about anything related to logistics. Amazon takes care of everything and does it at a high level of quality.
There are also some extra services provided by Amazon. Here are some examples.
World-class customer service available 24/7
Faster processing and delivery
Established and user-friendly returns policy
Warehouses that are climate-controlled
Discounted shipping rates
It is the first logistics company on this list, DHL is a division of Deutsche Post DHL, which operates on the international market. DHL provides logistics services employing nearly 400,000 people worldwide. DHL's services are available in 220 countries for both land, sea and airmail. There is DHL Global Forwarding and DHL Supply Chain which cover different aspects of logistics.
The range of DHL's services is wide. Here you can read some examples:

Labelling and Packaging
Picking and Packing
Live customer care management
Domestic and International Shipping
Customs Management
It is a global fulfilment centre boasting locations close to key trading points around the world. Thanks to this it ensures fast service to customers all over the world. The services of this company will work best for e-commerce companies that are looking for a global solution and for those whose sales volume is quite large.
Ingram Micro provides such services as:
Voice and light picking systems
Integration with Shipwire
Customised solutions and warehouse management systems
Reverse logistics
Order management platform
PORTICA is a leading fulfilment provider on the German market, providing logistics, IT, financial management and customer service. We serve customers from a wide range of industries. Our focus is on the efficient handling of processes, taking into account customer-specific requirements.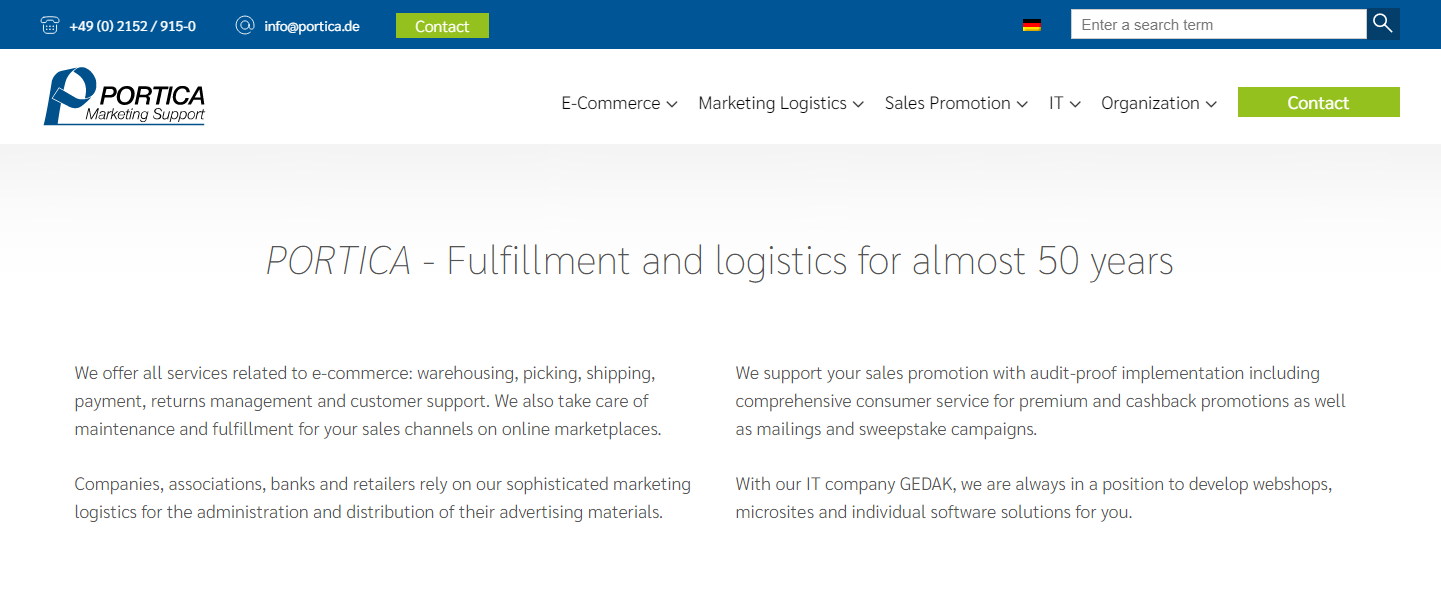 PORTICA offers comprehensive services for E-Commerce companies:
Development and Maintenance of Shopware or Oxid Webshops
Fulfillment including returns management
Customer Service
Supporting our clients marketplace activities such as Amazon
Debtor management
Dachser is a logistics company that deals with transport and storage. Thanks to the developed network, it operates on a large scale. By introducing IT solution, it is able to provide a reliable logistics service for years.
You have some of its services listed below:
Bulk shipping
Customs Management
Domestic and International Shipping
Freight Shipping
It is a good choice for companies looking for 3PL providers or for such providers looking for WMS (Warehouse Management Solution). Shiphero works as a fulfilment centre globally so no matter where your company is placed, your customers' orders are in good hands. And there is no minimum order requirement. 
There are many services in Shiphero's offer. Here you have some highlights:
Multi-channel inventory management
Order management
Batch picking
Creating billing rules
Comprehensive WMS/OMS
Customizable fulfillment options for clients
Amazon FBA
Shipwire is a cloud-based platform. It provides some kind of security and ease of access to data. Shipwire is not strictly a fulfilment or a logistics centre. It helps you choose the best options, e.g. a courier company from many available on the logistics market. It operates on the domestic and global market, both B2B and B2C.
Below you can find some examples from Shipwire's (big) offer:
Same-day order processing
Optimization of return shipping
Ground and expedited delivery
Import guides
Third-party accounts
Custom packing lists, invoices and labels
Relabel and repack services
Optimized and automated operations
Advanced data management
Hellmann is a logistics firm that provides services such as: air, sea and road freight, contract logistics, customs brokerage and e-commerce. Their warehouses are located in the northern part of Germany.
Hellmann's offer includes for example:
Labelling and Packaging
Domestic and International Shipping
B2B fulfilment
B2C fulfilment
Gifting
Havi is a 3PL company that operates globally. Its warehouses are located in Western Germany. Havi mainly deals with Food and Beverage products. It offers: procurement, warehousing, distribution, freight management, and information technology services.
Other services you can use are:
Labelling and Packaging
Bulk shipping
Freight Shipping
Picking and Packing
As Lufapak claims it provides "tailor-made solutions for efficient warehousing and reliable logistics with worldwide shipping." Their services consist of warehousing, e-commerce fulfilment, distribution, and special service. Their large warehouse is located at Neuwied near Frankfurt am Main but Lufpak expands its supply chain in Germany and Great Britain.
Here you have some examples of Lufpak special services:
Reloading / decanting
Customer service
JIT delivery
Stock consolidation
Empties management
Label creation
Supply chain management
WemoveBW is a 3PL company. Their warehouse is located in Baden-Württemberg. The offer includes relocation management, relocation services, overseas moving and many more. Private, public, and non-profit organizations only from the Home Furnishing industry can cooperate with WemoveBW.
It also provides such services as:
Picking and Packing
Live customer care management
Domestic and International Shipping
Assembly
Reverse Logistics
B2C and B2B Fulfilment
Honold is a logistics and transport company that offers over 750,000 m² of warehouse space located in Bavaria. Honold has an extensive network of connections to all countries in Europe.
It provides services such as:
Domestic and International Shipping
Freight Shipping
Bulk Shipping
Hermes is one of the largest logistics networks operating in Germany. Belongs to the Otto group. It also operates in the UK market. Hermes deals with the delivery of packages to customers. On their website, anyone who has received the shipment details can track it, find a parcel shop and create a parcel label.
It is a seaport and logistics company. BLG Logistics headquarters in Bremen. It has over 100 location around the world which provide feast and effective delivery. They offer various types of logistics services and also supply chain management.

It is a holding company based in Meinz. It is also active at UK and around the Europe. You can choose rail transport or even CO2-free transport which is quite good for our planet. If your company works internationally, don't worry. DB cargo works internationally too!
Contargo is internationally active logistics provider. It provides transport between the seaports and the European lands. Contargo was established in 2004 and since then it has strengthened European logistics. The company has four terminals, four inland shipping lines and several rail lines.
Time matters is a logistics company which provide shipping by air, rail and road. So you can be sure that the delivery will be fast. As their name says – time matters for them! It works in sectors such as Automotive, Life and Health, MedTech and many more.

UPS is a well-known global courier company. It has three big centres in German and many locations across the whole country. It served 56 countries and areas in Europe. So for international company it is a save choice!
DPD is company that works worldwide. There is a tracking panel, voice assistant and chatbot available on their website. So you don't have to worry about customer experience. They are taking care of all customers
To sum up
As you can see, the list of fulfilment centres and logistics operators is quite long. But at the after proper research the final choice should be easy. We hope that we have prepared a list of providers serving the German market that will be useful for you. Fingers crossed for your right choice of logistics/fulfilment provider!