If you're planning on attending the E-commerce Berlin Expo in 2023, it is time to get ready for an epic experience.
It promises to be one of the biggest industry events, with a huge range of opportunities around every corner. To make sure you are well prepared, here's a guide that helps you to make the most out of the fair and guarantee an enjoyable experience.
Check our practical advice (gathered all over the years of experience we have!) on how to get ready for what looks like will be more than just an expo—it will be a unique event that celebrates e-commerce in all its forms and functions.
#1 But first, check the location
To make the most of your E-commerce Berlin Expo 2023 experience, you should become familiar with the venue and location. STATION Berlin is a huge and modern exhibition space that is located in Berlin. This area is also well connected to public transport (S-Bahn and U-Bahn lines), and several hotels are in its vicinity. And this year, we're open until 6pm!
Do some research and book a hotel close to the venue if you're coming from outside Berlin so that you can make it on time to all the events.
#2 Don't forget to print your ticket
Sure, the E-commerce Berlin Expo is free, but you need to show your free ticket! The good news is that nothing is lost in translation here; all you have to do is register on the official website and voila, a ticket will come straight to your inbox before the event.
With a few clicks and only one print-out required, it's easy and quick to do. Make sure to print it out, as that acts as your badge at the door.
Showing your ticket on mobile devices won't be accepted – so don't take the chance and make sure you have that physical copy. Print it now and get ready to go enjoy!
#3 Use the cloakroom on site
Have you ever tried to enjoy an event and ended up carrying your coat or backpack around all day? Not cool, right? But at the E-commerce Berlin Expo, we've got it covered – just drop off your stuff at the checkroom for safe keeping. Keep your hands free and make the most of every moment – this is an opportunity you don't want to miss.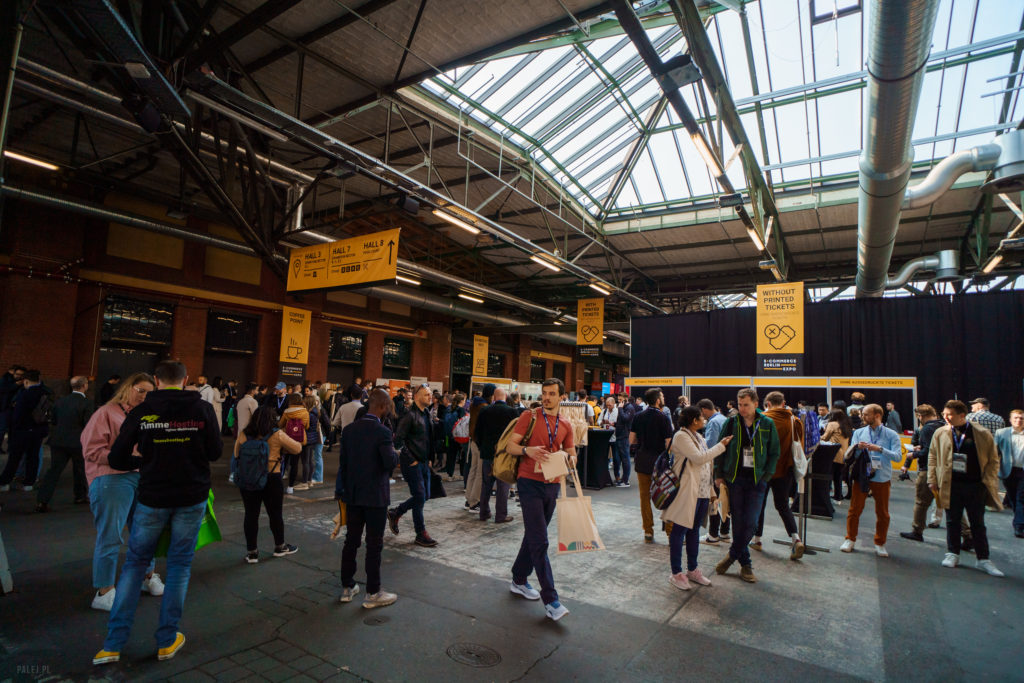 #4 Enjoy your coffee or food break
With a choice of food and beverage points in strategic places around the halls, you can literally take a break right where you are. What's more, we provide options for our vegan and vegetarian patrons: we got y'all covered! We even have special fridges full of beer to provide in between all that hard work.
Don't forget to bring some cash as there might be some occasions when credit cards won't do.
#5 Delve into networking
The E-commerce Berlin Expo is an exciting opportunity for the modern entrepreneur to really make some moves. Jump into our Networking Zone powered by Checkout.com and enjoy as you survey the venue for potential new contacts and friends.
Business cards are like escape pods for making connections – one exchange and you've got a reference for an invitation or introduction later down the line. It's almost like having a personal assistant and never knowing who might require their services – so show up prepared!
There are many cases of collaboration that went back to the Expo and continue to this day!
#6 Discover Masterclass
Our event is constantly striving for improvement and this year, we have introduced Masterclasses as a fresh format to provide a more hands-on learning experience for our attendees. As part of the free registration process, you will receive a unique chance to learn and gain access to expert insights from notable brands such as Sendinblue, Custobar, Mondu, and many others. At these masterclasses, you can acquire knowledge and skills across an array of topics from multichannel marketing to e-commerce logistics and growth strategies. This is truly a one-of-a-kind opportunity to stay ahead of the competition! So don't miss out – register today for what promises to be an incredibly enriching experience!
#7 Check our Agenda and set up yours
With dozens of sessions at the E-commerce Berlin Expo, it can be tricky to know where to start. Don't worry, though, as you still have quite some time for preparations!
Before the event, take a look at the agenda and make sure you plan which sessions you want to attend. This will help you navigate the havoc and ensure that you don't miss the best sessions for your own benefit.
Plus, with a plan in mind, you can also be sure to leave plenty of time open for networking – as that is just as important! Make sure to check what else your friends are attending so that you can coordinate meeting points.
Nothing can quite compare to being present at an event and experiencing it in real-time. The sounds, sights, and energy of a live gathering are powerful and can stay with you long after the event has ended. Coming to this special event will allow you access to exclusive footage from the stage that can't be seen anywhere else. Get ready for a unique experience that you won't soon forget!
#8 Don't miss the start
At the E-commerce Berlin Expo, you'll want to beat the queues and get your hands on some goodies as soon as possible. That way, you can be one of the first through the door when it opens at 10:00.
No need to rush though – with until 5 pm when the Expo closes, you'll have plenty of time to explore all that's on offer. On arrival, our friendly staff will greet you; they'll be ready to answer questions and ensure that you receive your free lanyard and cotton bag.
And, again, show your printed ticket! Come along early and make sure that your day runs smoothly.
#9 Follow us on social media for more news
It comes without saying that the E-commerce Berlin Expo is a great opportunity for entrepreneurs to share their experiences and explore new horizons. That's why we've made sure to stay connected with all of you out there.
Follow us on our social media channels and get ready for more updates about what's coming up at the Expo, as well as plenty of info about the industry.
You are all set
With our top tips, you'll be more than ready for making the most of your days at the E-commerce Berlin Expo. So don't hesitate any longer and make sure to book your tickets now – this is an opportunity that is not worth missing out on. We're waiting for you!