Imagine the following scenario: You buy in one stationary store, you have paid and then the seller disappears behind a wall with your bag without a word – and you don't have one. Knowing what is happening and when you handed over the goods to get. A total failure in terms of customer service! But exactly that happens every day in Germany's largest online shops.
Here come 11 highlights from the study of strengths and potentials in the field of e-commerce: checkout, shipping and returns of the 100 largest German online shops. The study was conducted by parcelLab.
#1: communication
The number of retailers who accompany customers themselves after clicking the checkout button has risen from 20 to 32. At the same time, the number of dealers who did not say anything at all after ordering decreased from eleven to nine.
#2: multi-carrier strategy
51 retailers rely on a multi-carrier strategy. The customer can choose the logistician at 19, with 10 passing on the costs.
The last study already showed: which logistics service provider received the package delivers is not determined by the customer, but by the online retailer. This development has worsened compared to the 2018 study. Only 19 of the 100 largest online shops let customers choose between different choose carriers.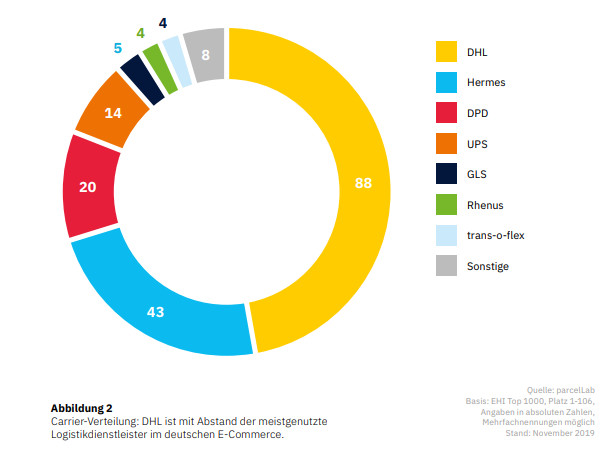 However, this point becomes immensely important at the latest, if the logistician door-to-door delivery is only available for an additional fee and collection in the parcel shop becomes a standard service. Under these conditions, customers must be able to choose which type of delivery you want to use. And the dealers should now have in mind that they are technical and for this scenario must be equipped with process technology.
#3: points of contact
Only 18 of the top shops send a message when the parcel carrier has delivered the delivery. 82 shops do without this point of contact with customers.
An analysis of the communication shows: the situation is improving. Dealer now place more value on service-oriented customer communication – but still give away a lot of potential. So send it 91 of the 100 largest retailers have tracking links for parcel tracking their customers, but only 30 of them link back to their own shop. The rest relies on the logistics service provider to handle the adequately informed customers. The frequency has also improved in the retailer about relevant events in the shipping process (shipment of goods, delivery delay, successful delivery, receipt of the return, Reimbursement of payment etc.).
#4: tracking links
91 of the top German retailers integrate a tracking link into theirs shipping notification. But only 30 of them guide customers back to their own shop.
Overall, it can be seen that a third of online retailers are their customers accompanied during shipping and increased communication through the dealer itself takes place. So there is a possibility that the dealer can decide for himself when to give which information to the customer want to send. With over a third of the dealers however no communication took place. So there is still room for improvement.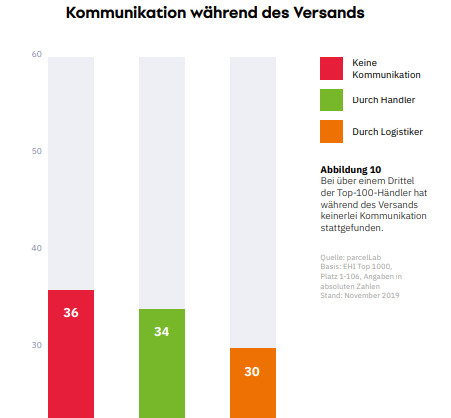 #5: sustainability
Exactly 50 retailers do not take any sustainability precautions. After all, 29 did not use plastic as filling material and nine retailers used DHL GoGreen as their logistics provider.
#6: reviews
66 of the top shops do not ask their customers for reviews. Only 24 dealers motivate to use rating platforms, another nine dealers ask for reviews at product level in the shop and one dealer even for both.
#7: delivery options
Alternative delivery options decrease: Packstations and Click & Collect are becoming less relevant. Online shoppers also have less freedom of choice when it comes to delivery options. While alternatives to door-to-door delivery are being worked on everywhere,
more than a fifth of the top retailers only offer this to their customers.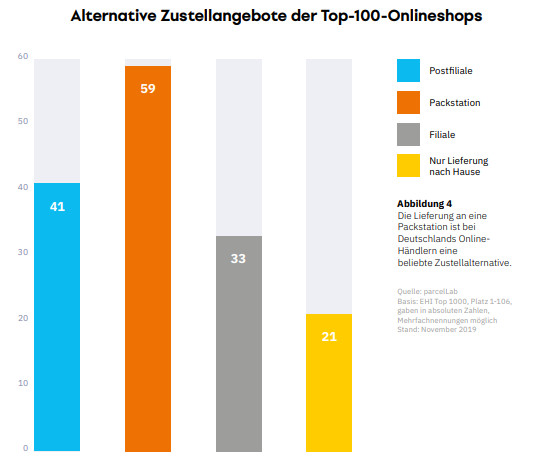 #8: return policy
How about returns?
The flood of returns in online retail that is hotly discussed in the media
According to the study, there has not yet been a reaction with fee increases. 93 dealers continue to allow their customers to return free of charge. Higher there are hurdles for this in returns processing. So do 60 of the top 100 retailers insist on adding return labels to their packages. Instead, customers have to actively organize what is on Measured by market standard, it does not correspond to a good CX.
#9: delivery
Expected delivery: good things take time
Another surprising finding from the study is that traders then it comes to logistics, it is more likely to hit the brakes than the accelerator. Of the share of top shops in Germany that their customers use express or delivering on the same day has dropped significantly. So offered 2018 40 of the top shops offer express delivery, now there are only 25. With same-day delivery, the rate even fell from eleven to three.
Customers no longer have to go as deep for preferential delivery reach into your pocket. The surcharges for express delivery fell in Year-on-year comparison from an average of 10.20 to 9.63 euros. When specifying the delivery time, senders tend to rely on vague information as binding dates. Almost a third of the top shops do not name any specific delivery date, the rest gives an average delivery time from 3.26 working days. But who doesn't know when the package will be delivered is not at home when the delivery man rings the doorbell.
Accordingly, it is not surprising that the deliverers complain that first delivery attempts fail so often. Only four of the top 100 companies inform about the delivery status by phone. Facebook and SMS will be not offered as communication channels at all.
#10: loyalty programs
Loyalty programs attract with free shipping
A closer look at the numbers shows: who has a loyalty program often lures its customers with logistics services. Of the 34 retailers who work with such customer loyalty strategies
Ten promise free shipping, ten advertise discounts and 14 let your existing customers collect points and, for example, against Redeem vouchers.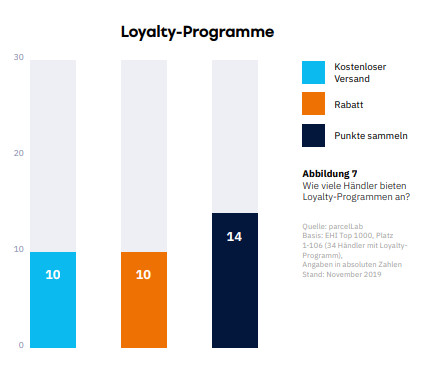 #11: packaging
In addition, the majority of shops use classic shipping boxes and not branded ones.
Packages in your own design. In doing so, dealers could stand out from the competition – and that Improve the customer experience at reception. However, dealers report that the coveted brands in their assortment have, again and again, that their packages are stolen. Thus neutral packaging is often also a safety precaution. However, our survey also shows that the dealers in the package give away the chance of a nice aha experience for the customer. Only 16 of the largest shops embellish their consignments with individual supplements, a personal greeting or a nice packaging inside.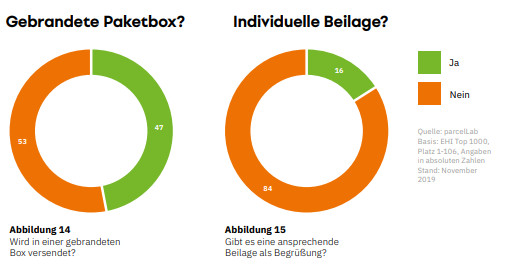 Extra: frequent mistakes
The delivery process does not always go as expected. In the implementation of the "E-Commerce Shipping Study 2020" are a few mistakes particularly highlighted.
Small product, massive packaging! Unfortunately, this is still far too common the case (50 percent of dealers).
A dealer has debited the amount twice.
Paying for the return – even as low as 5 euros. The amount was deducted directly from the value of the goods.
A trader has expressly requested a positive review.
Three traders sent the goods in the product packaging, without additional cardboard packaging.
Check the full report here: https://parcellab.com/versandstudie-2020/