Virtual photography up to 6 times cheaper than traditional photography
The global average price of photography for five-product photoshoots is $11,076
3D virtual photography can deliver the same number and quality of visuals for just $2,000
New research released by CGTrader ARsenal shows that 3D virtual photography – also known as 3D rendering – is now the most cost-effective means of creating a substantial product image bank for retail businesses. The global average price of $11,076 for five furniture product  photography is now on average six times the market rate for the same number of images shot with 3D photography.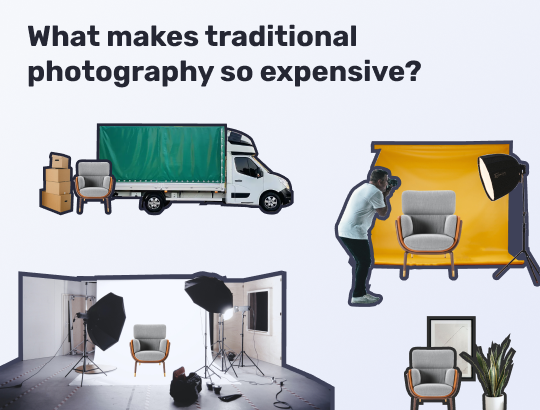 The knock-on effect of the COVID-19 pandemic on the global supply chains, namely the cost of shipping and transportation, in the last eighteen months has magnified the cost of traditional photoshoots, putting even more pressure on retail margins.
Although prices vary internationally – New York is the most expensive place to conduct a photoshoot averaging $17,952, while in Montreal, the price drops right down to just $6,178 – even the lowest photoshoot price can't compete with the $2,000 price tag of 3D virtual photography for the same end result.
CGTrader ARsenal conducted this research by gathering data from more than 100 photo studios and photographers, in 17 cities across 11 countries, from Belgium to Australia, the UK to the USA. Requesting quotes for imagery of five key furniture products – a table, armchair, sofa, vase, and floor lamp – with five product shots with a white background and one lifestyle scene required for each item, amounting to 30 visuals in total. These figures were then compared against the price of producing an identical set of images via virtual photography.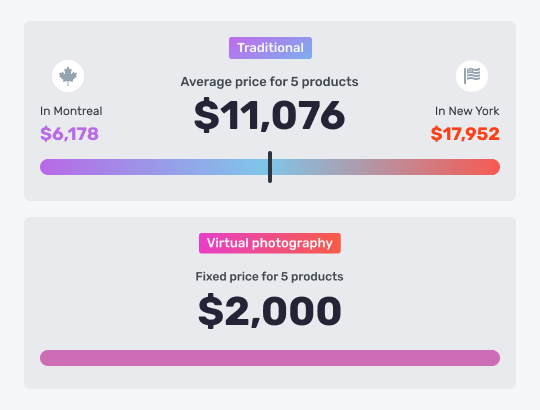 | | | |
| --- | --- | --- |
| City | Average per photoshoot US$ | X times difference* |
| New York | $17,952 | 9x |
| LA | $15,322 | 8x |
| Copenhagen | $15,023 | 8x |
| Toronto | $13,676 | 7x |
| Calgary | $13,004 | 7x |
| London | $11,525 | 6x |
| Antwerp | $10,933 | 5x |
| Sydney | $10,805 | 5x |
| Paris | $10,703 | 5x |
| Wellington | $10,427 | 5x |
| Ottawa | $10,060 | 5x |
| Madrid | $9,076 | 5x |
| Milan | $8,800 | 4x |
| Washington | $8,525 | 4x |
| Brussels | $8,319 | 4x |
| Berlin | $7,965 | 4x |
| Montreal | $6,178 | 3x |
*compared to 3D virtual photography
See a more detailed interactive price map.
KEY FINDINGS THAT EXPLAIN WHY VIRTUAL PHOTOGRAPHY IS CHEAPER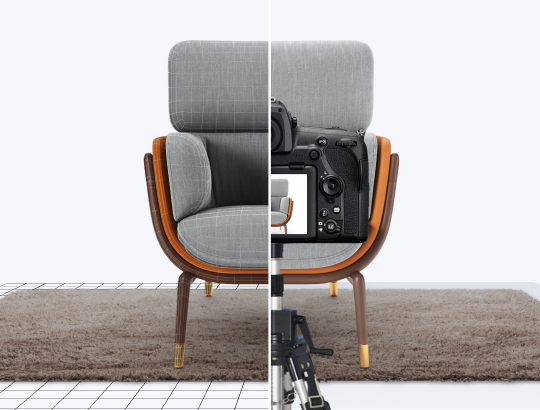 Although some cities were able to offer more modest price points, no traditional photography studio was able to match the price of 3D virtual photography. And the reason for this came down to four key factors:
A traditional photography shoot requires more resources. Beyond the photographer and studio, which only account for 40% of costs, you have stylists, lighting, and props to account for. With virtual photography, the only costs are for the digital artist creating the imagery. 
Photography also requires the transportation of goods. And this can prove surprisingly expensive, especially when large items – such as furniture – are involved. Digital artists do not need to have physical samples of the goods they're working with to produce accurate 3D renders, just a couple of reference images. In fact, they can get to work even before the products are manufactured, helping retailers accelerate their time-to-market.
The total cost of traditional photography largely depends on the studio's location. Prices for studio rent, equipment and talent differ from country to country, whereas with virtual photography prices are fixed – and can therefore allow for better budget planning as well as bring more savings in the long-term.
Traditional photographs cannot be changed post-shoot. Each photoshoot delivers a limited number of product visuals that can hardly be altered after the shoot is over. Businesses have no choice but to keep investing in product photoshoots to generate visuals, especially when they have multiple variations of products. The investment in virtual photography, on the other hand, is quickly rewarded, as companies can easily update colors, textures and materials within 3D models to create new visuals at a fraction of the cost. Created once, 3D models can be reused forever.
WHY 3D PRODUCT VISUALIZATION IS THE NATURAL SUCCESSOR TO PHOTOGRAPHY 
Customer behaviour has been completely changed by the effects of the COVID-19 pandemic, with shoppers pivoting towards online retail for all of their purchases – including furniture. Speaking about these shifts, Dalia Lasaite, CEO and Co-Founder at CGTrader explains:
'Good quality images and interactive shopping experiences are increasingly important for online businesses. With most customers expecting to view at least eight images of a product before making a purchase, it can be difficult and expensive for brands to deliver the experience shoppers require while balancing the cost-effectiveness of product photography.
Because 3D product photography can be conducted by a single artist, without the need for physical products to be on-site, production fees will always be lower. That's before you've factored in the ability to digitally change integral features of products – color, angle, setting – without the complete reshoot that traditional photography would require. What's more, the same 3D models can be used for creating WebAR experiences for eCommerce – which, all in all, offers significant savings.
'Traditional photography – in person shoots with a set and a photographer – is something people know and understand, but as the technology and AI evolves and more digital artists come on board, 3D product visualization is the natural successor to traditional photography and looks set to hold the future of imagery for online retailers.'
About CGTrader
CGTrader is the world's leading provider of 3D content. More than 370,000 customers globally, including more than 150 Fortune 500 enterprises, trust CGTrader to source and manage three-dimensional content. The company unites a community of over 3.9M professional 3D designers and powers CGTrader ARsenal, the end-to-end 3D & AR product visualization platform for eCommerce.