E-commerce marketing and sales strategies traditionally rely on inbound traffic. Sometimes this can feel like a frustrating waiting game. First, you generate traffic and then hope these website visitors will make a purchase.
But it doesn't have to be that way. To increase your e-commerce conversion rate, you need to engage with your website visitors while they are on your website. Here are four strategies to activate your website visitors and drive extra revenue to your B2B webshop.
1. Identify your target audience
This first strategy is an oldie but a classic. Make sure you know exactly which audience most likely generates revenue for your business. If you're targeting everyone, your message will reach no one. And in fact, using a clear persona can lift sales leads by 124%.
Start by diving deep into your existing clients and creating an ideal customer profile. Analyse data from your CMS and CRM systems to identify promising customer segments. It can help to use a lead generation tool to learn even more about your target audience. Identify and classify your website visitors and determine which ones are most likely to purchase. Use information like the company name, location, size, sales volume, and visited pages to construct your target audience further.
Based on your ideal customer profile, develop a couple of in-depth buyer personas that represent your ideal target audience. Go beyond simple demographical information. Instead, aim to understand what challenges these people face, the workplace anxieties that keep them up at night and the goals they are working towards. Armed with this knowledge, you can develop stronger campaigns and on-page content that connects with your target audience—making it impossible for them not to buy from you.
2. Create highly targeted content
Targeted content is created for a niche audience to drive a specific response from that particular group. This type of content not only attracts the right users in search engines and other platforms but also keeps your website visitors engaged once they reach your site. Especially for B2B-webshops, usually with a narrow distribution market, this is crucial. Ensuring you're using your time, budget or resources effectively on people interested in buying from you.
Once you know your target audience's pain points and challenges, use that information to develop content ideas and straightforward calls to action that appeal specifically to them. This will prompt them to take action, like completing a purchase or subscription. Use a variety of content formats – such as blogs, landing pages, videos, infographics or FAQS – that appeal to different preferences to keep visitors interested and engaged.
Highly targeted content will increase the time spent on your website, improve your engagement rate, build trust, and encourage website visitors to convert.
3. Use personalised lead gen forms
Targeted content will help you drive the right target audience to your website and keep it engaged with your site. However, some website visitors will read your content, love it and then click away from your webshop without taking action. Of course, this is something you want to avoid. Including lead gen forms is an excellent method to prompt website visitors to take action and boost your conversion rate.
Most webshops use pop-up and embedded forms to stimulate website visitors to subscribe to their newsletter. But lead forms offer far more potential than just newsletter sign-ups. The key is to provide valuable content in return for your visitor's contact information. For example, people seeking more information on a particular matter find out which product or service best suits their needs via a quiz or request a personalised quote or access to a helpful piece of content. In return, you obtain insight into your most popular pages and offers that resonate with your target audience. Meaning you can optimise marketing strategies.
As a bonus, you'll also receive a list of qualified leads, which you can use in your outbound strategy. Proactively reaching out to these leads will drive even more sales for your webshop.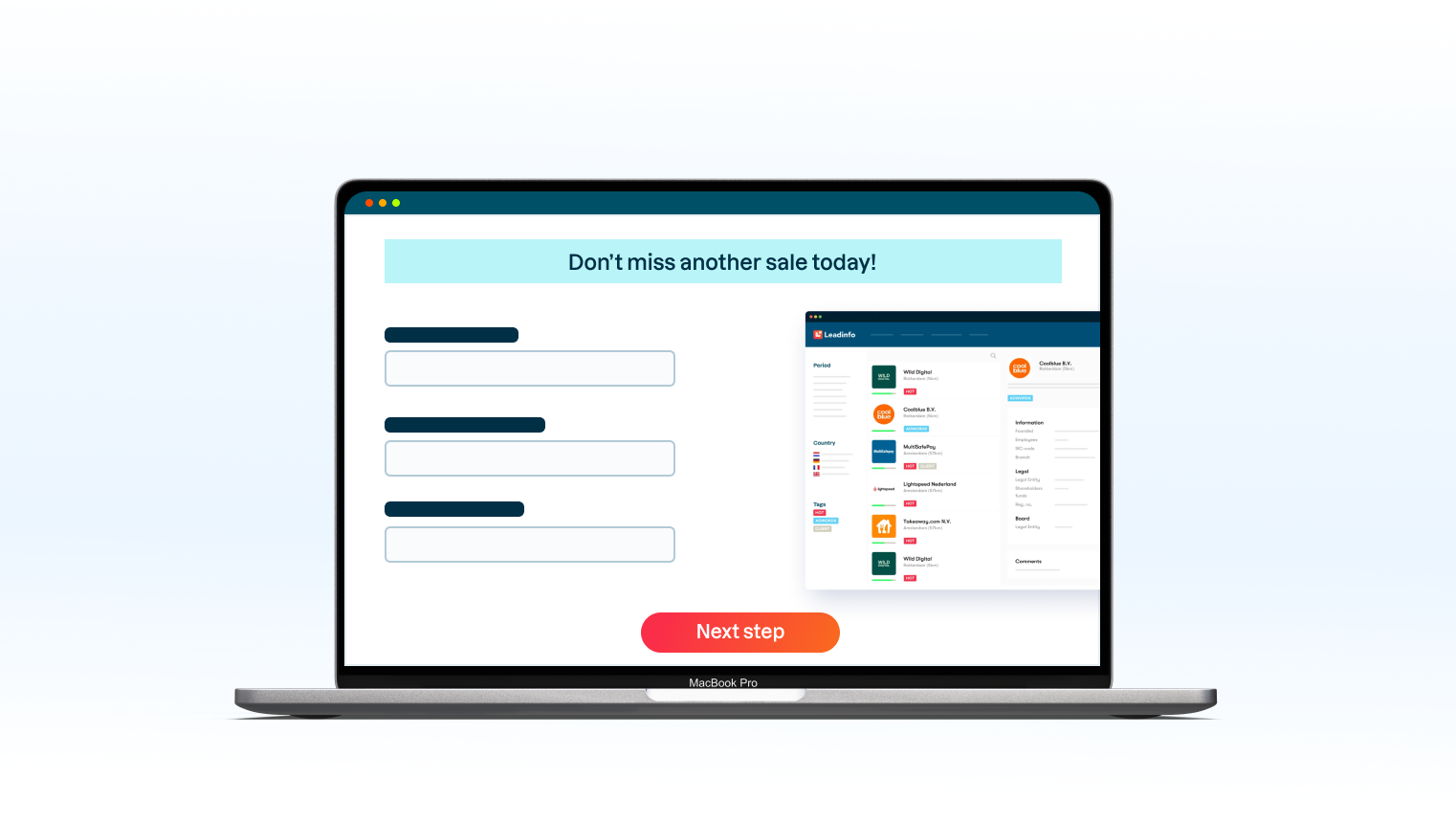 If you already use lead gen forms on your website, take your efforts to the next level by hyper-personalising your lead gen forms. For instance, if you know a company's name or location, you can personalise your greeting and the language of the form. If a website visitor is a return customer, the form could already be partially filled in with their data. You can combine lead data with past customer information to give people personalised recommendations.
Hyper-personalisation decreases the chance of the website visitor leaving your webshop without a trace. And it increases engagement and the likelihood of conversions.
4. Analyse the behaviour of your website visitors
Data is your best friend. Why? Because it allows you to know if your efforts are paying off. Data enables you to observe which strategies are successful and which are not. There are different metrics and performance indicators to analyse the health of your e-commerce platform. The most popular ones are conversion rate, time spent on page and bounce rate. Analysing this data empowers you to understand how user's found your webshop, which pages they prefer and what content drives the most sales.
With heatmaps or screen recordings, you can take your analysis even further and zoom in on the visitors' behaviour on a user level. By analysing your website visitors' behaviour, you understand exactly how users interact with your website and where they may encounter issues or obstacles. This enables you to optimise your webshop and solve usability problems in a highly targeted way.
Remember, good user experience contributes to engagement, time spent on page and conversion rates. Users who enjoy browsing your webshop are more likely to explore more pages and return in the future. On the other hand, a poor user experience will lead to frustration, difficulty navigating the site, and, ultimately, a lost customer. Therefore, continuously optimising and resolving usability issues is critical in engaging your website visitors and driving more conversions.
Increase your conversion rate today
Identifying your target audience, tailoring your messaging and content to them, including lead gen forms and analysing your customer data for new insights will help you engage your website visitors and ultimately boost your webshop's conversion rate. If you understand your target audience better, you can attract the right audience and keep them engaged longer. Personalised lead gen forms quickly encourage your visitors to take action, and by analysing their behaviour, you can uncover weak points and continuously improve.

There are several tools available that can help you identify your website visitors. A good CRM is critical when determining your ideal customer profile, and heatmap tools help you analyse the behaviour of your website visitors on a user level. With the lead gen software Leadinfo you can do all this and more. Identify B2B website visitors in real-time, observe their browsing behaviour and implement targeted lead gen forms across your website.
You can meet the authors during the E-commerce Berlin Expo 2023: