The first touchpoint in the delivery of goods to recipients is your packaging, which represents your company and your brand from the very first moment. The customer also associates the quality of the contents with it. In addition to product protection and advertising effectiveness, the right e-commerce packaging also gives you the opportunity to provide your customers with an unforgettable unboxing experience. After all, rarely is a customer more receptive to brand messages than in the emotional moment when they joyfully receive their goods. An eye-catching design, an individual design, first-class print quality, sustainable materials or a personal address all make a lasting impression on the recipient. Use e-commerce packaging for sustainable customer loyalty and enthusiasm as well as focused branding.
 Sales growth e-commerce
The potential of e-commerce is almost immeasurable in Germany, too, and the market continues to grow enormously. Every day, the interests of all Internet users are growing and demand is correspondingly higher. The classics among the product categories are electronics & media, fashion, toys, hobby & DIY, furniture & household, food & drugstore items. In the furniture and household goods segment alone, there has been an increase in sales of over 60% from 2017 to 2022. Food and drugstore items saw a similarly rapid increase, with an uptick of nearly 55%. A potential that speaks for itself in numbers.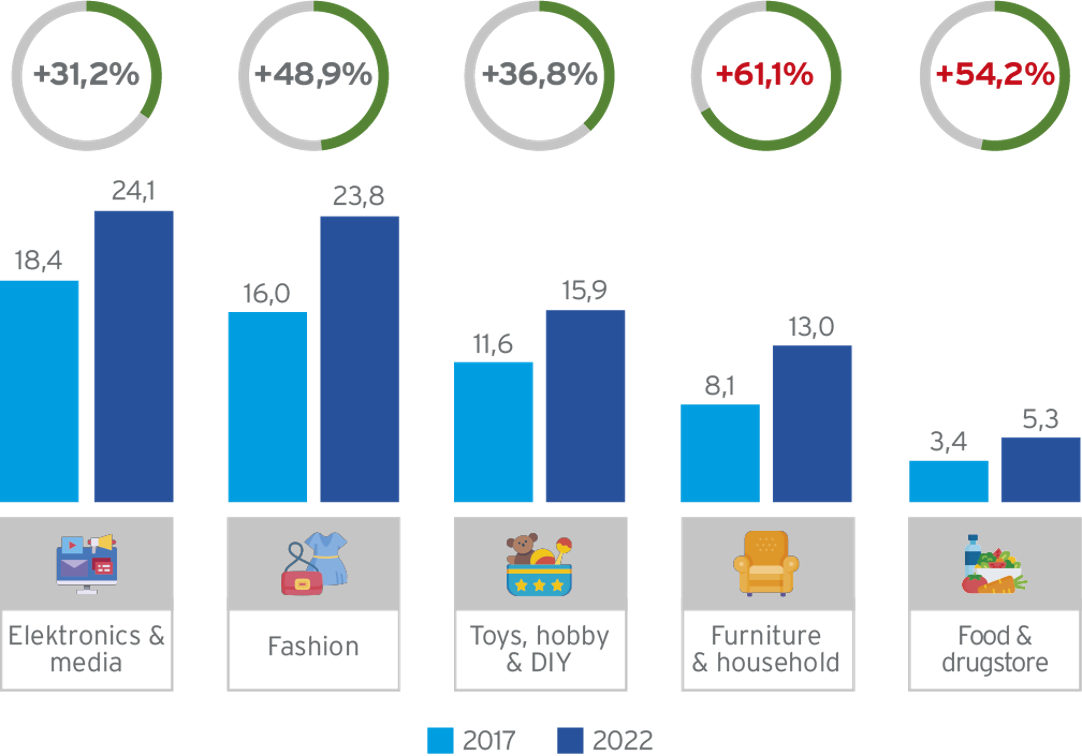 Securely sealing packaging in the e-commerce sector
There is a lot of potential in a market with such considerable growth. It is therefore all the more important that the ordered goods arrive with the packaging intact and, above all, securely closed at the end customer. To ensure this, THIMM offers various secure closure options made of corrugated board. The packaging with security closure guarantees a secure initial opening and protects against plagiarism or tampering. Since the closure is visibly destroyed when the packaging is opened, the end customer can immediately see whether unauthorized third parties have gained access to the product.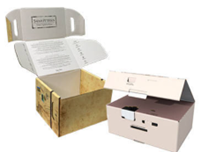 E-Commerce packaging with product fixation
With integrated fixation in e-commerce packaging, you can ship products safely and securely. Such innovative fixing functions made of corrugated board adapt flexibly and securely to your products. Due to their design, they can be used variably for different product sizes and product shapes. This increases the material efficiency and volume utilization of your e-commerce packaging, which in turn leads to cost savings for you.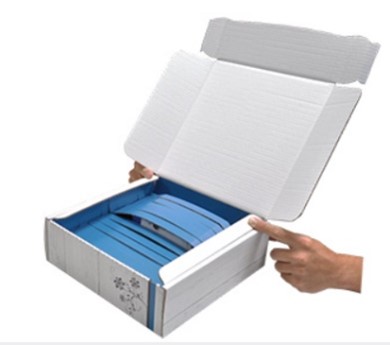 The network moves and connects
In our everyday lives, one minute may not seem like a very long time. However, when we look at the Internet, the number of activities is so enormous that it can only be summed up in vast numbers. In one minute, around 52,080 people network on Teams alone, and almost 41.6 million messages are sent on the short message service WhatsApp. However, the revenue figures generated within 60 seconds are particularly impressive: it's actually $1,000,000, and rising. The figures suggest the influence and impact of digitization and the potential it holds for online retail.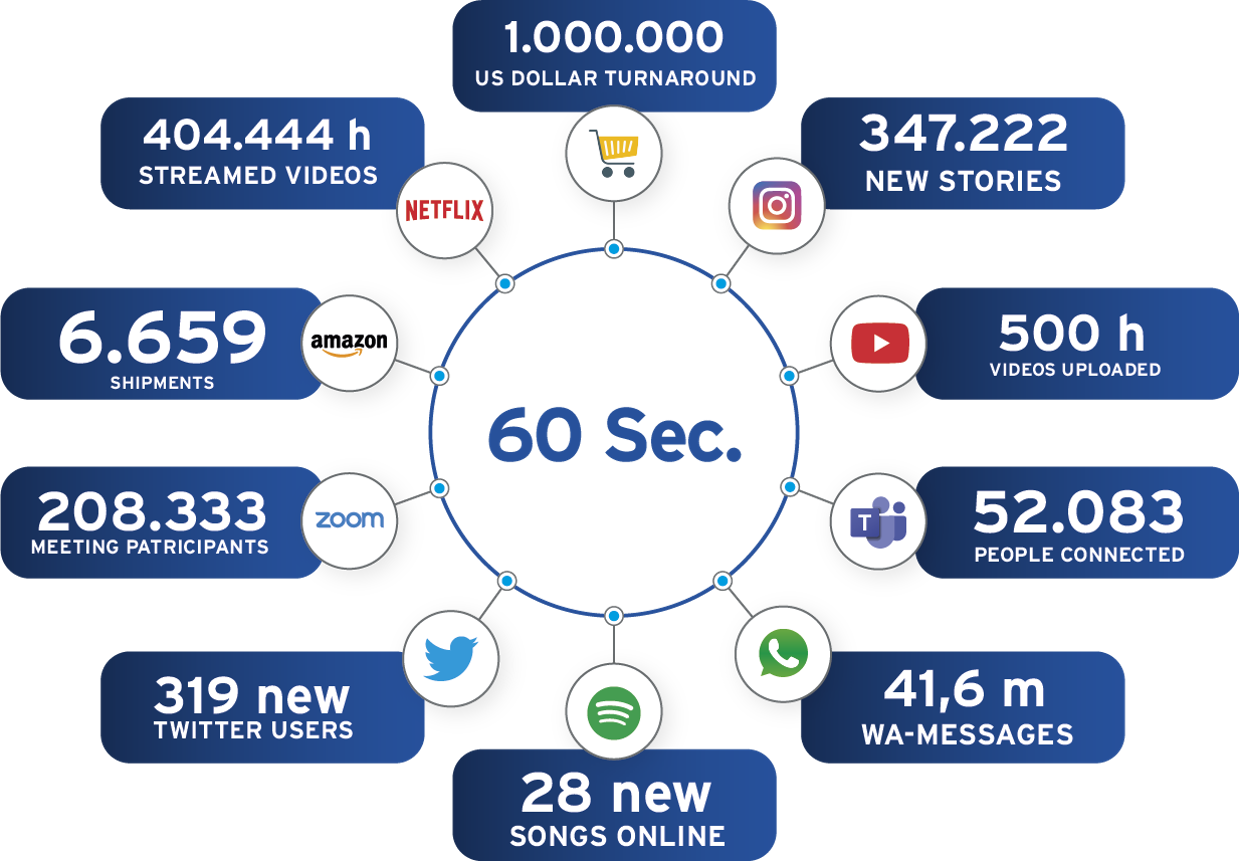 E-commerce packaging with added value
Packaging in e-commerce offers excellent opportunities to provide added value to the recipient: a packaging construction combined with an innovative design can be directly used multiple times. Common examples of such multiple uses of an e-commerce packaging are return packaging or gift packaging. Another use, for example packaging as a shelf or as a toy, can also be created by clever packaging designs and used for advertising messages, brand loyalty measures, competitions and promotions, and much more.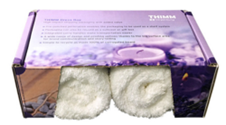 Digitally printed e-commerce packaging
E-commerce packaging is a key part of brand communication. They are part of brand staging, they support brand loyalty and they pay into brand loyalty. This makes e-commerce packaging a powerful communication channel to the recipient. With an appealing packaging design in first-class print quality, the packaging transports your brand and increases the value of your products.
Using e-commerce packaging for food as an information medium
The topic of "traceability" also plays an important role in e-commerce for food products. With the latest digital printing technology, invisible codes can be integrated into the print image of the e-commerce packaging for this purpose. These provide a lot of information and offer many advantages:
Traceability to production, processing and distribution stages
Identification of sources of malfunctions in the process chain
Quick and easy availability of information: Who is the supplier or recipient? What quantity does a package contain? What is contained in a package?
Systematic recording and sustainable documentation
In the event of recall actions, foodstuffs can be identified more quickly and measures can be implemented in a more targeted manner
Complete traceability ensures transparency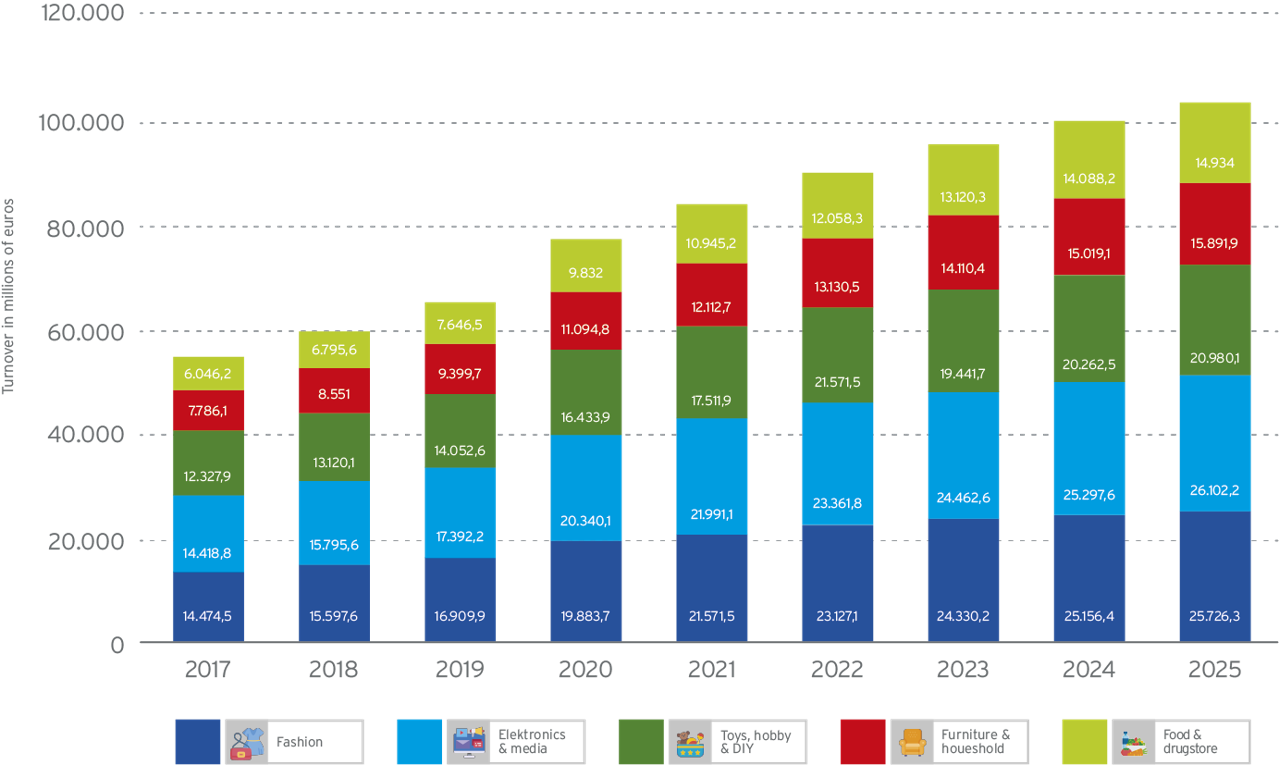 Best prospects for a wide range of e-commerce segments
In 2023, it's still "set sail for e-commerce" and full steam ahead for online marketing and digital sales. Shoppers continue to value a wide variety of products and buy their consumer goods consciously and, in the best case, sustainably. As diverse as the products of e-commerce are, so are the options for an optimal packaging solution for all the segments of online retailing.
You can meet the authors during the E-commerce Berlin Expo 2023:
Sources: Statista, Venture Capitalist