If you want to know a simple method to increase your average order value and boost sales, you must use upselling in your store. In this article, we are going to share some proven upselling strategies to implement for revenue boosting.
Upselling is one of the top methods to increase sales on your ecommerce store. It does not require any extensive efforts to get extra revenue for your online business. On average, upselling is 20 times more profitable compared to cross-selling.
For example, let us say you make a profit of $1 on every upsell you make. Without upselling, if you are selling 1000 products in a month and generate $1000 business. Then, after adding upselling to your strategy, you could make an extra $1000 every month, which equals $12000 extra profit in a year. So, to avoid losing such a massive chunk of money, it is essential to make upselling a part of your online selling strategy.
In the past century, many social psychologists and behavioural scientists have gained lots of knowledge over the art of selling. As a result, businesses use various selling techniques like cross-selling, bundling, upselling and many more.
Many big stores and brands learned the upselling techniques in their brick and mortar stores and replicated them into their online stores. If you have ever noticed, you can see how the big stores like amazon use a range of upselling strategies on their stores.
Many small businesses don't use the upselling on their store, thinking that it might be a bit complicated or feels pushy. But if you know the right upselling strategies, your customers are more than happy to spend a few more bucks to get the best value.
What is eCommerce upselling?
Ecommerce upselling is a marketing strategy of convincing customers to spend more than they intend to by providing them various add ons and upgrades that add value to the initial purchase. It is a win-win situation for both, as it is more profitable for a company and adds extra value to the customers. 
Upselling vs cross-selling
Upselling and cross-selling are the two effective ways to increase revenue for your online store. In upselling strategy, companies recommend the customer choose the advanced version of the product they intend to buy, as it offers added value to the customers. Though it might sound unethical, in reality, it is not because the companies are offering a better product in exchange for a higher price.
For example: if someone tries to buy a phone, you can offer them the better or upgraded version of the same model at a slightly higher price.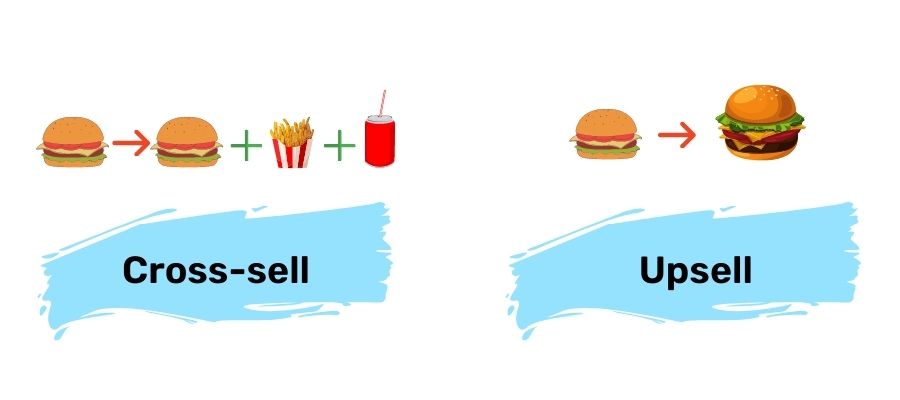 Cross-selling is a strategy of promoting related products to the customers. For example, if a person buys a phone, companies offer cover cases, power banks, etc. In short, cross-selling means providing related products from the same category, whereas upselling means providing a higher version of the product for a bit extra price.
Best upselling techniques to increase revenue
Here are the best upselling tips and tricks you can follow to increase sales on your ecommerce store.
Make upselling is an easy process.
Increase your upsell value by making it easy for the customers to add the upsell products to the cart while making the initial product purchase. For example, if a customer wants to buy a laptop on your ecom store, show them the higher configuration options and pricing. With a single click, customers can easily upgrade their configuration and check out.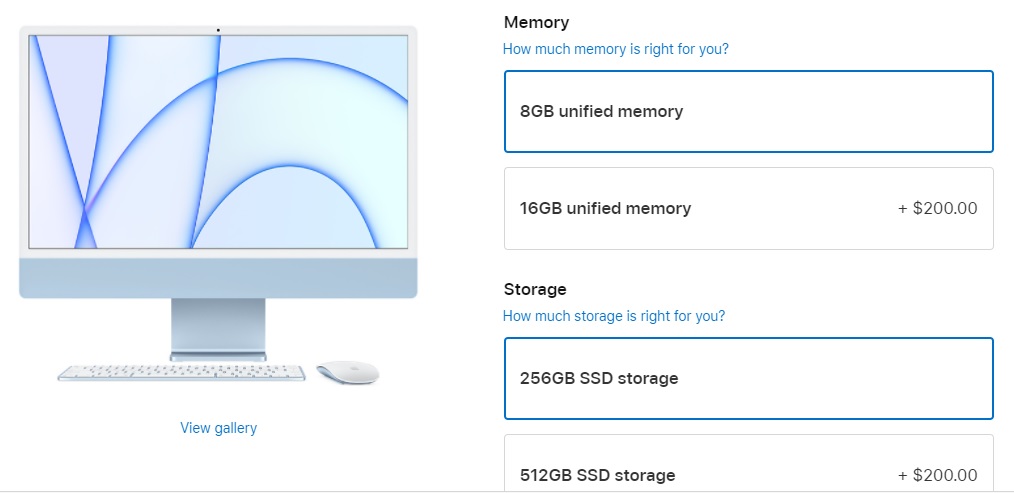 In short, the process should be straightforward for the customer to choose your upsell. If you increase the number of steps for upselling a product, then the chances of conversion will be low. Also, be transparent with the information on the upsell you are providing. It helps the customer make a quick decision.
Limit on maximum price margin
Maintaining a maximum price margin for upselling products is very important to attract more customers. For instance, if a customer plans to buy a product worth $500, it isn't beneficial to offer a $1000 product in upselling. Ideally, the item you will upsell should not be more than $250 (50% of the initial product price).
If you maintain a higher price margin than the initial product, then the chances of conversion will drop. Instead of just focusing on maximizing sales, your focus should be to sell relevant products to the customers.
Also, don't use the highest priced product for upsell every time and maintain the relevancy of the product in your offering.
Show recommended products as upsell
Adding recommendation options is one of the practical and proven ways to upsell a product. Adding relevant recommendations at the end of the product page or the side of the product will allow the customers to add more products to the cart and checkout.
For example, if a female shopper plans to buy a dress, you can show recommendations of other similar dresses selling in your store. It will help the shopper to choose other products as well. However, make sure that you are not too pushy in upselling the product to the customer.
Offer bundled products
Instead of upselling individual products, the best way to upsell is by offering strategic bundles to your customers. Plugins like "Bold Bundles" come in handy if you have a Shopify store.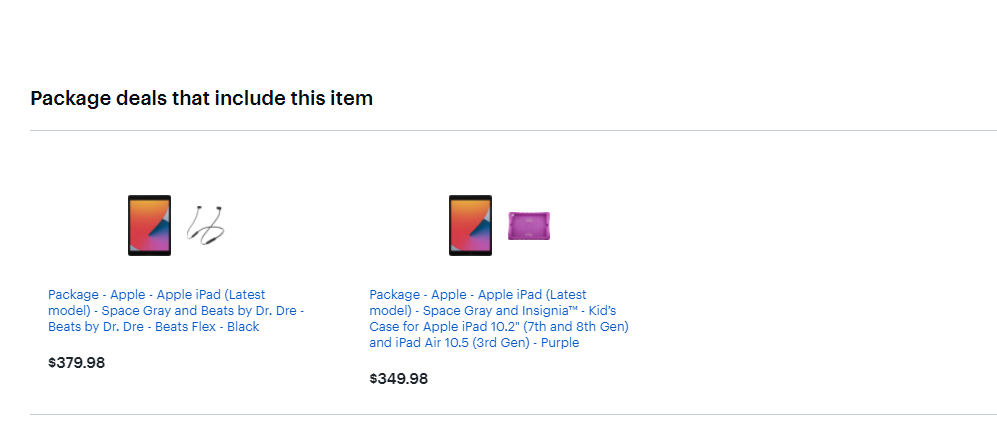 For example, if you are planning to sell a tablet, you can upsell the customer a bundle of a tablet, pencil, and detachable keyboard together at an affordable price. As the customer is getting a better deal, he will surely make a sale.
If you do not offer strategic bundles to the customers, bundled products do not sell well.
Offer multiple choices
Upselling a single product does not show significant results. You must offer multiple choices to the customers to pick the upsell they want. A mix of upselling and cross-sell works pretty well in adding more revenue to your business.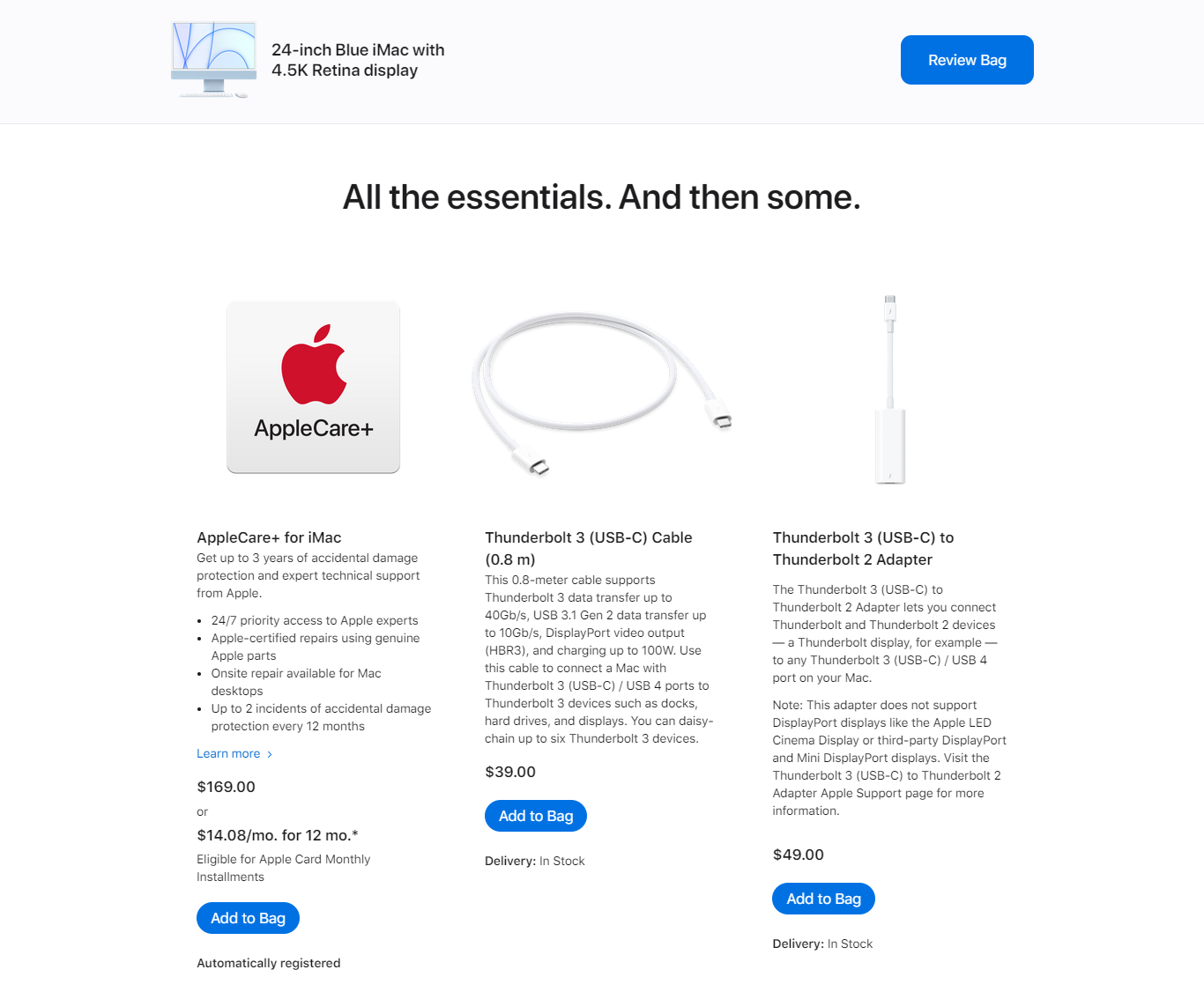 For example, you can upsell an upgraded version of the product on the landing page and cross-sell other products on the checkout page. It will help customers to add more products to their cart and check out. Instead of searching the entire store, it makes it easier for the customer to select from the options on the checkout page.
Moreover, never try to repeat the same offer and products again and again to the customers. It makes them feel bored and pushy.
Show social proof
Social proof acts as a validation for the customers before they make a purchase. Before making an upsell, it is essential to show social proof of that product. Companies like Amazon follow this process of upselling. Amazon also offers recently viewed products by other customers, which can interest your current visitor.

You can also use the influencers to show their photos and videos using the product on your product pages. It will bring more confidence in your customers to make purchase decisions.
Free shipping with upsell
As per research, 43% of online shoppers research a lot about shipping rates before purchasing in the store. So, to make the best use of it, you can add a minimum value of the cart for the customers to get qualified for free shipping. It will bring in more upsells and make the customers get convinced to reach the threshold.
If possible, add a reminder to your online store that shows the customer minimum cart value to avail free shipping.
Implement the rule of three
Most marketers talk about the "rule of three". What does it mean? Rule of three means providing three pricing options to your customers. Because people like the patterns and are more likely to respond when they have few options.
If you offer three pricing options to your customers, it means you are providing three upselling opportunities.
To make this work, try to create three different packages for your customers and describe the value they will get in each of these packages. You will surely notice a significant upside in sales with this technique.
Use the decoy effect.
The decoy effect is an old school marketing strategy used to make the customers switch from one product to another. For instance, if you have a product priced at $300 and comes with four attachments and another product priced at $600 for eight attachments. However, if the customer is unsure which one is the best bet to buy, you can introduce a product priced at $400 with six attachments.
Now, the chances of a customer buying the $400 product are very high, as he is getting more value at just $100 extra price.
In short, if the customer has so many options, they find it challenging to make a purchase decision. So, to avoid such confusion, customers usually go by either quantity or pricing. It is called the decoy effect.
The critical point is to place the decoy at a price that makes one of your offers looks more valuable and attractive.
Wrap up!
Now that you know the advanced upselling techniques try to implement these techniques in your store to see positive results. You will see that your customers are opting for more purchases, bringing more money for you.
Author Bio
Ranjit is a PPC advertising expert and blogger at Appstale who helps ecommerce stores to increase their sales and optimize conversion rates.