Have you ever wanted to be part of a special mission, whose sole purpose is to recognize the very best in e-commerce? Now's your chance! The E-commerce Germany Awards 2023 are now open for voting and we can't wait to hear from you. With our easy-to-understand guide, you'll be able to swiftly find out about this special event and get up to speed sufficiently for casting that oh so important vote! Get ready for the grand finale: it's time to make history and join us in celebrating a new era in e-commerce technology. Are you ready? Let's go!
About E-commerce Germany Awards
The E-commerce Germany Awards is a pinnacle of recognition within the rapidly-changing industry of E-commerce. Every year, an esteemed panel of judges evaluates applicants within multiple categories, pinpointing the cream of the crop.
Our commitment to transparency and inclusivity showcases our willingness to recognise innovation regardless of size or geographical location. From small start-ups based in Germany and concentrating on small and medium e-shops to big international players providing services for the DACH market's leaders, each contestant has equal chances to be awarded and celebrate its success.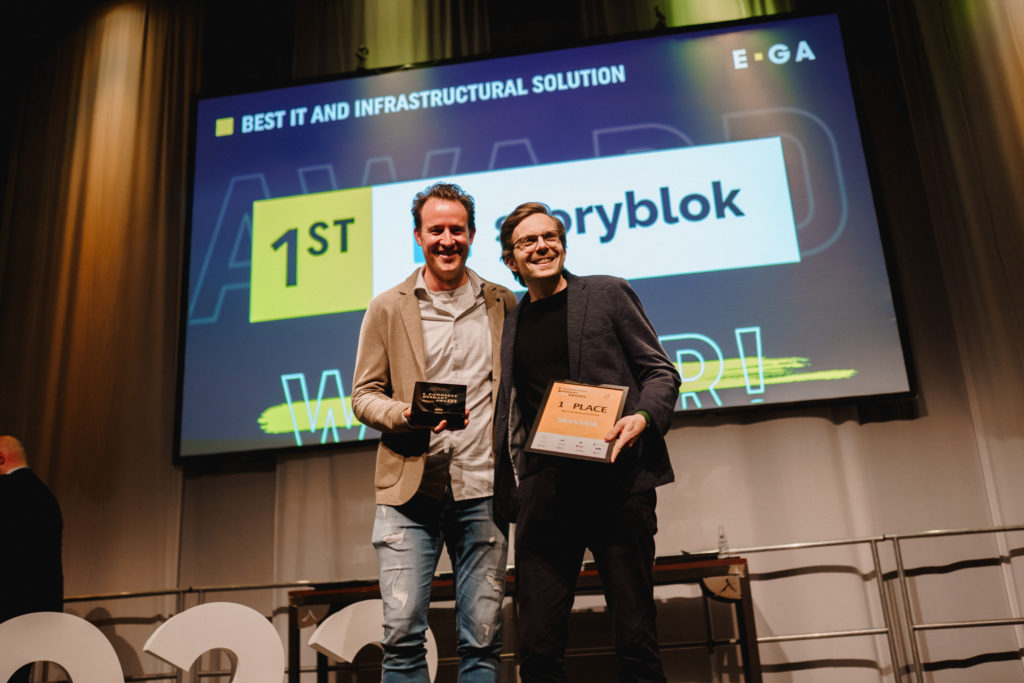 Some of Germany's best E-commerce service providers were recognized with the E-commerce Germany Awards in early 2022. These include leading platforms like Hubspot, Sendcloud, Idealo and Novalnet, as well as up-and-coming solutions such as Intershop and bazaarvoice. Fraugster also shone amongst the recipients, receiving their rightful recognition for their outstanding contribution to digital commerce in Germany.
EGA 2023 categories
This edition will bring together contenders in the following areas:
Best Sales Generating Tool
Best Customer Communication Tool
Best Solution for International Expansion
Best Logistics Solution
Best Platform/Shop Software
Best Payment Solution
Best Analytics/BI Solutions
Best Agency
Best IT and Infrastructural Solution
Best Innovation/New Development in E-commerce
Best Omnichannel Solution
Best Product Content Creation Tool
EGA 2023 voting rules
Round #1: Casting public votes
Internet users from all over have been invited to vote and decide who makes it to the next round. Each category can have up to 10 qualified companies. Clients, partners, subcontractors and other industry experts can cast their vote for their favorite or the most promising company. Voting is only open for those with a valid LinkedIn account. The TOP 10 candidates follow to the next round.
Round #2: Jury voting
The Jury members, including representatives of such companies as TUI, BASF, Zalando, ONEIL, Meta or MyToys carefully and thoughtfully cast their votes in twelve different categories to select the best from the best. Each Jury member uses an evidence based approach when making decisions, leveraging years of invaluable experience in the e-commerce space.
At the end, the perfect mix of success entails not just one factor, but two critically important elements: public votes coupled with jurors' assessment.
And, when all the votes have been tallied, our official winners will be announced at the Awards Ceremony taking place on February 22nd, 2023.
Round #3: E-commerce Germany Awards Gala in 2023
We are thrilled to announce the upcoming E-commerce Germany Awards 2023, to be celebrated during an extra special gala and networking party on the evening of February 22nd, 2023! The night will be held in Spindler & Klatt in Berlin, setting the stage for a grand evening of celebration that commerce aficionados will remember for years to come.
But the feasting and festivities don't end there! Bright and early the following day, over 9,000 passionate commerce enthusiasts will gather at E-commerce Berlin Expo at STATION Berlin. This opportunity surely promises many productive connections, meaningful business partnerships, and a chance for entrepreneurs alike to stay up to date with technology trends in the retail sphere!
Future of E-commerce is in your hands
We have received almost 400 submissions, in 12 different categories, so the competition is fierce. Companies are vying to make an impression worthy enough of clinching the coveted award – recognizing them among peers as one of the best in the industry.
The have been working hard and now is your turn to help them make it through to the next stage!
Do you have a Linkedin account?
Would you like to crown your favorite service provider with the E-commerce Germany Awards? 
Be part of this exciting journey! Add to the pot your voice, and together, let's shape the future of E-commerce in Germany. It is in our hands!