E-commerce has evolved in recent years, changing the way people buy, and the Covid pandemic skyrocketed the market growth due to the increasing challenges that have been brought to brick-and-mortar stores. Adopting and taking advantage of a direct-to-consumer (DTC) model can help businesses better manage their profitability by controlling the entire process, from manufacturing to shipping and delivery.
There was a time when shopping experiences involved buying different kinds of goods from one store — what we all know as traditional retail. But for the past ten years, e-commerce has made it possible to buy just about anything you need online. Things have changed. This article will analyze how the direct-to-consumer model can fuel all areas of a business, including customers' purchasing experience, personalization, strategy, revenues, and more, with case studies about DTC development and implementation.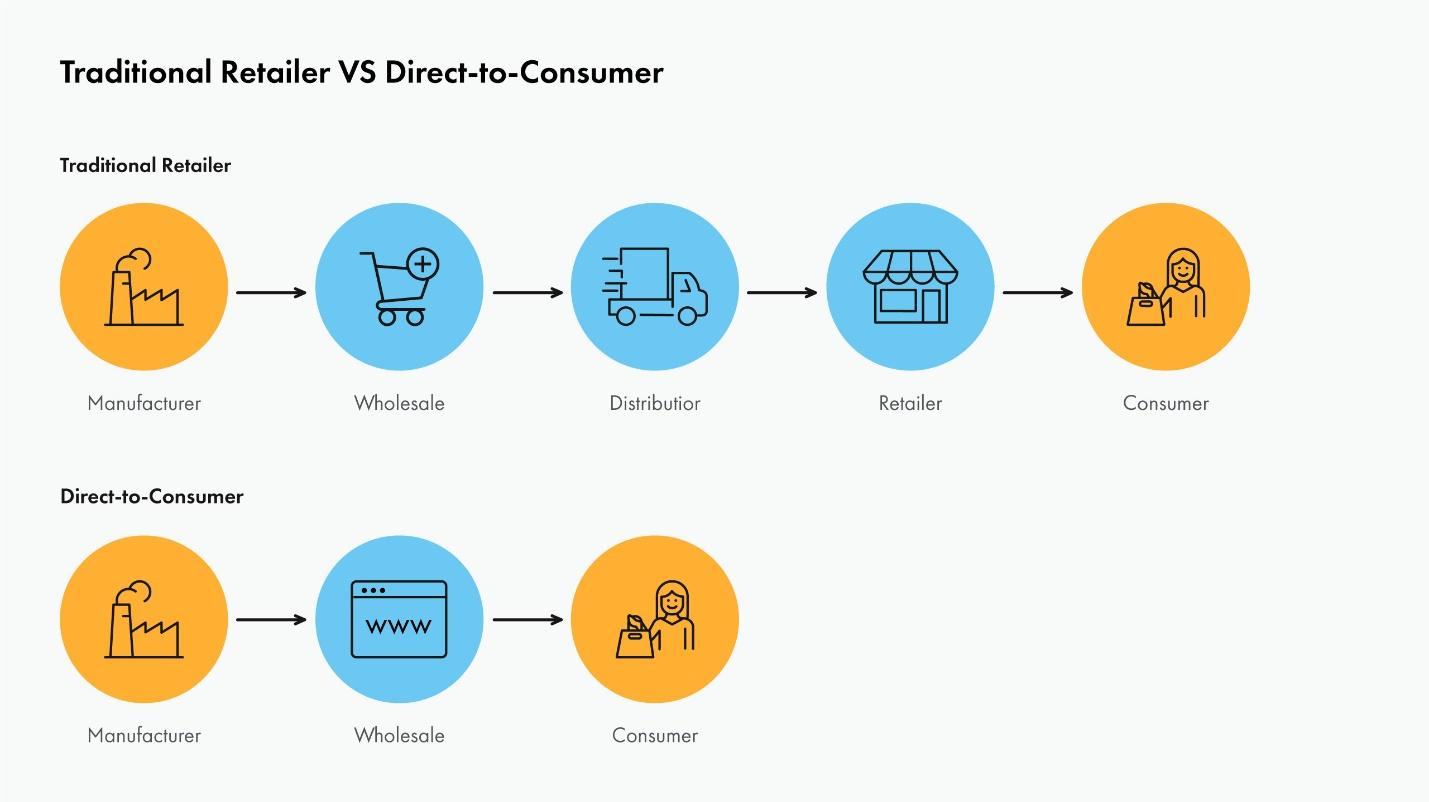 What Is a Direct-to-Consumer (DTC) Model?
In the typical retail model, manufacturers sell their products to wholesalers to distribute to retail stores, and the customer gets the traditional brick-and-mortar shopping experience. But the evolution of e-commerce continues to change how people buy, and as customers buy more items online, an increasing number of brands are going direct-to-consumer.
A direct-to-consumer business sells its product directly to its end customers. The whole process is carried out between the brand and the customer without the help of wholesalers or retailers. Shoppers go to the brand's website, through social media or other digital channels, make a purchase through the store and receive the product directly from the brand — no middlemen in between.
This does not mean that DTC brands can't have brick-and-mortar stores; in fact, even selling following a DTC model, every step of the typical retail model still usually happens — but without the help of intermediaries. The real difference is that the emphasis is placed on customer experience and engagement rather than sales. To do it, DTC brands – digitally native in many cases – take advantage of an omnichannel approach to create unique and personal experiences for each customer.
That is why the DTC model relies on creating experiences that put the customer first and show a deep understanding of shopper pain points. As we will see below, many brands use discounts, loyalty programs, reviews, and user-generated content to build communities and retain long-term customers over time.
Why Would a Retailer Launch a DTC Brand
It is essential to understand why to implement the strategy and how retailer can benefit from it.
Data is power, and selling DTC means an opportunity for brands to collect customer data and insights directly from their target audience. Traditionally, manufacturers relied on reseller partners for data, but the latter limited the feedback on how retailer customers bought the brand products. With the DTC model, brands can leverage the data generated by digital tools and platforms to better understand their customer's preferences, purchasing behaviors, lifestyles, demographics, how they interact with the brand's website and e-commerce, their journey map, etc.
Gaining Full Control Over the Customer Experience
Selling directly to the consumer allows brands to gain more control over the customer experience, and, from the client's side, it's easier for them to reach out when they need help. Unlike when brands sell to retailers, with the DTC model, they can see the whole picture and be in charge of the entire buyer journey. This is particularly interesting because, with customer data insights, brands can build a unique shopping experience that matches their ideal client profile.
And that leads us to the following advantage.
Offering Deep Personalization to the Customers
With customer data and experience under the brand's control, personalized shopping experiences are the next logical move. Customization allows brands to tailor sophisticated clients' experiences, leading at the same time to a competitive advantage.
Personalization can be both tangible and intangible. In the first case, regarding the opportunity brands have to create customized products for their most loyal customers. A virtuous circle that looks like this:
Brands own customer data – Customer feedback allows brands to create personalized products – Loyal customers are willing to pay more for customized and personalized products created based on their feedback – and it starts again.
For intangible personalization, DTC brings the opportunity to customize advertising and communication interaction with every customer due to the tracked data and customer journey.
Both ways of personalizing the customer experience, especially when combined, result in stronger relationships with customers, better customer service and support, and enhanced customer retention, which ultimately helps to strengthen the loyalty towards a brand.
Improving Customer Relationships
A DTC model can create direct customer relationships through loyalty programs, special promotions, and unique shopping experiences. By understanding customers' behavior, brands can also deliver a more targeted value proposition by taking advantage of social media for brand awareness and community building and by encouraging user-generated content.
Reselling, Upselling, and Cross-Selling
Without intermediaries, DTC brands can easily launch and test new products development on a smaller scale, run A/B tests on promotions, content, and marketing, test several offers, and upsell and cross-sell to their customers. Brands can also answer quickly to ever-changing and growing consumer interests, offer customized product packages, or different types of new products or services, subscriptions, etc.
Shortening Time to Market
A DTC approach means brands get instant feedback from customers. Based on it, brands can test products quickly and get customer feedback on products, packaging, marketing, etc., before investing in large production runs.
Geography or retailer's reach is not restricted for brands when they sell their products directly to consumers online. The DTC model allows them to reach the fastest-growing markets and the most desirable customer segments across the country and, in some cases, even worldwide.
Pricing, Reducing Costs, and Improving Margins
Another huge benefit of DTC selling is that brands have more control over pricing and discounts, leading to higher margins. They can reduce some rent costs as they do not necessarily need to develop or rent costly physical stores to drive growth. On the other hand, they surely need to invest in digital channels. The fact of no longer having to negotiate for better in-store positioning, promotions, or pricing with retailers lets brands improve their benefit margin.
Two Key Challenges of DTC
It is important to consider not only the advantages but also the challenges of any new model to ensure it matches the brand's business goals. Selling direct-to-consumer adds a new set of business processes, and brands must manage every aspect of a sale: from finalizing the sale to delivering the goods or services. Therefore, it is important for brands to also consider these challenges before launching a DTC program.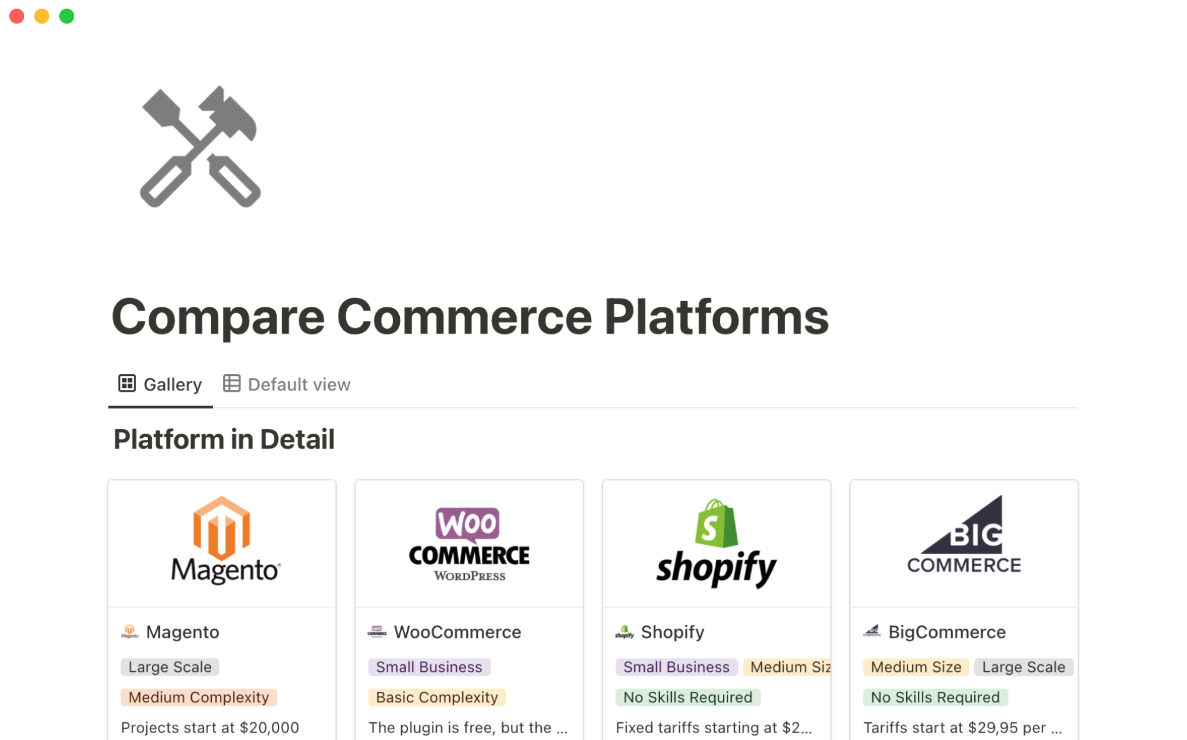 Managing Business Operations
For brands, selling DTC means much closer and more personal interactions with their customers — and all the complexity that comes with managing almost the entire supply chain and serving a greater number of people.
From now on, as brands remove the distribution intermediary – the retailer – they'll be in charge of:
Packaging the product for end customers
Creating and maintaining an e-commerce storefront and other digital sales channels
Customer acquisition, support, and retention
Order processing and shipping.
These are just some of the most critical areas of focus in adopting DTC to your business that will be discussed in DataArt's Webinar: Industry overview and benefits of starting/developing DTC. Whether you are looking to launch commerce for the first time, make it more frictionless for consumers, or create omnichannel experiences, this webinar series can help you consider new areas to build capability for the consumer.
Lack of Technology 
The technology to support their e-commerce program is one of the usual, biggest things brands miss when they apply a DTC model. They can improve it by reconfiguring their online presence in digital channels, website, and social media to provide customers with a unique brand experience. In other words, brands must implement an omnichannel strategy, be able to forecast demand, create bespoke supply chain and delivery processes, manage returns, as well as handle payments and communication with customers. This may also mean analyzing and examining the back-office tech stack, website maintenance, data & analytics, etc.
In the current landscape, you most likely have to adopt that model because all your competitors will adopt it quite easily and quite fast. We should not insist that would be the only channel, a direct-to-consumer is just a great addition to your current channels, like retailers or wholesalers or whatever channels work for you as a brand.
To implement DTC strategy it is essential to have the knowledge about both brands and retailers and DataArt could help brands to go through that journey, and help to get through the gaps between selling their products to a retailer and direct-to-consumer.
The nature of the client – retailer relationship changes when as a brand, you are not obliged to get your product in the store. Selling directly to consumers is the most honest way to create sustainable and long business relationships. Launching a DTC model makes it possible for brands to leverage negotiations. Customer data puts brands in a power position to show and explain the intermediaries – wholesalers and retailers – the motives to do certain moves or make decisions with the backing of statistics.
The role of traditional retailers is changing fast in the age of online shopping, and those who will not innovate will eventually find themselves pushed out of business. Think now, act fast.