According to the most recent reports, a 5% increase in customer retention rate can increase company revenue by 25-95%, depending on the industry. The reason? Because over time, loyal customers usually spend more and become the brand's advocates, recommending it to friends and acquaintances.
So, when your churn rate gets higher, there is no time to waste: there is no single company in the world that does not face this problem, the best way to deal with it is to invest some time to understand why they are abandoning you. Be aware that it's more expensive acquiring new customers than retaining existing ones, and – luckily for e-commerces doing business in 2022 – the power of Artificial Intelligence will allow you to easily and automatically build a strong audience of loyal customers…
The consequences of not managing the Churn Rate
Keep in mind that an apparently insignificant loss of buyers today might become a negative indicator alarming for your company in the near future.
For example, let's take a hypothetical business with a thousand customers who spend 100 euros for an average order. With a 5% customer churn rate in 6 months,
revenue would reduce more than 22%. Especially for a small business, this could fast translate into a disaster.

How to calculate Churn rate
A decline in revenue due to customer churn is a key indicator of a company's "health". Marketing specialists use the Churn Rate to analyse the situation's dynamics and minimise losses. To calculate it, you must divide the number of customers who left during a given period by their total customer number at the beginning of this period.
The interpretation of what a lost customer is might be different depending on the business area. Generally speaking, a customer who has stopped interacting with your company can be considered a churned customer.
When analyzing the Churn Rate, it is crucial to know the structure of the loss: which customer segments are mainly exposed to it, what factors cause it most frequently, and the abandonment dynamics. Controlling this indicator and developingan appropriate customer retention strategy will be crucial to avoid a crisis situation in your business.
Types of Customer Churn
Although customer churn is a negative factor for a company, it cannot be completely avoided. The natural customer churn is the one whose external circumstances you can not influence. Reasons such as a baby who grows up and gets older, the loss of a pet or simply a change of tastes and preferences are individual factors that can make your customers leave naturally.
There may also be the scenario of a motivated customer loss, those who have deliberately decided not to buy from you because perhaps they found alternative offers or were not satisfied with the service or products' quality. On the other hand, we also find the hidden abandonment rate, which corresponds to those customers who, although they continue to buy, do so less frequently or for a lower order value than usual In this case, while it is too early to count these customers in the churn rate, they will require special attention, as they have most likely started buying from your competitors.
Customer Churn Reasons and solutions
When faced with customer churn, it is essential to analyse the situation and understand its causes. That will allow you to create the most effective retention strategy and quickly move to action. We will not discuss some aspects, such as product quality or low level of service, since the solution to these problems lies in other business areas. In this case, we will focus on marketing and customer service solutions by showing the example of online stores using Retail Rocket.

1. Insufficient information at the customer registration stage.
Sometimes, the reason for customers to leave your business is found in the lack of communication that a company should establish from the very beginning to allow a new customer to know the value of the products or services offered by an online store. When a user registers on a website, it is essential to provide information about the online store, the assortment, the benefits of shopping, product selection's features, payment and delivery options, guarantees, etc.
Solution:
● Collect as much data as possible about your customers from all the channels, and provide every single one with personalised information about your online store
● Make the customers' journey easy through all sales funnel stages and provide all the necessary information in the most suitable format for each one: pop-ups, instructions in images or videos, welcome emails, etc.

● Create attractive videos and exciting content to inform your online store shoppers about available products, benefits, purchase conditions and much more.
Example: Getting to know the client using the welcome chain
To introduce your online store step by step to a new visitor, sending a welcome email chain is a perfect option. We recommend sending new customers three emails, for example:
● A first email, talking about the company and offering the customer popular products that might be of their interest.
● A second newsletter, sending the characteristics of the products in the online store: composition, price and production process. It also includes the option to directly enter the website from the mail to learn about the conditions of delivery, payment and return of products.
● A third mailing to thank the customer again for having subscribed to its newsletter and to invite them to familiarise themselves with the bestsellers and the most popular products in the store.
2. Customers unsatisfied with the service
Providing good service is fundamental for the customer experience. However, even if a product is of excellent quality, many things can spoil customer satisfaction during the purchase: insufficient or untimely information about the order status, a discourteous call centre operator, failure to meet established delivery deadlines, and so on.
That does not mean that we always expect top service. Self-service companies such as IKEA and McDonald's, where we do not expect to be served at the table, nor do we require staff to attend us throughout the entire purchase process, yet they are successful businesses. In each specific case, we expect to receive service thatmatches the company's level and expectations. When we are satisfied with the service level we expect, we will continue to buy and recommend the brand. The success lies in always providing your customers with at least the level of service expected or even much better, exceeding expectations.
Solution:
● Constantly work on your customer retention and loyalty strategy;
● Measure customer service's key quality indicators, including NPS (Net Promoter Score);
● Monitor the speed of responses to incoming customer requests, using this data to optimize internal processes.
Example: Conducting NPS surveys
The customer satisfaction and loyalty rating will allow you always to be aware of what they like about your store and what they would need you to improve. The NPS index (Net Promoter Score) lets you evaluate the level of customer satisfaction after interacting with a company. This is the model of email that this online store's buyers receive: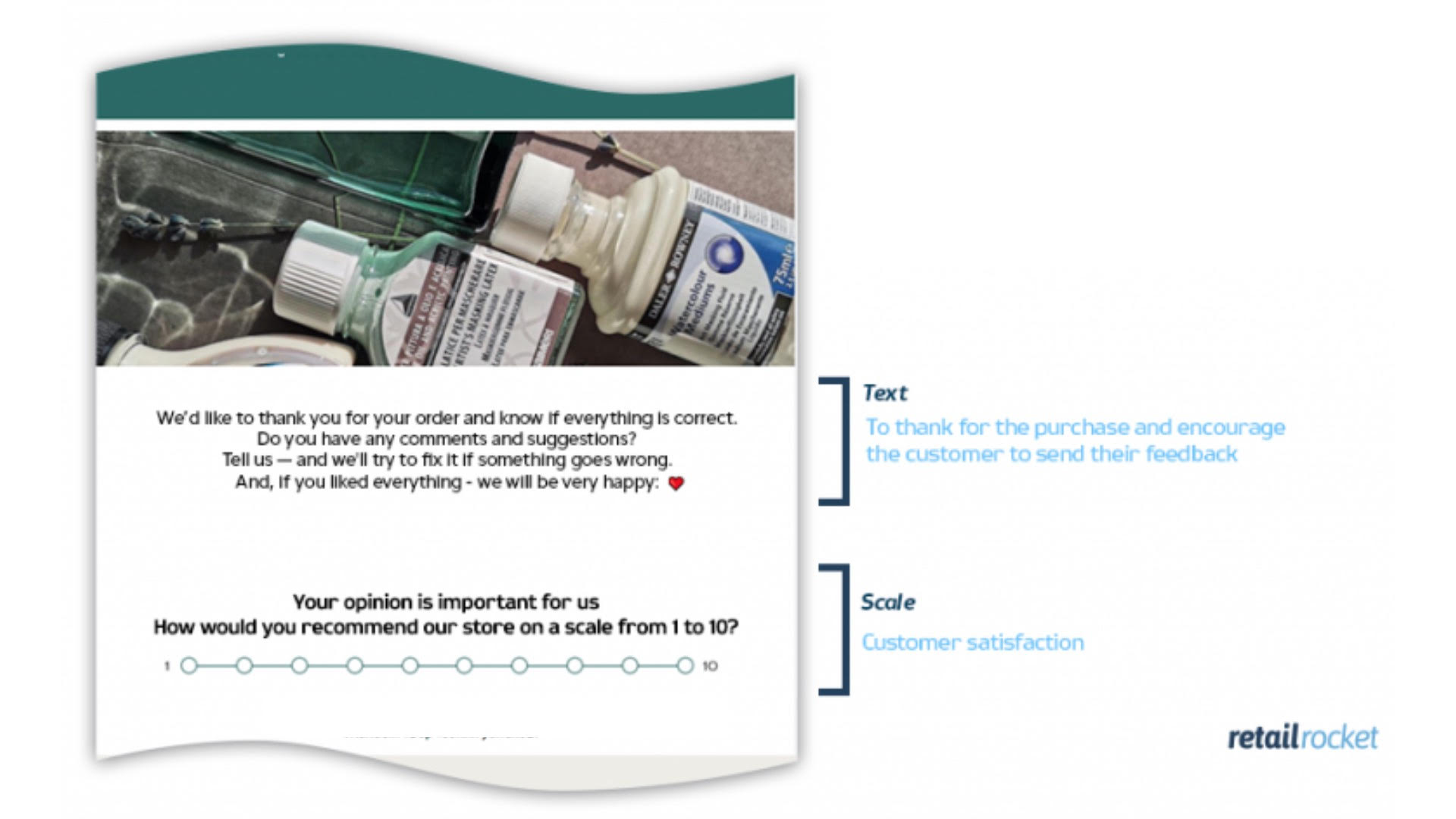 3. Loss of brand loyalty
Unfortunately, many companies lose customer loyalty over time for several reasons. Perhaps the customer stopped seeing the advantages of your products or services over the competition or did not feel valued. When buyers perceive that their opinion doesn't matter, they usually switch to more customer-centric competitors.
Solution:
● Track purchase history and other buyer actions to understand when a loyal customer enters a risk zone, i.e. when they start entering less frequently your website or stop buying. Our Customer Intelligence platform will help you deal with this. The module will allow you to determine what a loyal customer is for your company and how to design a customer communication with every single segment;

● Collect customer feedback on your company, online store, products and services to respond in time to a decrease in the level of brand loyalty;

● Having understood the reasons, you should quickly start an anti-crisis campaign by launching marketing actions that will help increase customer loyalty to your brand.
Tom Tailor case. Inviting customers to provide feedback
Another way to understand what your customers don't like about your store is to encourage them to express their opinion in the email channel. That will show not only how much they value the service and the brand but also help you know which business areas need to be optimized. An email survey will be a litmus test that will reveal in which direction to build an anti-crisis strategy. Look at this example from Tom Tailor for this purpose:
4. Ineffective communication
Having a poor knowledge of your customer will substantially increase the probability of losing them. Not identifying their individual needs and their buying impressions and expectations, when and what offers, and the convenient channel for every single customer, will make you earn less. Even in many cases, they will stop buying from you forever.
Solution:
● Create a multi-channel shopping experience for every single customer based on the information stored about their behaviour;
● Show the most exciting personalised product offers for every customer segment.
Example: Customer audience segmentation to send relevant and personalised offers.
Those customers who are buying products in one category might not be interested in other online store's sections, so a good option is to segment them by category and offer relevant product selections.
To store information about your customers' behaviour and interest will also let you personalize the communication with every single user. The algorithm will automatically set based on the data, the best offer at the best time and channel.
Customer Intelligence platform to manage retention and build a systematic work with the customer base
One way to understand what's happening to your customer base over time is to use the Customer Intelligence system. We have developed this module of our platform to highlight customer segments automatically and track them over time. That will allow your company to answer the question about what is happening both with the customer base as a whole and with every segment separately, including churn rate tracking.
Retail Rocket will build a retention matrix for each online store based on a sophisticated mathematical model. You will see how your online store's customers move between segments, which segments are growing and which ones require attention. Analysing data on customer movement from one segment to another will help you understand what to look for.
The general dashboard allows you to track the KPIs and answer the question of what happened to your customer base over a certain period:
● How many customers have become more or less loyal?;
● How many customers have left?;
● How many customers have been reactivated?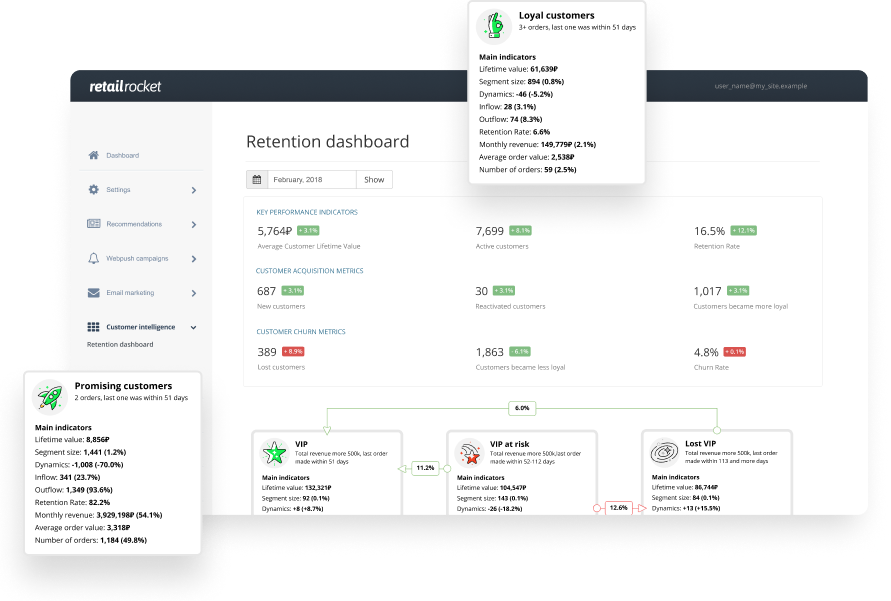 By using the Customer Intelligence system, you will systematically monitor the customer churn both by segments or the entire base.
Conclusion
Customer churn is a key indicator that is directly related to the profitability of a company. Every entrepreneur must in-depth analyse the current situation to understand the issues that cause the loss of customers, and promptly solve them. It is essential to know what a loyal customer is, what to do with them, or how to build new customer loyalty to our brand.
Ask yourself the following questions: How many loyal customers do I have, and what should I do with them? If you still don't have an immediate, clear and concise answer to these two questions, it is evident that you need to urgently do something.
The sooner you start implementing a customer retention strategy, the better. Otherwise, the churn rate will increase more and more every day, month and year, compounding the crisis of your business.
Would you like to have a fee scan of your customers churn rates?
Book your slot, it takes only 30 minutes!
About Retail Rocket
Retail Rocket offers comprehensive retention management solutions to transform new buyers into regular customers and work on their retention by growing LTV and repeat sales. Combining AI-based modules, the platform collects and analyzes behavioral data, segments customers, and generates personalised product recommendations. Result: better recurring revenue throughout the customer lifecycle while making it easy for customers to find what they need for their next purchase. A win-win for everyone.