By Tanja Josche content marketing expert, freelance copywriter and author
Today, editorial content plays an important role in attracting attention and new customers. Shop operators are also increasingly relying on content marketing. Those who have to budget with their resources should proceed pragmatically.
More and more customers are shopping online. According to the consumer study of the German Bundesverband E-Commerce und Versandhandel Deutschland e.V. (bevh), e-commerce sales again increased significantly in the first half of 2019: by 11.3 percent compared to the previous year. However, with the constantly high growth, the competition between online retailers is intensifying further. It is becoming increasingly difficult for them to differentiate themselves and attract the attention of potential customers. SEO content alone is no longer enough.
Instead, the focus is on the customer experience: today it is all about offering customers a special shopping experience. With product videos, comparison tools or virtual fittings, for example, that help customers make the right purchase decision. Or with editorial content that offers the reader added value. Content marketing is the name of this approach, which is also finding more and more followers in e-commerce.
Convincing with useful content
The aim of content marketing is to win the trust of users with useful or entertaining content and turn them into loyal customers in the long term. The conversion rate can also be demonstrably improved with high-quality content. In addition, useful content has a positive effect on visibility in search engines – and thus generates additional traffic.
But anyone who thinks they can win new customers in the shortest possible time with a few quickly created blog posts is mistaken. Content marketing is designed for the long term. And it needs a well thought-out concept, so that the bridge between editorial contents and sales in the Shop really succeeds.
Focus on customer needs
Shop owners who want to rely on content marketing should first intensively deal with the needs of their customers: What questions do they ask themselves in everyday life? What challenges do they face? And what information could help them? Website analyses or social media monitoring can provide the first answers. Your own service staff can also provide valuable insights: they have daily contact with customers and generally know their needs well.
It is also important to know that customers' information needs change during the course of the customer journey. In the beginning, general content is more in demand, with which they can get an overview of a topic. The further it progresses in the decision-making process, the more specific the content must be offered. This applies to B2B as well as B2C. The only difference is that company decisions often take longer, and several people are usually involved.
Content for the Customer Journey
The following content map shows how the need for information can change in the course of the purchasing process using the example of a purchasing decision in the IT area. The decision-making process here is divided into six phases, which are entered horizontally. These include the content formats that are relevant for decision-makers in the respective phase – sorted according to their effectiveness.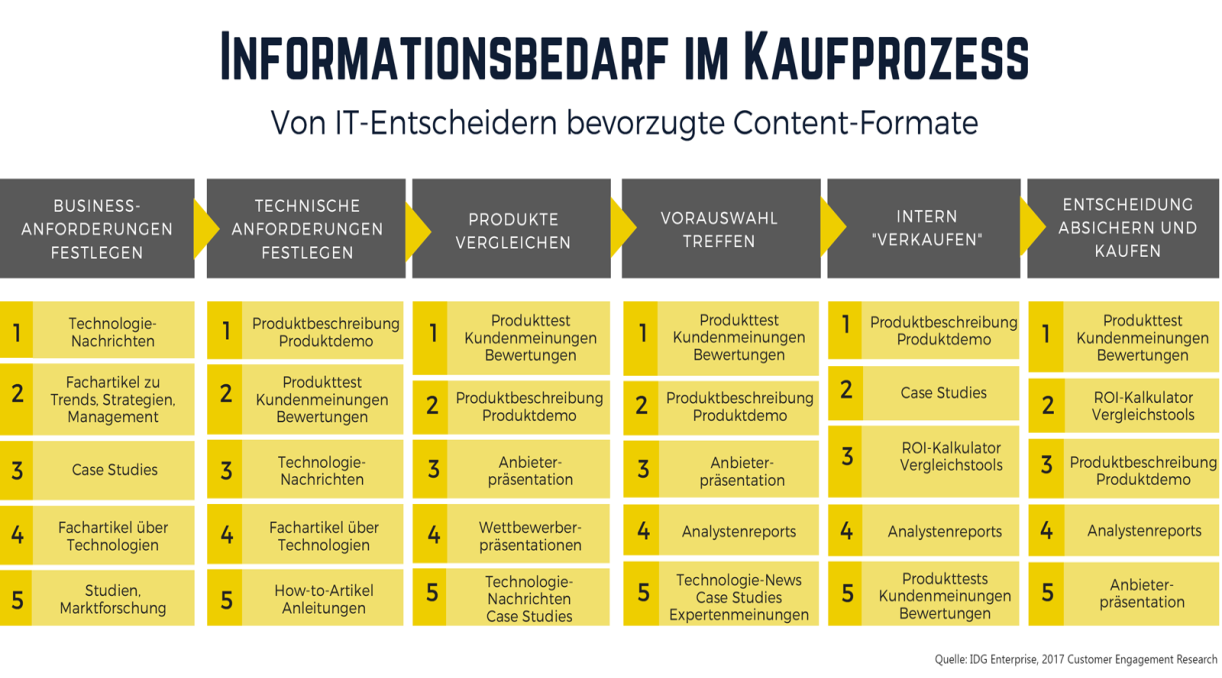 Illustration IDG determined in a study which formats are in demand in the IT purchasing process (Source: IDG, 2017 Customer Engagement Study)
The study shows that news and specialist articles initially play an important role when it comes to gaining an overview and finding possible solutions. Shortly before the purchase decision they are no longer relevant. Then potential customers are more likely to rely on product tests and demos, evaluations from other customers and calculators to secure their purchase decision.
Start pragmatically
Many companies find it difficult to find the right topics for their audiences. They do not know exactly what the target persons need and are therefore guided by their own assumptions. In principle, there is nothing wrong with that. But in this case one should not immediately produce complex content pieces. What if you are wrong with your assumption? If you spend months working on a whitepaper that doesn't even meet your customers' needs, you're not only wasting time and money, you're also jeopardizing your audience's trust.
It is therefore advisable to take a pragmatic approach to content creation. Companies should start with as little effort as possible and develop their content step by step. This should be done directly in the market on the basis of the experience they gain there with their content. Of course, this requires some courage and experimentation. But it is worth it, especially for companies that have to budget for their resources. Here are the most important principles of this approach known as "Lean Content Marketing":
1. Start small and listen
At the beginning you should concentrate on smaller content pieces that can be created and published with little effort – for example short posts for the blog or social networks, or even some online courses. The reactions to them need to be analysed in detail: What is geliket or shared? What questions are asked in the comments? If you listen carefully here, you will learn a lot about the needs of potential customers, you can learn from them, and your content will always be better aligned with them. Now more elaborate formats can be produced – without the risk of missing the point.
2. Reuse content several times
Every company creates high-quality content on a regular basis, even if it is not specifically engaged in content marketing: Presentations for congresses, product brochures, user reports, freelance websites. These can be reprocessed for content marketing with relatively little effort. A presentation, for example, can be reworked into a blog post or published as a video on Youtube – and thus reach additional user groups. 
3. Spread purposefully
Even the best content is worthless if it is not found. Content must therefore be actively disseminated – where the target persons inform themselves. Here, too, a procedure in small steps is recommended. This means that in the beginning one should limit oneself to a few platforms that are particularly important for the target group. Once you have gathered sufficient experience there, you can venture into new territory.
4. Remain flexible
Being prepared to learn from mistakes – this is one of the most important prerequisites for successful content marketing according to the lean principle. You should always be flexible enough to be able to leave the path you have taken if necessary.
Conclusion:
How to find the right topics, develop a content strategy and which tools can support you in everyday life is shown in our "Content-Commerce" training course. No matter whether you want to develop a content strategy for the first time or optimise your existing one: Learn how to successfully merge content marketing and e-commerce to gain a competitive advantage. Information and booking here: https://www.oxid-esales.com/oxid-welt/academy/schulungen/schulung/events/content-commerce-mit-content-marketing-ueberzeugende-einkaufserlebnisse-schaffen/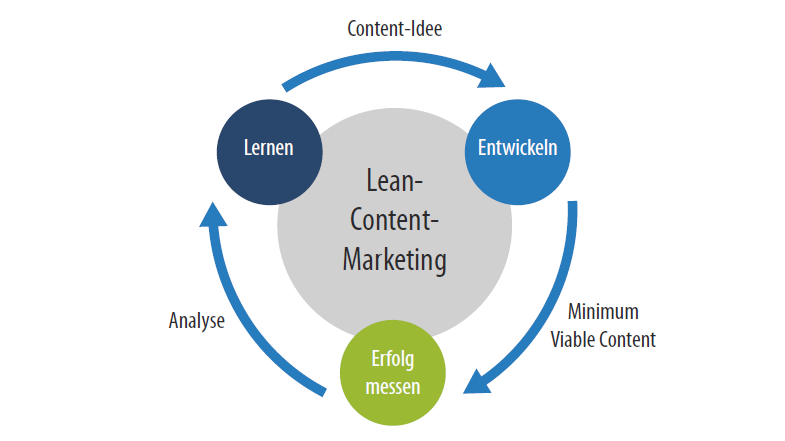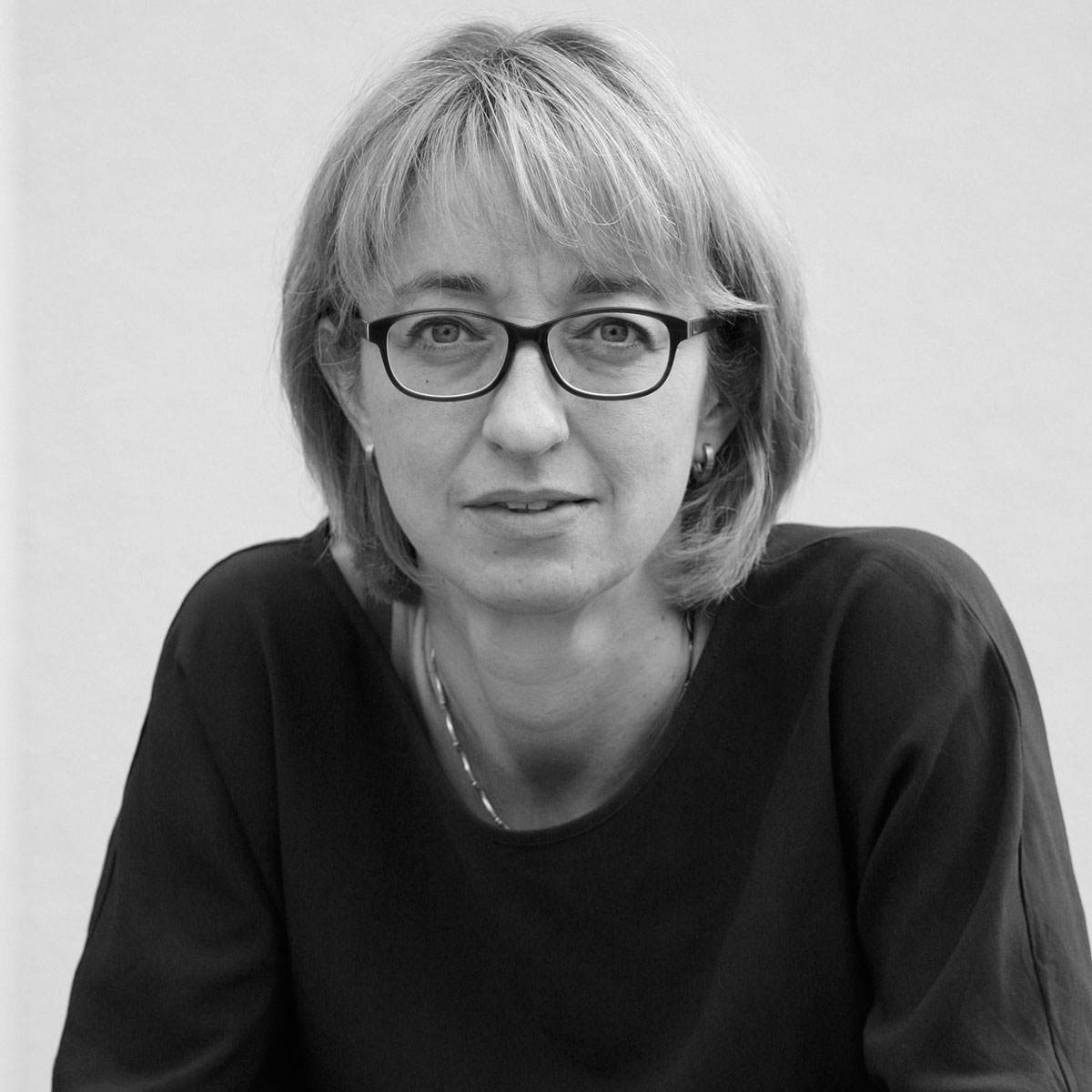 Tanja Josche is a content marketing expert, freelance copywriter and author. She advises small and medium-sized companies on strategy development and content planning and supports them with texts for print and online. Before her self-employment Tanja Josche was active both on agency and on enterprise side, last she led the PR and marketing of an internationally acting consulting firm. She passes on her knowledge from 20 years of experience in B2B communication in in-house seminars and specialist blogs. She is co-author of the book "Lean Content Marketing. Think big, start slim" https://www.oreilly.de/buecher/13107/9783960090656-lean-content-marketing.html.