As e-commerce evolves, staying ahead of the curve is essential.
That's exactly what the winners of the E-commerce Germany Awards are all about—these are the businesses setting trends and pushing the envelope to redefine what's possible in e-commerce.
Today, we're privileged to have a conversation with an individual who's doing just that.
Nikola Tanev, the CEO of True Insights, joins us to share his insights on visual content optimization, the future of e-commerce, and the innovative solutions his company is bringing to the table.
True Insights was a proud participant in the E-commerce Germany Awards 2023, and Nikola's insights are sure to inspire e-commerce enthusiasts and professionals alike. So, without further ado, let's dive into the conversation.
EGN: Firstly, please introduce yourself – your name, job title and company name.
Nikola Tanev: I'm Nikola Tanev, the CEO of True Insights. You can find us online at True Insights.
EGN: Why did you decide to take part in the E-commerce Germany Awards 2023?
Nikola Tanev: The E-commerce Germany Awards 2023 was an excellent venue for us to demonstrate the value of True Insights, our cutting-edge analytic solution. Participating in this event gave us a chance to get our name out there and meet other people who shared our enthusiasm for enhancing product pages and increasing sales, two things we feel will completely transform the e-commerce sector with our novel approach to visual content optimization.
EGN: Describe your company – and what it does – in ~9 words.
Nikola Tanev: Revolutionizing e-commerce with visual content optimization analytics.
EGN: What is your field of expertise? What are you aiming to achieve? What makes your brand really unique?
Nikola Tanev: Our field of expertise is ecomtech, specifically in the area of visual content optimization and analytics. We aim to help e-commerce professionals maximize their revenue by providing expert recommendations that improve product pages and make them more appealing to consumers. What sets us apart is our focus on visual content, which is often overlooked by traditional SEO and PPC analytical tools. By analyzing the visual elements and using AI algorithms, we provide data-driven insights and solutions to improve sales performance and enhance the overall customer experience.
We analyze a lot of elements, including the ones you can see on the picture below:
The second image showcases the fresh approach we're taking with True Insights.
Instead of just giving you advice, we actually put that advice into action quickly, using proven methods to enhance your content.
EGN: Can you share more details on how it works? What's the superpower of True Insights?
With the latest product updates, True Insights goes beyond analysis and dives deep into AI optimization, giving you unparalleled insights and results. AI Optimization. Built upon the foundation of our comprehensive initial analyses, AI Optimization takes content improvement to new heights by leveraging the power of artificial intelligence.
With our latest AI Optimization feature, we go beyond basic analysis to actually improve your content in real-time. Imagine an algorithm that not only identifies what could be better but also makes it better—be it images, text layout, or even accessibility features. It's incorporating the recommendations identified in the initial True Insights analyses.
This cutting-edge feature focuses on elevating content quality to drive sales.
Our AI algorithm enhances key visuals, ensures inclusive design for better accessibility, and optimizes content placement to maximize customer engagement.
You will be able to increase revenue and conversion rates when you integrate AI Optimization into your content strategy.
Still in beta, this new feature has already generated buzz since we first introduced it to our users. We are currently running experiments on how the content is improving sales, customer engagement, and brand recognition.
Our results prove that our clients can increase sales by 3.6 times in 4 months by optimizing their content.
EGN: The EGA recognizes pioneers who introduced some extraordinary and innovative e-commerce solutions. What was your achievement that helped you win the Award?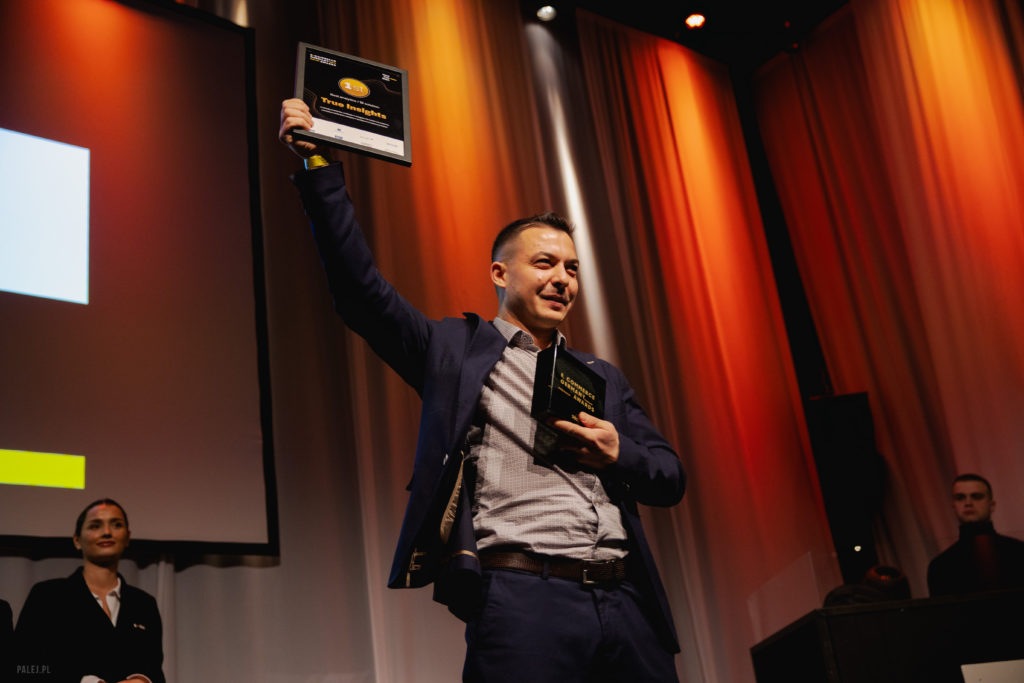 Nikola Tanev: With the use of proprietary data, AI algorithms, and thorough testing with leading e-commerce firms, we have developed a solution to assist companies in producing visually appealing product descriptions and photographs.
EGN: How can your ideas help other businesses grow?
Nikola Tanev: Our ideas can help other businesses grow by empowering them to optimize their visual content and improve their product pages. With our expert recommendations, businesses can enhance their images to attract more attention from consumers, increase conversion rates, and ultimately boost their revenue. We have seen record-proven results with our recommendations, which have led to sales increases of around 30%.
By applying and testing our content optimization strategies, businesses can achieve significant growth in the competitive e-commerce landscape.
EGN: Do you have any insights or tips for fellow e-commerce enthusiasts for the months to come? Is there anything that everyone should pay special attention to?
Nikola Tanev: With SEO losing some of its power, optimizing visual content becomes crucial for capturing consumers' attention and driving sales. Focus on creating compelling and high-quality product images, utilize A/B testing to refine your visual elements, and leverage analytics tools like True Insights to make data-driven decisions.
EGN: What is your brand's plan for the next year? What will you focus on?
Nikola Tanev: The next year, our brand will have two key focuses.
First, we'll keep working to create and enhance our products by including new functions and cutting-edge picture production and optimization technologies. This will make sure that our users have access to modern technologies and keep up with the rapidly changing e-commerce environment.
Second, we'll seek to achieve sustainable growth and validate our go-to-market approach. We want to make True Insights the go-to option for visual content optimization and analytics in the e-commerce sector. To do this, we want to grow our user base, conduct additional pilots, and improve our market positioning.
And that concludes our conversation with Nikola Tanev, the CEO of True Insights. True Insights' innovative approach to e-commerce and visual content optimization is truly inspiring. As we navigate the ever-changing landscape of e-commerce, it's clear that EGA Winners are the ones who will lead the way, providing valuable tools and insights to help businesses grow and succeed. We look forward to seeing what the future holds for Nikola and True Insights, and we're sure they'll continue to make waves in the e-commerce industry. Thank you for joining us for this enlightening discussion.
***
Join the exclusive community in the E-commerce world, and be up to date with trends, insights and many more. Don't miss this opportunity!