The annual Call for Papers for the E-commerce Berlin Expo 2023 is thrilled to announce the opening of its public voting stage. Now you have the power to shape the event!
Why Your Vote Matters
Your voice has the power to influence the event's agenda, speaker line-up, and how the event will look.
With an impressive range of topics ranging from e-logistics to international expansion, your vote will determine which presentations make it to the grand stage.
In the 2023/2024 edition, we've received an overwhelming number of submissions, each bringing fresh perspectives and actionable insights to the e-commerce industry. We were truly excited to review the submissions.
What's New This Year
We're constantly striving to improve the voting experience. This year, we've redefined our categories making it even more exciting for you to be a part of the decision-making process.
While we've been doing this for years, this year we put an even greater emphasis on practical insights. You'll see many topics on the list that you'd like to vote for, since they all sound incredible. That's why we need your help, and your votes, to determine the best entries. Our stages will provide a platform for them to speak.
How to Vote: A Step-by-Step Guide
Participating in the voting process has never been easier. Follow these simple steps to cast your vote:
Visit the official voting page.
Browse through the categories and select your preferred presentations.
Authenticate your vote using your LinkedIn account. For votes to be valid, this step is essential.
You can cast your vote in 7 categories. Voting wraps up on October 18th – so hurry up, don't leave it for the very last minute.
Then, the Advisory Board voting starts on October 23th. Nominations will be announced for all contest categories. The Contest results will be determined by our special Advisory Board. The winners will be announced on October 30th.
Last Years' Winners: Diversity and Excellence in Action
The E-commerce Berlin Expo has always been a melting pot of innovation, and last years were no exception. The stages were graced by a diverse array of thought leaders and disruptors.
Your votes played a crucial role in bringing this eclectic mix to the forefront, proving that everyone, regardless of the size or age of their organization, has a chance to shine.
Last years' winners included esteemed professionals from renowned companies like Facebook, Henkel, and Zalando, as well as innovators from emerging startups.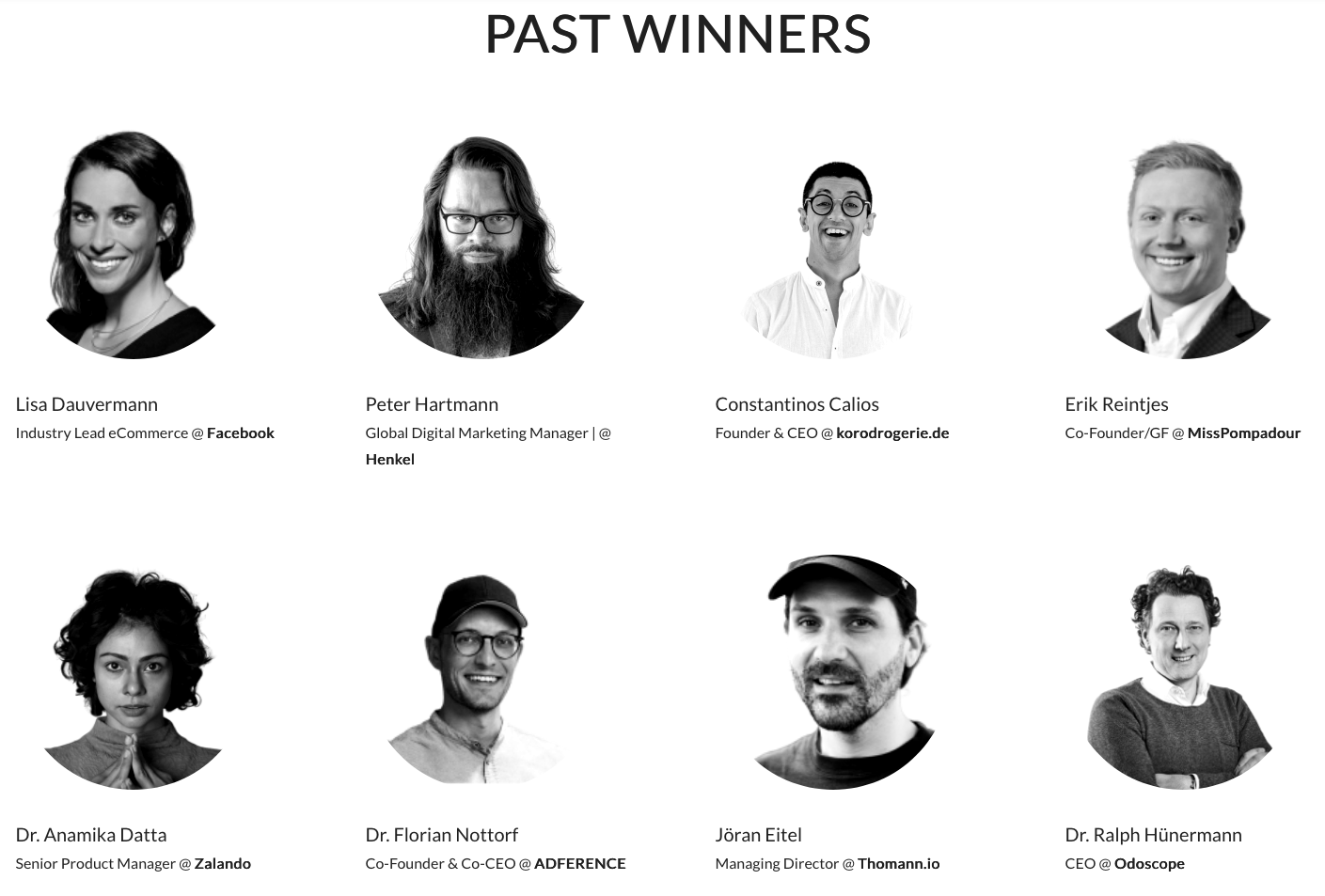 They all had one thing in common – each contributed unique insights and solutions to the e-commerce landscape.
In 2024, it won't be any different. This year's submissions are nothing short of spectacular. The quality of presentations is unmatched, ranging from innovative solutions to real-world challenges to groundbreaking research.
The stage could also be yours to curate. Your vote has the power to bring the next game-changer into the spotlight, to elevate unheard voices, and to set the agenda for an industry that affects us all. So when you cast your vote, remember: you're not just picking a presentation – you're endorsing a vision, a solution, and a future.
We're Waiting For Your Vote!
Don't miss this opportunity to have your say in shaping one of the most anticipated e-commerce events of the year. The voting stage will remain open until October 18th, so make your voice heard today!
---
About E-commerce Berlin Expo
The E-commerce Berlin Expo is a leading annual event that brings together industry experts, thought leaders, and innovators in the field of e-commerce. With a history of successful editions, the expo aims to provide a platform for sharing knowledge, networking, and driving the industry forward.
***
Join the exclusive e-commerce community and stay in the loop!