We invited Bruno Gorgulho, Head of Solutions Exponea, to talk about e-commerce, customer experience and Artificial Intelligence. Enjoy!
Attend his session during E-commerce Berlin Expo 2019!
You're a Head of Solutions at Exponea. What's your role in the company?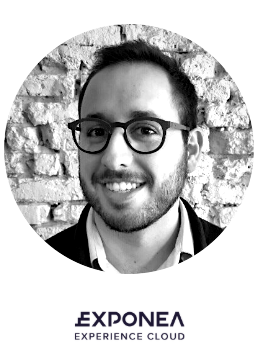 My role is two fold, (1) to demonstrate how Exponea can solve problems customers might be facing to reach their objectives and (2) to qualify so that we only work with clients where we believe we can deliver some value.
How large is your team and what kind of specialists do you work with?
My team is composed of 12 people at the moment. We have a combination of 3 types of specialists, (1) regional experts for a localized approach in regions such as DACH, CIS, UK and USA, (2) industry experts to best bridge our software to the specific demands in Telcos, Baking, Retail, etc and (3) Exponea experts – we all have to operate at the level of expert consultants in order to deliver the objectives in item 1.
You've got a background in Economics and Business. Which one is more helpful in your current work?
I believe Economics is more helpful for 2 things it brought me. The first being the in-depth study in Econometrics which is the basis for all my current discussions regarding AI and its application allowing me to bring an intuitive understanding to our models. The second being the "ceteris paribus" mode of thinking natural for the understanding of economic processes which is helpful in the complex environment of customer journeys that are somewhat chaotic.
Can you describe Exponea's mission?
Exponea's mission is to "Empower people to unleash their potential to nurture win-win relationships and create leading customer experiences" – this means we, as a software and company of people, are enablers in the development of people and companies related to creating the best customer journeys. It is a mission that looks inwards, focusing on internal people development, as well as outwards, focusing on making our clients more successful as a way for us to grow. We are proud of a very low churn rate which is, in part, contributed by my team. Finally, our mission is to do that pursuing the win-win situation meaning we wouldn't pursue any interaction that could be in detriment of the clients or Exponea.
How does Artificial Intelligence support Exponea?
Exponea was made for AI – from the very start our software wanted to make sure data was easy to import/integrate, of good quality and easy to access for the purpose of customer actions/insights. In the first few years we used that structure to make segmentation easy, however, since I have been in the company I have seen our AI modules leveraging that data structure to reach segmentation 2.0. The fact is that we were built to promote 1-1 personalization in real-time and AI is the only way to achieve that – currently we are very well suited for that challenge due to our approach to AI. We have split it in 2 fronts, (1) Recommendations to provide the NBO and (2) Predictions to provide the NBA. With those 2 tools you can create any personalized automated campaign at scale.
Why do you think that personalisation matters in customer journey?
Personalization matters because the journeys are far too difficult to map by a human. This is specially so in the omni-channel world where the touchpoints and next steps are quite chaotic. The attempt to visualize the different journeys exist so that you can direct a next action to each customer so we thought why not just asking directly what is the next action and product that I should offer that would increase the probability of achieving a given goal. That goal can be a conversion, lifetime value, you name it, but essentially we have to help answer how can your company collaborate on that journey in order to increase the value of your customers. Therefore, AI and personalization make complex customer journeys possible to be managed.
How does an ideal and hassle-free customer journey should look like?
The ideal and hassle-free journey looks the way that best suits each customer. Some people will like to browse back several times before buying while others just want a 1-click purchase / some don't want to talk to any sales rep while others cannot buy without talking to a person… Companies can specialize on the experience that best suits a certain audience and specialize in experience / product / messaging. However, taking the question in a broader angle, there is no single answer. For some brands this will be even more relevant because they cannot select their customers and, in that context, you need to promote multiple experiences.
How do you see a data-driven future of e-commerce?
The power of e-commerce is that the cost to adjust the experience is near zero. While in a physical shop you cannot really change the colors and product display depending on who enters the store, the e-commerce can completely adapt to your own favorite experience / product assortment combination. This makes the perfect combination of the gains of scale to reduce cost and the customization to deliver a good service. What e-commerce has to be able to append is the offline/human experience where needed – despite it being costly it is justifiable specially if the interaction can be pre-qualified by the digital experience. Therefore, the data-driven future of e-commerce is one where data in real time has allowed e-commerce businesses to provide a personal experience while still leveraging non-digital channels to complement the experience only when data backs up the cost/benefit expectation of that interaction. There are also other benefits of a data-driven future (such as investment optimization based on precise attributions) but I believe they are secondary.
How can new technologies impact e-commerce?
New technologies have been constantly pushing e-commerce to change its DNA. The promises of a omnichannel and personalized future have been around for a very long time and constantly companies have to make bets between consolidating operations under what is achievable today or betting that something slightly better can be done. If you bet on the first one and technology catches up you have an outdated offer that will create a gap of years which is very hard to bridge. If you bet on the second one and the tech is not there yet you find yourself without being able to offer what you promised. Therefore, technology is the gamble that retail (online and offline) has been playing on and has allowed the rise and downfall of so many brands.
Which of the emerging technologies right now seem to revolutionise the e-commerce industry in the future?
I believe e-commerce will merge experiences with the offline world. This is already present in many companies that made movements from digital to offline (such as the Amazon acquisition of Whole Foods). This is the next big hurdle for the e-commerce platforms since some experiences cannot be replicated only digitally. Technologies that enable the brick-and-mortar world to become more modifiable at a low cost are game changer. There are 2 variants of technologies in this space; the first being mobile payments and variants of facilitating offline checkout and the second being dynamic shelf management to lower in-store stock requirements, increasing assortment, making dynamic displays that makes it easier for the customer to find what they are looking for. This will come as a combination of technology and processes.
Bruno is one of the speakers during E-commerce Berlin Expo 2019. If you want to see his presentation live, register here for free.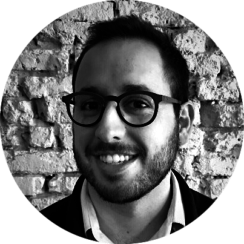 Bruno Gorgulho

Head of Solutions Exponea

Since Exponea is a complex solution, Bruno builds a bridge between the technology and the client's day-to-day business routine. This allows for a better contextualization of how Exponea fits into the existing structure and what it allows in terms of further development of the company's marketing practices. In essence, Bruno transforms technology into a solution for existing and new challenges.
.