If you want to get ahead of the competition in online sales, consider the role of packaging and its lasting benefits. Learn about six critical eCommerce packaging tips and make them work for you.
eCommerce has changed the way people shop online. It is now easier than ever to buy goods from anywhere worldwide. But there are many factors to consider when choosing suitable packaging for your product. Packaging matters because it helps consumers understand what they're buying. Also, it'll make them come back and purchase more.
The underlying mission of eCommerce packaging
1. Safety
Packaging's primary purpose is to protect products along the supply chain. A package must be able to preserve its contents both inside and out. Articles must remain in mint condition on the inside, but also they should not bleed through or contaminate the external environment.
2. Storage
The next step in packing is to ensure that the contents remain safe during storage. This storage period may result in days, weeks, months, or even hours.
3. Movement
The packaging used for shipping affects the rate at which goods move through the global supply chain.
People typically handle packages, which means they usually come in materials that are easy to grip and manipulate.
For this job, packaging needs to be lightweight and easy to lift, hold, move and store. The bonus is that you can quickly pile boxes on each other.
4. Branding and Sales
Last but not least, packaging speaks for the brand it represents. Having premium graphics with a well-defined logo, enticing decorations, clear information for the final consumer, and legally required labeling and verbiage will ultimately seal the deal for the target audience.
Packaging is the cornerstone of the eCommerce industry
eCommerce is one of the fastest-growing industries in the world today. According to Smitherman, a recognized global provider of strategic market research, "The comprehensive research used in The Future of Global Package to 2024 shows that package demand will increase steadily at 2.8 percent to reach $1.06 trillion by 2024."
As things stand, eCommerce operators need to get ahead of the game.
1. Sustainable packaging for eCommerce
As part of its commitment to balance the act between providing robust protection for products and remaining dedicated to sustainable practices, Amazon has announced plans to invest $100 million into developing new technologies to improve sustainability in packaging.
Millennials and Generation Z constitute a large portion of the online shopping population. Before these generations make a purchasing decision, they consider "the environmental impact of products, including their carbon emissions, water use, energy consumption, waste management, packaging materials, and transportation."
Due to these demographic shifts in the consumer marketplace, sustainability and environmental concerns have become increasingly important. Zero-waste packaging has become more popular, and other sustainable packaging options are growing at an unprecedented rate.
The motto of "Reduce, Reuse, Recycle" is becoming increasingly popular among younger, educated, and modern consumers. According to an Accenture survey, most consumers want to buy from companies focusing on reducing plastic waste and improving the environment. Sixty-two percent of people who participated in the survey say they'd be willing to pay more for environmentally friendly goods. Consumers are becoming increasingly aware of their environmental impact and are more likely to buy products from companies that align with their beliefs.
Many leading brands have already started adapting their packages using more sustainable and eco­friendly materials.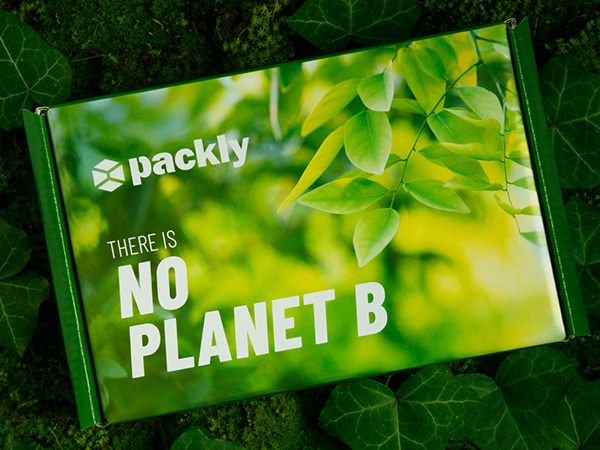 2. Customization as the new must
Customized packaging is one of the most important trends for 2022. It's here to stay. This approach has been growing for several months now. It will be an essential leverage next year.
Customized packaging allows you to create a personal connection with your customer by adding a unique touch to your product. Loyalty begets loyalty, which results in higher revenue.
It creates a better user experience by allowing you to personalize your product for customers. It improves your company's reputation. If you choose to go with custom packaging, your customers will be able to identify your brand by glancing at its packaging. The latter will strengthen your trademark awareness.
Some companies have gone all in with personalization. Coca-Cola started printing people's names on their bottles and cans. This marketing campaign increased their sales.
Refrain from assuming your selling volume needs to be high to personalize your shipping boxes. You can run tests on small scales. You can choose a partner, like Packly, with no minimum order required and the flexibility to meet all your business demands.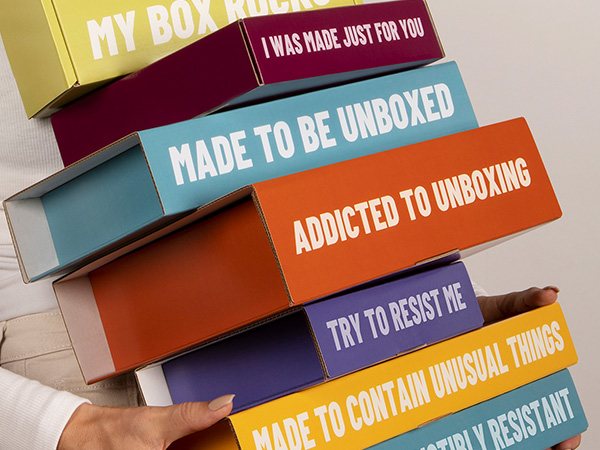 3. Graphic impact: go big or go home
The Pantone Color Institute recently confirmed that people develop 80% of their awareness from sight. Vivid colors, especially neon retro ones, and extraordinary finishing like gold or silver foil and spot varnish are instant attention grabbers.Not surprisingly, the Pantone of the year 2023 is a strong "Viva Magenta." This shade of crimson red is already influencing art, fashion, and design; Did you know that they released it as Magentaverse? If you associate this name with the metaverse, you're 100% on point! This hue merges the virtual and the real for a courageous, balanced, and stimulating 2023.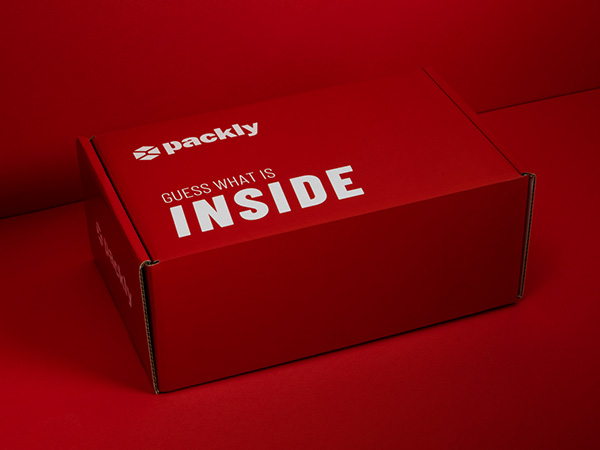 Whatever tint you choose, the secret is to go big or go home. The luxurious shine and material design will impress and stick with your customer's memories. Impactful graphics and the logo, embellished with a unique finish that makes it stand out, will turn a simple package into a powerful marketing tool.Embellishment, if used wisely, brings out the peculiarities of a product; it can transfer tactile sensations, strike the imagination, and become highly memorable.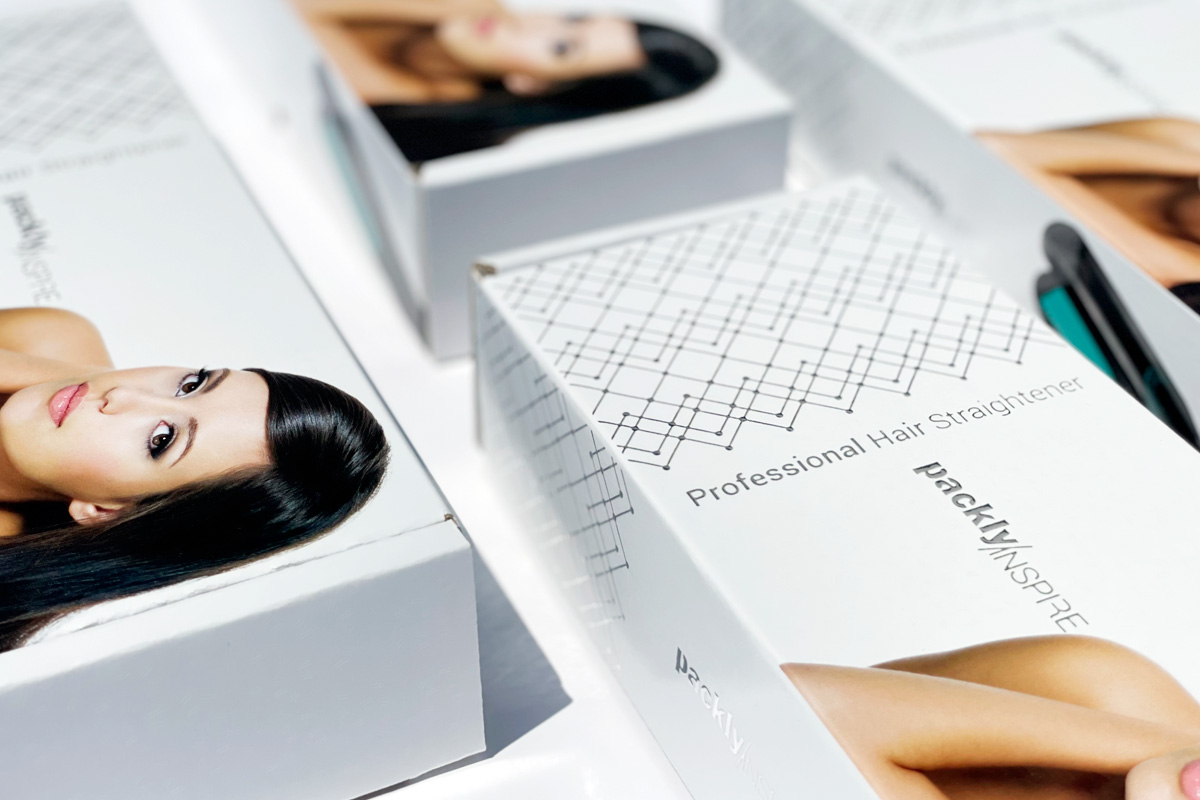 A misconception that often comes about is to think that special finishes excessively increase the packaging price, especially for limited quantities. The truth is, the added value brought in terms of the consumer's emotional involvement and memorability outweighs the expense by far.
4. Minimal packaging: the flip side
Minimalist packaging designs avoid features distracting consumers from the project's central focus. Thus, products with minimalist designs tend to stand out on a grocery shelf because they convey a highly targeted brand message.
Thus, purchasers immediately identify the item and make a rapid buying decision. Minimalist packaging design eliminates chaos and hassle from the decision-making process.
The reason white or brown paper wrappings are so widespread shows how minimalist packaging entices the right customers. Some will appreciate simplicity and economy.
Minimalist packaging also resonates with a sustainable and green approach. Such a statement is especially true when meeting the demands of younger generations that take climate change, waste reduction, and carbon footprint seriously.
5. Cutouts and no wasted space
Above all, for products having to face long journeys to reach the buyer who put them in the cart, it is crucial to choose packages of the right size that can withstand transportation. You want to avoid feeling products that dangle inside a container or find annoying additions such as polystyrene, bubble wrap, or other polluting accessories to fill a large box.That's why, instead of the unsightly fillings, you can create inserts that facilitate the positioning of articles and their best preservation.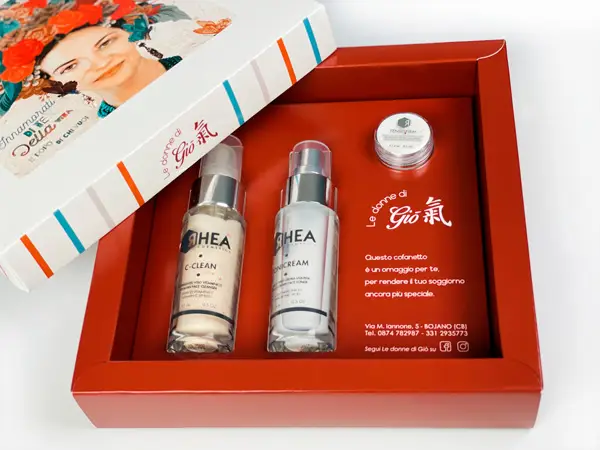 6. The second life of packaging
A box is not just a wrapper to be filled and thrown away once it reaches its destination. Anyone with cats or young children knows that the package is sometimes more attractive than the content itself. We recommend you consider it immediately by providing a second life for the shipped boxes.
This way, they will continue to stay and have a purpose in the recipients' homes with a double function of loyalty creation and permanent advertising. Some have made reuse and creative recycling into a real-life mission. Why not take advantage of it?
Notes about the authors
In short: you should make your shipping packaging brilliant. Choose boxes, capacitive bags, etc., sized to fit your items without leaving too much unnecessary space. We recommend adding customized inserts to make the most of the existing space and ensure the products are well immobilized.
The shipping packaging has the function of product protection and memorability, leading to loyalty. The box must represent the uniqueness of the product purchased. It can be simple, with a pattern and gold or silver foil embellishment, but it must amaze. Choose the proper medium between firm cardboard and corrugated for heavy or fragile objects or polythene to avoid grease and stains.
Consumers are increasingly sensitive to reuse and recycling. The life cycle of shipping packaging continues when the package enters the front door. Consider alternative uses for your box, such as a small pet bed, a container for cutting and sewing tools, an organizer, etc.The best you can do is experiment and prototype as much as possible. Try different samples, run focus groups or A/B tests and optimize all strategic elements of the packaging design before printing on a large scale. Choose a partner who can accommodate a high level of customization, premium materials, fast working timelines, plus high-quality printing. Check out Packly with no minimum orders, powerful personalization capabilities, interactive 3D previews, quotes in real-time for small and large runs, and 100% eco-friendly packaging.