In the coming decade, AI will play an instrumental role in enhancing the customer shopping experience and increasing sales revenue for brands and retail players, writes Joris Kroese, CEO and Founder of Hatch.
Research from Gartner predicts that by 2024, 75% of organizations will shift from piloting to operationalizing AI technologies. By 2025, revenue from the AI software market is set to reach over $100 billion globally.
Up until this point, AI has been 'nice to have' for many e-commerce companies, but to keep up with the ever-changing landscape, brands will need to put more focus into their AI strategies going forward.
What does AI mean for e-commerce?
In the e-commerce market, Artificial Intelligence has the ability to enhance the online customer experience by providing efficient customer service, personalized shopping experiences and enhanced search functions.
For businesses, AI can help monitor customer shopping behavior, keep track of stock and assist customers when humans aren't able to. Essentially, AI can help businesses provide a first-class customer experience across multiple channels and, in turn, increase sales revenue.
Let's take a look at some of the AI developments we can expect to see within the e-commerce sector and how they can enhance the overall customer shopping experience.
Chatbots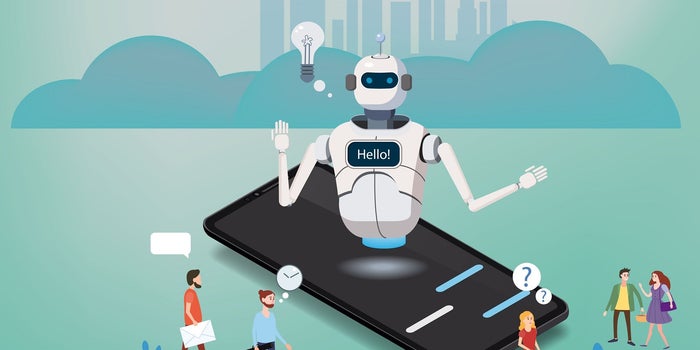 Chatbots are a great example of how AI can benefit digital commerce and enhance the customer journey. By implementing AI chatbots online, businesses can save time and money through automation and offer customer assistance in a timely manner (much faster than humans!) – whatever the time of day. Chatbots can handle multiple customer queries and learn from each experience, meaning they become more intelligent with each customer they interact with.
As well as using chatbots to answer FAQs, some brands have gone a step further by enabling the ability to shop through the live chat itself.
Leading paint expert, AkzoNobel, has integrated 'Where to Buy technology' into the chatbot on one of its brand websites. The bot can predict various outcomes from customer queries, display a list of local stores with product availability and enable customers to buy products directly from the chat. A brilliant example of omnichannel e-commerce enhanced with Artificial Intelligence.
Intelligent search functions
Website visitors are impatient. Data from Google reveals that 53% of website visits are abandoned if a mobile site takes longer than three seconds to load.
When a website user searches for something, they want results to show up immediately. And, if they don't see what they're looking for, they'll exit the website and go elsewhere.
That's why AI-powered search is a brilliant investment for e-commerce businesses.
Visual search
Visual search functions allow consumers to upload an image of the product they're looking for and receive results displaying exact or similar products. This means that even if a brand's website doesn't have the exact product a consumer is looking for, they may still be able to get a sale by showing an item with similar specs. Research shows that 63% of smartphone users are more likely to purchase from companies who offer them relevant recommendations on products they may be interested in.
Voice search
Voice search has featured in all the upcoming SEO trends lists for several years now. Research from OC&C reveals that US voice search spend is expected to reach $40 billion by 2022. 
Popular devices that enable voice search include smart speakers like Amazon Echo, Google Home and Apple Homepod, which, in 2020, 40% of US households owned. By 2025 this number is predicted to increase to around 75%.
Even those who don't own smart speakers still have the option to use voice search, with more than half of smartphone users engaging with voice search technology.
Going forward, we can expect voice search to become more popular with online brands. We're also likely to see more collaborations like the Google/Walmart voice-ordering capability, which allows users to order their groceries from Walmart through Google Assistant-powered platforms.
Personalized shopping experiences
Research shows that providing website visitors with a personalized experience can decrease bounce rate by 20-30% – and the lower the bounce rate, the higher the chance of sales.
A survey by Epsilon found that 80% of consumers are more likely to make a purchase when brands offer personalized experiences, with 90% of consumers indicating that they find personalization appealing. Additionally, according to Google, 89% of US marketers report increased revenue due to personalization on their websites or apps.
Thanks to AI, more brands can now provide the highly sought-after personalized experience that humans alone aren't able to deliver. AI has the power to monitor customer behavior and preferences by engaging with shoppers at each touchpoint, storing that information and learning from it.
Companies like Netflix thrive off of AI algorithms that recommend personalized content for users. Roughly 80% of content watched on Netflix comes from personalized recommendations, saving the company more than $1 billion a year.
Inventory management
Inventory management can be a brand's biggest guessing game. While data is available for how many items were sold, it's hard to predict future market demand. But that's where Artificial Intelligence comes in.
AI can play a vital role in inventory management and stock control, notifying businesses of low stock in real-time, monitoring shopper behavior and ensuring businesses order the correct amount of stock in line with current and predicted market demand.
As well as monitoring shopping behavior on a particular website, AI can keep track of variables in the market that could create a surge in demand, such as product trends, weather conditions, big events and the economic climate.
AI technology helps businesses foresee demand for certain products through predictive analytics, ensuring they always have the right amount of stock to serve customers – but not too much stock that they lose money. Using AI for inventory management could be a big money-saver for e-commerce businesses going forward.
From first-class customer service to intuitive inventory management, Artificial Intelligence could just be the biggest game-changer the e-commerce market has seen in a long time. Giving customers the personalized experiences they desire and picking up the slack for busy staff, AI is no longer a retail gimmick but a necessity and a tool that'll be central to even more e-commerce developments in the years to come.
Joris Kroese is the Founder and CEO of global omnichannel commerce solutions provider, Hatch. Joris Kroese has been working within the e-commerce sector since 2001, gaining a strong perspective of the future of the industry, as well as expert insights into building a seamless omnichannel buying experience.