Automated copywriting suddenly makes it possible to handle a mind-boggling volume of product descriptions. This efficiency results in completely new effects. Two e-commerce companies, SkatePro and billiger.de, showed us exclusively what they have been able to achieve with automated content and what they expect to achieve further.
All ecommerce companies struggle with the same issues: they have thousands of products that need to be described, many in several languages; and of course, all need to stand out in the Google jungle to get traffic and sell. Most online stores use huge ad budgets for an edge in the battle of the Google rankings.
But that doesn't have to be the case: it's not necessary to spend that amount on ads when the organic ranking for more and more keywords shifts to the top positions. Everyone knows organic ranking rules, but how do you go about getting it? Automated texts can make a very big contribution to this. Additionally, many other challenges can be mastered with content automation.
The fact that all product descriptions can suddenly be created in different languages through copy writing automation often results in the following effects on the credit side: 
Increase in organic hits results in savings in the ad budget
Reduction of time to content speeds up time to market
Savings in editorial resources reduce cost
Higher conversions result from more / better information
Sustainable SEO effects occur
Most companies confirm the success they have with automated copywriting. Nevertheless, it is almost impossible to get concrete figures. As with all metrics, it is difficult to attribute them to one specific activity. Often, though, I've heard from companies that they don't want to reveal too much because of the competitive advantage. For this post, we took a closer look at some companies that use automated copy and asked them about their successes. Two of them gave us a behind-the-scenes look.
In this post we will give insights into three key successes: 
time to market
savings in the ad budget
sustainable SEO effects
Faster on the market. SkatePro shows the way.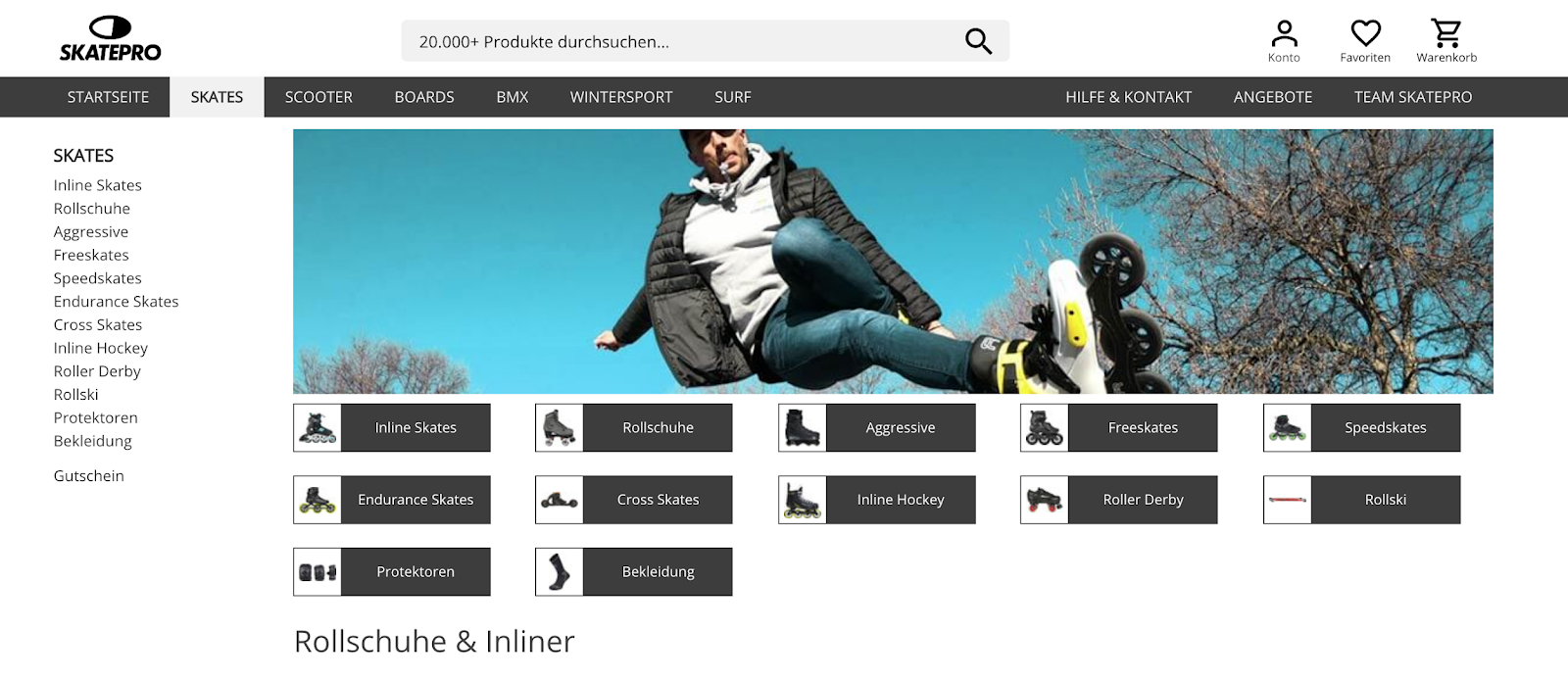 Skatepro.com started in 1996 selling skate equipment from a warehouse under the founder's bed. Now they have localized webshops in 25 countries, supported by 17 different languages. That means they need their product descriptions in 17 languages, too. SkatePro started automating their product descriptions about a year ago. As far as content automation is concerned, SkatePro works according to the Pareto principle: for many outcomes, roughly 80% of consequences come from 20% of the causes. For automation they focus first on the most feasible product descriptions. 

What does that mean exactly? What has come out of it so far? 
After having set up the story automation software AX Semantics for their categories. SkatePro was able to create 3,300 descriptions in 17 languages within 12 months. This means 56,000 descriptions in total within 1 year. 
So their time to market in the target language for 3,300 products is currently 12 months. 
Now consider what it would take to manually create 3,300 product descriptions in 17 languages. By my estimate, it probably would take 3-5 years. The manual way of creating this quantity of descriptions simply doesn't make sense–it is not a viable option. Without automation, the product descriptions would exist only in English or not at all.
This picture shows an example of automatically created product descriptions in different languages and their data basis.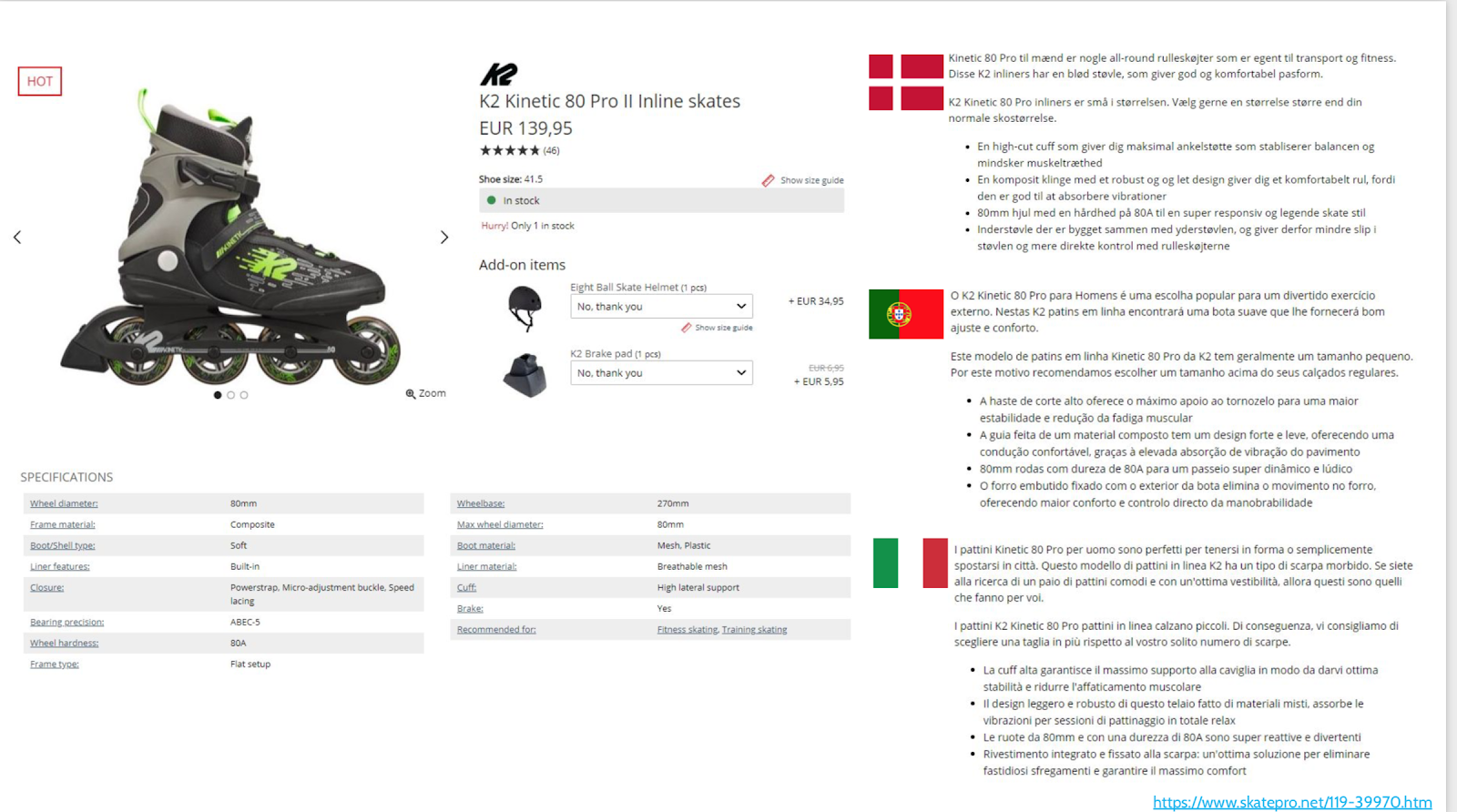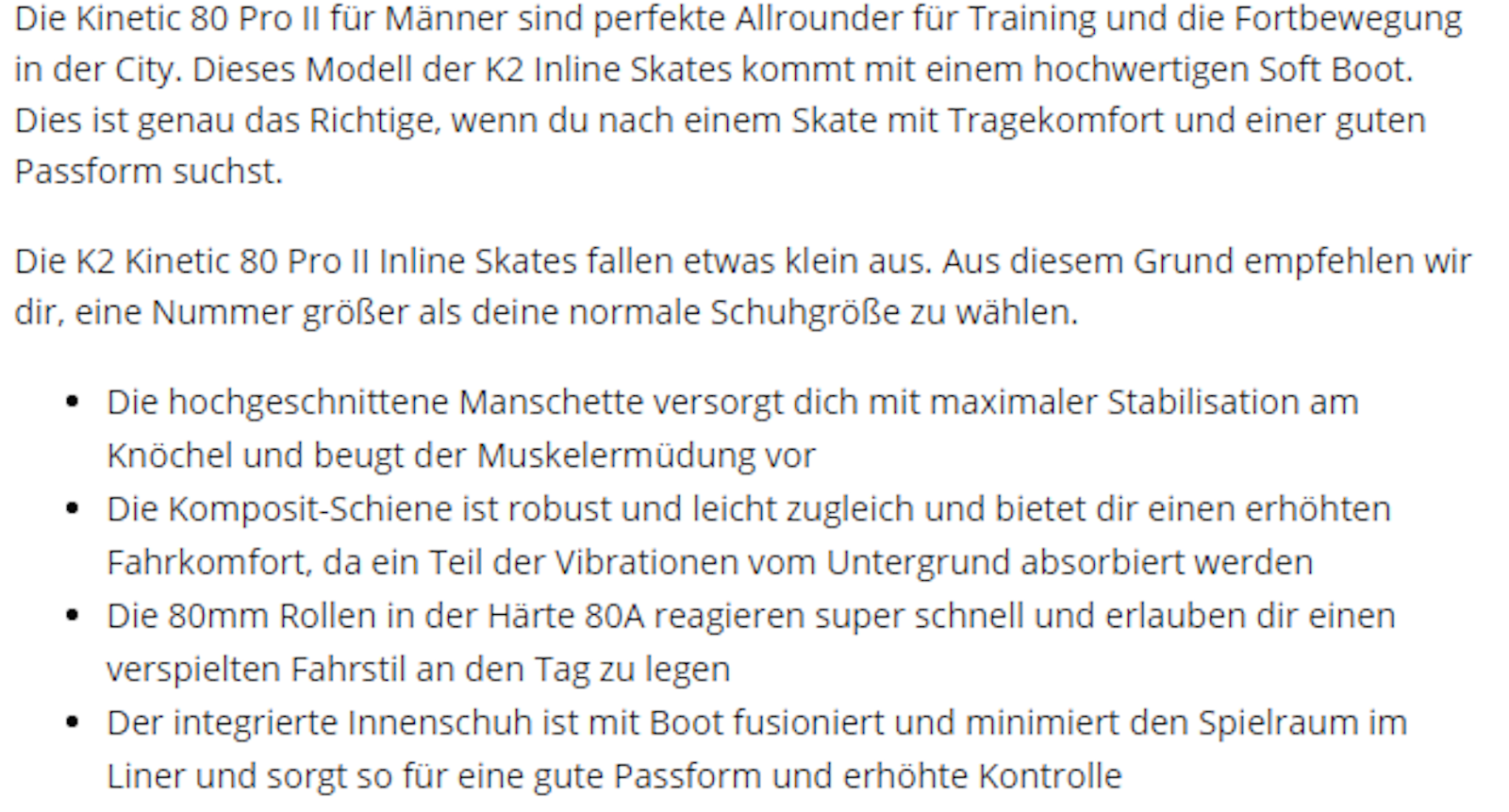 The German version of the product description.
After the initial 12 months, SkatePro is counting on these further sustainable positive effects:
1. Long-term savings of manual translation costs for generating product texts.
2. Increase accuracy of content reducing the amount of pre-sales product support.
But the main result so far for SkatePro is that they have significantly reduced their time to market in the respective languages. This means they also can have faster effects for their organic traffic, their SEO Ranking, and their conversions.
Better rankings through more product descriptions in market-specific languages
A look at the organic keyword ranking development at SkatePro at least suggests that story automation is making its contribution. The number of keywords with top rankings is clearly increasing with a visible jump in the last year. It is important to note here that the graph does not indicate which measure is directly responsible for the growth. Other SEO measures and the fact that COVID-19 has strengthened online commerce are possible further factors. However, since content automation generates a significant amount in a short period of time, it can be assumed that this activity makes a large contribution to this result.

Without automation, SkatePro would lose a lot of time for these important SEO effects. A closer look reveals an even more drastic picture; as mentioned before, such a high amount of product descriptions could not be created in 17 languages in a reasonable time via the manual way. Thus, only the English description would be available in all countries.  As a result, the SEO and ranking effects could not be achieved at all, not even after a long time. 
An example that shows the savings in the ad budget
More high-quality, targeted content significantly increases the chances of getting more organic traffic. If e-commerce companies can't manage the amount of content they need well, they'll squander the opportunity and need a higher investment in their ad budget. The Traffic Value provides information about the amount of ad budget savings through more organic traffic. Traffic Value is the amount of Google Ad costs to be contributed to achieve equal results.
Referring to the anonymous example from the pharmaceutical industry in a post from Matthias Böhmichen, the value of organic traffic improvements becomes clear. The pharma store increased its organic traffic by 34% between May 2018 and December 2018. (COVID-19 effects are excluded here due to the timing.) Ad Value also had increased by then. In monetary terms, the Traffic Value for organic growth was $74,000 per month. So over a year, this e-commerce company saved close to a million dollars.
An analysis of AX Semantics users showed that most online merchants using automated texts had 25%-95% more visitors after about half a year. Traffic value also increased by 20%-90% monthly. At its peak, this translates into a Traffic Value of $250,000 per month.
E-Commerce shops still make a big mistake
Even though e-commerce companies already use automated text, they still often make an easily avoidable mistake.
In the beginning, companies have to put some time into a project before they can push the button to create thousands of texts: In most cases, the processes have to be adjusted, the data has to be sifted and re-sorted, and the story concepts have to be created. Compared to the permanent manual writing of the emerging content, however, this is a piece of cake. Once this initial investment has been made, stories can be created in countless quantities. Most e-commerce companies need 1-3 months until they can publish the descriptions. From then on, the effort for content creation is less and less, especially in relation to the amount produced.
For some reason, however, online stores tend to let the initially initiated content rest until the new products have to be described. This turns out to be a big mistake because updating content is as much a part of content work as creating new descriptions. That's why updating also has a major impact on long-term success, as the billiger.de example shows.
How billiger.de learns from its mistakes
Billiger.de is a brand of solute GmbH. It is a German comparison platform that gives advice for thousands of product categories.
Billiger.de has a long history with AX Semantics and therefore with automatically generated stories. 7 years ago billiger.de started to generate the first stories automatically. The SEO effects were not absent, but there was a slump caused by various factors such as a Google update and strategic inconsistencies. Also the story design, which was mainly aimed at fulfilling technical SEO requirements, did not please Google as well as the reader at some point.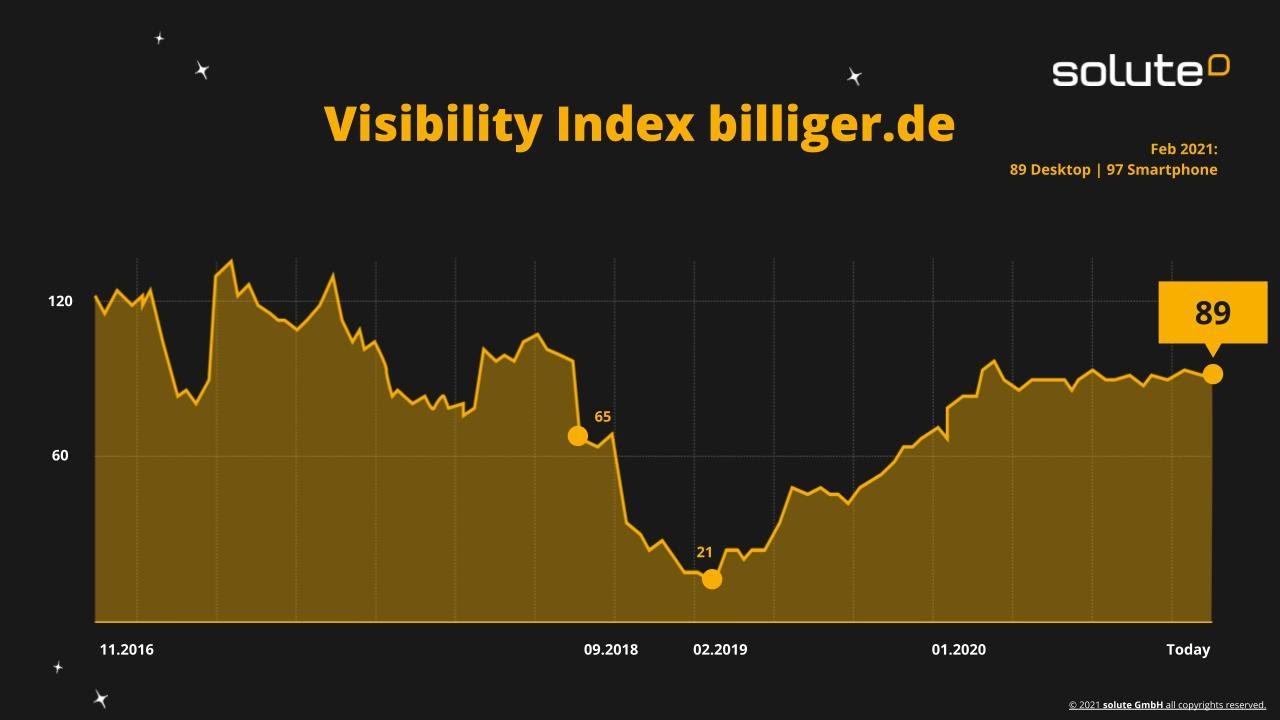 With a new strategic orientation, billiger.de is now focusing on high-quality writing. This means that copy also needs to be updated regularly. One example: If today a mobile phone is described in the copy as "rather small compared to other models," the statement may lose its validity at some point. Namely, when the models as a whole become smaller again, the copy will have to be updated.
Quality copy means for billiger.de to offer a clear added value for the reader and to appear as a purchase advisor. This also means that the initially created content must be regularly checked for validity and current context and updated as necessary. With this strategy, billiger.de fought its way back to a good visibility level.
Under the hard-fought keyword phrase "Handy ohne Vertrag"– in English, "Mobile phone without contract" — billiger.de makes it to the 2nd organic hit.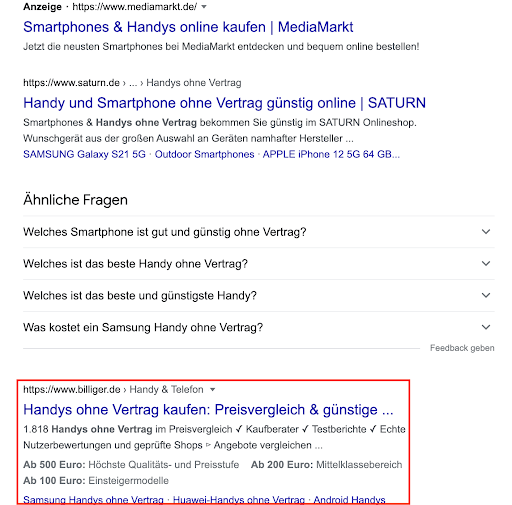 The product descriptions in the "first generation" of automated texts looked like this at billiger.de:

Today, billiger.de is establishing itself as a purchasing consultant and has worked significantly on the quality of its copy. The result of the update is something to be proud of: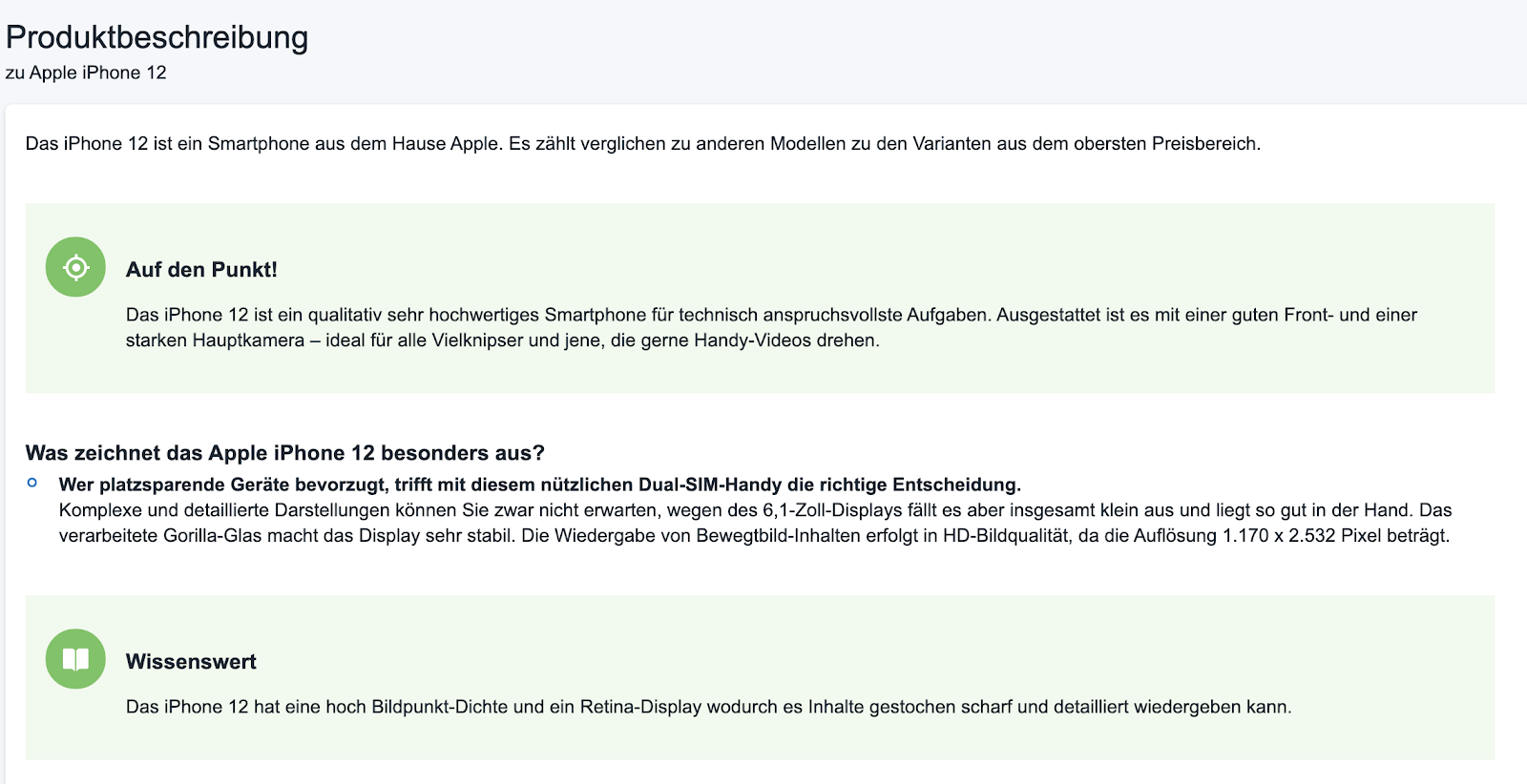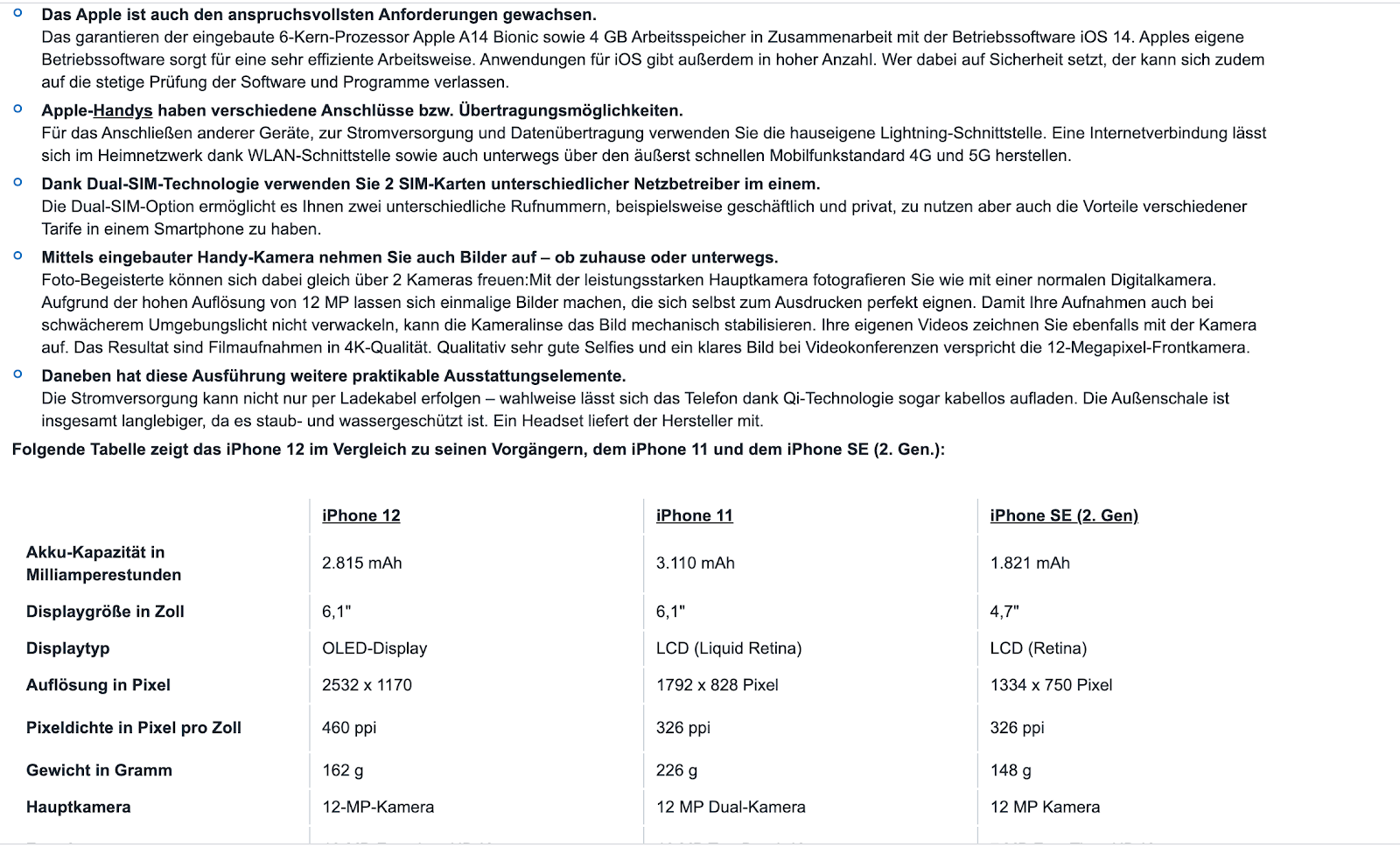 Automation is what makes this quality claim possible in the first place. Last year, billiger.de updated 1 million stories within a year. In addition, they are constantly creating new descriptions with high quality standards for new products. 
Automation means getting significantly more stories with fewer people
All in all, the billiger.de editorial team managed 1 million text updates and 254,000 new texts last year. This quantity structure would not have been possible without automation. And how many people take care of all this content? What's your guess? There are 2 full-time editors. 2 full time editors create 250,000 new content items and update 1 million texts within a year. Bernd Vermaaten, CEO of solute GmbH, revealed to me: "We now do significantly more stories with fewer people. Content automation is an essential element for us to be competitive."
Conclusion: Content writing automation more than pays off
E-commerce companies have the opportunity to describe more of their products much faster to the target market through content automation. As a result, they significantly improve their organic traffic in a short time and can have significant savings in ad budget. They don't even need more resources to do this, but rather less. However, it is important not to make the mistake of creating the content only once. The online stores should use this tool also to keep the content "fresh" and thus to create strong long-term SEO effects.