With last year's developments, our lives have become as digital as ever – whether we go shopping, work, or meet online. That's exactly why it's worth taking a look at the top ten social media trends for 2021, as they are more important than ever in times of social distancing. Providers or sellers adapting their strategies in time and keeping up to date with the trends may establish themselves as early adopters and amplify their chances at long term success.
Vertical Video
Vertical video killed the horizontal video: One of the most important trends is the rise of vertical videos. More and more videos are being consumed on mobile, and only few users are still ready to turn their screen to do so. Videos in the traditional 16:9 format are therefore either incredibly small to fit onto the screen when consumed the right way up, making it hard to get any message across – or they are simply skipped because they are facing the "wrong" direction. Instead, the 9:16 format is gaining in popularity, as it is being used in Instagram stories or TikTok. However, this also means that video concepts need to be overthrown and revised, since the new cinematic perspective requires content to be displayed differently in order to still appear high-quality. Always remember that each platform is unique. To reach millions on TikTok, you'll need specific TikTok advertising, not general advice. Though the 9:16 video format works on TikTok, the 16:9 format reigns supreme on YouTube and many other video-sharing websites.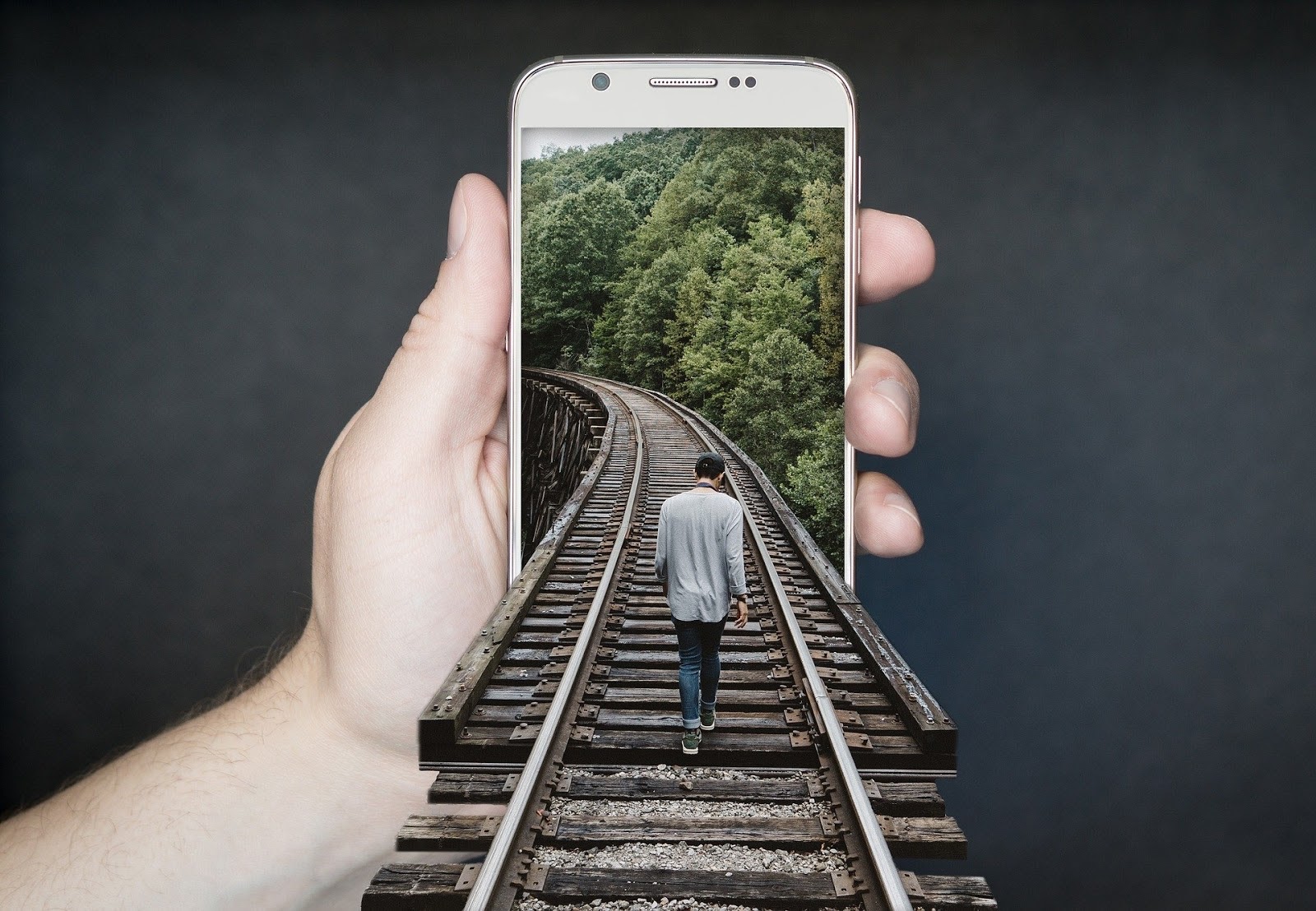 The additional space at the top or bottom of a vertical video can be used for subtitles or closed captions. This enables you to deliver your organic message even when a user is on a platform without their audio turned up, and of course it is more inclusive towards the hard of hearing. Apps for closed captions have emerged plenty in the last years, so even a quick Instagram story highlighting your sale can easily be edited to include your text.
Authenticity over quality – when it comes to camera work
The use of smartphones for video production ties directly into this. Handheld videos that are spoken directly into the front camera are more authentic and true to life. This is another reason why these videos are now popular for ads. Instead of it being used for expensive video production, the money saved can be put into good, authentic content to bring out the video's message succinctly. Or the money is invested into the ads that the videos is being used for. However, make sure that the quality doesn't suffer too much either – tripods and post-production can make all the difference between a shaky video with poor sound and a nice and clean, yet authentic clip.
Inclusivity & diversity
Representation and inclusion are becoming increasingly important in society – this is also reflected in social media and ads. People of all ages, identities, body sizes, physical abilities, and cultural affiliations are increasingly represented in ads. It's highly likely that the members of your target audience will find themselves represented here more often than in standard ads. Your company can also achieve a large boost by showing that it pays attention to values like diversity and set an example. However, as with all ads, one thing is important to keep in mind: authenticity. If diversity is only included in ads, but the topic is otherwise not found in corporate communication, users will quickly discover the "scam" and it can easily lead to a shitstorm. Diversity and inclusion programs are here to grow! This so-called diversity marketing and inclusive marketing can be found in commercials of giants such as Coca Cola and Google – however, it is also relevant for companies with a small advertising budget in order not to scare away potential target groups with stereotypes – and of course it is valuable to remain socially relevant. Nail polish brand Gitti has opted to include models of all skin colors and gender in their advertisements, abolishing the stereotype of "nailpolish for girls" – and they have been highly successful with their campaign.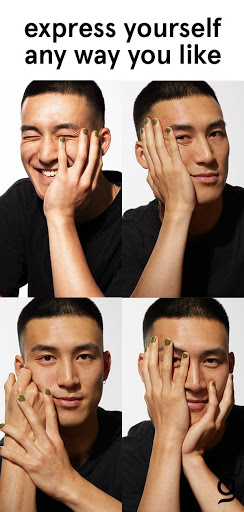 Gitti's inclusive content is just one aspect of what makes their brand so popular and memorable.
(Source: Gitti)
Snackable content
The attention span of smartphone users is plummeting more and more. From 12 seconds in in 2000 to 8 seconds in 2013, and most likely even less in 2021 (although there is no concrete study on this yet). Due to the ever decreasing number, more emphasis is being placed on "snackable content" that delivers the core message in small "bites" instead of in one unmanageable and large piece. Gripping, exciting scenes that are immediately visible are becoming more and more relevant to penetrate the selective perception of users before they click onto the next piece of content. Although this seems an easy task, it is far more difficult to deliver your message in a short few sentences than in a long text, especially towards someone unfamiliar with your product or service.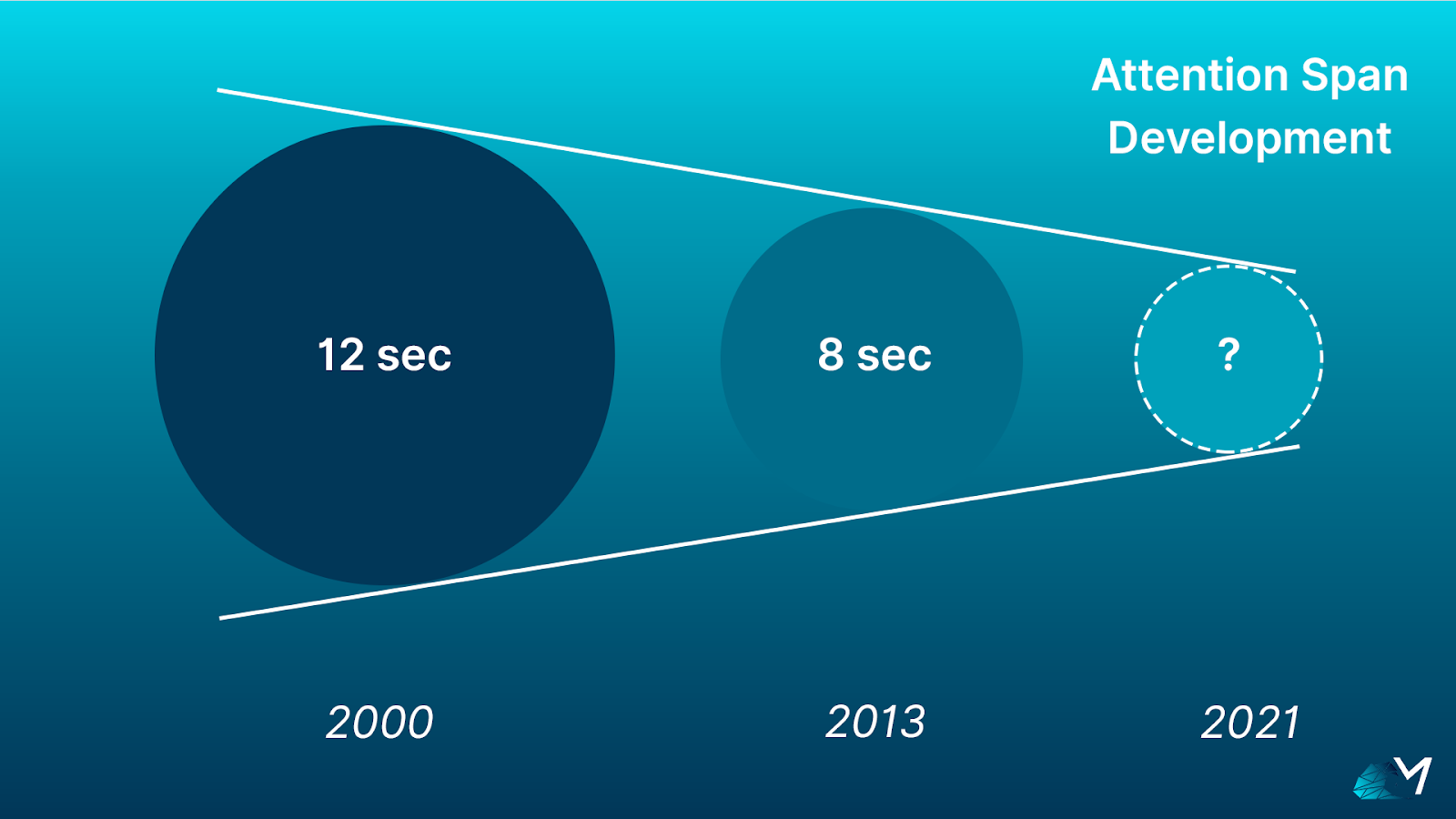 Attention span is ever decreasing as a study from Microsoft finds.
AR Filter
Snapchat, Instagram and TikTok – they all use AR filters. Since their launch on Instagram in 2019, they have offered great marketing potential as AR filters greatly increase user interaction and engagement, which can positively influence your following numbers.
This way, more people connect with your brand and can be included in targeting later on. With the right AR filters, your potential customers can even interact with your product before they buy it, and even create further reach for the filter and the product via their own posts, thus serving as a free micro-influencer.
One popular style lets your customers discover which of your products they are, such as in this example of Tony's Chocolate: Discover which type of chocolate you are. This way, you can also show off your inventory all at once.
With the Instagram filter, users can engage with a brand online in a different way than through regular user generated content. (Source: Instagram, Tony's Chocolonely)
Modern customer service
Where customer inquiries used to be handled via email or even by phone, customer service has now heavily shifted to social. More and more inquiries are being made via Facebook or Instagram Messenger, and can even be answered here by bots, allowing for a quick and accommodating experience.
WhatsApp for Business also supports fast, personalized approaches and quick availability of customer service. Consultations that would otherwise be the responsibility of a salesperson in the store are quickly handled by Messenger advisors. While voicebots – customer service via voice recognition – have not yet caught up to the quality and popularity of chatbots, more AI will surely show some improvements in voice search and assistance in the future.
Zero Friction
In the backend of the most important platforms, things are changing up as well. In order to offer users fewer opportunities to bounce and to enable the smoothest experience possible, Facebook is relying on what is known as "zero friction." For example, Facebook has made the Instagram shopping tab easily accessible, thus relieving platform users of additional research steps and website visits. The quicker purchase process improves the user experience, but Facebook collects a 5% transaction fee per purchase. Whether the increased traffic and transactions are worth it therefore still has to be evaluated individually.
Automated campaign optimization
What used to need to be done manually and in a complex manner is now being automated more and more. While Google already automates almost the entire optimization, Facebook is still working on this. However, with features like CBO (Campaign Budget Optimization), Dynamic Product Ads and Dynamic Ad Design, which react dynamically depending on the user's needs, big steps have been taken towards automation in the social paid media sector – and more is certainly on the way.
Social Media is catching up
Social media has long surpassed its status as a community management channel. While money used to be invested almost exclusively in Google ads, paid social is now emerging as a relevant channel in the marketing mix. More and more companies have discovered the power of ads via social media for brand performance – a confluence of branding and, at the same time, conversions.
Additional features tie more users to the platforms, and their information and interactions on social media provide a tremendous source of data. As platforms for online shopping expand, the opportunities for brand positioning and ads on apps like Instagram and TikTok become more targeted.
Digital marketing spending in the United States from 2014 to 2019, by segment (in billion U.S. dollars)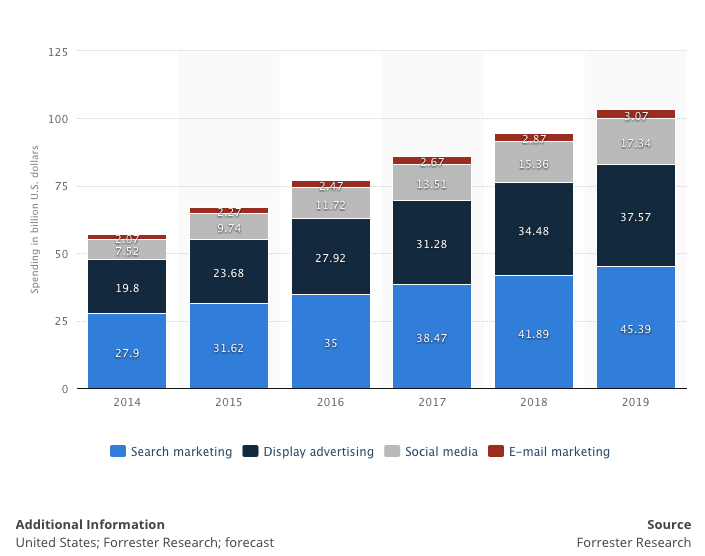 The communication strategy
All the trends mentioned above have little effect if they do not match the communication strategy, or if there is no communication strategy behind them. Across all channels, the company still needs to be as authentic as possible, because authenticity, emotionality and honesty are what users appreciate – and what will make any commercial fail, no matter how elaborately produced, if these aspects are missing or not communicated properly. In our years of experience, we have learned that corporate values and employees carry a lot of potential, which is why branding videos are gaining in relevance to put emphasis not only on the products or services but also the people behind them.
Conclusion
Keeping the above mentioned points in mind and establishing a strategy based on them could be your chance to set yourself apart from the competition and gaining an advantage. Don't miss out on potential new ad formats, new social media platforms and communication strategies. At Mawave Marketing, we take care to keep up to date with all the important topics across social media platforms, especially Facebook, Instagram, TikTok and Pinterest in order to provide this – don't hesitate to contact us for a consultation concerning paid marketing on these platforms!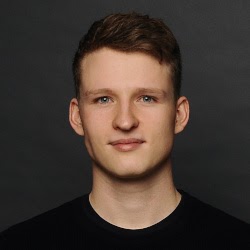 Jason Modemann is co-founder and CEO of Mawave, the leading agency for social media marketing in Germany. During his studies, he already supported his first clients in the field of social advertising, before founding Mawave Marketing along with Patrick Brüch in 2017. The agency specialises in conceptual work and campaign optimization on social media. Together with his team of around 20, he works closely with the platforms Facebook, Instagram, Pinterest, and TikTok.