Whether at home on the couch or while waiting for the train, whether with a tablet or a smartphone: Online shopping is booming and we have more e-commerce businesses than ever.
Dealing with the topic of digitalization is a must for all retailers – both online and offline: It's not just about offering new services, but above all about enabling customers to shop on as many channels as possible. The importance of e-commerce marketing became clear once again during the COVID-19 crisis and its consequences on public life.
The boundaries between online and offline are noticeably disappearing in retail – e-commerce, mobile commerce and now also voice commerce are expanding the traditional business model. Technologies such as artificial intelligence and big data have a huge potential for efficiency and service.
The e-commerce opportunities for both online retailers and stationary retailers are immense. With the help of technologies such as virtual and augmented reality, unique shopping experiences can by created. For many retailers, this also means a major challenge. We want to help and guide you through the world of e-commerce in Germany.
Online shopping in Germany is part of everyday life
The number of online buyers is increasing by leaps and bounds. Right now, more than 2.15 billion online shoppers exist in the world, which means 94% of all internet users shop online, which equals around 55 million German population.
Online shopping is omnipresent and part of our everyday life in Germany. 94 percent of all Internet users shop online which equals about 55 million German citizens.
66 percent of retailers sell their products both stationary and online – 25 percent exclusively stationary and 6 percent exclusively online.
Many companies profit from so called digitalization. Services and products become more and more available online. Here are some examples of successful digital transformations of services and products:
CD's, concerts→music streaming programmes, virtual music events (MTV VMA 2020)
Physical books→audiobooks in full length or summarized
Brick and mortar grocery shopping→grocery delivery services within minutes
And the list of successfully existing and upcoming e-commerce businesses goes on.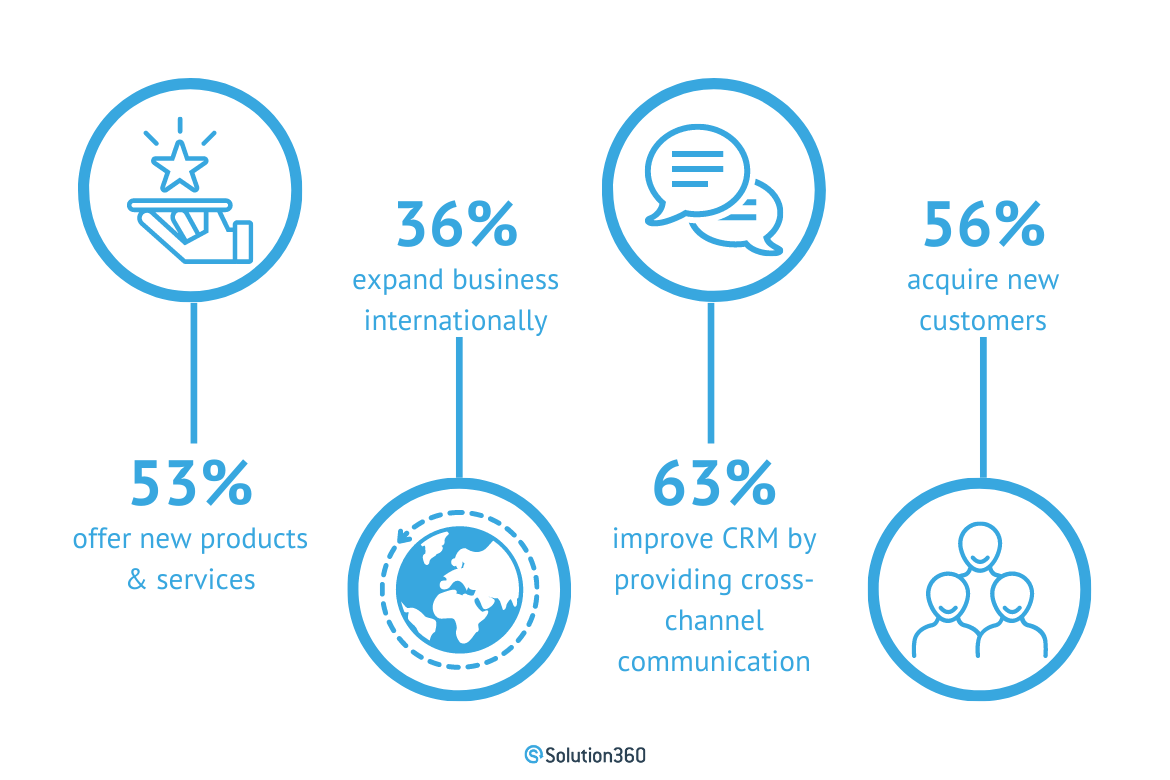 According to studies, 53% of retailers were able to offer new products & services due to digitalization, 36% could expand internationally, 63% improved their CRM by providing cross-channel communication and 56% acquired new customers.
Companies are looking for digital know-how
Companies in Germany are increasingly looking for digital know-how.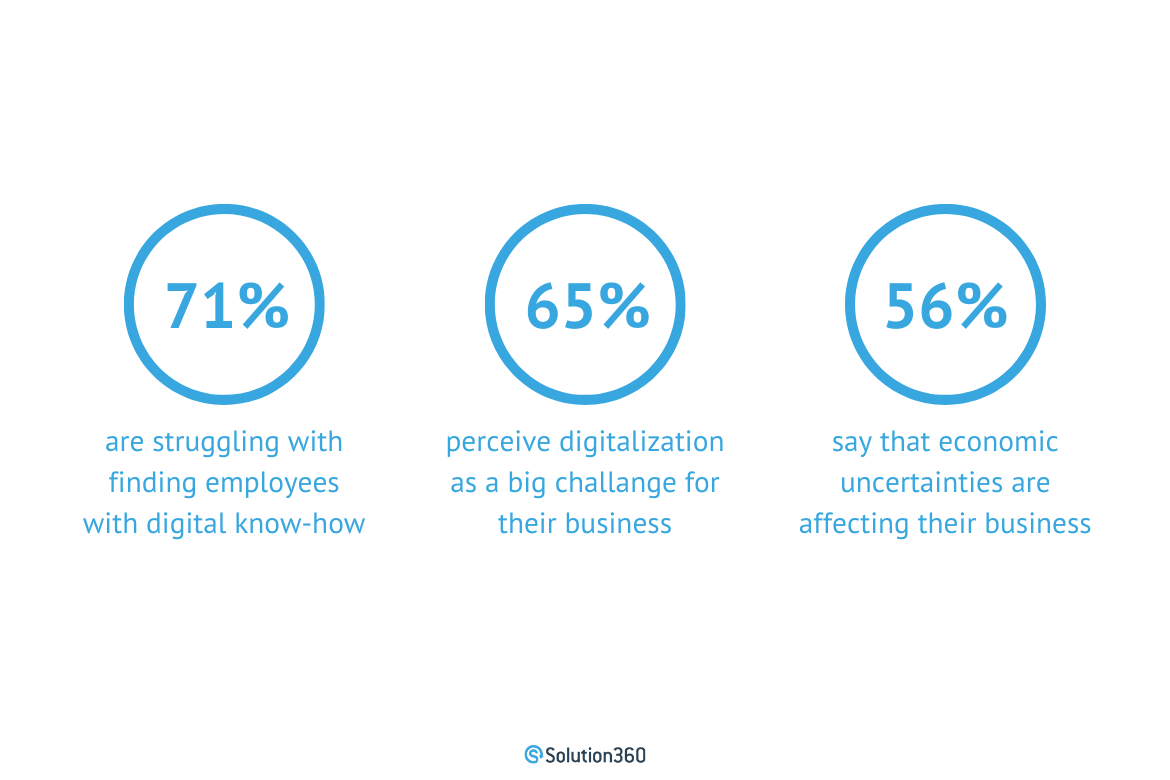 71% of retailers are struggling when it comes to finding employees with digital know-how. 65% perceive digitalization as a big challenge for their business and 56% say that the economic uncertainties are affecting their business.
But not only wholesalers and retailers are dealing with digital change. The needs and habits of consumers are changing as well. Anyone can order anything at any time and any place with free shipping to their front door. The e-commerce business in Germany has to adjust to these needs. Learn how to utilize the tools of digitalization inhouse or get yourself an agency to help with building an online shop!
Homepage is a must-have to draw attention to yourself
A homepage is a must-have for every business to increase brand awareness and visibility. Before any consumer can consider your e-commerce business in their decision-making process, you need to get their attention first. Only one in four retailers have active social media accounts.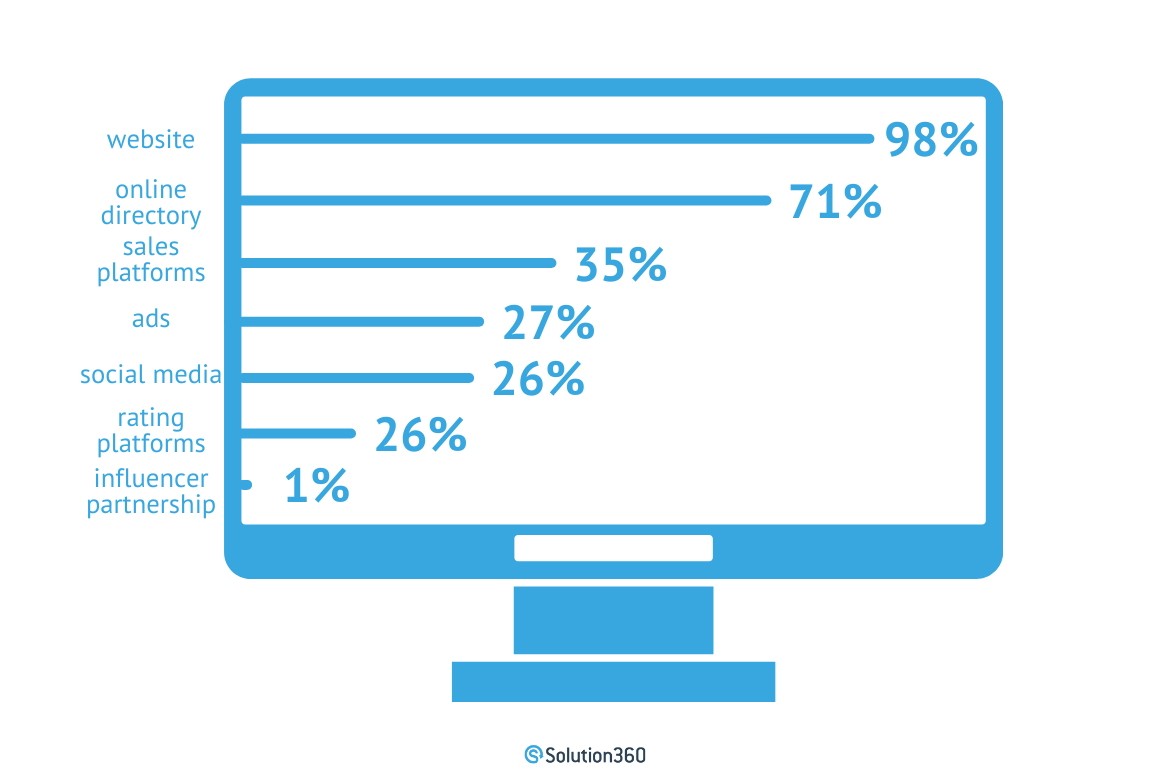 Germans are bargain hunter
Attracting customers with incentives like discount codes is very effective since 77% indicate that pricing is one of the most important criteria when selecting an online shop.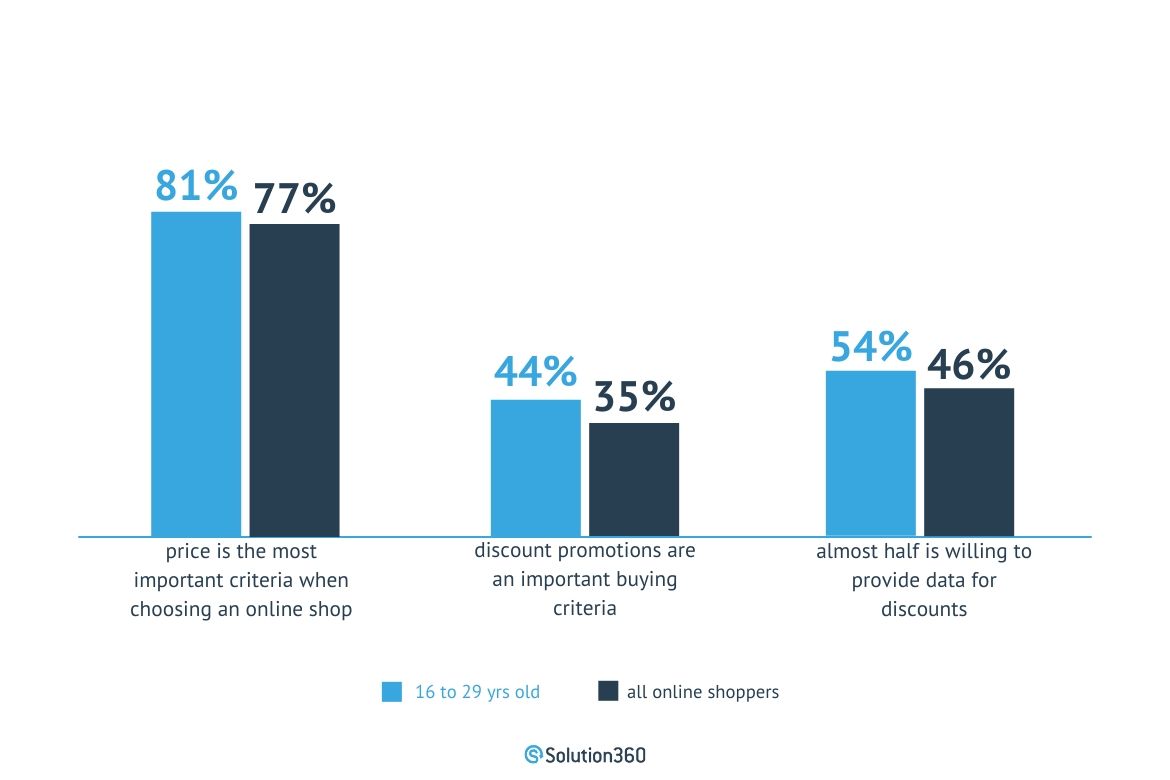 Device usage & mobile shopping
More than every second online shopper makes purchases with their smartphone. Mobile shopping has grown from 2014 to 2019 by more than double. Young people are particularly mobile: 81 percent of 16 to 29 year-olds go with their smartphone on a shopping spree, 62 percent of the 30 to 49 year- olds and only 36 percent of the 50 to 64 year-olds rely on the mobile shopping experience. This stresses the significance of online shops being tailored to mobile devices such as smartphones.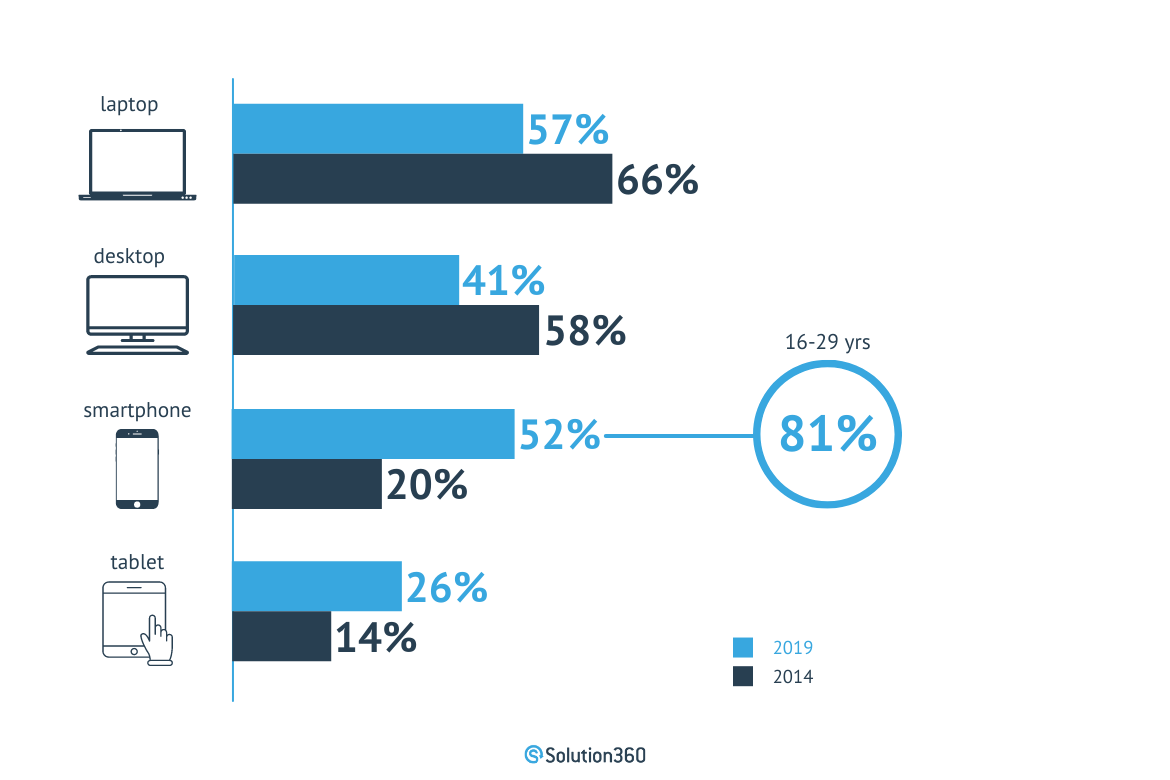 Online reviews before and after sales
Every other consumer is looking at online reviews before making a purchase. More than half online shoppers (56 percent) indicate that customer ratings in the shops are an important decision-making aid. This distinct behavior is found more often in women than in men: 62%of female online shoppers rely on online reviews, compared to 50% of male online shoppers.
The more and credible reviews, the better the quality of its products or services – making it attractive to future customers.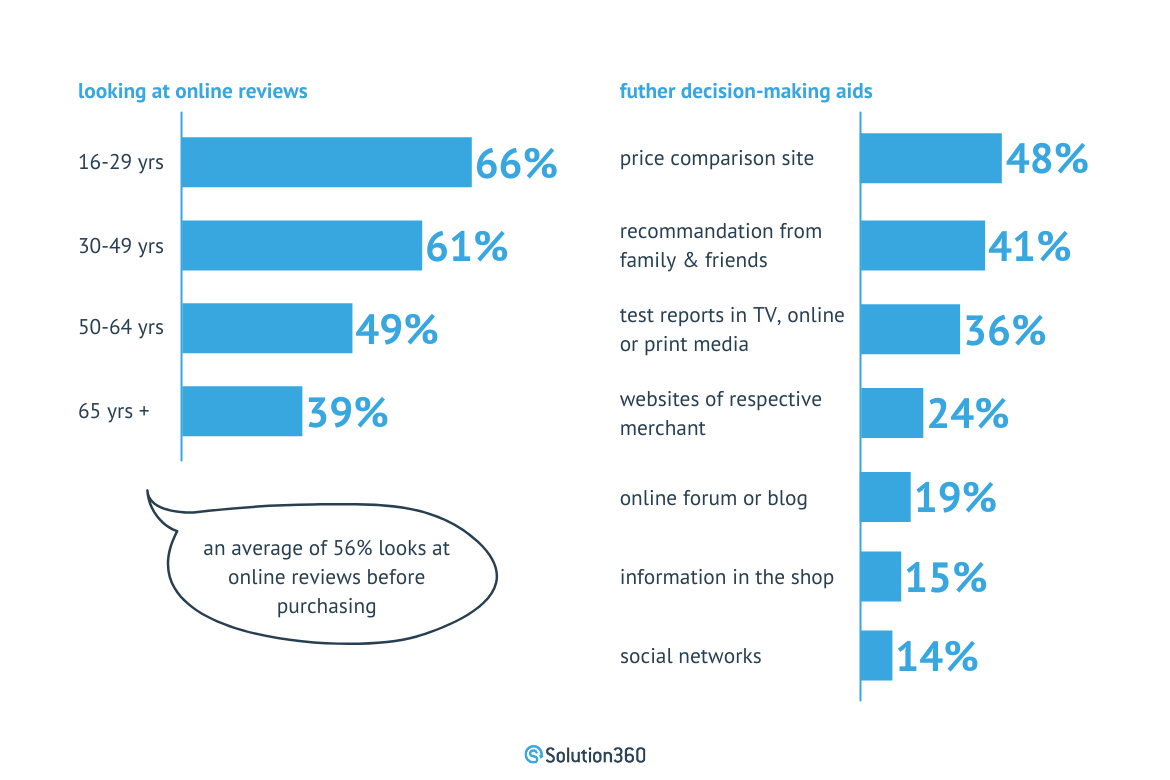 Purchase process – check out, payment
The more channels you offer, the more customers can be reached out to. Ordering by e-mail can be found at almost every online retailer, every second retailer offers its products and services on large sales platforms. An order via apps is still less common.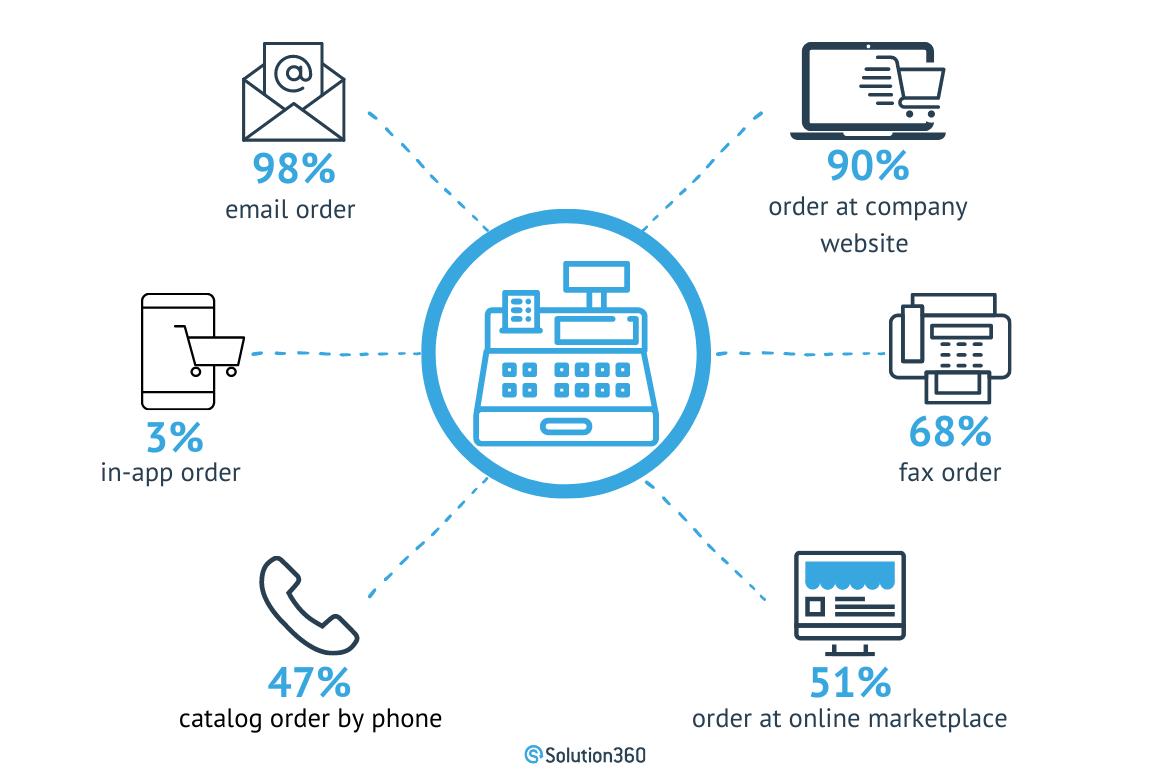 Preferred online payment methods
In an e-commerce shop which payment method would you prefer yourself? Online payment methods are as popular and safe as purchases on account.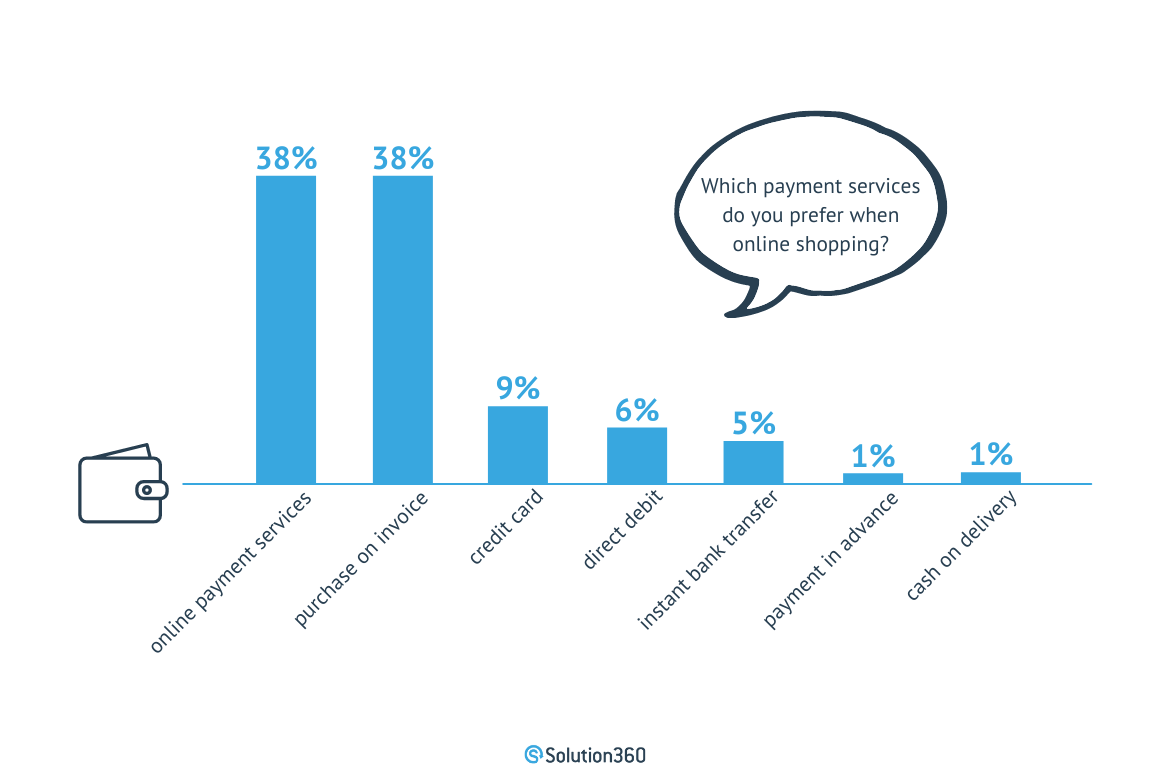 Every ninth online purchase is being returned
Returns cannot be avoided in both online and stationary retail – but digital technologies can help to reduce them.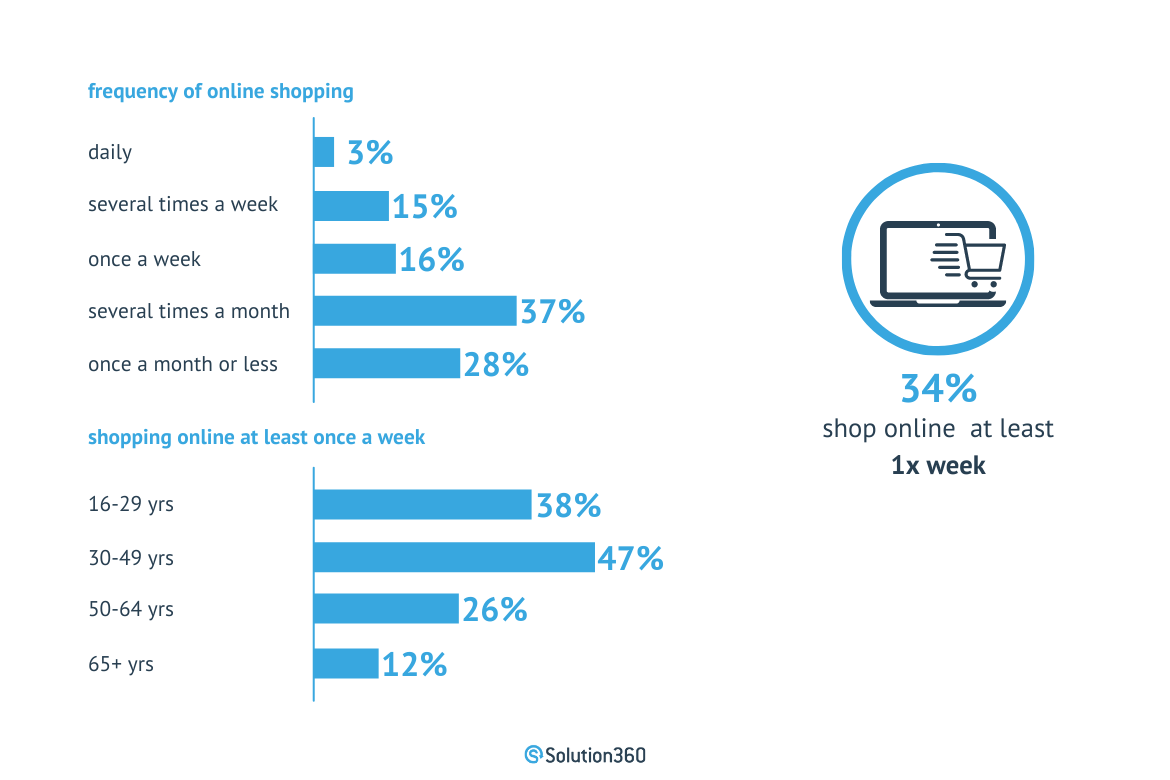 In the area of clothing, for example, augmented reality or big data can be quite helpful. Individual and smart size guides based on loads of data sets is more precise than just a single clothing measurement. The more precisely and realistically a customer can shop online, the lower the risk of a return. Online customer reviews play an important role here again. Previous customers can share and answer most frequently asked questions that consumers may have during their decision-making process.
Focus on local shopping – especially in times of COVID-19
During the COVID-19 crisis, many small and medium-sized businesses both online and offline had to quickly find a response to the restrictions of public life. Retailers who already had an e-commerce website got through this easier than the ones who did not offer their products and services online yet. Also, consumers care more about supporting and purchasing from local shops.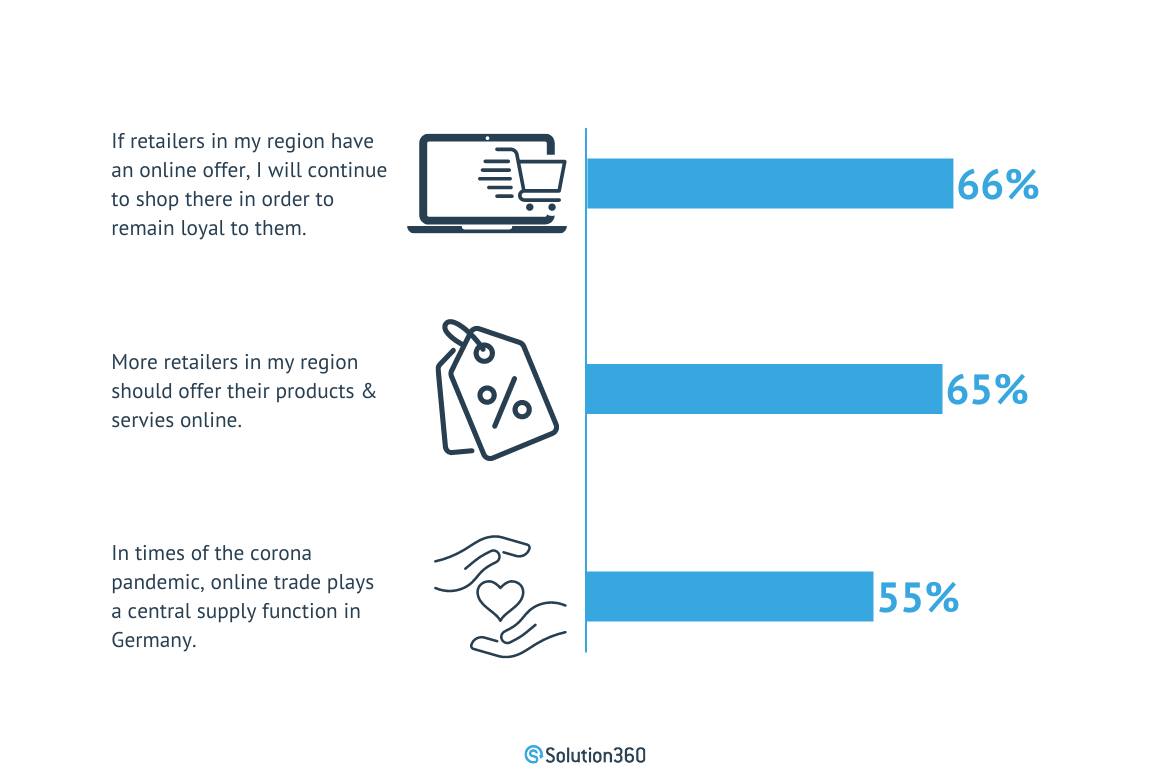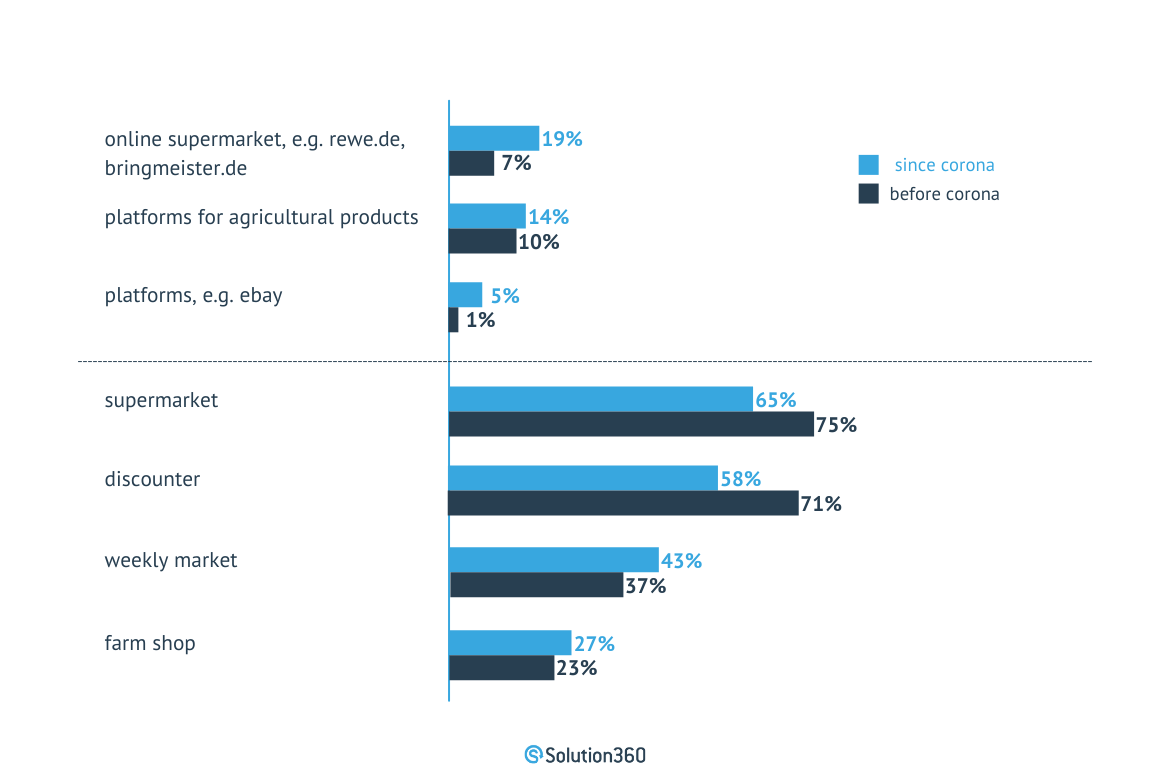 The future of voice-commerce
Do you see the future in voice-commerce? The decisive factor in voice-commerce will be whether online retailers manage to offer a pleasant shopping experience and whether the voice assistant is user-friendly. Only then can voice commerce establish itself as a real alternative to shopping with a click.
Do you see the future in voice-commerce? The decisive factor in voice-commerce will be whether online retailers manage to offer a pleasant shopping experience and whether the voice assistant is user-friendly. Only then can voice commerce establish itself as a real alternative to shopping with a click.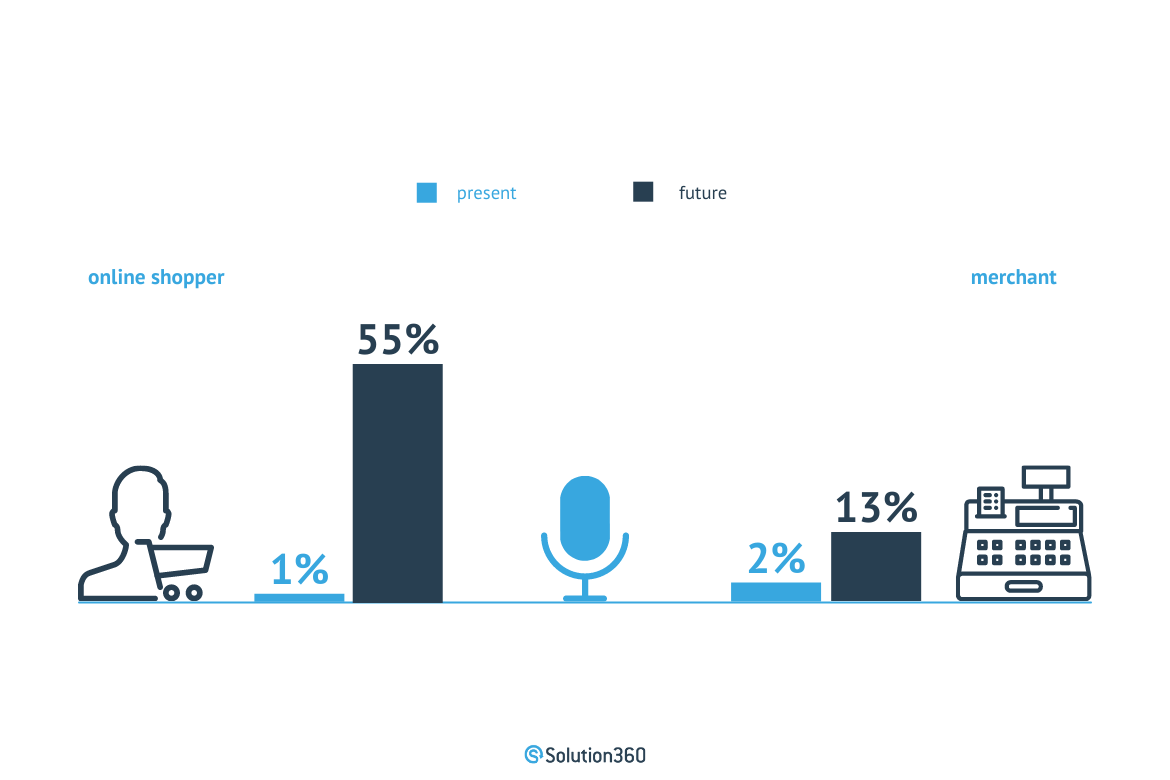 Only 1% are using voice-commerce for online shopping. It is expected that every second customer
will be using voice-commerce for online shopping by the year 2030.
2% of the merchants are using voice-commerce or have a digital voice assistant for orders in place. Up to 13% are planning on implementing voice-commerce or discussing its use.
The love-hate relationship between Germans and customer service
Nowadays, many people are placing orders online. In doing so, they do not have to rely on any sales advice such as from a stationary retailer. Most companies offer many different channels through which customers can contact their employees can.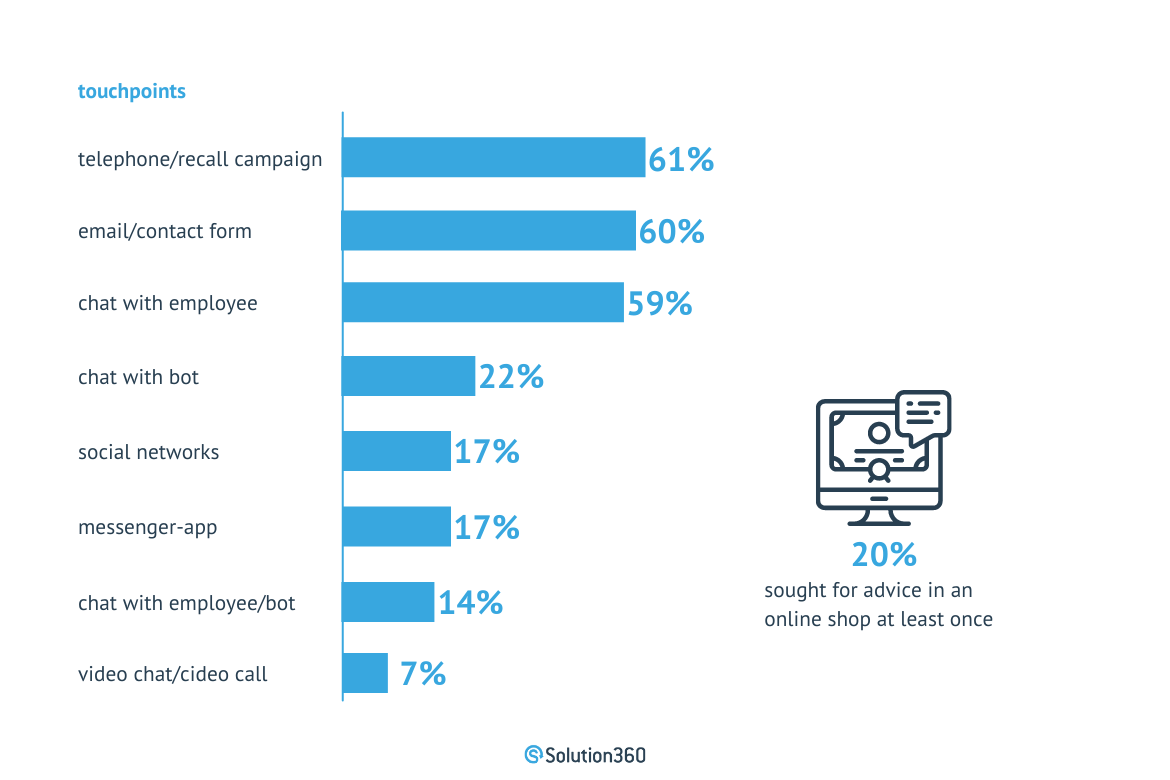 One in five customers gets advice online. Chatbots play a particularly important role in this for a few years now: They answer frequently asked questions and are available around the clock. Chatbots relieve human employees.
Online shoppers are returning customers
Usually, online shoppers are returning customers. Anyone who buys from an online shop once will do it again. One in three customers shop online at least once a week – some even more often. It shows that not only young, but also older people shop on the Internet – almost every eighth internet user belongs to the 65yrs+ generation.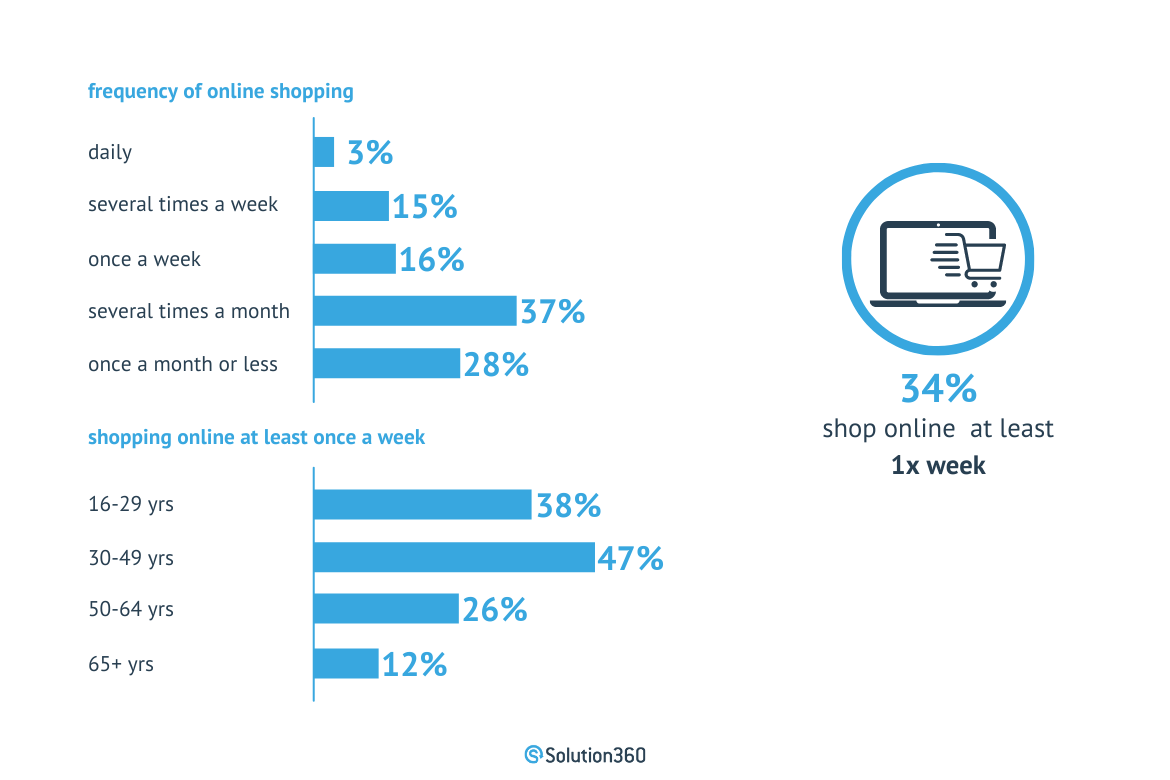 After-sales services such as customer service, shipping, payment, and returns can help to build strong customer loyalty. Happy customers are returning customers!
Key takeaways for doing e-commerce business in Germany
Start offering your products and services online
Gain some relevant digital know-how
Have a homepage – be present in the digital world
Offer promotional discounts at a reasonable frequency
Mobile first! Optimize especially for mobile devices
Encourage online reviews & react to them, whether they are positive or negative
Think globally, act locally
Deliver exceptional customer service!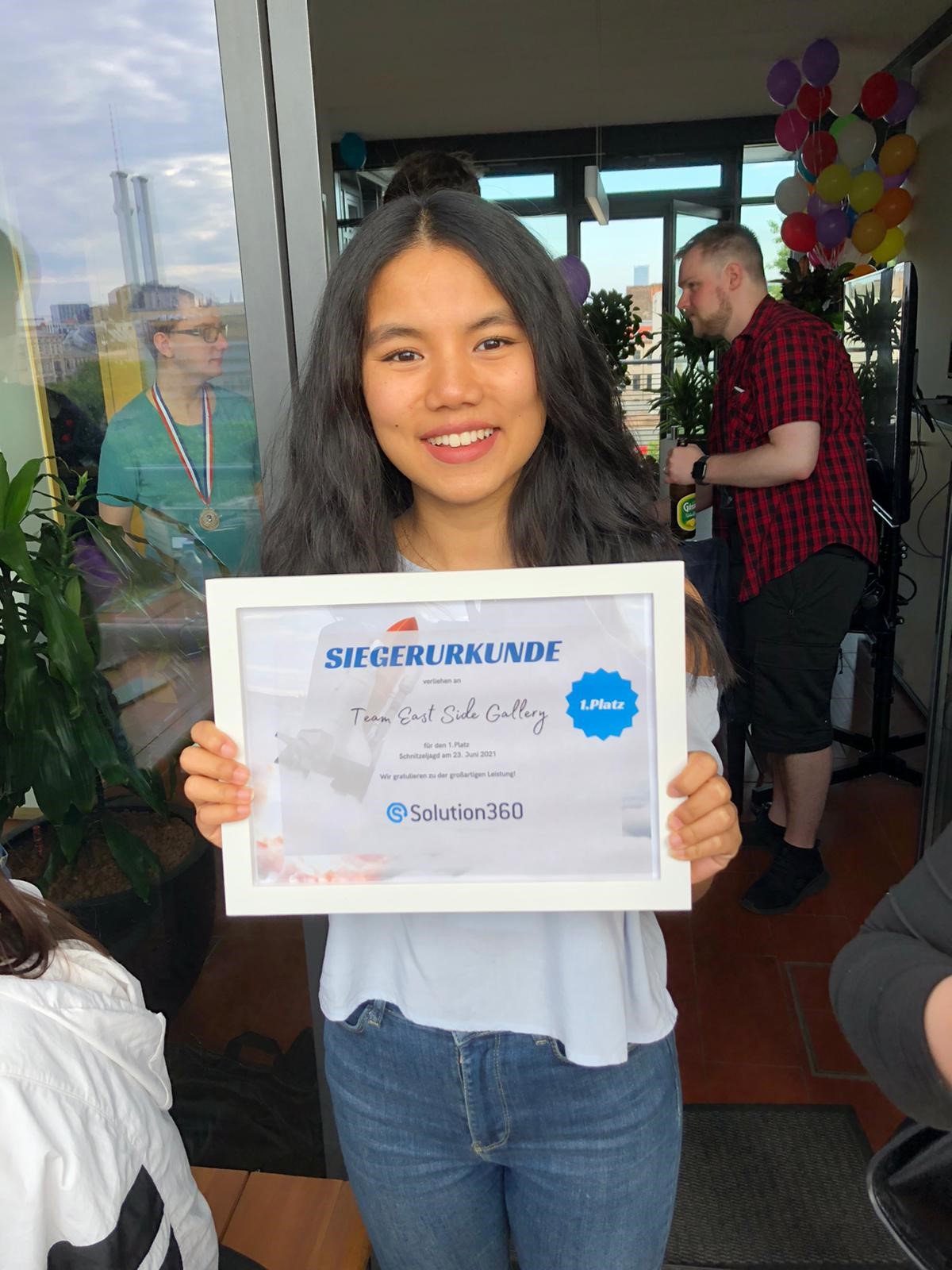 "How Germans go from stationary to online shopping" was written by Lisa Chow, online marketing manager at Solution360 with a focus on search engine optimization (SEO). Solution360 is an e-commerce agency from Berlin, Germany. We strive to create and support online shops such as JTL-Shop, Shopware and Shopify with design, developing, project management and online marketing.

*This article represents general, non-binding information. Although the information was created with the greatest possible care, this publication does not take into account the special circumstances of any individual case. The use is therefore in the own responsibility of the reader. Any liability is excluded. The statistics and figures are based mainly on a study by Bitkom in 2019. All rights, including the reproduction of extracts or graphics, are held by Solution360.