Introduction to report
This report will look deep dive into personalization, specifically for webshops currently being hosted on Shopify. Specifically this report will:
Give an overview of personalization
Example of key areas to consider personalizing specific to ecommerce
How to decide if your company is ready
Tips to getting started
What is personalization in the context of ecommerce?
Personalization when heard without context can mean a number of different things, ranging from adding a customer name to an email to being confused with customization.
When it comes to ecommerce, personalization, the biggest players like Amazon & Zalando come to mind. Personalization essentially creates the experience of having sales associates in your online store. Based on each visitor's buying and browsing history, the algorithm tries to predict what they will buy next. This reduces the number of choices available and simplifies purchasing decisions, effectively removing any analysis paralysis. Personalization can be incredibly effective at improving ecommerce conversion and sales. 
Personalization can seem overwhelming, especially when every part of your webpage can become automated and optimized for a specific individual. However we have broken it down into four key areas to consider when starting in personalization:
Banners

Change the hero banners on your homepage depending on the individual that is browsing. This can be based on: location, seasonality, gender etc.

Notifications

Create FOMO and urgency using countdown timers & relevant notifications to that individual

SMS

Personalizing SMS communications to the individual is quickly becoming a key part of digital strategies and users become more likely to engage with SMS. Personalized communication that includes their name and that is based on location or history with a brand will be important to create a feeling of individualism.

Product recommendations

This refers to predicting and proposing the most relevant products to each individual. When it comes to product recommendations, the area and goal of each recommendation is crucial. You can use product recommendations in any position, but some of the most common include:

Homepage

The main purpose of product recommendations on a homepage are to promote diversity to quickly identify the intent of the user for this specific visit which is done by tracking which items are clicked.
Dreamland implemented a "Discover for you" carousel on their homepage and was able to achieve CTR from 1.5% to 3% over the course of a year.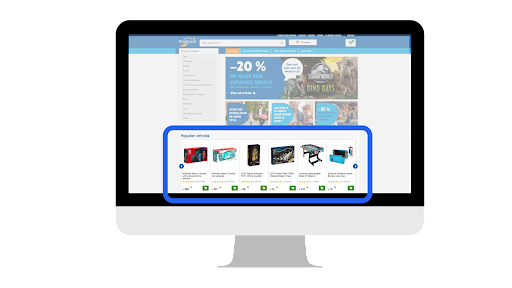 Product Page

Once a user clicks on a product, the recommendations on that specific product page will become a context item for all other recommendations. Perhaps your aim is to show similar items, items to complete a bundle, or items other users with similar behavior purchased.
Dreamland implemented "Others also viewed" on their product detail pages and was able to increase their CTR by 4.7%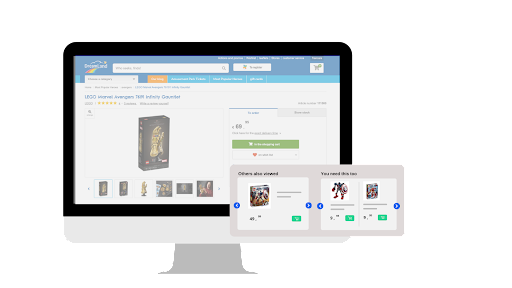 Cart Page

Once a user reaches the cart page, it is crucial to use personalization in a tactful way. It is important that whatever recommendations you show will not distract the user away from completing the purchase. The most common type of recommendations to use here are impulse buys (similar to an in store environment) that do not take a second thought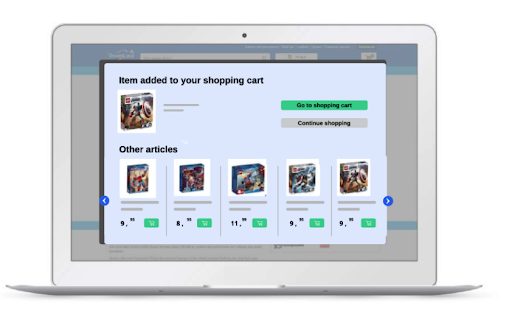 Email

The key purpose of product recommendation in these kinds of communications is to promote the user to return to your shopt. By showing relevant items to the items in the cart or popularity, in combination with the individual's behavior you are more likely to entice them back to your shop.

Abandoned cart: products related or complimentary to cart items
We miss you: Recently viewed, popular products or sale items. The intent is not explicit so providing diversity is important to re-engage.
Post purchase emails: this kind of communication tends to have the highest open rate across touchpoints as the user is excited to receive the item. This is a great opportunity to recommend complementary or "other users bought" products to entice the user back.

Veepee implemented a similar idea as email, except they capitalized on the QR code by linking the landing page with product recommendations related to the purchase that was made.
Personalization is quickly becoming a major buzzword when it comes to eCommerce, and in theory it sounds like something to implement at every single touchpoint of your customer journey. However, it is important to note that not every store needs personalization on such a granular level and the reasons below will explain why
Number of products
Webshops with a ton of products can very quickly become overwhelming for a new or returning user. Personalizing product recommendations in a manual way is very likely to miss the mark with the majority of users. Therefore, using artificial intelligence to make these decisions smarter will not only create better conversion and CTR, but will increase customer journey. Typically stores with 50+ SKUs will provide enough data to properly train an algorithm.
Amount of traffic
When using artificial intelligence to craft product recommendations, you need to make sure you are providing the AI with sufficient evidence to learn about the behavior of your audience. Typically, webshops with 10,000+ sessions per month will create enough data points in combination with the number of SKUs to train the algorithm in a way to predict recommendations that will create the kind of impact or user experience you are looking for.
Conversion
When examining whether to implement personalization, one area to really understand is your conversion rate before starting. The industry average according to Shopify is about 0.5%-1.5%, however keep in mind that this can vary depending on your industry and product. If your conversion is below this, it is important to understand if there is a bigger issue at hand that will need to be addressed before implementing personalization.
Types of solutions
After reviewing the above considerations, when deciding to go forward with personalization there are two key types of vendors to consider depending on your need and size:
No frills plug & play
These providers are typically native to Shopify and can be found through the application store or through a landing page. They will require very few clicks to be up and running and use the existing Shopify platform for design and billing. The prices can vary depending on the technology, features and support you are looking for but there are options for all budgets and sizes.
Enterprise
A great way to tell if a provider is targeting enterprise level customers is to check their pricing page, either on the application store or their native website. If the only option is "Custom" or "Contact Us" that tends to be a good indication. If you are looking for a custom solution, have a very high revenue (typically 500,000 USD or more per month), have multiple stores or stakeholders, enterprise level will be a great match as they will be open to working with you to create exactly what you need.
What kind of data do they need?
When evaluating a solution, a key question to ask is what kind of data they need access to. With the recent changes around third party cookie data and Apple's data opt in for applications, there has never been a more important time to make sure your first party data is up to date. This includes:
Click events
Add to cart events
Order events
Profile history (if applicable)
Ideally this kind of data will be set up in an easy to use way in order to facilitate sending this data to your provider as frequently as possible to ensure whatever artificial intelligence being used is being trained constantly on your audience.
How to measure the impact of your solution?
Now that you have chosen a solution and they have been running for a length of time, it is important to understand how to accurately measure the impact of the solution. Of course a key criteria will be how they choose to communicate these results, for example weekly emails or real time dashboard. You will also need to define what your key KPIs are as this can vary company to company. Some of the most common KPIs include:
Conversion
Click through rate
Average order value
Attributed revenue from recommendations: If a visitor clicks a recommendation and subsequently buys in the attribution window, then the click is attributed to the solution. Important to note: if you have a wishlist capability then being able to differentiate between this list and "add to cart" will be required in order to not be misled.
How to get started!
After reading this report, you are probably itching to get started personalizing your website! However, to summarize, we suggest answering the following questions to evaluate your maturity and need for personalization.
What are the key KPIs you want to improve?
How big is your product catalogue and how is your traffic?
Do you have the data needed to properly train the algorithms to take advantage of AI powered personalization?
Once you have these questions answered, reach out to Froomle to see how we can help meet your goals!
Brief overview of Shopify & Froomle
"Shopify is a subscription-based software that allows anyone to set up an online store and sell their products. Shopify store owners can also sell in physical locations using Shopify POS, our point-of-sale app and accompanying hardware. If you're a Shopify merchant with both an online and physical presence, your inventory and stock get synced so you can manage your store(s) from one account, on any device.
Shopify is an e-commerce platform that offers a way to quickly launch your dream business and start selling to your customers, wherever they are. And if you want to customize your store or even build it from the ground up, the Shopify App Store and our APIs make that easy to do."
Froomle
Founded out of the University of Antwerp in 2016, Froomle was created with the mission to bring personalization tactics of the giants like Netflix & Apple to the masses in a scalable and affordable way. Having a combined 20 years of academic and commercial experience, Froomle is constantly innovating their artificial intelligence to keep clients at the cutting edge of personalization tactics. Working with plug and modules that are combined in a strategic way specific to every one of their customers, Froomle modules can be used on any page and channel to create maximum impact.