We had a pleasure to chat with Lucie Dreiseitel, Director of Marketing at AUTO1 Group. Read on to find out more about marketplaces and automotive industry!
As Director of Marketing at AUTO1 Group, I'm sure you're very busy. What does a typical workday look like?
The main focus of my role is to plan and budget marketing activities and initiatives to achieve our business targets. As we are a fast-paced company and executing all of our Marketing activities fully in-house , it is crucial to plan everything out, but we must also allow flexibility to reassess our actions regularly. Our agility enables us to move resources around to rapidly improve the success of our top-performing activities.
Practically, this means I start my days by looking at past days' performance, identify trends and work in constant communication with each team to support them and enable them to get access to the resources and information they need to either scale their channels further or consult them on how we can solve current challenges. I also connect teams within and outside our department with one another to facilitate the exchange of knowledge.
Besides the pure traffic acquisition part of my job, I also participate in discussions about insights we gained about our customers, product advancements and tests we want to start. At AUTO1 Group, we see marketing as a lever for growth . This is where many innovations are born that affect everything from our marketing activities to the business itself.
You have been working at AUTO1 Group for more than 4 years already. What was the biggest challenge that you faced?
While I wouldn't call it a challenge, but rather an exciting opportunity to pursue, in my opinion the overall working mentality is something that pushes me: no matter which department and team you work in, you need to challenge the status quo. Even though AUTO1 Group has grown into an established company, we still believe in the characteristics of a lean start-up. This means never to settle for what we have but always try to improve, grow, test, measure, learn and start again.
This requires the right balance of creativity and problem-solving mentalities, but also technical and analytical knowledge to implement and evaluate. This is, in my opinion, what makes the job super exciting and allows every week to be different from the previous one. So the biggest challenge is continuous improvement if you want to always be better than you were yesterday.
How would you describe AUTO1 Group to a new customer?
AUTO1 Group is dedicated to taking the stress out of used car trading for all possible players. Well-known for our C2B brand wirkaufendeinauto.de, AUTO1 Group also runs the online B2B marketplace AUTO1.com and the B2C online car dealership Autohero, that all together sync the supply and demand of used cars across Europe. Through the company's proprietary technology, AUTO1 Group basically solved two problems: First, selling a car used to be a real hassle. By applying the principles of e-commerce to the automotive trading industry, we reduce effort and time private and professional customers need to sell a car. Secondly, professional car dealers didn't have a consistent supplier of high-quality vehicles and now we are the best source on the market.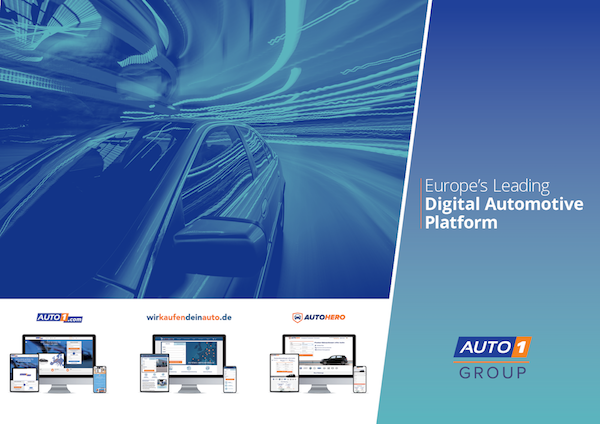 Can you identify any trends in marketplaces? How can they change in the next few years?
Overall, you can see marketplaces evolving towards full-service platforms. Users are no longer looking for a single-use website but for a place to solve their current problems around a topic in a tailored manner, from single to multiple touch-points. Also, AUTO1 Group has evolved to a full-service platform offering digital solutions along the entire value chain of used car trading. Next to professionalizing the purchasing and selling, we're supporting our customers with technical, logistical and financial services just to name a few.
Do you have any tips for marketers on how to promote a marketplace?
As there is no such thing as a one-size-fits-all marketing strategy, I would not say the tip is for promoting a marketplace, but it also applies to any product or service: the key is to understand your audience. Who are your customers? You need to understand who they are, what they want and need, and then make sure to tailor your offering and communication to them. Also, you should definitely read here about this amazing selling machine review where you can get an idea of how to promote your marketplace. You need to test, test, test! 
What is unique about the automotive industry? How about your target group?
The automotive industry is a very dynamic market with a high diversity of players. It is changing very quickly with booming topics like e-mobility, car sharing and digitalization, which in my opinion, shows there is a big future for the entire industry. The European car trading market in particular used to be very fragmented and mostly limited to local activities – and this problem is exactly where AUTO1 Group's business model comes in. We've been the first to digitize and unify the European market by making use of arbitrage opportunities that ultimately benefit the entire network of private and professional customers.
In order to succeed in the field, customer retention is key again. You need to constantly keep in touch with your customers and offer them relevant information and convenient services in between their needs to sell a car. And this is precisely where a special challenge lies. As mentioned already, there is a wide variety of different players with very diverse needs. For private customers, their vehicle is often the most expensive item they own, as well as a very emotional asset. For professionals, it is the basis of their business existence, which is why trust, expertise and excellent services are crucial. This is why AUTO1 Group is pursuing a dual strategy of both providing user-friendly digital solutions as well as physical presence all over Europe. That way we can meet customers face to face and master the specific challenges of the car trading market.
Thank you for your insights, Lucie!
_________
Hungry for more e-commerce tips?