Germany is one of the largest markets in Europe. Besides, this country is one of the most attractive logistics markets in the world. This is mainly due to the location in central Europe, but not only. Germany boasts a highly developed infrastructure, technology at the highest level and warehouses that are ahead of these in most European countries in size and quality. That is why logistics is very important in the German economy. It brings over €270 bn to the country's budget.
Warehouse market in Germany
Based on JLL report, it is the e-commerce market that is responsible for such a dynamic development of warehouse space market. In 2018, it took over half as much storage space (780 000 sq m) than in the previous year. This shows how closely these two markets are related.
Thanks to e-commerce, only in five the largest German cities, the warehouse area is 2 136 400 sq m. More than twice as much – 5.072,700 sq m is located in the rest of the country. In 2018, warehouse space increased by 7 million sq m, amounting to 7.2 million sq m. Wort to mention that 64% of this space is a long-term rental.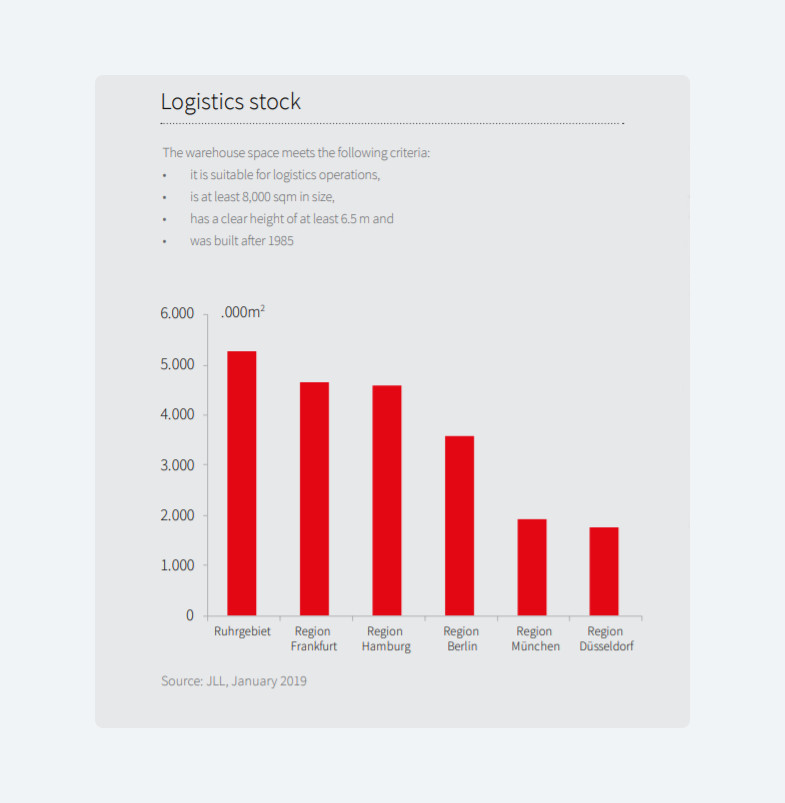 https://www.jll.de/content/dam/jll-com/documents/pdf/research/emea/germany/en/Logistics-Property-Report-JLL-Germany.pdf
Germany's top logistics regions: Berlin, Düsseldorf, Frankfurt, Hamburg, Cologne, Leipzig, Munich and Stuttgart generated over 3 000 000 sq m of logistics space in 2017. The first place was taken by the Frankfurt region – 650,200 sq m. Hamburg came second – 484,600 sq m. Berlin closed the podium with 422,500 sq m. Düsseldorf, which in 2017 signed an agreement with the e-commerce giant Amazon, thereby generating 317,600 sq m of rented space. There was a decrease in the amount of rented space in Munich (201,100 sg m) and Stuttgart (300,400 sq m). It happened due to the limited free space in these regions. Cologne was second to last in terms of logistics space – 248,100 s m. Leipzig closes the rate by tripling the result from 2017 – 343,700 sq m, thus being one of the most popular logistics regions in Germany.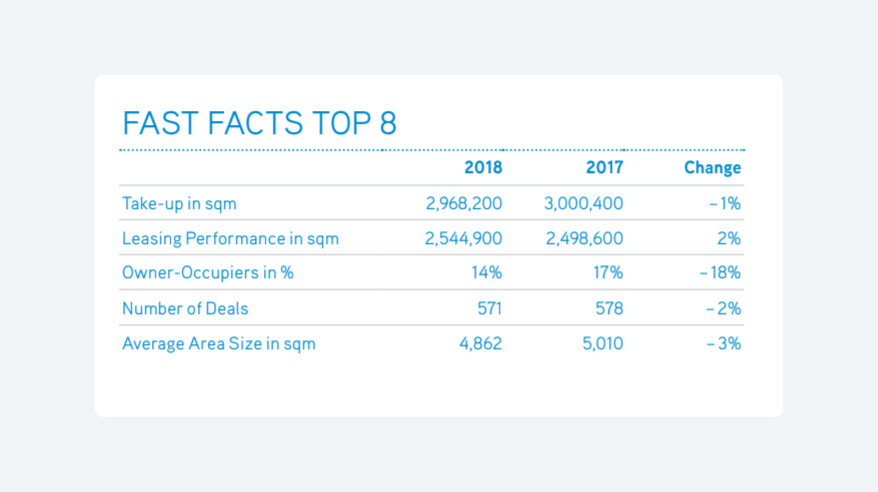 https://www.colliers.de/wp-content/uploads/2019/06/ColliersResearchMarket-Report-IL20182019engl.pdf
Market development is usually conducive to rising prices. This is also the case here. Only in Berlin, the cost of renting warehouse space in 2018 increased by 10%. When planning to rent a warehouse, it is worth considering not only the current price level but also market development and forecasts of the situation on this market (and prices) throughout the whole country.

https://www.colliers.de/wp-content/uploads/2019/06/ColliersResearchMarket-Report-IL20182019engl.pdf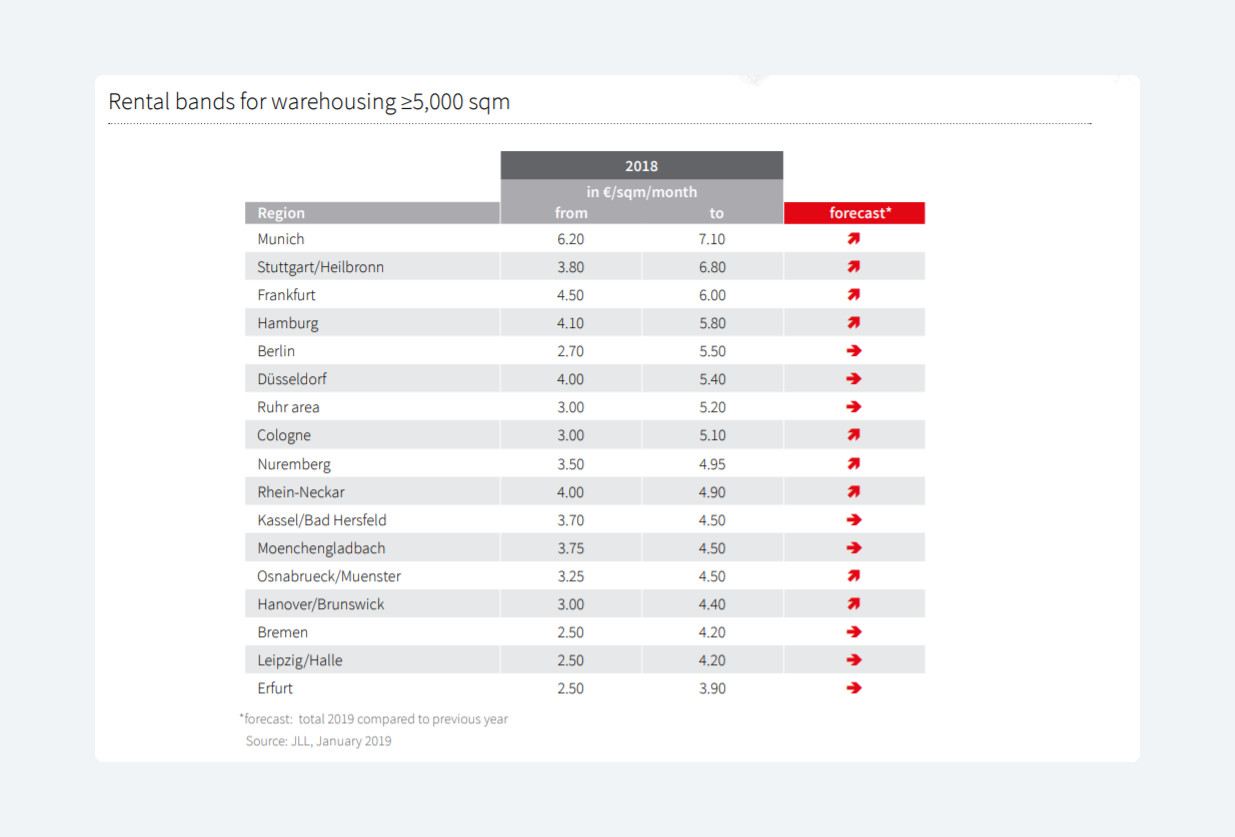 https://www.jll.de/content/dam/jll-com/documents/pdf/research/emea/germany/en/Logistics-Property-Report-JLL-Germany.pdf
Since the logistics sector has an annual turnover of over EUR 200 billion, it has a relatively large share in GDP – 7%. Employment in this sector exceeds 3 million people and investments in this sector are at the level of EUR 15 billion per year.
Why in Germany?
Dynamic development of the global e-commerce market has posed a considerable challenge to the logistics segment. A larger number of orders requires that transport become more efficient and faster. Customers don't like to wait for their orders for too long. That is why Germany has become such a popular spot on the logistic map of the world. First, by their geographical location, they connect Western Europe with its eastern part. Secondly, the quality of the roads and the length of the highways are at the highest level. Germany's road network covers 12,000 km. In addition, the rail network of Germany embraces 40,327 km.

Freight villages
Have you ever heard about freight villages? In German knows as Güterverkehrszentren or GVZ. Government agencies in cooperation with the logistics sector have created freight villages to maximize the efficiency of German infrastructure. How does it work? Villages operate on the principle of cargo handling centres. They have access to local delivery points and highway networks, thanks to which the whole process is faster. In GVZ, you can also go through customs clearance or check whether the technical condition of the vehicle allows you to continue the journey.
Freight villages in Europe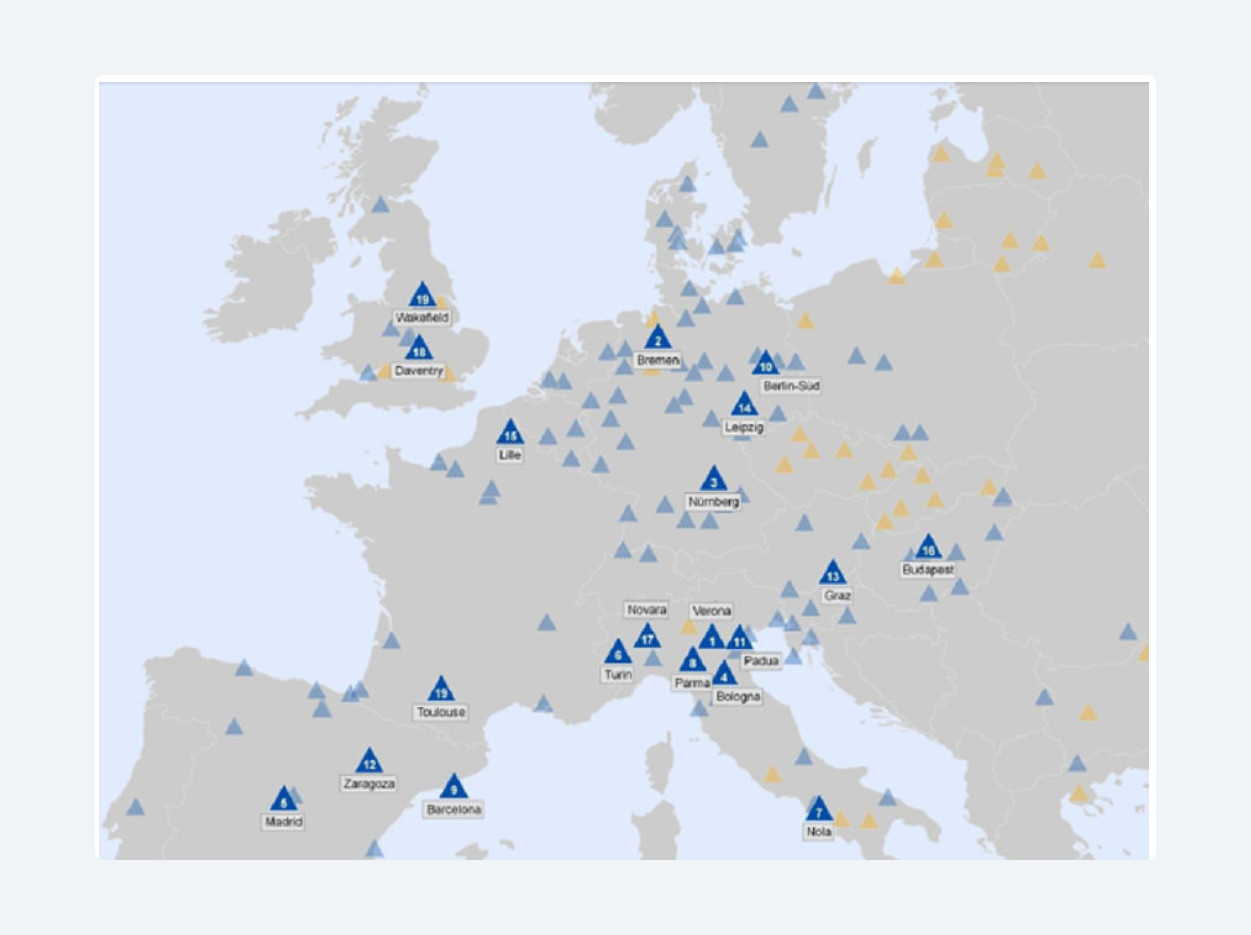 https://www.researchgate.net/figure/Freight-villages-in-Europe-3_fig1_288917921
Pick By Voice – more eco, more efficient
Europe is moving with the times also in the logistics sector. Pick By Voice is already present in most warehouses of larger companies, also in Germany. Needless to say, the withdrawal of paper lists, etc. has increased warehouse efficiency. If you are wondering what Pick By Voice actually is, we are here fo you. This process is based on the confirmation of each step in the process by the employee responsible for it. Of course, by using his voice. Currently, logistics is required to operate at the highest level and its operations to be as reliable and fast as possible. Express delivery has also become very popular recently. Which does not make logistics work any easier. In this case, saving time and increasing efficiency comes in the form of giving up refilling paper lists and implementing Pick By Voice system.
Conclusion
Germany became a mecca for logistics. More and more enterprises recognize the potential of this country. The development of logistics is associated with the shrinkage of free space that could be used for this investment. Tenants are looking for large areas. As the areas around the largest German regions are becoming more and more overcrowded, tenants will most likely move to neighbouring areas such as Hanover and Nuremberg.