No matter where you live, people around you are likely staring at little rectangular screens for much of the time. And a big fraction of all website traffic comes from these mobile users — 53.98%, to be precise, in 2021.
Today, most customers turn to their phones to connect with a brand, browse its social media activity, and buy products from it.
Sadly, the world of printing is no exception either, and printers have found it is essential to winning the mobile game over web-to-print eCommerce websites. Take any top printing store integrated with a Web to Print solution; for instance, you will find that the platform is designed to cater both the desktop and the mobile customers.
That means the focus is on the design elements and content required to communicate your message effectively and offer a great user experience on the small screen.
Being mobile-first is no longer an option; it is a necessity.
It is superfluous to say that catering to those smartphone users is crucial for you as a printing business owner if you want to compete effectively in a digital-first world. If you are not entirely convinced about the case for going mobile-first, we have some data for you.
According to the latest Statista report, the number of smartphone users will go up from 3.6 billion in 2016 to 7.5 billion in 2026 — more than doubling!
Research shows that 85% of all people in the States use smartphones, a percentage even higher in continents like Africa and Asia. If you are not mobile-optimized, therefore, you will miss out on a significant chunk of your customer base.
Moreover, 61% of organic search engine visits in the US came from smartphones in the second half of 2021, so if you do not offer a great mobile experience, your customers will simply go somewhere else. Still not convinced?
In 2016, recognizing the importance of mobile optimization, Google has started using it as a ranking factor for SEO. So if you are not mobile-friendly, you would not even appear in search engine rankings. That is the reality as of today!
Wait…there are also Google's Core Web Vitals!
In November 2020, Google announced the most recent algorithm updates for page experience, including the much-talked-about Core Web Vitals — comprising three metrics that impact the overall user experience of web pages and their search rankings.
These web vitals, in a nutshell, influence the SEO of your web-to-print eCommerce store as improving page experience, including page load performance, is essential for high conversions. To score big, you must offer your customers ease of interaction and quick mobile browsing.
Six reasons to opt for mobile-first design
A typical mobile-first design is economical, responsive and unleashes exceptional growth potential. Some may even say that adopting mobile-first design is embracing a customer-first attitude, which is true in many respects.
As a printer, you would agree how important it is to keep your customers happy. So, how can fixing your web-to-print eCommerce web design be beneficial to your customers? Here is how:
1. Simple, to-the-point web content
Designing for mobile encourages you to include only concise copy. You do not want print customers to keep scrolling through pages and pages of lengthy information on a small screen!
2. Dynamic and intuitive design
Mobile-first design adopts a one-size-fits-all approach to achieve cross-platform user experiences. That means, when you develop a beautiful website for desktop, you will also automatically receive a site that performs optimally on mobile.
3. Ecommerce elements
Add value to customer experiences by using the right product images, accurate product descriptions, easy navigation, integration with relocations and social media, a simple checkout process and great customer service!
4. Cross-platform responsiveness
A mobile-first eCommerce site is compatible with a range of different platforms, including desktop, smartphone, tablet, and so on. This allows your customers to engage with site content, video marketing, an easy shopping experience and much more from whichever platform they choose at a time most convenient to them.
5. Customer insights
M-commerce offers an excellent way to collect customer data — their browsing behaviors, shopping patterns, average order value, and so on. The more data you gather, the more you can leverage to give customers exactly what they want.
6. Better SEO efforts
Given three out of five searches happen on mobile, one cannot ignore the importance of mobile-first indexing, which comes in handy for ranking high on Google searches. If you are already running an eCommerce store on Shopify or WordPress, Google Bots will automatically use the mobile version of your site.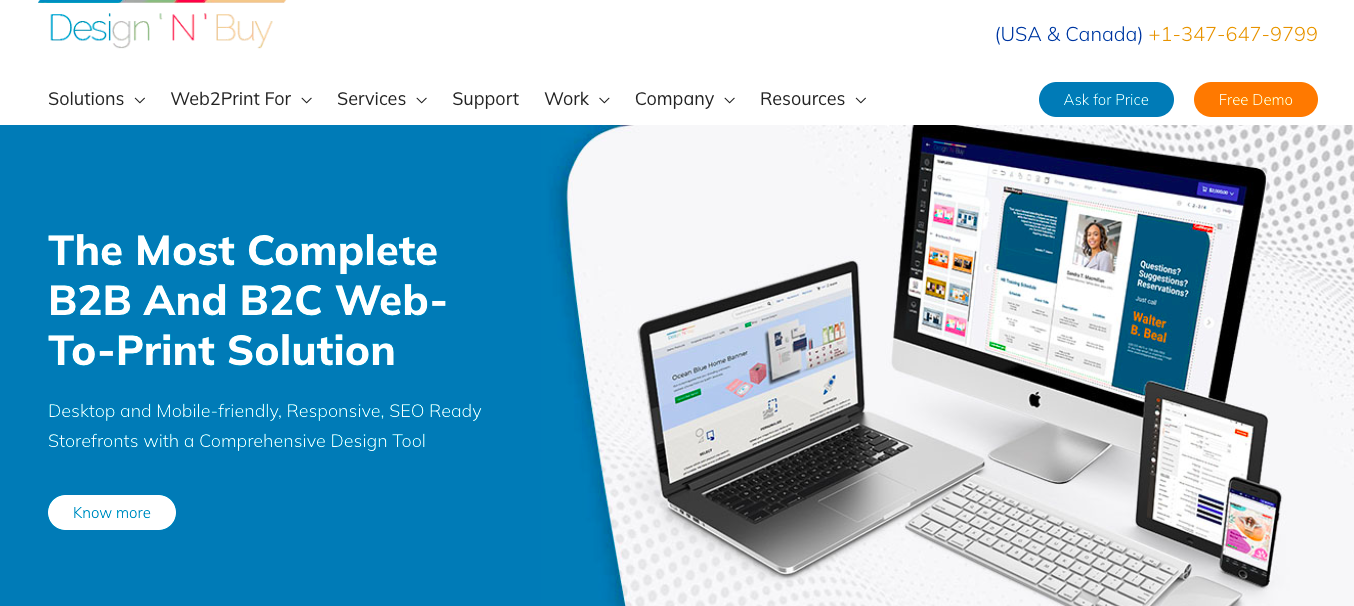 Best practices to be a mobile-first eCommerce print shop
Being mobile-first as a printing business website in 2022 is no longer an option, and we do not just mean having a mobile-friendly interface.
If you are convinced about its importance and ready to make a change, here are our best tips on how to create a mobile-first web experience in 2022.
1. Audit your current site for mobile-friendliness
While being mobile-friendly alone is not enough to be mobile-first, as we noted, it is certainly a prerequisite. Google has its handy testing tool you can use to evaluate your site on the basic parameters, including 404 errors for mobile, uncompressed images, intrusive pop-ups, slow load times, unsupported content, blocked resources, and broken redirects. If any of these show up, focus on fixing them first on your web-to-print eCommerce site.
2. Use a mobile-first framework
Rigid templates are simply not optimal for a top-notch mobile browsing experience. By using a flexible mobile-first framework such as a grid-based framework, you can improve the mobile design for your site in a section-by-section manner, allowing for optimal viewing even on smaller smartphone screens.
There are several elements to optimal mobile design, such as text and image size, interactive visuals, and the use of the swipe facility to scroll through albums or lists. A grid-based framework comes with columns and rows to help you work on each of these in turn.
3. Rethink your navigation menu
There is a drop-down menu in conventional desktop websites along the top navigation bar. This, however, does not transfer well to mobile screens. Instead, use a hamburger-style menu in which to stack all your navigation links. Speak to your web-to-print solution vendor to build you an interface that enables you to achieve this navigation menu.
4. Keep it thumb-friendly
Everyone goes thumb-first when they are scrolling or clicking on the mobile screen, so make sure your web-to-print eCommerce website accommodates that.
One helpful tip is to place essential buttons like the navigation bar and menu in the center of the screen, where the thumb can easily reach.
5. Improve your mobile page load time
Page loading speed is a significant ranking factor for SEO results and can be the thing that determines whether your customer stays on your page or exits to try somewhere else.
There are several steps you can take to maximize your website loading speed, including switching to a lightweight theme, compressing images, using lazy-load to deliver images without affecting the page load time, switching to secure HTTPS protocol, getting an SSL certificate, getting the latest version of your website server and installing a suitable caching plugin.
6. Invest in Accelerated Mobile Pages (AMPs)
One quick way to get closer to your mobile-first web-to-print eCommerce website goal is to invest in AMP. These achieve swift page load times by using stripped-down code and custom tags. However, such pages will not have any contact forms or embedded content. So use AMPs only if they are compatible with your goals for your website content.
7. Be optimized for local search
When people search for things like the best Thai restaurant, the best t-shirt printer, or the best bicycle repair shop, they are typically looking for options near them.
Particularly after the COVID-19 pandemic hit, local search has become crucial, and around a third of smartphone users are likely to opt for the business that shows up nearest to them in Google search results.
To take advantage of this, register yourself with Google My Business, have a detailed schema markup, encourage customer reviews and ratings and ensure that your business name and contact details are accurate and uniform across all the web pages you have a presence on.
Even if you are an eCommerce business catering to a (potentially) global audience, there is no harm in showcasing where your headquarters are located.
8. Be compatible with voice search
In 2022, people are not just typing questions into their phones anymore. They are asking questions, and they expect concise, accurate answers.
In fact, there are 111.8 million users of voice search queries in the US alone, looking for answers on 'how to' or 'where is' or 'I want to know.'
All of these questions revolve around immediate needs, which necessitate crispness in the responses. Using long-tail keywords makes it likelier that Google will pick up your web-to-print eCommerce website's answers among the top results.
9. Keep testing
This goes without saying, but test and test again to ensure that your mobile site is truly mobile-first across all operating systems, browsers, and devices.
Test each of your pages for responsiveness and appearance — an old iPhone should have the same great experience as the latest Samsung model. A/B split testing is a valuable technique to apply in this regard. Make your web-to-print eCommerce site the go-to store for all print needs.
Mobile-first = customer-first
In conclusion, mobile-first design is of paramount importance for brands in 2022 and is indeed a prerequisite for staying relevant and going above and beyond.
Moreover, by prioritizing mobile-first, you can ensure that your website has only the most critical content and is free of bells and whistles.
This not only makes for a cleaner site experience but also removes from you the hassle of trying to figure out how to occupy more of your page space. Make the investment of time and resources, and you will soon see how happy your customers are.
If you are looking for a web to print solutions provider that can help you set up a mobile-first store, your wait is over. Design'N'Buy specializes in launching eCommerce platforms on the latest web-to-print technology.