For a long time, trends have indicated that the reign of the more traditional, brick and mortar retail is threatened by online retail. Given the accelerated growth of e-commerce brought about since the pandemic, it seems such trends have increased. However, if we take a closer look at the development of online shops and retail stores, a different development is emerging, characterised by flexibility and the linking of several retail channels. Even though the share of online commerce has increased significantly in recent years, many online pure play companies, including big players such as Amazon or Zalando, have also ventured into offline retail.
The challenge for merchants is to recognize the advantages and disadvantages for their business, as well as their customers and to maximize the utility of both channels. In this article, our exhibitor Pickware examines the trend topic omnichannel by considering which opportunities and risks the strategy offers for retailers, and taking a closer look at the technical basis required for a successful implementation of an omnichannel concept and successful communication. 
The advantages of brick and mortar retailing:
From a retailer's perspective:
– Price pressure from direct comparison with the competition is reduced
– Price increases can be implemented more easily
From a customer's perspective:
– Benefits from direct and individual shopping advice
– Perceives the shopping experience as a social experience
– Feels a higher level of trust in the sales staff's opinion
– Eliminates shipping costs and saves packaging material
– Able to grasp a better understanding of the product through live testing
The advantages of e-commerce:
From a retailer's perspective:
– Can access a larger market with higher sales potential
– Can collect individual customer data and use it for personalized advertising
From a customer's perspective:
– Global access to the shop regardless of their location
– Is not tied to opening hours
– Can choose from the entire product range
– Saves time and money since time-consuming shopping trips are no longer necessary
– Benefits from simple price comparison and high market transparency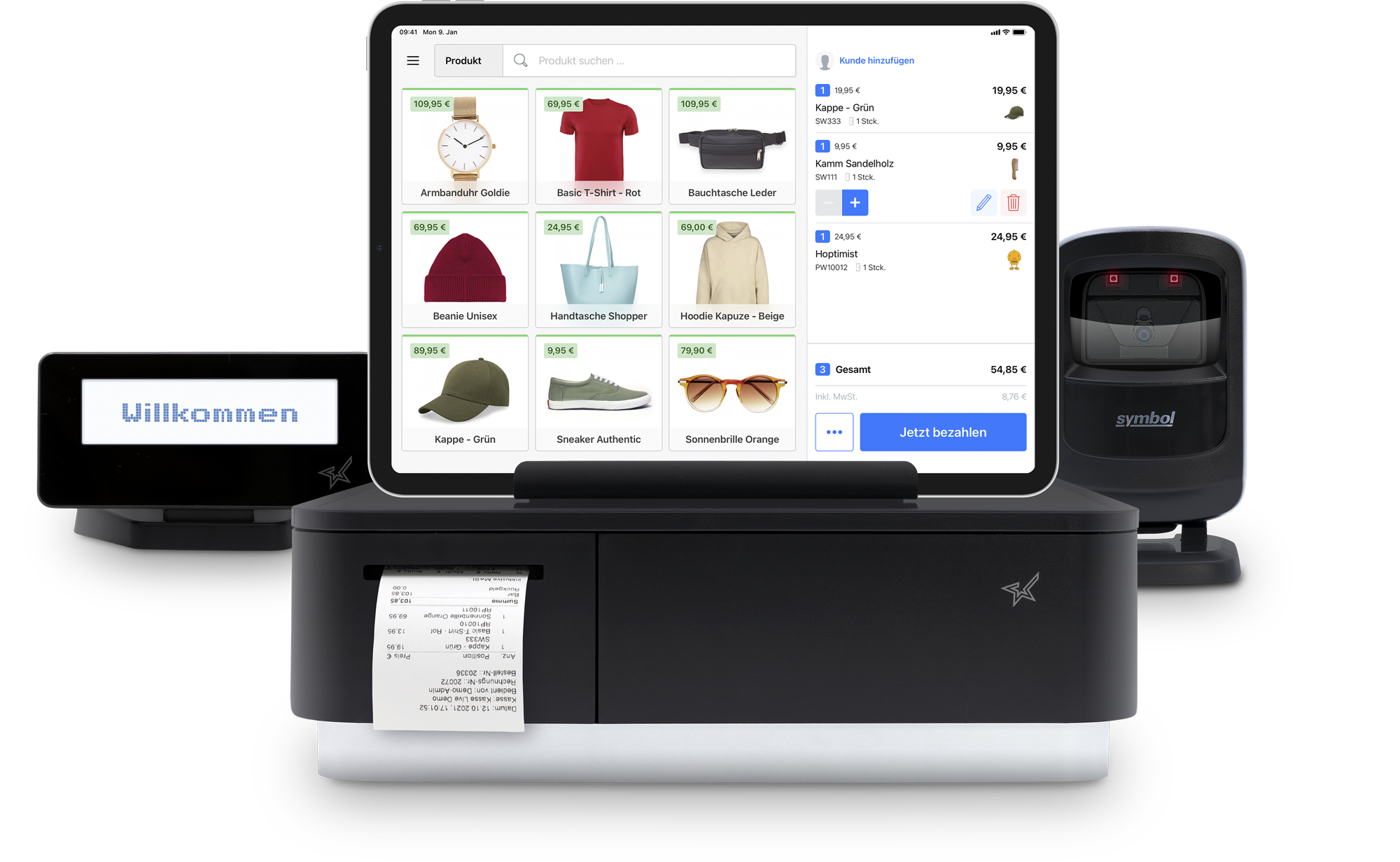 Combining the benefits of online and offline retail to drive your business forward
By intelligently linking both sales channels, retailers can benefit from various advantages. The combination provides the grounds for an even more individualized customer experience and offers great potential for long-term customer loyalty in these fast-moving times.
When shopping, different target groups show very different shopping preferences. This can be reflected in numerous factors, such as their preferences for product advice, price comparison, shipping methods or payment methods. For example, many consumers prefer to research a product online before making their final purchase decision in the store. Others prefer getting personal advice in the store before deciding to buy the cheapest online offer with the best shipping method.
The combination of online and offline channels is therefore particularly valuable in order to achieve added value for retailers. However, it is not enough to operate within both channels, they must also be linked by a well thought-out and technically reliable omnichannel strategy. Hybrid forms of shopping such as Click & Collect are a good example of the valuable synergies that can be created by combining both channels.
The possibility for the customer to first research and purchase a product online and then pick it up in the store not only provides flexibility but also cuts down on shipping costs and delivery times. This enables a further synergy effect. The presence of online buyers offers a high cross-selling potential, as they often buy additional products in the retail shop. Personal advice and payment at the POS in combination with subsequent shipping from the shop to the customer's home is another advantage of merging the two types of channels. Thanks to access to customer data at the POS, customers can also be addressed personally in the store and given individual offers, enhancing their experience.
The technical requirements for a best-practice omnichannel strategy
The optimal execution of an omnichannel strategy requires a technically suitable base. The prerequisite for optimal omnichannel commerce is a centralised merchandise management system with an integrated POS system. A system such as Pickware POS offers the perfect solution and enables merchants an easy start into the omnichannel business. With the centralized data storage in one system, any data from both online and retail store are synced in real time and instantly available. With an integrated solution, retailers not only benefit from accurate stock levels, but can also take advantage of other benefits. With the right POS system, retailers can access digital customer data that was previously reserved for online retailers and use it to effectively increase their sales potential.