When you first start your eCommerce business there are many opportunities out there to help your business grow faster. It's been proven over time that the division of labour and specialization on one single thing that can significantly increase overall efficiency. One great advantage of the ecommerce revolution booming in recent years is that you don't need to hire a team of specialists. Choose the best apps instead! It's an enourmously cheaper and easier option compared to looking for the right employees. Stay independent, follow your passion and focus on what makes you great.
These apps are designed to be very user-friendly. With easy integrations you can usually run many of these apps whithin a few minutes and no programming required. All the information is simply explained and beautifully displayed. Everything is set just perfectly to help you make informed decisions.
So, what are the must-have apps for your online business?
1. Referral Candy
​Reward your customers for spreading the word
Referral Candy is a referral tool for online stores coming with a smart and effective way of increasing awareness of your eCommerce store. It engages online stores' customers to share the link with their friends as a direct recommendation of the product. They are motivated by getting a (multiple) discounts on their next purchase.
98% of merchants rely on referrals to create new business…
…3% of them have an actual strategy for generating referrals.
How Referral Candy works?
After your customer purchases, he receives a coupon code with a link generated by Referral Candy. When he shares it with his friends and they shop in your store afterward, they get the discount and the original customer is rewarded for each purchase made. That's a great win-win situation for all participants.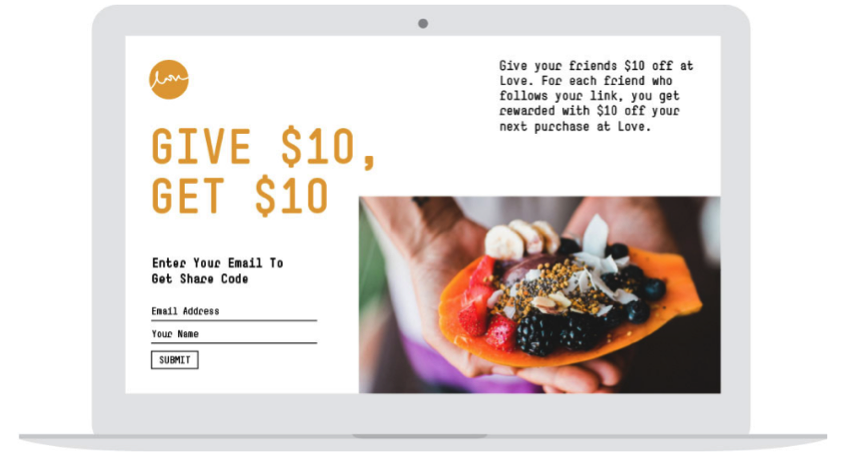 How Referral Candy helps your business?
How better to get recommendations than from your own customers? In average, recommendations from existing customers can bring up to 60% of new customers. Though it costs you money when you offer multiple discounts and you also pay for the plugin, it definitely pays off! It brings you many benefits at once. It increases both sales and the average order value. It's in human psychology to spend more when offered a discount or free shipping. It's also a great acquisition strategy and works well for retaining current customers and engaging new ones.
2. Recommendify
Find and advise related products
Recommendify is plugin for (Shopify) online stores that analyzes which products are most often bought together. It allows you to provide precise cross-selling based on other customers' experience and increase the sales up to 20%.
How the algorithm works
It browses order history and matches similiar purchasing patterns together. The result is a combination of products to offer to visitors. You can also set the recommended products manually in case you need to clear your stock.
How Recommendify helps your business
Identify the products which sold well in the last month and show what's hot right now. You can place them on any page so that visitors easily stumble upon them. Putting them on the hompege works pretty well. This kick-starts the process of filling your visitors' shopping carts. If they don't buy the related products right away, remind them via an email offer. Offer them a limited-time coupon to encourage them to make a quicker decision and purchase.
Recommendify starts at $24.95 per month for merchants with up to 500 products. Not using Recommendify means leaving money on the table by missing out sales.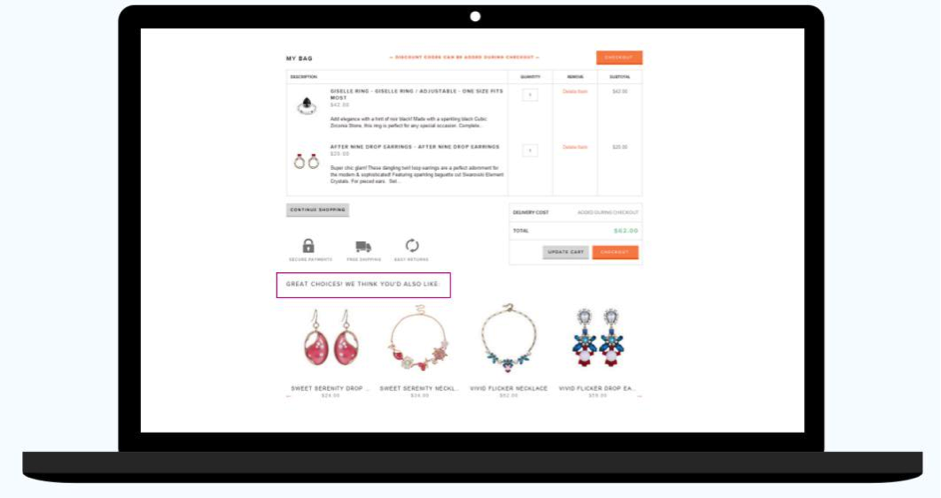 3. Intercom
Simple communication with your customer
Communication is the key, they say. If you run your online store you should do your best to make up what your customers miss by coming to a brick-and-mortar store. It's the human touch, customer care and support. Intercom is a messaging app that makes communication with your customers easy.
It allows you to enrich your products by enhancing the services of sales, marketing and support.
How it works?
Create an account and start having conversations with your customers. Intercom offers interactive chat windows, an emailing tool for creating beautiful emails, and a collaborative helpdesk to acquire and engage customers as well as solve their problems. Communication with customers is simple, personal, fun and effective.
How can Intercom help your business?
Being available anytime for your visitors' needs becomes easy. They can reach out to you immediately with their issues and you can help. You have the power to talk directly to your customer what often leads to successful conversion. If you're offline, they can leave you a message and get an automated answer that you will get back to them as soon as possible.
You can get inspired by what problems they deal with and create content that interests them. Intercom gives you a complete report of your subscribers' activity – the open and click rates and percentage of users reaching the goals that you set. It also enables you to send targeted messages based on their behaviour in your store and drive more sales.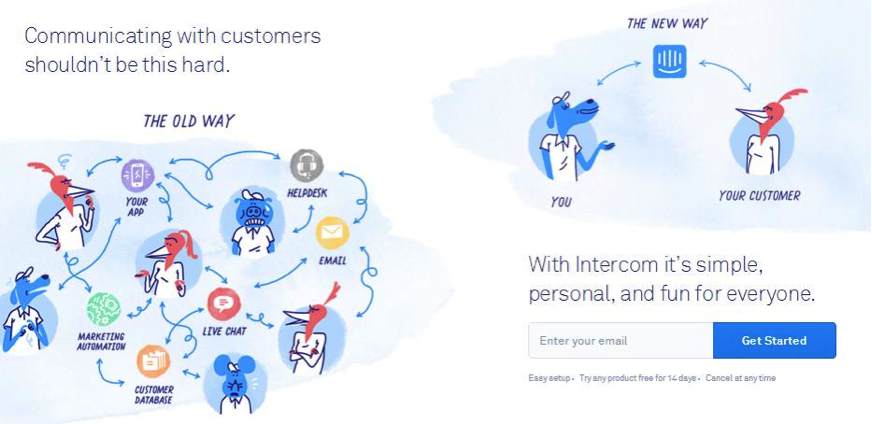 4. MonkeyData
Analyze your data in one place
Watching your data analytics is an absolute necessity. It's a valuable source of information to help guide your decisions. Data gives you a review of your marketing activities and their impact on your online store's performance. All your effort is ineffective if you can't say what action caused the results. Gathering data is one thing, but it's not always easy to understand it is telling you. That's where MonkeyData comes into play. It's an analytical tool for online stores that analyzes all your data in one place – your sales channels and marketing sources. The results are shown in clear dashboards to help you understand how your business is performing.
How MonkeyData works?
Connect your store with one click and the program starts to download data from all the sources you connect – your online store, Google Analytics, PPC, social media, emailing tools and much more. MonkeyData has integrations for fifteen popular online store platforms (which is the most among all ecommerce analytics apps) and is able to connect any type of online store with custom integrations (these take a bit longer and require some work from MonkeyData's development team, but they can be done).
What happens next? Within a few minutes you can see the daily orders and revenue from all your sales channels, total orders and revenue this month compared to the previous month and the same month last year.
You can see the details of your customers, products, orders, shipping and payments.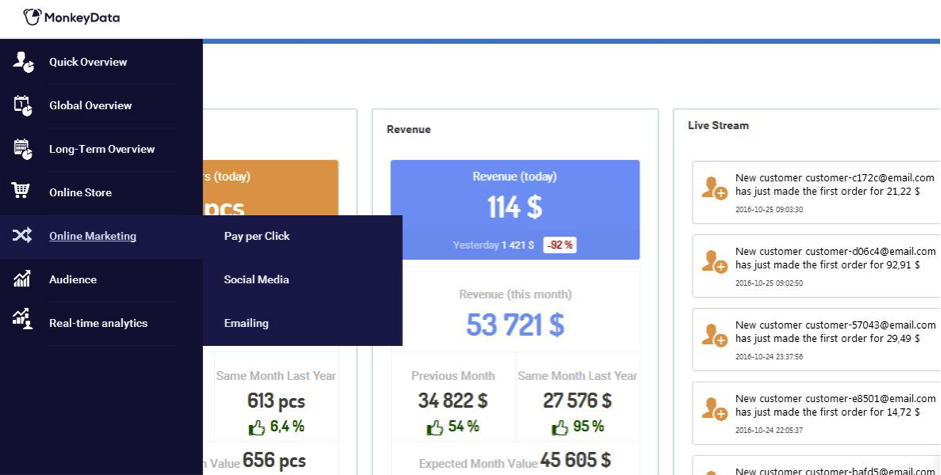 How MonkeyData helps your business?
MonkeyData analyzes all of your data and presents to you in a way that allows you to take action and improve your business. It gives data comparisons over different time periods so you can identify deviations in your metrics and plan campaigns effectively. Real-time data tells you what is going on in your online store at that very moment. Compare the money you invest with money you earn from each channel. You will appreciate this app especially if you do business through multiple channels. MonkeyData now analyzes eBay and Amazon data as well. Track the most important metrics and KPIs, make informed decisions to help grow your business.
5. Kit
Your virtual marketing employee
Running your own business keeps you pretty busy. There are so many things that need to be done and you are likely thinking of other ideas that you just don't have the time to act on right now. Having a good assistant might help you reach your goals faster than the with a whole team of employees. Kit is an eCommerce guide and assistant in one app. It helps online stores' owners grow their businesses and be more effective with their marketing.
How Kit works?
Kit, as your assistant, communicates with you mostly through Facebook Messenger and SMS texts in 17 countries around the world. It monitors your store helps you get the important things done.
How Kit helps your busines?
First, it helps you set your goals step by step – from your sale to consistently growing monthly revenue. Then, Kit can help by actually doing some of the work for you. It…
– creates Facebook and Instagram ads
– takes care of posting Facebook updates to drive customer engagement
– promotes new or back-in-stock products to customers
– sends "thank you" emails to generate repeat purchases
– generates quick reports to inform you about the sales performance
Kit saves you time and frees you up to run other aspects of your business.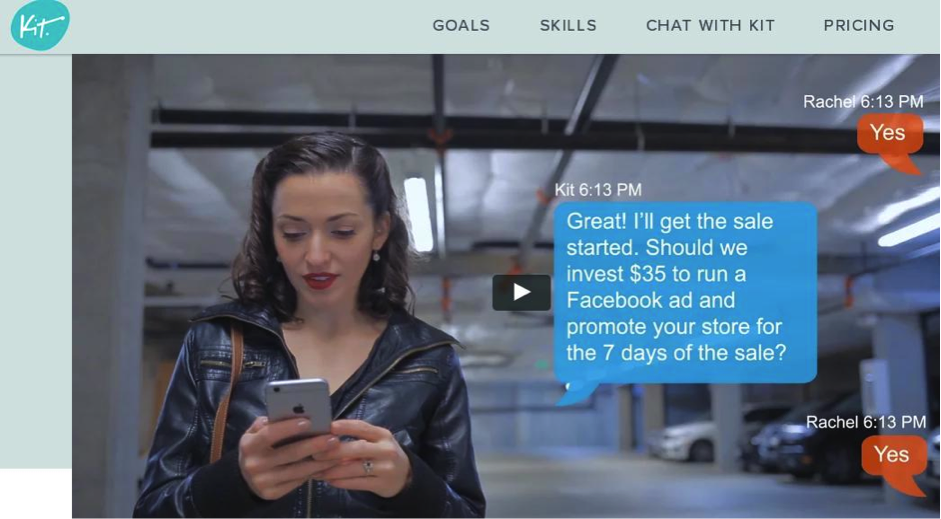 6. Omnisend
​Helps you to reduce cart abandonment
The visitor came to your store, found the desired product, put it to the shopping cart and….left. What a shame! Fortunately there are tools and apps able to bring the prospect back and finish the purchase. One of them is Omnisend – Email marketing that sells.
How Omnisend works
Create an account and connect your online store. There are many pricing options according to the number of subscribers you have and the number of emails sent monthly. It starts at $8 when you have 500 subscribers and 15,000 emails per month.
Omnisend knows when to send right message at the right time. Automation workflows allow you to address personalized messages to your customers with relevant content.
How Omnisend helps your business?
"Abandoned cart recovery can increase your sales up to 40%!"
This is what Omnisend also can do for you – secure automation, track subscribers, set campaigns and send reports. In greater detail, Omnisend…
– personalizes email campaigns and makes your customers feel outstanding – sending "happy birthday" emails and "thank you" emails when they finish an order they had abandoned previously
– scales up open and click rates by reacting after users subscribe. It sends a series of three welcoming emails to let the customer know you care about them
– increases conversion rates by sending automated reminders to users who abandoned their cart
– reactivates your customers if they're moving away
– sets campaigns according to your segmentations. It will keep sending newsletters until the customer stops opening them
Don't worry about abandoned shopping carts. Use the right tool that helps you get your visitors back and purchasing.
7. Shippo
Your product delivery manager
Being an effective online entrepreneur means performing other services well, such as shipping. It's almost as important as product itself. If delivery fails, it's not good for your brand. Getting shipping right is even more important if you intend to sell your product globally. How can you make shipping easier? Take a look at Shippo – a shipping management tool for eCommerce.
How Shippo works?
If you get Shippo for your online store, it automatically connects your list of orders and starts creating your labels. It processes most of the data so you need to fill in only a few details on your shipping labels and the package is ready to go. The default distributor is USPS but Shippo operates with other carriers so you can choose FedEx, DHL Express, UPS or else. Shippo can integrate with your emailing tool and inform your customers about the status of their order.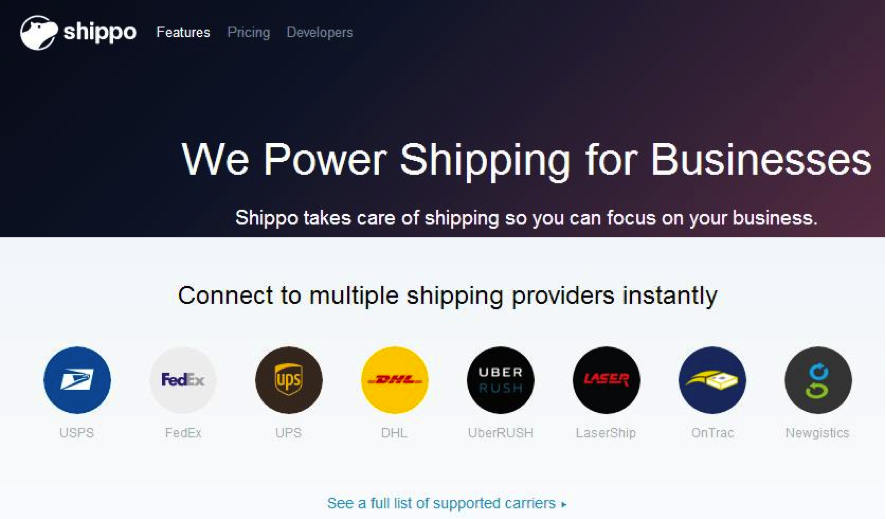 How can Shippo help your business?
It saves you plenty of time and provides excellent delivery services you can absolutely rely on. Shippo is like having all logistic and shipping centre in the pocket. It costs $0.05 per shipping label, so $5 per 100 labels, which is a nice price for all the work it does. Fast and reliable delivery increases your customers' satisfaction and trust in your brand. Happy customers come back to your store and give positive recommendations which contribute to increasing your sales.
8. Vitals, all-in-one Shopify app
Vitals is the all-in-one Shopify app that replaces all the commonly used marketing apps.
It's a complete marketing suite of 40+ apps, such as pop-ups, product reviews (it's one of the best Loox alternatives on the market), currency converter, upsells, and many other products.
It allows you to scale your eCommerce business to over $1m in annual sales with the most commonly used marketing strategies, techniques, and products.
How Vitals works?
By installing Vitals through Shopify's app marketplace, you will be able to use it's 40+ apps. The user interface is simple and intuitive. In a couple of clicks, you can start using many products it has. Since there are so many use cases you can do with Vitals, we're not going to explain them here. Just keep in mind that whatever marketing-related goals you wanna accomplish with Vitals, you can do that.
How Vitals helps your business?
By charging a simple fee per usage, Vitals with its 40+ apps eliminates the need for you to use multiple additional Shopify apps. By installing Vitals, you can:
– Use only one product (Vitals), instead of 40+ different products
– It allows you to scale your eCommerce business to over $1m in annual sales
– Vitals is cost-effective. It costs $29.99/mo for all of its 40+ apps. For a comparison, you would pay $250+/mo if you use multiple other apps that do the same things as Vitals does.
8. SendPulse 
Helps you create a multichannel marketing campaign 
Businesses are striving to find the most suitable marketing channel as every customer is different and requires a different approach. This is where SendPulse shines as the platform offers an array of tools to reach your customers. With the growing popularity of social media and messenger promotion technics, SendPulse is working on chatbot builders for platforms like Facebook, WhatsApp, Telegram. Their latest tool for eCommerce is a chatbot for Instagram. The chatbot builder is intuitive and requires zero skills in coding. 
How Instagram chatbot by SendPulse works? 
Once your Instagram chatbot is ready, it can help convert your Instagram subscribers into returning customers. You can set up auto-replies on Instagram, this helps with lead generation and nurturing and also helps the customer to make the purchase. 
How SendPulse helps your business? 
SendPulse is not just a chatbot builder. The service has a variety of tools for email marketing automation: subscription forms, email verifier, email template builder, and even a separate SMTP server for transactional emails. 
The platform also lets customers create a landing page and turn it into an online store by integrating a payment system. There's also a free CRM by SendPulse that helps you manage your customer base. 
One final word-must-have-apps-for-ecommerce-entrepreneurs
This article is not a promotion for the preivoulsy mentioned apps. The main purpose is to create a list of valuable apps that can help to make your business easier and more effective. You will be the best judge of what works for your online store. We simply wanted to provide some suggestions to help get you thinking.