The e-commerce market in Central and Eastern Europe is expanding rapidly thanks to rising consumer incomes and a vibrant digital landscape, with Poland acting as a European hub for IT services and logistics. This unique pairing makes Poland a gateway to the CEE's e-commerce market.
Local consumers are eager to buy more and more frequently online, creating perfect conditions for international sellers. In this article, you will find valuable insights about the opportunities waiting for merchants, buyers' behaviors and preferences, as well as an outlook for the future. Let's start with a quick e-commerce market overview.
Polish e-commerce market
The Polish e-commerce market value in 2021 accounted for 92 billion PLN. By 2027, it is expected to double, reaching an impressive level of 187 billion PLN1. Regarding the share that online sales have in retail in general, in 2020, they accounted for 14% of all sales. Predictions are strong here: e-commerce is expected to account for 20% of all sales by 20262.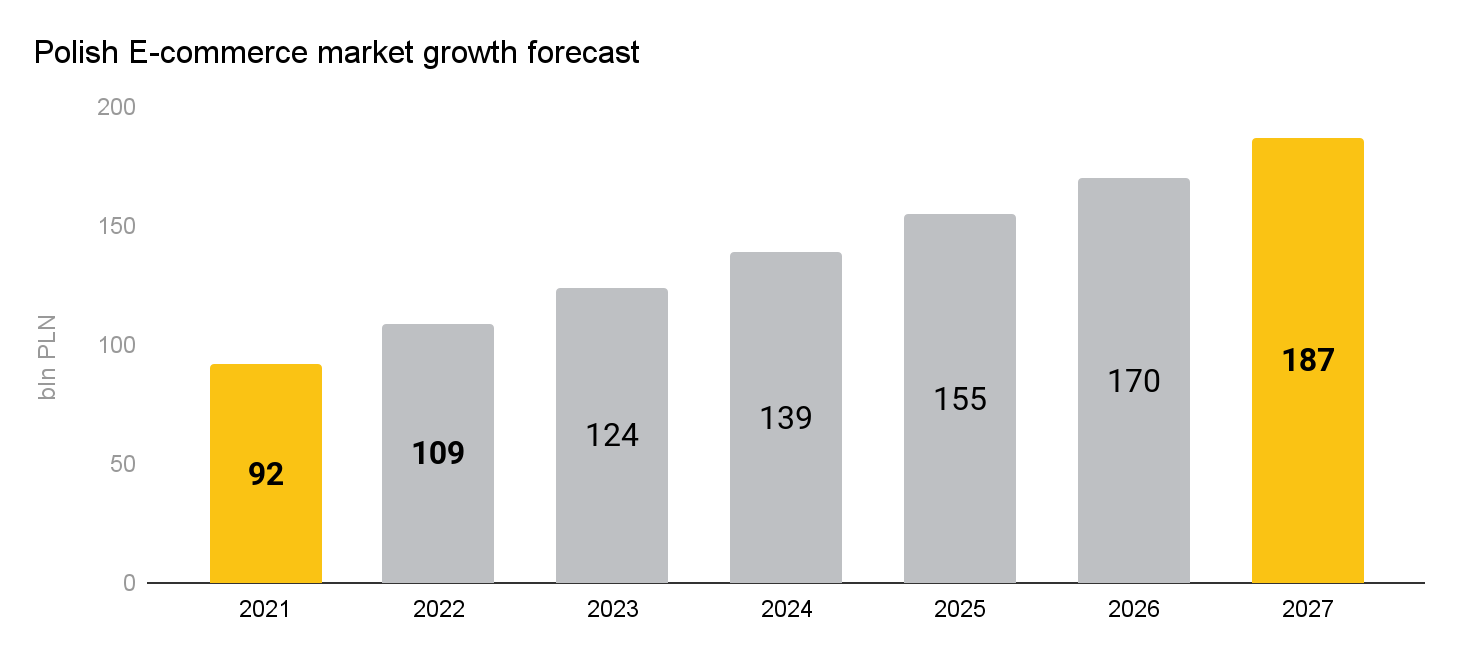 Source: Strategyand.pwc.com, Perspektywy rozwoju rynku e-commerce w Polsce 2018-2027, adapted
1 Strategyand.pwc.com, Perspektywy rozwoju rynku e-commerce w Polsce 2018-2027, November 2022
2 Trade.gov, Poland – Country Commercial Guide, November 2022
Who are Polish e-consumers?
Poland has about 38 million inhabitants and approx. 30 million of them are Internet users, with 77% of them also shopping online3. In terms of demographics, there's a pretty even split between men and women. The largest group of e-consumers is between 35 and 49 years old, and 40% of Polish online buyers have a higher education. The majority live in a bigger town or in a city. Most assess their financial situation as either good (40%) or average (53%):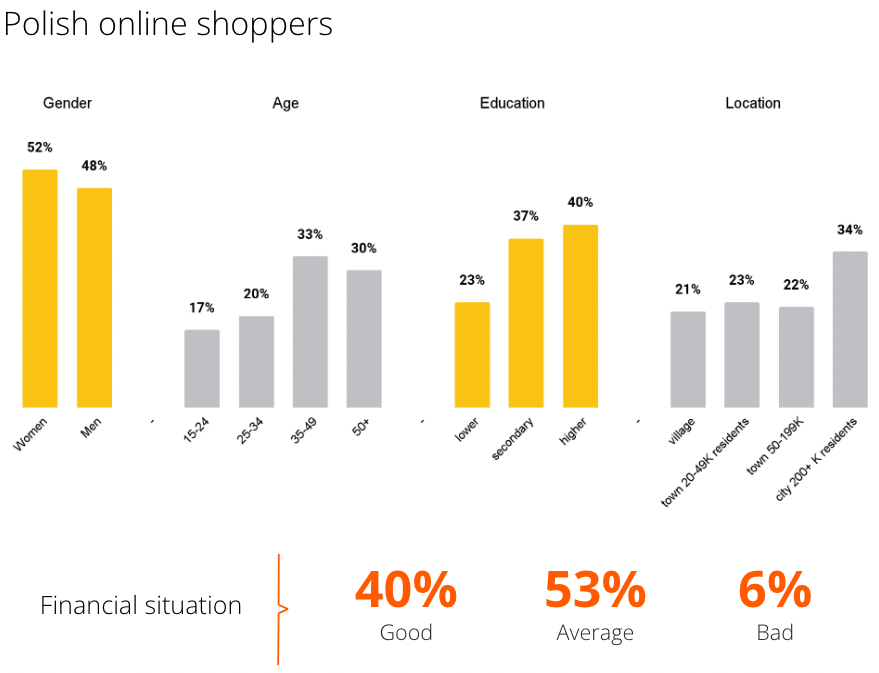 Source: Gemius, 2022 E-Commerce w Polsce, p. 15, adapted
The most frequent online buyers are financially stable residents of the biggest cities. They are over 35 and highly educated. However, recent years witnessed new types of consumers appearing on the market more frequently. As a result of the Covid-19 pandemic, the interest in online shopping among older age groups increased by 12%. Research shows that 39% of 55 to 64-year-olds have a social media account, and 94% confirm that they use electronic banking, making this age group more willing to shop online4. Polish e-commerce also sees an influx of a new, young generation of consumers who are more focused on fast and mobile solutions. As a result, smartphones are now even slightly more popular than laptops in online shopping. The consequence of this development is the optimization of websites and applications to enable quick and convenient purchases.
Why do Poles love online shopping? First of all, they think it offers more choice than buying in traditional stores. It is also seen as convenient and uncomplicated. Poles appreciate it for frequent and deep promotions, lower prices, as well as a wide selection of brands and products, and easy returns. When choosing a specific place to buy online, consumers point to the three most important elements influencing their decisions:
attractive product price
low shipping/delivery costs
previous positive experiences.
As many as 47% of online buyers confirm that attractive product prices are their most important factor5. That's not all, though: for almost half of the buyers, reviews are the most crucial source of credibility when making their first purchase6.
Clothing (including accessories), footwear, cosmetics and perfumes, books and CDs, pharmaceutical products, electronics/household appliances, and sportswear are the categories of products most often chosen by people buying online in 2021. Most consumers point to travel-related spending and home-and-garden products when asked about other planned purchases7.
4 European E-Commerce Report 2022, p. 72.
5 Gemius: 2022 E-Commerce w Polsce, p. 16
6 Gemius: 2022 E-Commerce w Polsce, p. 131
7 Gemius: 2022 E-Commerce w Polsce, p. 144
Where to find Polish online shoppers?
According to the Mediapanel study from June 2022, 92% of Polish Internet users visited at least one website or launched an application from the "Online Shopping" category that month. The vast majority used both marketplace platforms and online specialty stores8.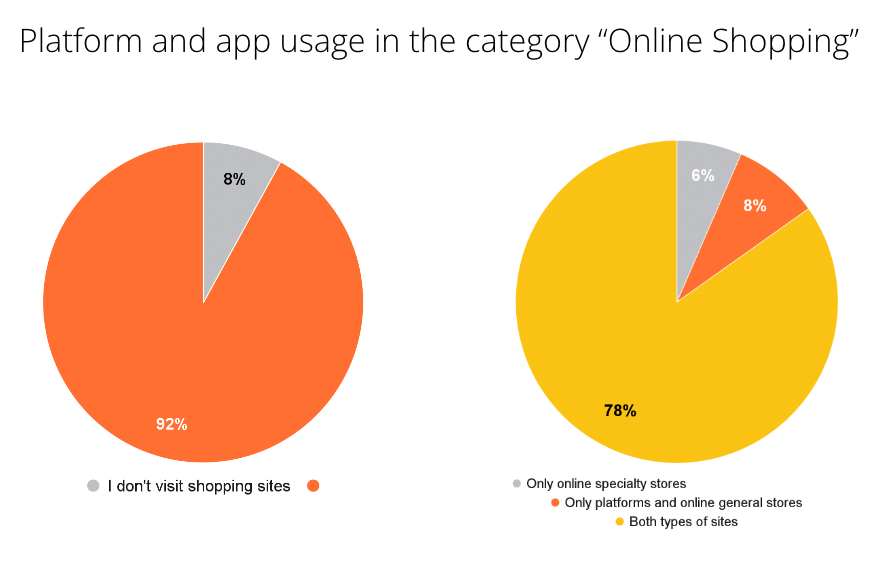 Source: Gemius: 2022 E-Commerce w Polsce, p. 208, adapted
Poles like combining different approaches, but one trend is becoming particularly visible – the growing role of e-commerce platforms. The current share of marketplaces in Polish e-commerce is 45% but is predicted to reach more than 55% by 20279. This is being strengthened on the one hand by the growth of existing e-commerce players, particularly large platforms, and on the other hand by new players entering the market.
However, even though the market is getting more and more diverse, Polish buyers strongly prefer local online stores and platforms: 75% of them buy from domestic e-shops, and only 32% buy from foreign ones10. They are more likely to purchase products from brands they know and trust. When asked to spontaneously name an e-commerce brand or platform, their first choice is the Allegro marketplace, indicated by 85% of respondents. It is followed by another Polish player – a C2C platform OLX (36%), Zalando (19%), which moved up by two positions to reach the no. 3 spot, Amazon (17%), which strengthened its position compared to Aliexpress (15%), whose spontaneous brand awareness decreased by 5 p.p.11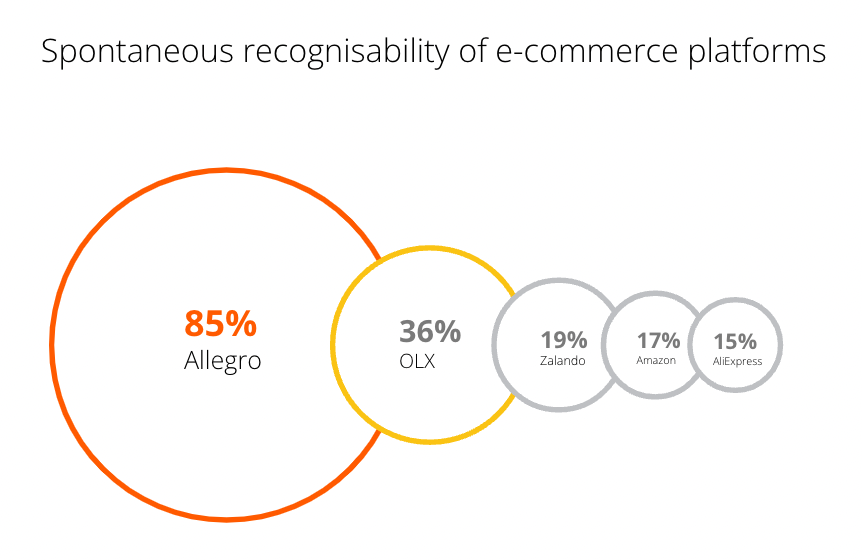 Source: Gemius, 2022 E-Commerce w Polsce, p. 22, adapted
Allegro holds its leading position YoY, with 30% of online buyers starting their product search directly on this marketplace compared to 18% who begin on Google12, making Allegro the most popular e-commerce platform and product search engine in Poland, with 22 million page views every month13.

The company also started expanding internationally by enabling delivery to other EU countries and acquiring the MALL Group (covering Czechia, Slovakia, Hungary, Slovenia, and Croatia) in April 2022, aiming to strengthen its position in the region14. The marketplace also opened its first fulfillment center to address the needs of a constantly growing number of merchants who would like to facilitate faster and smoother deliveries to their end-consumers.
8 Gemius: 2022 E-Commerce w Polsce, p. 208
9 Strategyand.pwc.com, Perspektywy rozwoju rynku e-commerce w Polsce 2018-2027, November 2022
10 Gemius, 2022 E-Commerce w Polsce, p. 68
11 Gemius, 2022 E-Commerce w Polsce, p. 22
12 Atena Research & Consulting, Jak Polacy szukają i kupują produkty w Internecie? Ścieżki zakupowe online w Polsce 2022, June 2022
13 Allegro.eu, At a glance, November 2022; data from Gemius, March 2022
14 Allegro.eu, Allegro takes another leap to widen its international presence by finalizing the acquisition of Mall Group and WE|DO
Delivery as the key to success
E-commerce is booming, but there are also some challenges one should be aware of. When asked about problems encountered during online shopping, the majority of Polish buyers indicate the long wait for delivery, high delivery costs, and intrusive advertisements for products already viewed. Poles do not like to wait to get the products they want, and 83% of e-shoppers claim that same-day delivery would motivate them to buy more online15.
The most recent analysis of Allegro's own data also points to delivery time as the key to success, especially in cross-border. The marketplace analysts looked at customers who added a product from an international seller to their cart to see how many of them finalized the purchase depending on the delivery terms the seller provided. The results were straightforward:
Delivery up to 48 hours – 50% chance across all product categories that the customer will buy the product
Delivery within 3-4 days – 38% of sales chance in the electronics category and below 37% in sports & leisure
Delivery within 7 days – 21.5% of sales chance in the electronics category and 16.25% in sports & leisure
To sum up, the chances to sell if the delivery time is 7 days drop to an average of 20%16, with the same trend noticed across all categories on the platform, only confirming that the main field of the fight for a customer online is the speed and reliability of satisfying their purchasing needs. As a result, more and more companies are moving their stock closer to the end-consumer, either by using a nearby warehouse or a fulfillment center in Poland. The latter solution is preferred by international merchants whose own warehouses are too far away, as this, in most cases, guarantees same-day or next-day delivery for buyers and may additionally lower the overall cost of cross-border logistics.
15 Gemius, 2022 E-Commerce w Polsce, p. 98
16 Allegro own data
Fast and more sustainable
Another visible trend is the turn to more sustainable solutions. According to European E-commerce Report 2022, as many as 71% of Poles who buy online declare that they notice whether the parcel they receive is "packed in an environmentally friendly way," while 49% would pay extra for such a solution17.
Both fast and more sustainable solutions are crucial in the long run, as the youngest e-consumers treat this topic even more seriously than other age groups: 89% of online shoppers at the age of 15-24 feel motivated to shop online when they see same-day delivery available and 73% of them keep sustainability in mind when choosing delivery methods (e.g., electric cars, parcel lockers, or pick-up points)18.
This young generation represents tomorrow's e-consumer, whose needs the local market will need to adapt long-term. In response to that, InPost, the strongest local player in the parcel lockers sector, introduced Same Day Delivery and launched a program promoting sustainability and the conversion of courier fleets to electric cars. At the same time, Allegro launched its own pick-up point network and parcel lockers equipped with air quality sensors and covered in plants. The company buys energy origin guarantees to ensure that the same volume of energy consumed by Allegro's parcel machines is fed back into the grid as energy from renewable sources.
17 European E-Commerce Report 2022, p. 72
18 Gemius, 2021 E-Commerce w Polsce, p. 7
Can Polish e-commerce withstand the crisis?
Many e-commerce markets across the world experienced a boom during the Covid-19 pandemic. Also, Polish consumers buy more often and more items online, and for many online shopping has become the first choice. The lifting of all barriers to traditional trade after the lockdown did not slow down the popularity of online stores. The majority of Polish buyers confirm that 24/7 availability is something that makes them want to shop online even more.
The most recent challenge to the global and local economies is the war in Ukraine, impacting prices, product accessibility, supply chains, and consumer behavior. The prolongation of the war and a further increase in prices are currently the two biggest fears among Poles. As a result, Polish consumers started optimizing their expenses by redirecting purchases to the Internet category by category. This applies to 78% of all Internet users surveyed by E-Izba this year. 56% intend to continue or start this process19.
More than half of consumers declare that they will not change their spending on online products next year. At the same time, almost 1/4 of Polish buyers plan to spend more online, and only every 9th respondent in the Gemius study thinks of spending less online. Increasing expenses is often planned by the youngest and those who assess their financial situation as good20. More than 1/3 of consumers intend to tackle the crisis by shopping exclusively online21. So, although the current geopolitical and economic situation may instinctively seem to have a detrimental effect on e-commerce sales, the ways Polish customers handle the situation present a promising opportunity for this sector.
19 Eizba.pl, W kryzysie do e-commerce 2022, p. 42
20 Gemius, 2022 E-Commerce w Polsce, p. 169
21 Eizba.pl, W kryzysie do e-commerce 2022, p. 5
Unique opportunities waiting for international sellers
To sum up, the Polish e-commerce market has enormous growth potential, and consumers' attitude toward online shopping offers countless opportunities. In order to access this market, merchants should pay close attention to some unique buyers' behaviors. Polish consumers strongly prefer trusted domestic brands and marketplaces, with Allegro being the most popular e-shopping platform in the country. With the marketplace share growing each year, increasing consumer incomes, and younger generations entering the market, the interest in products offered by international sellers will grow in the foreseeable future. Focusing on fast and convenient delivery, and approaching consumers where they are most likely to be found, will open the door not only to the big e-commerce market in Poland but also to further expansion in Central and Eastern Europe.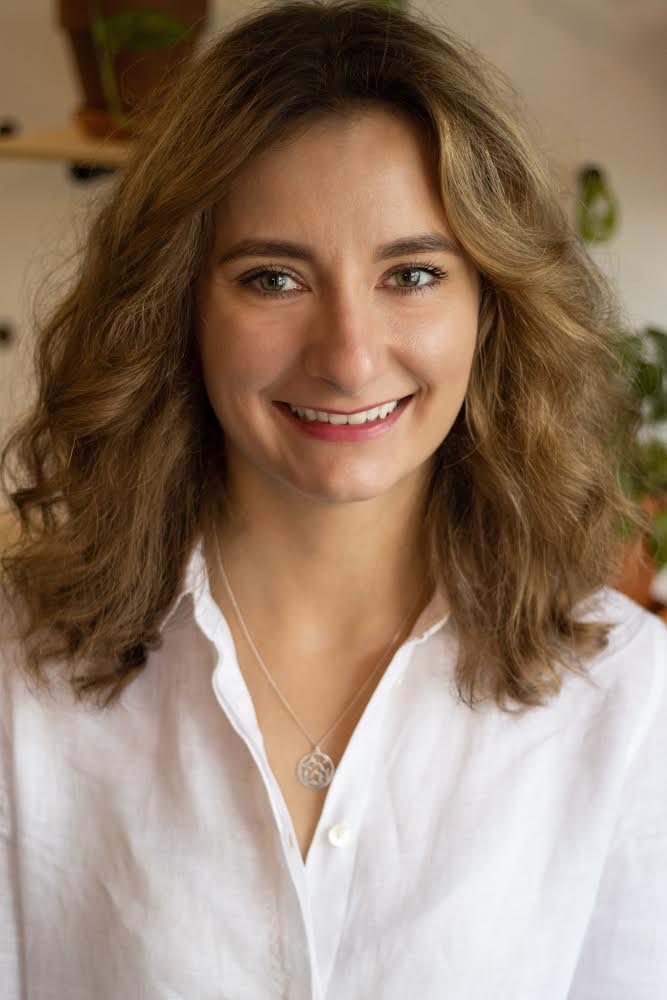 Emilia Gregorczyk
Business Development Partner at Allegro
Allegro is a horizontal marketplace and home to over 250 million offers coming from more than 135 million Polish and international sellers. If you would like to find out more about the marketplace and its opportunities, you can do so by using this form.