2022 has been a year of unprecedented change, leaving IT teams grappling to keep up with the ever-evolving demands placed upon them. In the face of this uncertainty, organizations are compelled to reshape their network technology, talent, and operations to drive digital transformation and embrace multi-cloud initiatives.
The Global Networking Trends Report 2023 is a comprehensive guide designed to navigate the path toward a sustainable and scalable multi-cloud network infrastructure. Unearthing crucial data, this report unveils the processes, strategies, and objectives that serve as bridges to success. It offers insights into future cloud networking technologies, management processes, and deployments.
Surveying over 2500 IT decision-makers across 13 countries, this report captures their perspectives on the pivotal role of networks in achieving a thriving cloud strategy.
Key Findings
#1 The Rising Influence of Lines of Business on Network Operations Planning
Lines of business have emerged as influential players in network operations planning. Prioritizing security, agility, and business performance, respondents now consider these factors to be of paramount importance, surpassing cost and network management concerns. Remarkably, 42% of cloud and networking professionals identify the drive for more agile and scalable application development as a primary motivation for adopting multiple private and public clouds.
#2 Challenges and Objectives in the Multi-cloud World
Navigating the complexities of the multi-cloud environment poses substantial challenges and objectives. Security takes the lead, with 56% of respondents citing it as the top networking challenge when managing distributed and hybrid workloads. Not far behind is the complexity of end-to-end management, identified by 53% of participants.
#3 Key Networking Technologies for Enhanced Cloud Application Connectivity
End-to-end visibility reigns as a top priority for 50% of IT teams, recognizing its pivotal role in improving cloud application connectivity. Additionally, 48% of respondents express a strong desire for multi-cloud Software-Defined Networking (SDN).
#4 Greater Alignment Between CloudOps and NetOps Objectives
CloudOps and NetOps objectives are experiencing greater alignment, signifying a significant shift. Nearly half (49%) of CloudOps and 42% of NetOps respondents assert that security stands as their primary motivation for utilizing multiple clouds. Moreover, both teams prioritize business performance, security, and agility.
#5 Cross-functional Collaboration Fuels Benefits
The drive for cross-functional collaboration between CloudOps and NetOps is gaining momentum, accompanied by a corresponding surge in benefits. A staggering 45% of respondents highlight improving cloud security as their primary motivation for increased collaboration, while 41% cite greater efficiency as the driving force.
#6 Ongoing Importance of On-Premises Infrastructure
Surprisingly, despite the rapid pace of cloud adoption, a significant 50% of respondents reveal that the majority of their workloads are still deployed on-premises. Furthermore, even two years from now, 38% anticipate most workloads to remain on-premises.
Business Trend: Lines of Business Make Their Voices Heard
Lines of business have emerged as crucial stakeholders shaping IT operations. The events of 2020, which thrust businesses into a digital realm, underscored the importance of cloud services and the associated network in keeping operations afloat.
While cost and management concerns have always factored into network operations, the focus has now shifted toward agility and performance. Moreover, an effective cloud operating model has become the solution to expedite the creation and market entry of new business applications.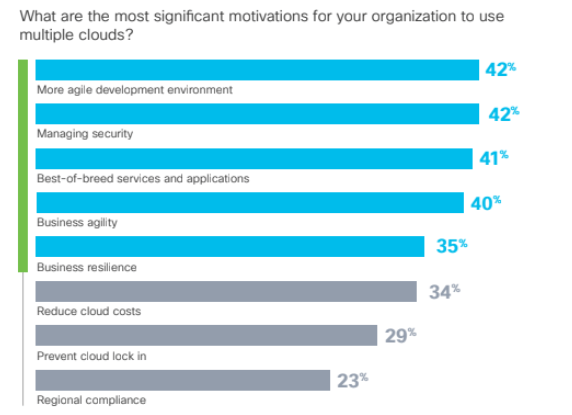 Source: Global Networking Trends Report 2023
Technology Trend: Simplicity and Security Are the Must-Haves
As endpoints and applications become increasingly dispersed, network complexity multiplies. In this rapidly evolving landscape, each transaction introduces new challenges related to management, performance, and security.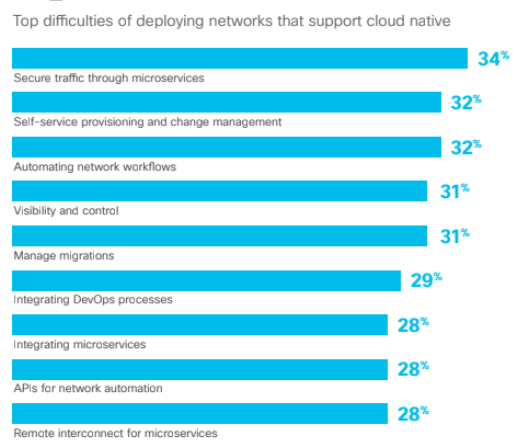 Source: Global Networking Trends Report 2023
Managing hybrid cloud environments and distributed workloads necessitates a concerted effort to simplify network complexity, particularly in cloud-native environments. Simplicity and security have become the essential prerequisites for successful network operations.
Technology Priorities: Tools for Visibility and Automation
The complexity of hybrid cloud networking has a profound impact on technology choices. Visibility, multi-cloud SDN, and orchestration emerge as top priorities, addressing the need for comprehensive monitoring and control.
Direct-to-cloud networking also takes center stage as a critical technology for hybrid cloud networking, enabling efficient and secure communication between cloud environments.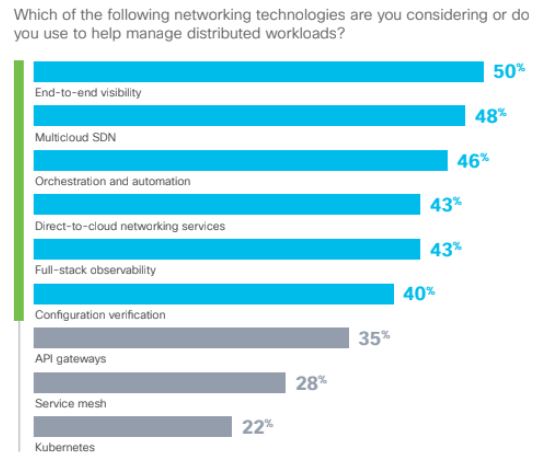 Source: Global Networking Trends Report 2023
Operational Trend: CloudOps and NetOps Find Common Ground
In previous years, CloudOps and NetOps teams operated with distinct visions and separate identities. However, this survey reveals a remarkable shift in alignment. Both teams now prioritize agility and security as their top motivations for embracing multiple clouds.
The challenges faced by CloudOps and NetOps in the multi-cloud world are strikingly similar, with security and complexity ranking high on their list of concerns.
Source: Global Networking Trends Report 2023
Organizational Trend: CloudOps and NetOps Collaborate for Success
As cross-functional objectives come into greater alignment, the stage is set for enhanced collaboration between cloud and network teams. However, numerous factors can hinder the effectiveness of collaboration, including competing priorities, skill gaps, resistance to change, lack of direction, and unrealistic expectations.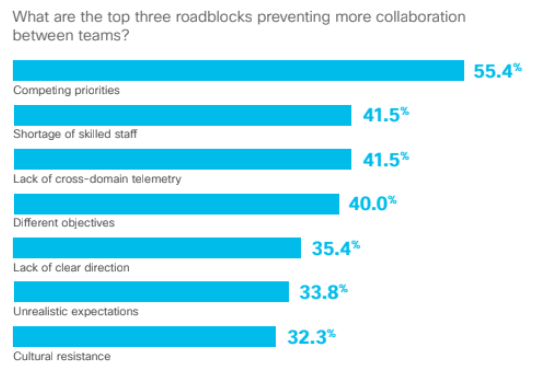 Source: Global Networking Trends Report 2023
Overcoming these challenges will be crucial in harnessing the full potential of joint efforts between CloudOps and NetOps.
Deployment Trend: Cloud Takes Flight, On-Premises Remains Resilient
Cloud adoption has undoubtedly reached new heights, transforming the IT landscape. Nevertheless, an intriguing finding emerges: 38% of both NetOps and CloudOps respondents anticipate that the majority of workloads will still be deployed on-premises two years from now.
This trend extends beyond network operations, as DevOps teams also recognize the continued need for on-premises infrastructure.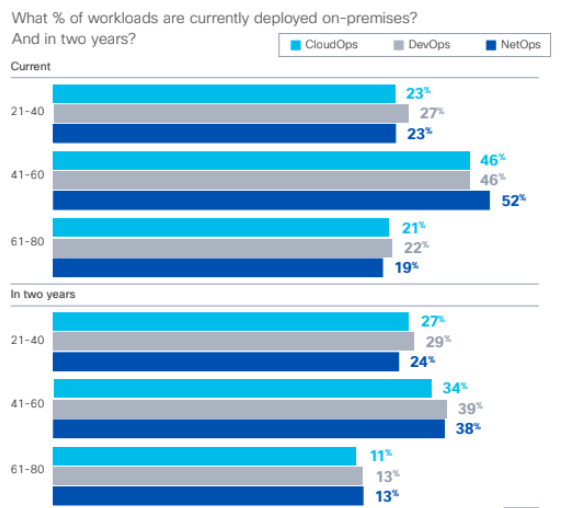 Source: Global Networking Trends Report 2023
While many enterprise networks are managed in-house, the popularity of management platforms supporting end-to-end cloud operating models is on the rise.
Conclusion
In early 2020, the world faced an unprecedented leap into a digital era, compelling businesses to adapt rapidly. Public cloud adoption surged, with networks serving as vital tools for both digital transformation and business continuity.
Embracing these trends will empower organizations to navigate the evolving IT landscape successfully and capitalize on the limitless opportunities presented by cloud technologies.
---