In the previous part, we have listed the leading marketplaces in North America. Now it's time for some facts and figures on marketplaces that dominate the European ecommerce landscape.
The European marketplace landscape is robust and rapidly growing, with over 15,000 online marketplaces contributing to a staggering eCommerce market revenue of $363 billion. The region is expected to experience a 7.7% annual growth rate in digital commerce by 2025, solidifying its position as the third-largest eCommerce market worldwide. This is a lot considering the fact that in Europe, there are 50 different countries, more than 200 languages spoken, and 28+ currencies used.
Obviously, most of the action happens in just three European countries, that is, the UK, Germany, and France, but on our list, we have also included marketplaces that are leading or growing in some other corners of Europe.
Allegro
Allegro is the largest Polish marketplace and number three on the list of Europe's largest online marketplaces. With 14.1 million active buyers, Allegro is a good opportunity for B2C brands and professional re-sellers to expand into Poland's thriving €10 billion online market.
The only obstacle is language – Allegro operates only in Polish, so product listings and customer support have to be localized.
Allegro describes itself as the biggest shopping mall in Poland. It has a significant market share in electronics (62 percent), home and garden (74 percent) and fashion (46 percent). Learn more about selling on Allegro marketplace.

Asos
ASOS is one of the largest online-only fashion retailers in the world, with websites in the UK, Europe, USA, and Australia. The company targets young sellers, and having noticed the growing trend of marketplaces and selling up-and-coming designers' clothes and handpicked boutique fashion, it has opened its own marketplace.
Asos sells over 80,000 products, and there are 2,500 to 7,000 new products added every week. It ships to over 140 countries from fulfillment centers in the UK, US, Europe, and China.
By 2017, Asos.com was generating almost £2 billion a year in revenue and has become the leading online apparel site in the UK. What's more, over 79 million people visited the ASOS website in April 2023, and since March 2018, they have also introduced their mobile app, which has 10 million downloads. The app allows users to upload images of clothing they like and receive a range of matching or similar items that the company stocks. ASOS claims that in the UK, 58% of purchases happen on mobile devices.
Cdiscount
Cdiscount is a French marketplace with roughly 8.6 million active customers and 19 million unique visitors per month. It sells products across 40 different categories with over €1 billion in annual sales.
Since 2018 Cdiscount started delivering some items to Belgium, Germany, Italy, and Spain, which marked the beginning of its international expansion. The growing cross-border presence of Cdiscount is the result of its 15 percent year-on-year growth in net sales.
During the second quarter of 2018, Cdiscount customers placed 5.8 million orders for 11 million items. At the moment, the Cdiscount marketplace has 10,000 connected sellers. In 2022, Cdiscount's gross margin increased by 1.3 points to 23.2%. Revenues generated by the marketplace totaled €191m (-2% vs. 2021, +28% from 2019)
Emag
Emag is the largest ecommerce site in Romania, with over 500,000 unique customers each day. Sellers can list products in over 1600 available categories. The company reported a significant turnaround in its financial performance, achieving a net profit of RON 124 million in contrast to RON 181 million in losses the previous year. 
The platform currently hosts 3,500 sellers and more than 1.4 million products, generating more than €100 million in revenue and over 1.9 million orders for marketplace partners. The highest sales are generated in the categories of car accessories, home & deco, children & toys, fashion and sport.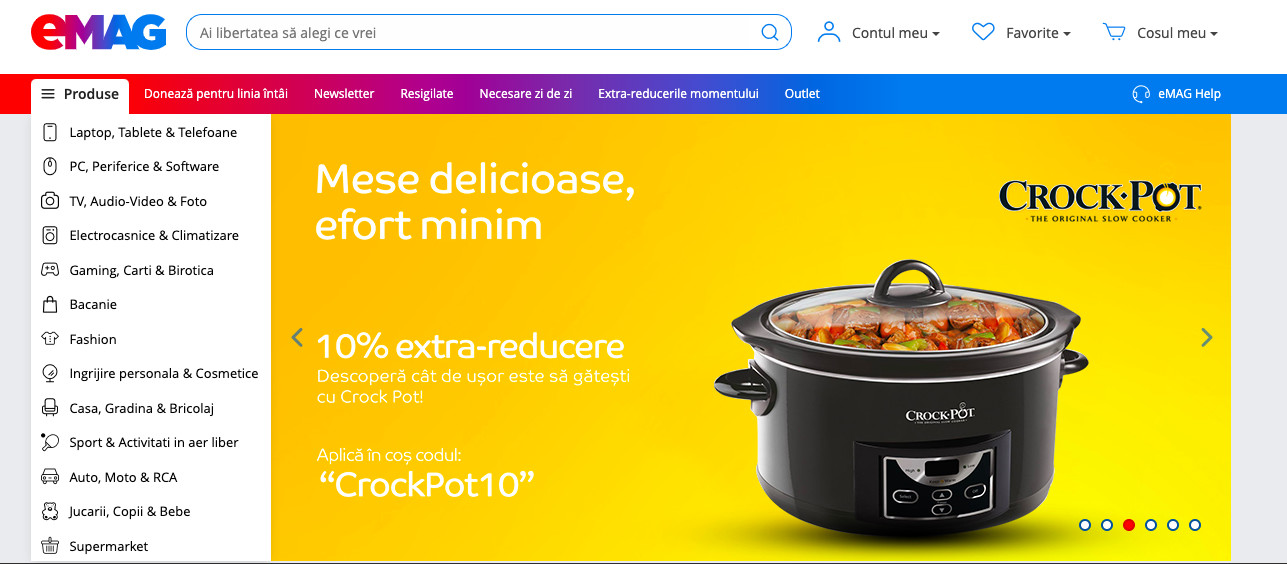 Flubit
Flubit is a private marketplace for connecting shoppers with online retailers. Hosting a catalog of over 70 million products across categories including home, garden, toys, books, and electronics, it offers a direct alternative to Amazon. At the moment, it has 1,500 UK and Irish sellers.
In November 2017, Flubit was ranked as the #10 most valuable VC-backed eCommerce company in Europe and #2 in the UK.
In 2018, Flubit.com was acquired by the prominent blockchain technology group MonetaryUnit. The decision, at the time of the deal, would reportedly make Flubit.com the world's largest shopping marketplace dedicated to the acceptance of cryptocurrencies.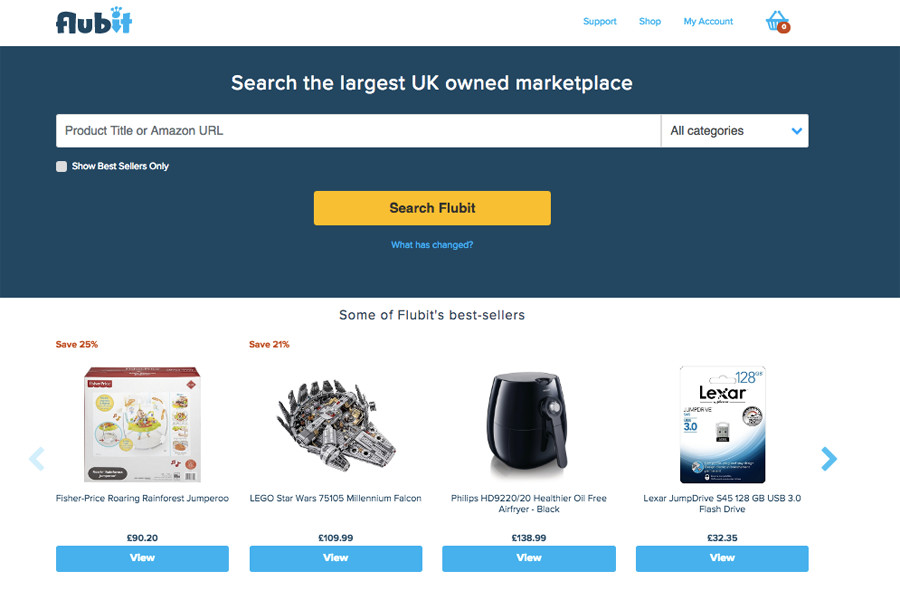 Fruugo
Fruugo is a U.K.-based marketplace available in 32 countries and has more than 25 million active users. Sellers can register once to sell across all markets available in the portfolio. The site supports 22 currencies and 17 languages.
Fruugo marketplace operates with hundreds of retailers on a no-sale, no-fee basis and offers them translation, customer service, marketing, and foreign exchange support, so the retailer only needs to fulfill the order.
Compared to its European competitors, Fruugo is a relatively young marketplace. However, it experienced a remarkable 110% increase in full-year revenue, reaching £65 million – with over 96% of its transactions crossing borders and more than 90% of its revenue originating from shoppers outside of the UK.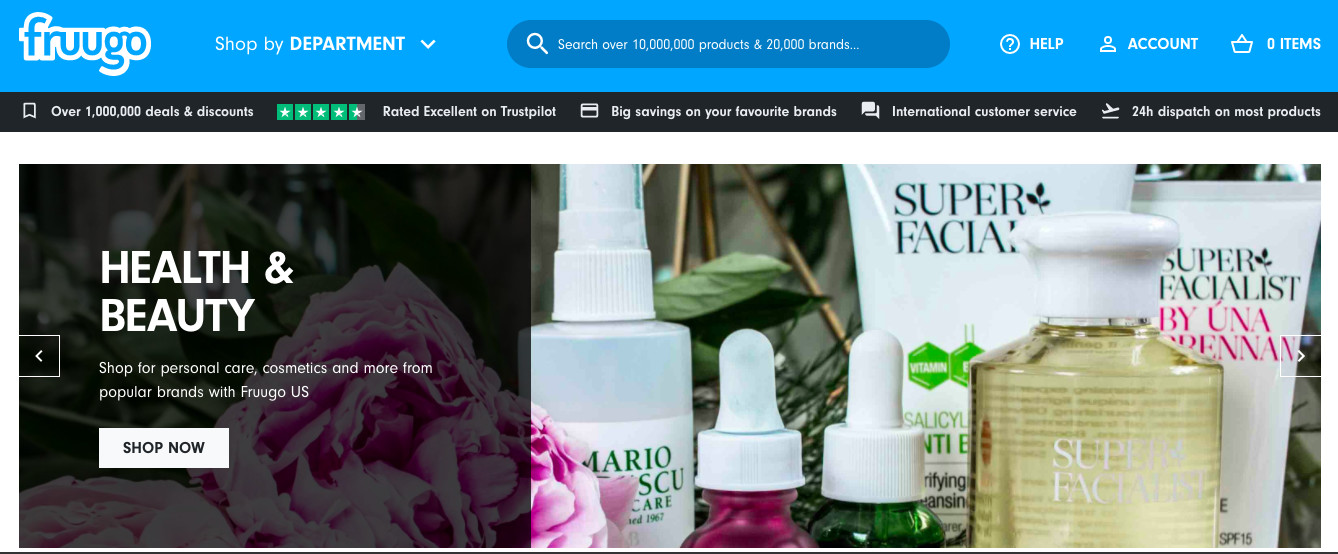 Mobile.de
Mobile.de is a German marketplace for selling vehicles to businesses and consumers. The site has customers from throughout Europe and is the biggest automotive marketplace in Germany.
Its platform allows buying and selling used and new cars, motorcycles, motorhomes, and caravans, as well as trucks and commercial and utility vehicles. The company's platform also enables users to search dealers, as well as find financing and insurance deals.
The company was founded in 1996 and is based in Kleinmachnow, Germany, but since 2004 it has operated as a subsidiary of eBay Inc. As for operating revenue, it generated 280 million euros in 2020. However, the amount increased in 2021 to 283 million euros and 317 million euros in 2022.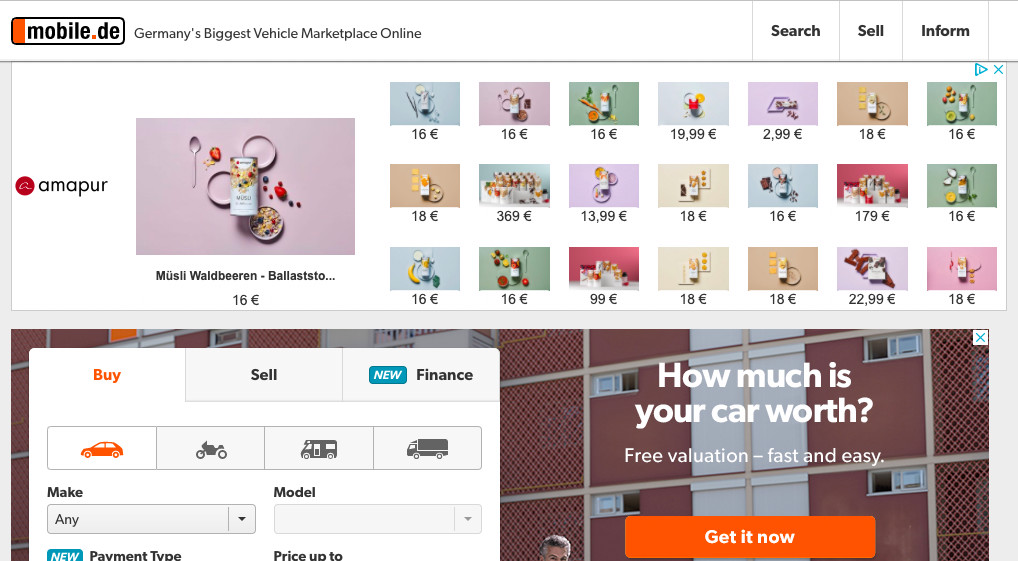 OnBuy
OnBuy is a B2C online marketplace where third-party business sellers can list new, used, or refurbished products, and buyers can browse thousands of categories, compare, and securely purchase with PayPal Buyer Protection.
OnBuy is working with more than 17,000 retailers and offers the choice of 42 million products on its site. Buyers can shop from multiple sellers in a single transaction with a simple, secure checkout solution free from many online fraud risks. Thanks to its reasonable selling fees and immediate payment by PayPal, sellers will enjoy risk-free selling and access to millions of buyers with no competition from OnBuy.
The marketplace was launched in 2016 and is experiencing meteoric growth; ready to launch internationally, with an aggressive growth plan targeting more than 140 countries over the next 18 months. October was the company's best sales month of the year 2022.
OTTO
OTTO is the second biggest online retail destination in Germany and claims to be the biggest online retailer there for fashion and lifestyle products.
It originally started as an offline brand, but now 90% of its goods are sold online, and it also has a marketplace on which it sells goods itself and allows third-party sellers.
E-commerce revenues generated by the company in the financial year 2022/23 were worth 4.5 billion euros. Compared to the previous year, it's a decrease from 5.1 billion euros.
The company has 9 million active customers and reaches 45% of all German households. For marketplace sellers, OTTO represents the biggest ecommerce opportunity in Germany after Amazon.
PriceMinister
PriceMinister was founded in 2001 and is a leading French marketplace with 22 million members and 9 million visitors per month. This is the equivalent of one-third of all internet users in France.
In 2010, it was bought by Rakuten and has been growing steadily since then. Now it operates in 20 countries and hosts an average of more than 30,000 transactions per day, which makes it the second most visited e-commerce platform in France (behind Amazon). Its revenue reached $15.9 million.
PriceMinister has 11 million unique visitors per month, 130 million products listed, and 5,000 active sellers.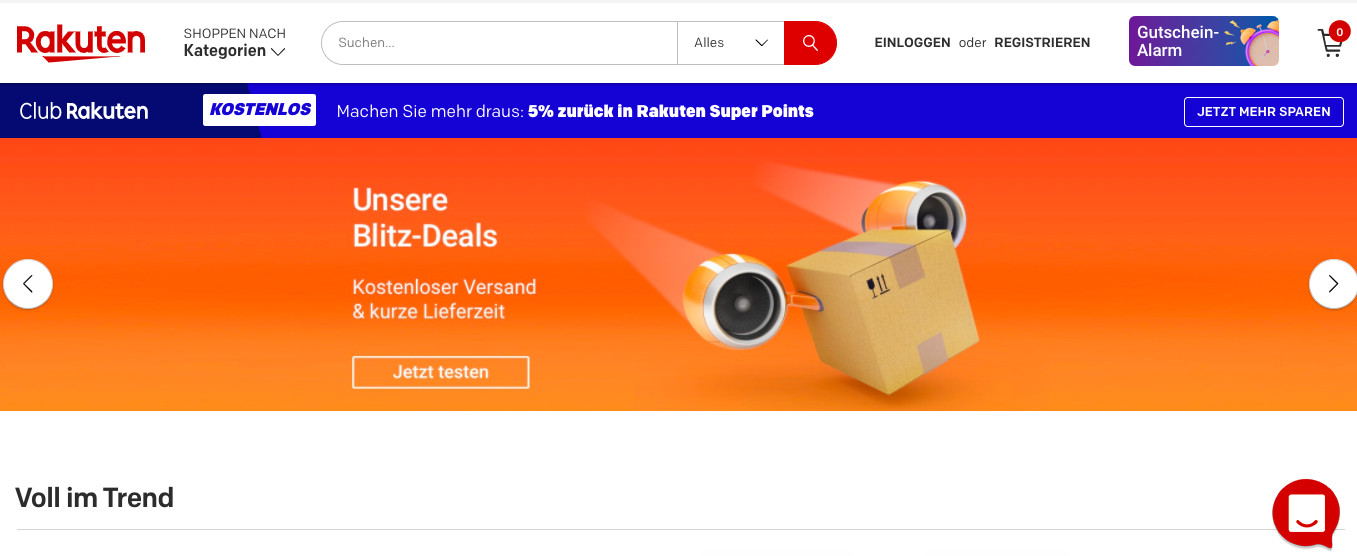 Kaufland.de
Kaufland.de is one of the biggest and fastest-growing marketplaces in Germany! What's more, being part of the Schwarz Group, Kaufland.de belongs to one of Europe's biggest retailers – Kaufland Polska Markets' revenues grew to 12 billion zloty in 2022 from 9.9 billion zloty in 2019.
In 2023, Kaufland will open further online marketplaces in the Czech Republic and Slovakia. This step is the underlying foundation for the launch of the 'Kaufland Global Marketplace.'
With just one registration, sellers can sell on many country-specific marketplaces with one registration.
Over 8,000 sellers offer more than 40 million products in over 5,000 categories on Kaufland Global Marketplace. This attracts 32 million visitors to Kaufland.de every month.
Zalando
Zalando is a German marketplace that has expanded to multiple European markets. It's particularly prominent in Germany, where it boasts 95% brand recognition amongst adult shoppers. However, it has also been expanding into other countries too in recent years and opened fulfillment centers in Sweden and Belgium in 2017.
The latest figures say that they have 20 million active buyers and a 7.4% share of the Western Europe fashion market that totals $42 billion. Zalando's annual revenue for 2022 was $10.899B – an 11.02% decline from 2021 ($12.25B).
Zalando has more than 22 million customers and sells over 250,000 products from 2,000 merchant brands.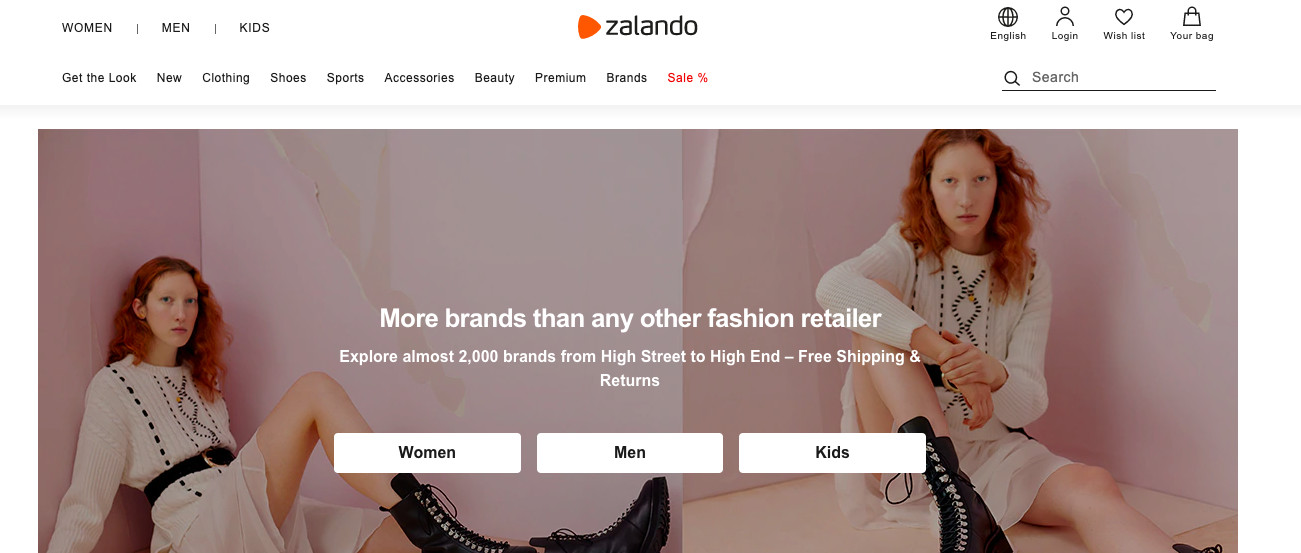 Bonus: Honorable mentions
Amazon
Amazon is the world's largest online retailer, known for its wide range of products and services. It boasts a $6.75 billion net profit in Q2 of 2023. This platform is incredibly popular, with 98.07 million monthly users accessing its app in the United States alone. It holds a significant share of the global e-commerce market, accounting for 37.8% of e-commerce sales in the U.S. in 2022. 
It also offers Amazon Prime, a subscription service with over 220 million subscribers worldwide, generating substantial revenue. Amazon has a vast network of sellers, with over 9.7 million merchants, and its advertising revenue reached $44.35 billion in 2023.
eBay
eBay is an e-commerce platform that initially focused on customer-to-customer auction services and later expanded into business-to-consumer transactions. With Amazon, it leads the market in continental Europe, the US, and the UK. In recent years, eBay has seen a decline in revenue, reporting $9.7 billion in revenue in 2022, a 9.3% decrease from the previous year.
Despite challenges and increased competition from Amazon, eBay remains active with 138 million users, primarily in the US, and over 18.3 million sellers.
bol.com
bol.com is a leading e-commerce platform based in the Netherlands and Belgium. It is owned by Ahold Delhaize, a major food retail group. Bol.com has maintained its position as the top e-commerce platform in the Netherlands for decades and is also prominent in Belgium.
In 2022, Bol.com reported impressive net sales of 5.5 billion euros, highlighting its substantial presence and success in the region. Additionally, Bol.com has a substantial customer base, with approximately 13 million annual customers.
Key takeaways on leading marketplaces in Europe
Europe's eCommerce market is valued at $363 billion, with an anticipated annual growth of 7.7% by 2025, making it the third-largest eCommerce market globally.

Amazon is the biggest online retailer in Europe, with 1 billion monthly visits. Other marketplaces like eBay also attract millions of users.

While Amazon and eBay dominate the market, there are numerous other marketplaces with significant traffic. 

Most of the domestic markets are focused on just one or a few closely connected countries.

Some countries, like Germany, have a high share of online retail (19.9%). Others, like Italy (6%), lag behind.

The listed marketplaces cover a wide range of product categories, from fashion and electronics to home improvement and photography.

Many of these marketplaces have experienced significant growth in terms of user visits and sales in recent years.
What to remember when dealing with Germans?
Punctuality is the key. You're late, you've lost.
Keep feelings and political opinions to yourself since they can be found offensive by many Germans. While it can be regarded as amazing small talk or ice-breakers in many cultures, it doesn't work with Germans.
Speaking German really helps. Of course, the better you speak, the better you are seen, but even basic knowledge can help.
Straight to the point. Concrete information, details and arrangements. Germans value time more than anything!
Jobs for e-commerce professionals you can find here:
https://jooble.org/jobs-e-commerce
Read more from E-commerce Germany News:
13 leading marketplaces in North America