Since the dawn of globalisation the world is increasingly becoming the proverbial village, a trend that has been further accelerated by ever-advancing technology and fast-growing e-commerce.
Many goods processed or consumed in Europe are imported from all corners of the world, primarily China, but increasingly also South East Asian countries and the Indian Subcontinent.
Apart from bulk raw materials (coal, ore etc.), these goods are predominantly shipped in sea freight containers across the ocean. This is the most economic and sustainable mode of transportation available today.
The container shipping industry has historically been suffering from relatively low margins, as the core product itself is rather commoditised. This changed completely between mid-2020 and the second half of 2022, when the Corona pandemic turned traditional supply and demand patterns completely upside down.
Stimulus packages, spending shifts from services to goods, labour and truck driver shortages, the Suez Canal blockage, and sudden demand surge led to unprecedented capacity bottlenecks, severe vessel schedule disruption and delays as well as unprecedented prices.
We are now in the so-called "market normalisation" phase (some even call it "abnormal" as the pendulum swings from one extreme to the other), meaning a return to pre-Pandemic demand and price levels. The reasons for this are that operational challenges in the ports ease, incremental ocean transport capacity is induced and demand for the carriage of physical goods is normalising – further intensified by record inflation levels and uncertainties around military conflict. The last years have, however also illustrated how fragile global supply chains are and that you need a reliable, resilient, dynamic and flexible partner for your logistics needs.
Now, let's take a closer look at how to best manage your containerised supply chain.
The most common standard sea freight containers are available in 20' and 40' sizes. This is their outer length dimension, roughly converted to 6m and 12m respectively. One 20' container is known as a TEU (Twenty-foot-equivalent unit) and a 40' container is thus 2 TEU, sometimes also called FEU or FFE (Forty-foot-equivalent unit).A 20' container can load approx. 33 m3 and 28 metric tons, a 40' container 67 m3 and 28.5 metric tons and a 40' high cube container 28.5 metric tons and 76 m3. There might, however, be local road or rail restrictions which could result in less permissible payload.  Proper packaging, labelling and stowage are necessary to avoid cargo damage and optimal utilisation of the given space and thus lowest possible landing costs. When planning the stuffing of the container and the packaging, it is important to consider the size of the door openings. The container doors are 2,34 m wide and 2,27 m high.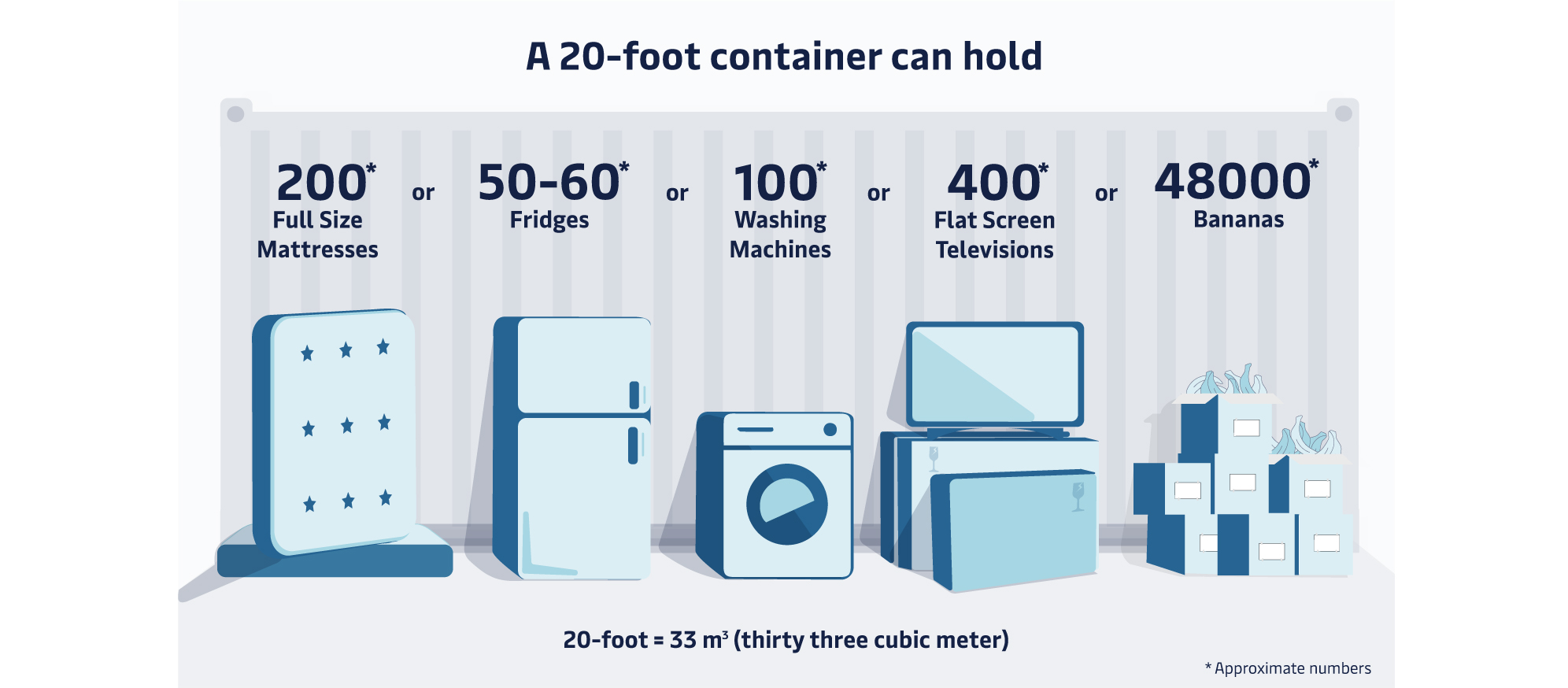 The beauty of containers is their intermodal capability, i.e. the same container can be loaded on a ship, truck, barge or rail without the need to restuff the cargo, which makes it very efficient and flexible in handling. The containers are owned by the shipping line and can be delivered directly to a warehouse or any other location.
On the inland side (the container transport to or from the port), truck is the preferred mode of transport for short distances or for fast or on-short-notice deliveries. It is, however, usually the most expensive option.
Rail-truck or barge-truck combined transportation, i.e. a rail or barge for the main haul from/to the port via an inland terminal and then a truck for first/last mile delivery is more cost-effective and less carbon-intense than pure truck delivery, especially suitable for distances of more than 300 km between the warehouse and the port.
In the container shipping market, you can choose to work directly with a shipping line (the asset owner) or a forwarding agent, who acts as an intermediary between you and the former. Both options have their benefits and disadvantages.
Twill for example allows you to have instant and direct access to the vast Maersk carrier network through an intuitive easy-to-use interface. The platform enables you to view prices and book your container transport from door to door directly with the owner of the ships and containers as simple as booking a  flight ticket.
As previously touched upon, prices in shipping are subject to supply and demand, so depending on the specific corridor you want to ship and the market's seasonality, these can vary widely. You can either buy your sea freight in the so-called spot market at short-term rates (usually daily, monthly or quarterly validity) or enter a long-term agreement with a minimum of 6 months validity. The former allows you more flexibility without many contractual obligations and the chance to benefit from low spot prices. The latter gives you price predictability and certainty. The choice between the two is essentially a risk assessment that differs from case to case.
Usually, smaller companies opt for the spot market, whereas global enterprises have more complex requirements and enter long-term agreements.
It is also important to factor other aspects into your logistics partner choice, for example:
How much freetime for the containers do I get before detention (container hire) charges apply
Is the price fixed or subject to short-noticed surcharges
Do I have empty container and load guarantee
How reliable (on time delivery) is the carrier
Can I easily contact the provider if something goes wrong
Does the carrier support sustainability efforts
Is there a cultural match (e.g., diversity and inclusion)
What other services can I buy from the same logistics provider in order to reduce supplier complexity?
Since a lot of capital is bound to your shipments, you want them to go as seamlessly and reliably as possible. However, sometimes factors outside anyone's control can suddenly cause delays along the way. This can be port congestion, bad weather, accidents, strikes or hardware breakdown etc. Some companies add a buffer to their offered schedules considering these factors. Others have tight pro-forma schedules with no room for minimal interferences which could upset your time planning. In either scenario it is important that you remain pro-actively informed. A platform-based offering will automatically do that and keep you on top of the situation.
Before entering into a contractual agreement with your buyer or seller, it is of utmost importance to define roles and responsibilities for the applicable risk and activities between them and you upfront. This is usually governed by the Incoterms®. This will in fact also determine which party is paying for the sea freight.
The Twill platform allows you to interact directly with your supplier or buyer. Both parties have visibility and transparency on what the next steps are and who is responsible, ensuring nothing falls between the cracks.
Once the container has been loaded on board the ship, a Bill of Lading will be issued. It is the contract of carriage between your logistics provider and you. The Bill of Lading describes the goods to be transported as well as certifies the right of ownership of these goods. The Bill of Lading at origin and/or the goods arrived at destination will only be released once the applicable freight costs have been settled. You can simplify this process by applying for a credit agreement with your logistics partner.
For shipments between different customs zones, customs clearance is necessary at both the origin and the destination. Make sure you have appointed a customs broker well in advance to avoid your container being held at customs or incurring customs and port storage penalties.
Another important element is to ensure proper protection for your cargo in case something goes wrong along the way. This can be transport insurance or extended Bill of Lading liability. Also here, both options have their advantages, but can also go hand in hand.
As you can see, for shipping your goods from A to B a lot of aspects have to be considered and many factors can influence their journey.
We at Twill pursue the vision of a world where products and services can flow freely for everyone, focusing on enabling small and medium sized enterprises to trade globally.
You can meet the authors during the E-Commerce Berlin Expo: