Most eCommerce business owners know the importance of investing in the right CRM software, website host and logistics systems. But what about FinTech?
Too often, eCommerce merchants consider payments, banking and accounting technology as an afterthought, preferring to focus their attention on other areas such as marketing and logistics. In this article, we'll discuss how building the right financial tech stack is crucial for earning consumer trust, saving on fees and reducing admin.
We'll also discuss how FinTech solutions can empower eCommerce businesses to reach beyond their domestic market and expand across borders.
The German eCommerce market
German retailers have seen steady growth in online revenue over the past decade, with over $148 billion generated from online sales in 2022. This year, Germany overtook the UK to become the fourth biggest eCommerce market globally, and now represents the biggest eCommerce market in Europe.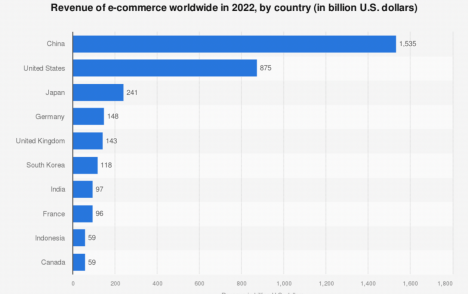 But independent eCommerce merchants have a problem. The German economy has been historically slow to adopt digital payment solutions. Germany falls far behind its European peers when it comes to cloud technology, and the country has a high use of cash payments compared to neighbouring regions.
In other words, the German public doesn't traditionally like paying for things digitally. Which doesn't bode well for a sector which depends on digital payment processing.
This trend has been disrupted in recent years by eCommerce giants such as Amazon, Otto, Mediamarkt and Zalando. It's these companies that are generating a shift in the retail market towards online spending. In fact, the top ten eCommerce sites in Germany accounted for €32.85bn (33%) of Germany's eCommerce revenue in 2021.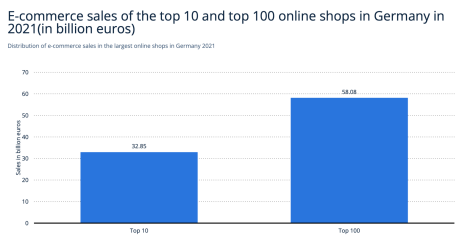 So, how have these online behemoths managed to shift the public perception of online payments, and how can smaller eCommerce merchants get a bigger slice of the pie?
Why does the German public prefer to use cash?
To understand how smaller German businesses can attract more online shoppers, we first need to look at why the German public has historically preferred to use cash over card payments and other digital solutions.
A 2017 report from the European Banking Commission found that German consumers far outstripped their neighbours in the Eurozone when it came to using cash payments. There are
many theories as to why this is, including the cultural perception that cash is more tangible than digital currency, the fear of losing track of spending, and the fear that digital payment solutions will lead to compromises in data privacy.
George Haur, COO at HAWK:AI, was quoted in a 2020 BBC article, saying: "Many Germans continue to guard their personal data and privacy fiercely, and have been less trusting than many of their other European counterparts when it comes to adopting new tech solutions."
Attitudes to digital payments are changing, particularly since the pandemic forced many German people to switch to contactless card payments. But retailers must take steps to address public concerns around data privacy and money management if they want consumers to spend their euros in their online stores.
Putting consumer minds at ease
A proven method for increasing consumer trust around online payments is to allow customers to pay for products using the payment methods they know and trust. According to research from payments platform PPRO, 20% of global cart abandonments happen due to a lack of trusted payment methods on merchant websites.
So which payment methods do German shoppers prefer?
Data from Statistica suggests that 50% of consumers prefer to pay for online purchases with PayPal or similar payment options. 21% still prefer to pay by invoice and only 17% prefer to use their debit or credit card when shopping online.
Based on this data, there are clear benefits to offering PayPal and other trusted payment options such as ApplePay, GooglePay and Klarna, at your online checkout. These payment services encrypt users' card data, protecting them from fraud, and many offer additional benefits such as refunding fraudulent payments, and Buy Now Pay Later (BNPL).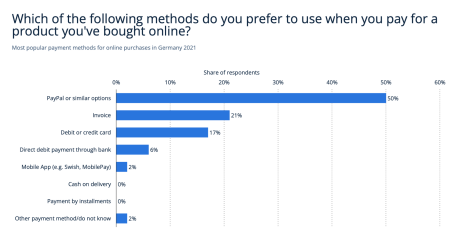 eCommerce merchants that fail to offer a range of payment methods at their checkout may lose out to larger marketplaces that actively build consumer trust by offering a range of payment options.
Looking beyond the domestic market
Cross-border eCommerce (where shoppers buy from online retailers based outside their home country) is on the rise globally.
According to a joint report from Airwallex and PPRO, China and the US present the biggest opportunity for eCommerce merchants looking to expand their global reach, with a cross-border market valued at $301.5bn and $103.9bn respectively in 2021. The UK had the third largest cross-border market, with a value of $30.5bn.
What this means for German eCommerce merchants is that their revenue potential no longer needs to be restricted by their domestic market. However, there are a few financial considerations that merchants should take into account before launching in a foreign market:
How to process multi-currency payments without being subject to high FX fees
How to pay foreign suppliers, staff and logistics companies 
How to offer a range of local payment methods which global customers know and trust
How to manage tax payments across multiple jurisdictions and marketplaces
How to reconcile accounts across multiple currencies 
How to minimise foreign currency risk 
Banks have traditionally offered clunky, time-consuming and expensive solutions to these problems. FinTechs, on the other hand, provide a smarter, technology-first approach, allowing eCommerce merchants to expand globally without the red tape and high fees that come with traditional banking.
Building the right financial tech stack for your global eCommerce business
If you're building an eCommerce business, and plan to scale your operations abroad, this is the minimum viable financial tech stack that you will need.
Payment processing and global money management
Every eCommerce business, whether they trade globally or domestically, needs a FinTech solution to process online payments. There are many options to choose from, but fast-growing businesses should consider a platform like Airwallex, which enables businesses to offer their customers a host of payment options — from payment methods that are popular in the US and Europe such as PayPal, ApplePay and Klarna, to options that are popular in Asia Pacific, such as AliPay and WeChat Pay.
Being able to offer popular payment methods that customers know and trust is crucial to reducing friction at checkout and maximising sales, both globally and domestically.
Airwallex also offers multi-currency accounts, meaning you can accept customer payments in multiple currencies and hold them in your account without having to convert them to your domestic currency. As well as allowing you to hedge against currency fluctuations, these accounts help you save on FX fees by reducing the number of currency conversions you need to make. For example, you can accept payment from customers in the US, hold those dollars in your Airwallex account, and use them to pay foreign suppliers, all without losing money on currency conversion.
If you do want to convert currencies, you'll benefit from Airwallex's market-leading FX rates, which are considerably cheaper than banks.
Airwallex offers a host of additional features which eCommerce businesses can benefit from, including fast global transfers, multi-currency company cards, and expense management. The platform essentially provides end-to-end financial infrastructure for your business in one place, allowing you to accept payments, manage company expenses and pay suppliers and staff globally.
Tax compliance
Accounting for tax across multiple jurisdictions and online marketplaces can be a manual and error-prone task unless you have the right financial technology in place.
FinTechs like A2X and Link My Books enable automatic reconciliation of payments across multiple marketplaces and regions into your accounting software. This means that rather than manually categorising sales, fees, taxes and refunds, these platforms do the job for you. Ensuring your accounts are accurate and you remain tax compliant.
This software is essential for businesses that wish to expand abroad and/or sell across marketplaces such as Amazon, eBay and Etsy.
Accounting
It goes without saying that accounting software is essential to any modern business. But if you're planning to expand your eCommerce business globally, it pays to choose an accounting package that allows for multi-currency reconciliation, such as Xero Premium or Xero Ultimate.
You can connect Xero to a multi-currency account such as Airwallex, and automatically reconcile transactions across all the currencies you operate in.
The future of eCommerce
There is a lot of opportunity for German eCommerce businesses to expand over the next few years, both domestically and internationally. But to ensure success, business owners must invest in financial technology which will enable them to maximise sales, reduce overheads and facilitate exponential growth.
Traditional banks and accounting solutions can no longer offer the level of infrastructure required to enable expansion. All eCommerce businesses, large and small, should explore modern cloud solutions which allow them to process payments effectively across regions, pay global suppliers and automate reconciliation.
As commerce continues to move online, and the German public rapidly adopts more digital payment solutions, it is also crucial that German eCommerce businesses move with the times and provide their customers with secure and trusted payment methods that ensure that they feel confident when purchasing products online.
With the right financial systems in place, independent German businesses will increasingly be able to compete with larger players in their domestic market, and Germany will continue on its trajectory as a leader in global eCommerce.
You can meet the authors during the E-commerce Berlin Expo 2023: