The launch of a B2B online shop is not always crowned by the desired degree of success: all too often, important issues are paid little or no attention during the projecting process. In this guest article Mirco Rennich, Product Owner E-Commerce and Tobias Kunitz, Senior Consultant & Sales Representative at COMPRA GmbH, show you what you should take into account when choosing a suitable shop system and how you can smoothly and successfully put your B2B business on the Net.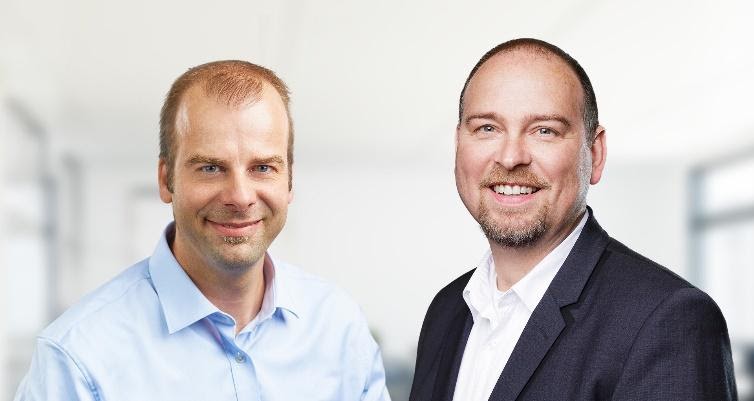 Results of current studies at the University of Regensburg indicate that 82% of the German B2B companies surveyed use the Internet to sell their goods and services. Every fifth company generates over 50% of its annual turnover via online shops or marketplaces. At the same time, however, 18% of these companies do not sell their products and services online at all.
The B2B e-commerce market is far more complex than online trade with end consumers (B2C). Relationships between business customers are often long-term and involve repeat purchases. Individual conditions, customer-specific agreements, or contracts relating to product designs, deliveries and prices must all be carried over into the digital environment. The attempt is often made to use B2C e-commerce as a blueprint for B2B strategies. But although e-commerce trends often originate in the B2C segment, many aspects cannot be converted directly to the process of doing business with companies.
B2B e-commerce – a balancing act between complexity and innovation
B2B business transactions are often quite complex and often vary by business customer and order. In contrast to the B2C sector, a service is not sold to an individual person but to a heterogeneous purchasing team. However, as is the case in the B2C segment, the trend in B2B buying behavior is moving ever more strongly towards self-service and personalization. This poses new challenges to B2B online shops, particularly in the areas of user friendliness and comfort.
One challenge which is often underestimated is focusing on the 'big picture'. Strategic considerations, the influence on established sales structures, the effects on the persons involved and competitive behavior are just some of the topics which need to be discussed and considered up front.
Enormous challenges also arise particularly from the integration of the e-commerce to be developed into the complex existing system landscapes – of both the originating company and third-party companies. This often involves creating a large number of interfaces for interlinking the existing systems. Beyond this, B2B companies must make a top priority of increasing their data quality and making the data from ERP, PIM and CRM systems 'shop-ready'. Some individual customer data, such as conditions of payment from the internal systems, must be accessible to B2B customers externally.
Which e-commerce models are there?
Various business models lend themselves to use in implementing a business-customer-oriented online agenda.
B2B online shop
Business customers require personalized product catalogs and price lists, individual offer and contract negotiation processes, as well as the right payment and shipment options. In prinicple, they expect typical shop functions combined with the same services found in personal sales situations. Product configurators and personalized marketing campaigns offer significant competitive advantages.
B2B customer portal
The digital customer portal is one step in the evolution of the B2B online shop. It can replicate the procurement process of the purchasing company while supporting after-sales activities and the development of digital services. The 'self-service' function provides your customers with all key figures or services ordered on a concise, easy-to-read dashboard. For you this means targeted, effective communication during the entire customer life cycle.
Sales integration
This option makes it possible for your back office and field sales staff to save valuable time by accessing all necessary data and information online and being able to perform functions for your business customers directly in the field. By collecting and integrating data of all kinds it is possible to view a detailed customer analysis when preparing for meetings.
Online marketplaces
Amazon Business, Mercateo and Alibaba are the best-known B2B e-commerce marketplaces. The best possible choice of marketplace and payment model for a B2B company is strongly dependent on the business model, customer groups and particularly the expected turnover structure.


The study "Online Buying Behavior in B2B E-Commerce" conducted by ibi research at the University of Regensburg proves: in terms of relevance, the online shop is the first choice for B2B purchasing agents. Equally surprizing is the equal number of written orders.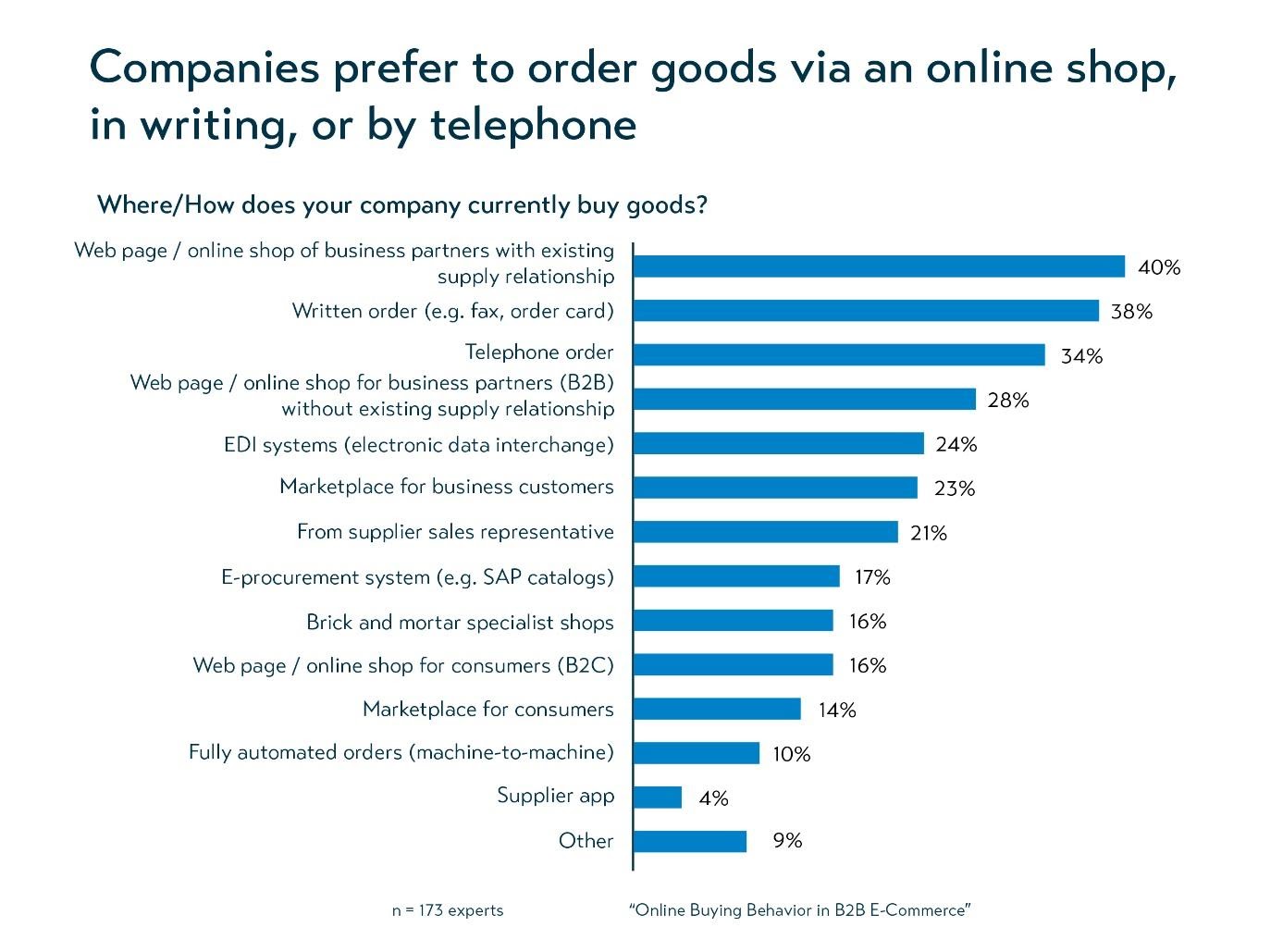 B2B shop systems – and which functions are important?
The complexity of the products and services offered in the B2B environment places particular requirements on shop systems. Different customer roles, complex orders and invidualized prices are special requirements on an online shop in the B2B segment which are often not covered in B2C systems. It is therefore advisable to check in advance to what extent a shop system fulfills the necessary criteria. Some shop systems also offer tailor-made B2B solutions, but as a rule these come at relatively steep licensing costs. With the aid of software partners specializing in B2B processes however, most projects can be implemented well using standard shop solutions such as Shopware Professional.
1. Administration of rights and roles
In the B2B environment there are often several people responsible for product purchasing. It is possible that the responsible purchasers have varying degrees of authorization and are subject to certain limitations, for example in terms of budget, order quantity or the products themselves. To prevent employees from exceeding their authority, a B2B shop system should make it possible to store these differing rights and roles.
2. Powerful search function
In many cases the product palette of a B2B business is quite extensive and thus difficult for the business customer to get a clear overview of. A powerful and easy-to-use search function is therefore a basic prerequisite for a B2B shop system. To ensure this, it is advisable to use a search function capable of automatically completing or correcting search entries.
Beyond this, a B2B shop search function should recognize synonyms and suggest related products and product groups to users. Another function of particular importance is product searches according to differentiating product characteristics. This means that one basic search requirement is that product attributes can be searched in the first place. To support users in further narrowing their search, faceted filter navigation should be provided.
3. Simplified ordering process
The ordering process in the B2B segment differs significantly from that in the B2C segment. Where end consumers generally place single orders at irregular intervals, in the B2B segment identical orders tend to be placed and repeated at regular intervals. For this reason a B2B shop should make it possible to store all orders in the system and to reactivate them when needed. It should also be possible to place large orders in the shopping cart by uploading a CSV file or entering article numbers. This considerably simplifies the ordering process for business customers, particularly when large orders are involved.
4. Individual price structuring
In most cases, purchase conditions in the B2B segment are agreed individually. Differences in price structure thus place particular requirements on the shop system to be used. Factors such as individual discounts, different customer groups, order sizes and shipping costs all affect the purchase prices of the individual business customers. In a B2B shop system it must be possible to store different prices so the customers can view and order products under the individually agreed purchase conditions.
5. Multi-shop capability
A multi-shop environment makes it possible for shop operators to present several independent online shops which can be centrally administered from a single back end. This allows online dealers with a broad scope of product offerings to reach different target groups and more precisely aim their online shops at individual groups of customers.
6. Seamless interfaces
In the B2B segment shop systems must be seamlessly integrated into existing system landscapes. Interfaces to applications such as ERP systems, product information systems (PIM), CRM systems and bookkeeping systems ensure the seamless transfer of data. Nonexistent interfaces to third-party provider systems require additional resources, as individual interfaces must be programmed to close the technological gap. In the worst case, the lack of an interface is a no-go criterion. For this reason B2B shop systems should always offer interfaces to the most common third-party systems and be equipped with generic interfaces to allow your software partners to connect their systems without difficulty.
For B2B purchasing agents the most important functions are those that simplify the online ordering process. These include powerful and thoughtfully designed search and filter functions, continuously updated information on availability and delivery times, and detailed product descriptions – supplemented with high-quality images or videos depending on the range of goods.
Further features your shop should definitely include:
Tailored-to-customer prices or complex price structures
Discount, sliding-scale and special prices
Order history and express ordering
Secure log-in area, e.g. for inventories or individual payment conditions
Personalized marketing campaigns
Precise control of rights, budgeting and approval processes
Responsive design for mobile end devices
To fulfill these expectations, technological requirements on B2B shop systems must also first be fulfilled as described above.
Relevance of functions from the viewpoint of a purchaser on a B2B shop or marketplace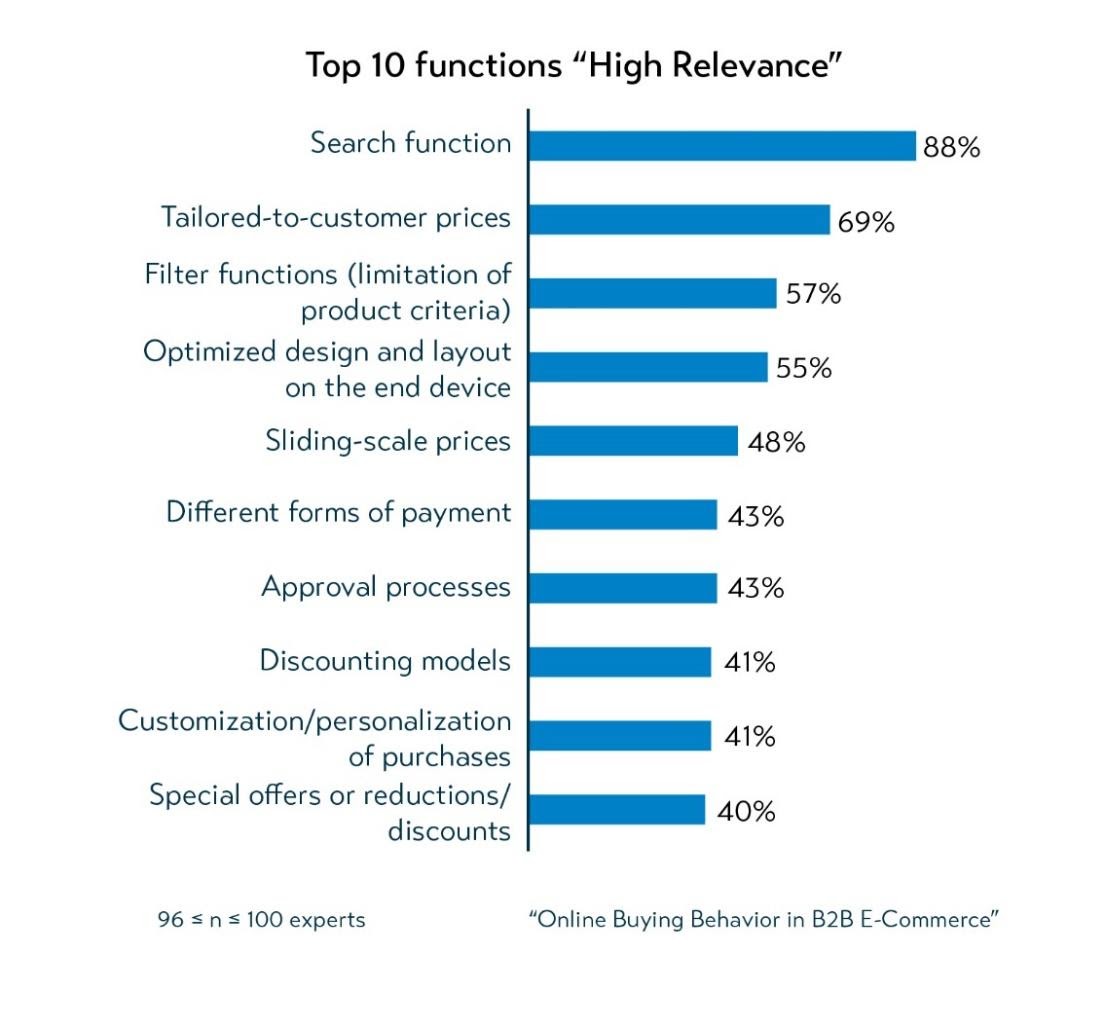 And so price is not the sole deciding success factor in B2B e-commerce. It is equally important to offer easy-to-use, user-friendly tools and services. When companies are successful in making business customer interaction with the shop Web page as simple as possible, they are less susceptible to competing providers whose only clear advantage is lower prices. At the same time, information on inventories and delivery times and clear pricing information are highly relevant to customers, so the database must always provide these data in updated form, accompanied by product specifications.
When you know the right functions and necessary information to provide to your target group, you can create a B2B online shop that yields long-term customer satisfaction and loyalty.
Relevance of information from the viewpoint of a purchaser on a B2B shop or marketplace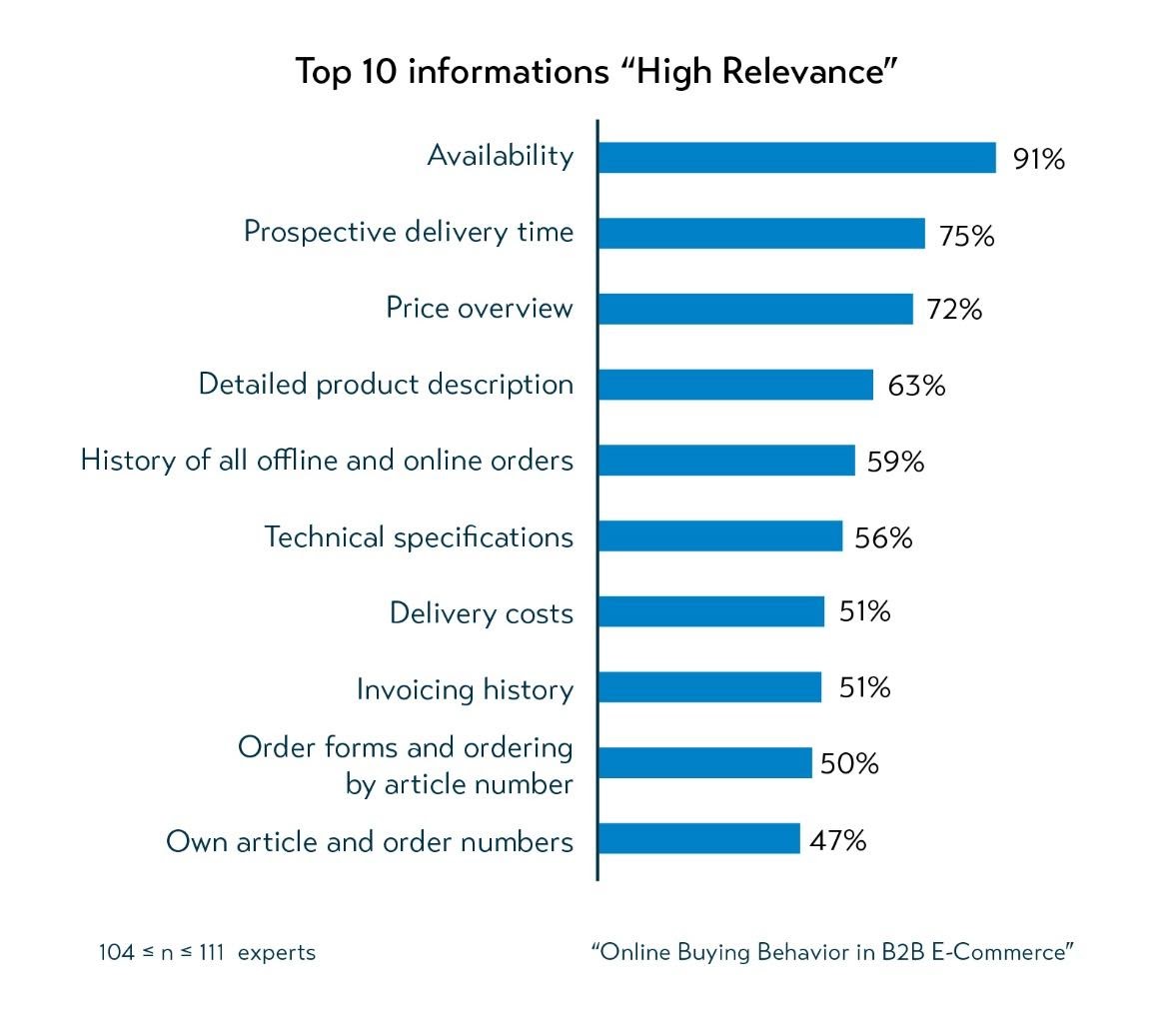 B2B e-commerce trends and potentials
The research survey conducted by the University of Regensburg in 2020 indicates that 89% of companies surveyed expect to be making more than half their B2B purchases online in 2025. As a result, the use of artificial intelligence will have a decisive influence on the B2B market.
B2B purchasers also want companies to provide them with all the relevant information they need for placing orders. They expect the shop to 'think along with them' and support them in the purchasing process by providing suitable content. One of the greatest potentials lies in the collection of user data in an AI-based data pool for use in creating personalized content. This generates an increase in customer satisfaction, conversion rates and brand loyalty. With the aid of artificial intelligence, online shop product suggestions, page navigation, offerings and messaging could be personalized for the customer in real time. You should also get a list of providers that would help grow your B2B online shops and improve them the way you wanted to be.
Big data analyses
The online shop provides you with detailed insights into the buying behavior of your customers. Taken together with information from social media and the ERP and CRM systems, a great deal of data is available. Take time to consider how and where you want to collect these in a structured way for use in analyses to support even more improvement in your customers' e-commerce experience. Successful businesses invest heavily in data analysis to ensure a consistent B2B customer experience across all channels. E-Commerce opens up a new marketing channel and generates additional sales data which can help predict future customer behavior. This causes a major shift in the role of the sales departments and commercial structures of organizations. The alignment of digital and personal sales data should be a daily task, not a one-time measure.
Personalization
Most B2B customers have to log in to place orders, which simplifies the task of logging their buying behaviors. This rich source of data can be applied in adapting prices, making product suggestions and personalizing content such as videos and articles shown. Particularly with respect to existing customers, this provides opportunities to stand out from the large and often transaction-oriented platforms and thus to obtain a competitive edge. Also, the loyalty of existing customers can be further increased through the provision of new services. Although personlization is more complicated within heterogeneous target groups, it remains a fantastic opportunity for B2B companies to pursue cross-selling and upselling strategies in their shops.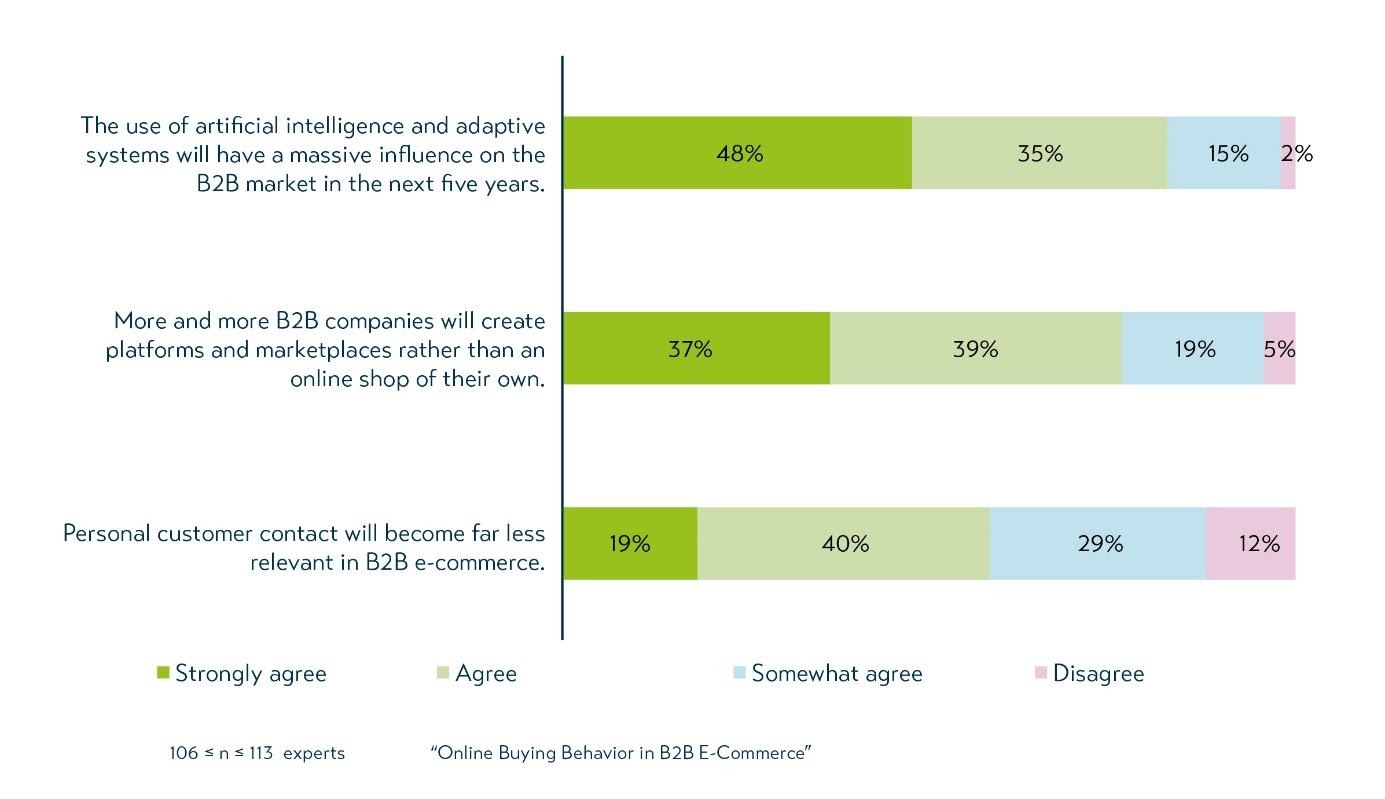 Artificial intelligence
Naturally, the data collected have no value if they are not utilized to increase sales and lower costs. Artificial intelligence (AI) can aid in automatically evaluating the enormous amounts of data and making forecasts based upon them. Beyond this, AI can provide important insights into your customer base. This makes it possible to automatically create tailor-made content for each customer. And this, in turn, provides the opportunity of developing and optimizing online shop offerings in quasi real time with an eye on the market. The use of AI is also expedient in customer contact, for example with speech-based searches or the use of chatbots and live chats. In other words, it is worth your time and effort even now to conduct small-scale projects, experimenting with chatbots and algorithms.
Summary
B2B e-commerce not only makes it possible for businesses to go online and offer their products to a larger circle of customers. It also helps pave the way to new markets and target groups and to increase existing business customers' willingness to buy. B2B brands with e-commerce capabilities also outperform their competitors in terms of efficiency and use real data for making business decisions which help them remain competitive. New technologies, such as custom webinar software, also make it possible for B2B companies to offer their heterogeneous target groups an outstanding online consumer experience. So invest in shop systems and providers who can best support you along this path.
About COMPRA
For more than 30 years COMPRA has been digitalizing the mid-sized sector in Germany.
COMPRA's key activities lie in providing solutions for B2B and B2C e-commerce, enterprise resource planning systems (ERP) and enterprise content management systems (ECM)
Our skilled and knowledgeable team of consultants, developers, programmers and designers bring a high degree of flexibility and sensitivity into fine-tailoring and developing software solutions that consistently meet your requirements and standards.
Our contact team for you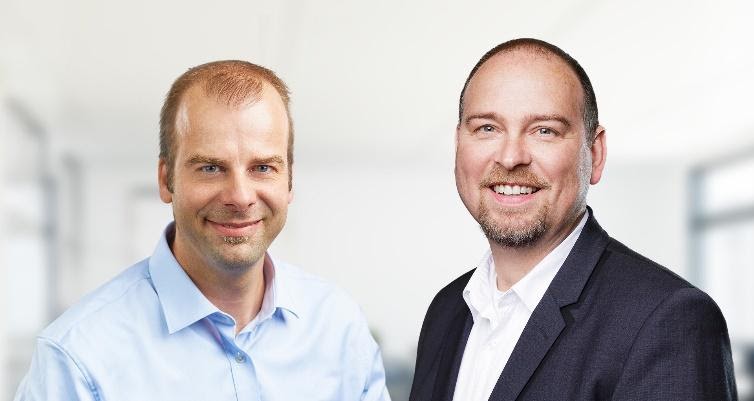 Mirco Rennich
Product Owner E-Commerce
Our shopware specialist
Tobias Kunitz
Senior Consultant & Sales Representative
Our eEvolution specialistEmail: [email protected]
Tel.: +49 5121 748602