We're more than happy to introduce some speakers of our upcoming E-commerce Berlin Expo 2022.
Today, we decided to invite Erik Reintjes from MissPompadour for a virtual cup of coffee to talk about "Content meets Commerce – MissPompadours Einkaufserlebnis für über 250.000 DIY- Begeisterte" Enjoy!

How was MissPompadour founded? How did you come up with the idea for this shop?
The brand MissPompadour was developed 5 years ago. During my studies, I could decide between writing a thesis or starting a business. At the time, my mother and sister had a stationary shop called Pompadour, where they sold furniture and home accessories. I asked them if we wanted to bring the business online.
To make the brand a bit more modern and bring it into e-commerce, Pompadour became MissPompadour. At the time, we simply transferred the existing shop and the product selection into to e-commerce. In the shop, we sold home accessories, tableware, pictures, lamps and so on. But one of the product groups was also paint, at the time exclusively with the brand "Painting the Past".
We quickly realized that we had large competition in the home accessories sector and that it is difficult to sell online without an advertising budget. At the same time, however, we noticed that there was quite a demand for paint. As a result, we completely reorganized the shop and removed all other products, so that MissPompadour developed into a pure paint shop.
We were beginners at the time with a simple WooCommerce shop, a few categories, and a few blog posts. We didn't plan to sell paint online in the long term but were in the right place at the right time – with a gap in the market that somehow nobody had recognized before.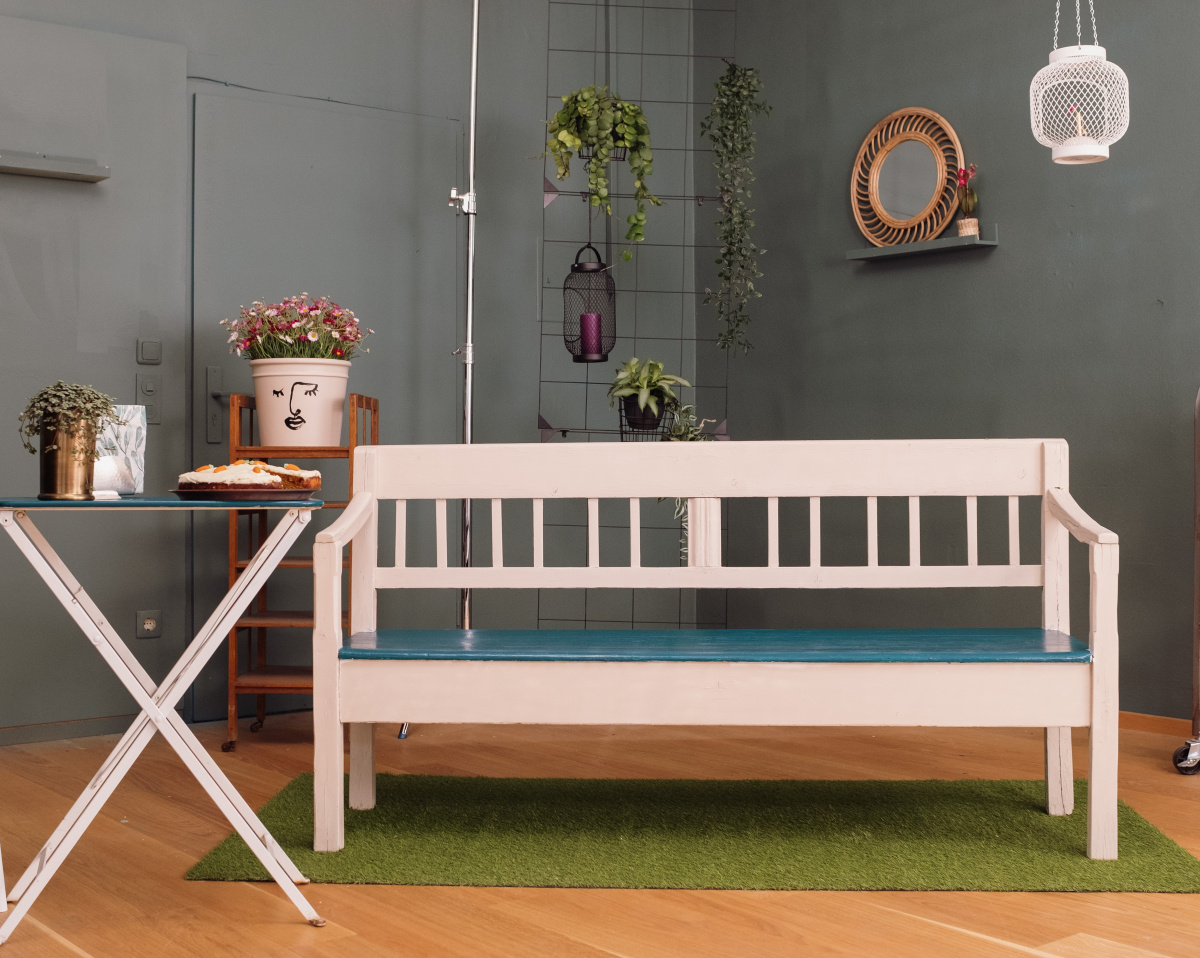 What does your niche look like – is it large and competitive?
We are in the architectural colour sector – this is the name given to paint used by consumers or professional painters. This market has a size of 3.8 to 4.2 billion Euros in Germany and is therefore very interesting. Back  then, we started with the niche of chalk paint, which was very trendy at the time.
The competition in the market is easy to divide up: on the one hand there are the hardware stores and on the other hand the painters who work directly with paint manufacturers and then sell the product on to their customers with a margin. We entered the industry as a D2C company and ship the paint directly to the customer. This segment of the market currently accounts for 4-6 percent of the 3.8 to 4.2 billion Euros.
In the last 10-12 years, first shoes, then fashion and then furniture and living were sold online. And now the next big thing for e-commerce is "do-it-yourself", which includes painting and the paint required for that.
The whole DIY sector is now also moving towards e-commerce, driven mainly by the Corona pandemic. With the big hardware stores there is a shift from B2C to D2C in the online busines. And that's exactly why it's an incredibly exciting industry.
You can't really talk about a niche, because basically every European resident who is of an age able to paint is a potential customer for us. Most people come into contact with painting at some point, even if it's only when they move out of a flat.
On the other hand, there is also creative painting: People want to use colour as a design element. In addition, there are offices, hotels etc. that are painted. Everything that has to do with home and living is no longer a niche, but a broad market.
What are EXCONCEPT's responsibilities and tasks on a daily basis?
EXCONEPT is our partner in the field of e-commerce. Together with the e-commerce agency, we carried out our relaunch from WooCommerce to Shopware 6. EXCONCEPT was responsible for the design, conception and technical implementation of the online shop, the project management, and the launch. Since the new Shopware shop has been online, we have been working with EXCONCEPT in terms of support and assistance and can contact them with any problems, questions, or further development requests.
How did you start your collaboration on this project?
We were faced with the task of replacing our old online shop with a new, competitive one. Before that, we had a self-built WooCommerce shop that worked well at first, but then reached its limits. We therefore looked at which shop systems could be suitable for us. Since data protection was and still is so important to us, many shop systems had already fallen out of consideration. After that there was only a short list of technologies that were interesting for a company like ours in a turnover range and growth-orientation up to 200 million Euros annual turnover and Shopware 6 quickly became our number one.
It was important for us to work with a Shopware partner on the same wavelength as us. With EXCONCEPT, we immediately had the feeling that we had the same thoughts about e-commerce and the same idea of what a shop should look like. The designer from EXCONCEPT understood our wishes and ideas directly – the first draft was perfect. The coordination was also very uncomplicated, and there was always someone available during the crucial project phase. The technical staff at EXCONCEPT also knew exactly what they were talking about at all times.
Your presentation is titled "Content meets Commerce – MissPompadours Einkaufserlebnis für über 250.000 DIY- Begeisterte". Can you give a little sneak peek of your presentation during the upcoming EXPO?
Nowadays, it is no longer enough to have an online presence as a retailer. You need to understand your customers, provide them with content that offers them added value and be available on all channels your clients use. In our presentation, we show how we use social media and content and how the shopping experience up to the purchase is implemented in our new Shopware 6 shop. We will go into our communication channels and the functions in the shop and show how we design our customer journey.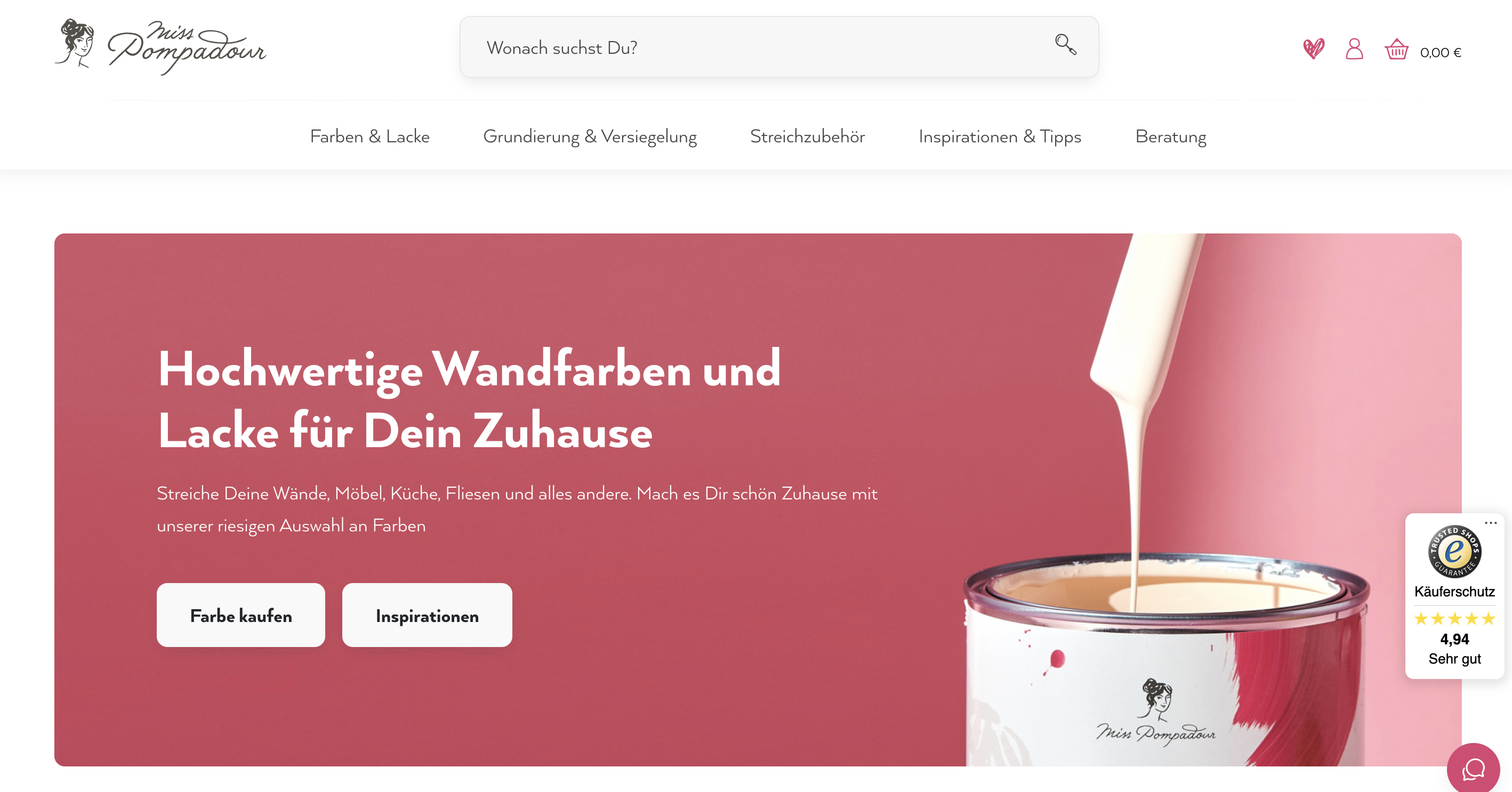 What was the scale of the project?
The project ran from June 2021 to the beginning of November 2021 and in the budgetary range of 50,000- 100,000 Euros including all partners: Shopware, our e-commerce agency EXCONCEPT as well as our SEO agency.
What results did it bring?
The focus of the project was stability and professionalization. For example, we recently ran a big sales campaign for International Women's Day, where we made as much turnover in 3 days as we normally do in half a month. And that worked without any problems with the new shop. If we had performed this campaign with the old shop, everything would have collapsed. The new Shopware 6 shop is a perfect way to ensure security and enable growth. For us, this project was a decision for the future.
We now have a shop system we can build on; we can internationalize with it and reach the turnover range we have planned for the next 3-5 years. It was important for us not only to fix current pain points, but to work in a future-oriented way. We are in a process of expanding everything, which is why valid figures and results can only be seen in six months.
How does work on such a project look on a daily basis?
We had clearly defined milestones for the project. The work packages were implemented by the project team at EXCONCEPT, and the results were checked. After the completion of each subtask, we ran tests. We kept an overview via a Kanban board in Jira. Within the project, we also exchanged information on current topics several times a week.
The atmosphere was always great and very relaxed in the collaboration. We as a company were always taken seriously, and the project team always paid attention to how our requirements could best be implemented.
What connects content and ecommerce in your opinion?
I believe that, except for the big data-driven players, there is no online shop that can do without good content. As an online retailer, you can no longer get by with "fast and cheap", there are too many and too big providers that you can't get past.
Content is essential for us because content shows what our product can do. Atthe beginning, for example, we set up a Facebook group in which we showed how our products can be used. The before-after-postings did an incredible job to demonstrate that.
For us, content is also always the entry point into the sales process – commerce has to fulfil what content promises. The product and the shopping experience must be right, the shop and the logistics have to work flawlessly, and the customer service has to advise well, so that the customer decides to purchase and in the best case gives us positive feedback for others to read. That's why the topics of content and commerce have been inseparable for us from the very beginning.
Content at MissPompadour is diverse. In addition to the classic social media postings, there are the Instagram lives that our customer advisors do, but also the WhatsApp advice or the blog posts in the shop. In addition, our customers can upload their own projects in our app and rate each other's projects. It is shifting more and more from e-commerce to social commerce, and we have perfected this in our area: We create content together with our customers, which again convinces others to buy our products, and we promote this on every possible channel.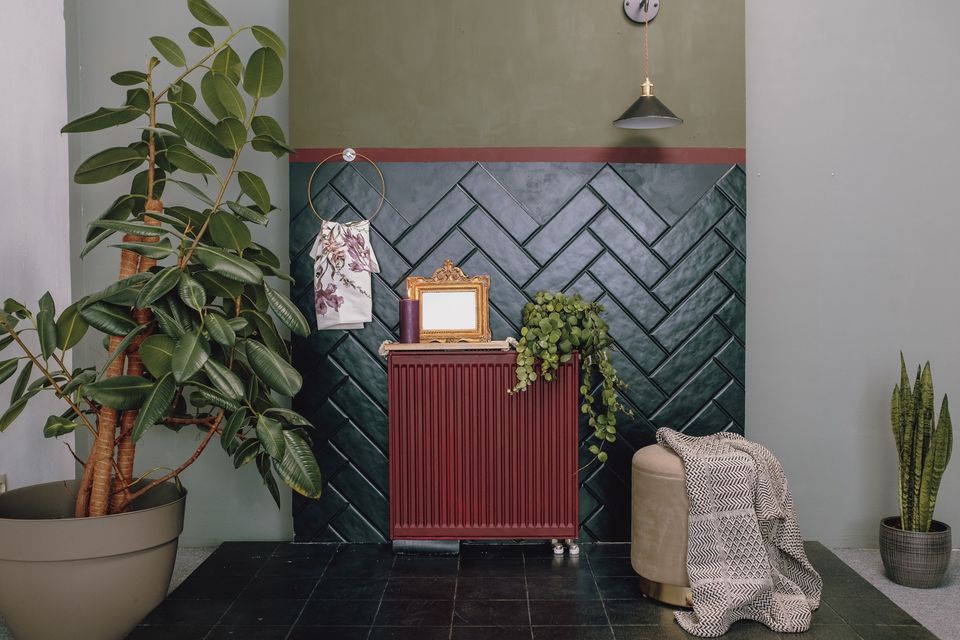 What is the key to a successful shopping experience (Einkaufserlebnis) in your opinion?
It is important to take the customer seriously. Our clients want the same experience online they know from stationary shops, if not a better one, because they now spend more time online. A successful shopping experience stands for entertaining the customer from the beginning with your content machinery. You should offer a great world of content besides the product information, for example through your social media channels. In addition, you should offer a smooth customer service – usually even after the order has been placed, for example if there are questions about the project MissPompadours' products were purchased for. Then, of course, the shop must run smoothly, and the user needs to be enabled to make a fast buying decision. Ideally, the customer immediately recognizes which products are needed and the order has to be on the customer's doorstep in two days.
The journey must run smoothly from start to finish, and if it doesn't, then the customer is gone and is immediately with someone else.
What is the definition of a perfect customer regarding your company? Can you list 5 traits?
93 percent of our customers are female. Ideally, our target group is online-savvy, as we are an online-only player, they must be open to new things and interested in crafts. Most of our customers are between 25-45 years old, live in rented accommodation or have their own home in need of renovation and have an affinity for beauty.
What are the biggest challenges that your business is facing right now?
The biggest challenge for us is to convince the market that it is better to buy paint and painting accessories online than in stores. The typical German still likes to go to the hardware store, but then also ignores the fact that they get virtually no advice. And that's the biggest challenge, when a potential customer thinks of paint, that he or she no longer thinks of the hardware store, but immediately has MissPompadour in mind.
We also have to manage that the 4-6 percent online market share keeps growing. If things go as well as they do in other sectors, it could even reach 40 percent. And if we don't make any serious mistakes, we will grow as a company. Of course, this also requires our logistics to grow continuously, and our suppliers must grow with us as well. So far, the colour industry has not been the most innovative – but there's always room for improvement.
These are our challenges: We want to grow in a controlled way and create a new market that actually already exists – just mostly offline so far.
How can brands like MissPompadour stand out from the competition?
If we consider mainly D2C and small brands, it is important to go your own way. You can also see this with successful e-commerce businesses like for example SNOCKS.
If we look at the competitors like hardware stores or B2B colour businesses in our field, we stand out because we focus on the customer. With us, every decision is made with the customer in mind, even our colour names. Why, for example, is our colour called "Green with Sage?" because that is how our customer consultants describe the colour during consultations. So, if I name the colour like that directly, the customer has the nuance of the colour in mind.
And we made this decision, for example, to make it as easy as possible for our clients. And this also sets us apart from the competition because many in the colour sector have lost sight of the customer or perhaps never had one. For example, there are colour manufacturers where production is the focus: "How can we produce the most mass? And where can we sell the most mass?".
But whether the product is right for the client, whether the design or the colour names are right for the customer, they haven't thought about that. We at MissPompadour believe we have a good product and we have tailored it to the user. That's how we can secure market shares, and that's exactly what makes companies like us unique and how they can also find a gap in a market. Whether e-commerce or stationary, it all comes down to wanting the best for the customer.
What management tips would you give to a brand similar to yours?
My first management tip would be "cash flow first". We sold one unit at the beginning and kept investing the money and gradually selling more. The cash flow should always be positive, and you should follow this line through as you grow on your own. If you want to be successful in e-commerce, I will always advise to grow healthily: only do what you can afford and grow from that.
The second issue is communication: we are a team of three founders, which also has to work. Before we all joined the company, we tested working together for a few months. All three of us see eye to eye with each other, everyone says openly what they think, and we have a strict three times "yes" policy – if one of us is not in favour, we don't do it. We are all different and that complements each other perfectly. We have a clear line: what the three of us decide, we follow through. But we also listen to what our employees say and give them the opportunity to do things and decide for themselves – especially on issues we have no expert knowledge about. Just because the three of us started a company doesn't mean we know everything. We also gratefully accept the expertise of our staff, who have significantly more experience than we do in certain areas.
We have a good mix of healthy growth, and it has to go forward, but we are also a family business. That's where we come back to sustainable growth, we also have a responsibility to our employees. That's why with every decision we make, we consider how our employees feel.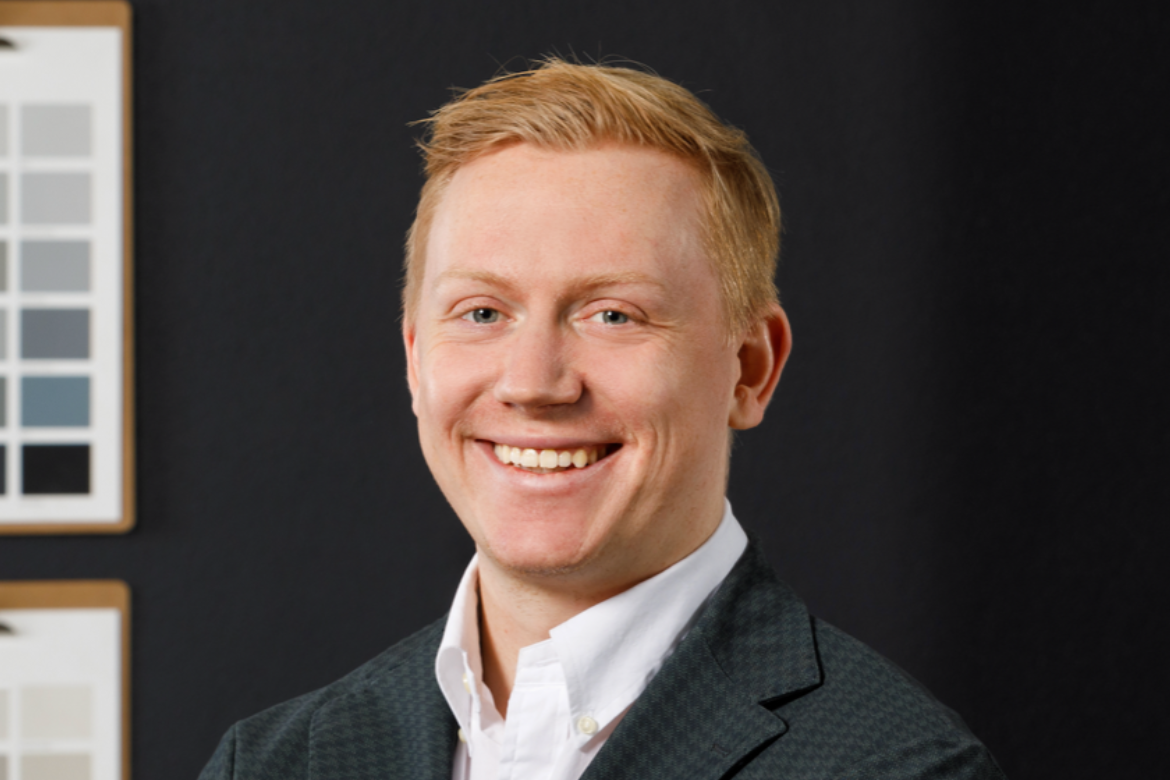 Erik Reintjes is Co-Founder and Managing Director of the startup MissPompadour, founded in 2019. He is responsible for marketing, sales, and product development. MissPompadour is a medium-sized e-commerce company offering interior paints and painting accessories. Before founding MissPompadour, Erik completed an apprenticeship in sports retail, studied fashion and design management in Munich and built up the B2B business for a major textile company.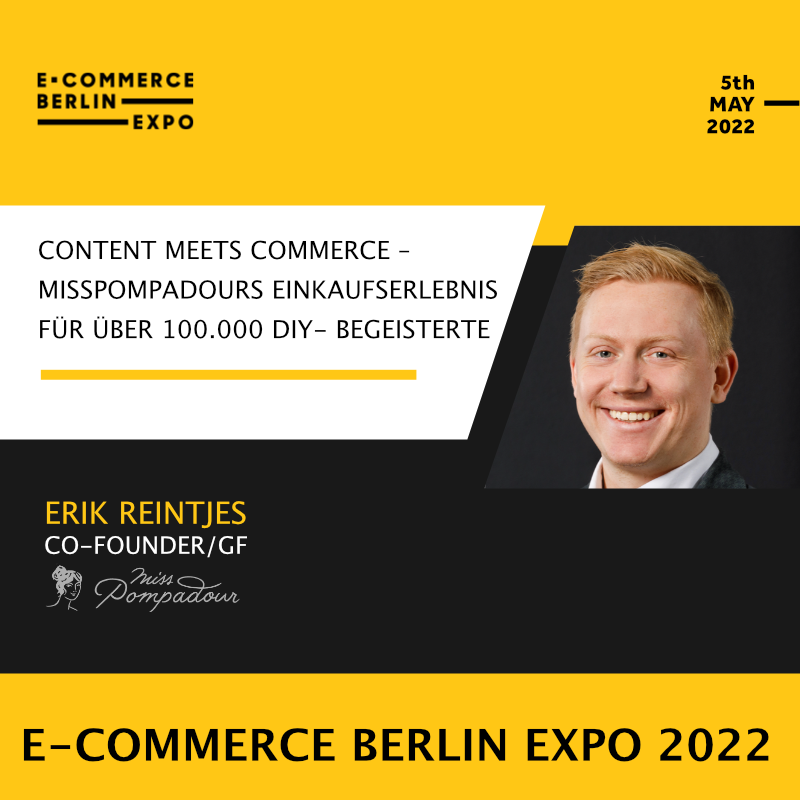 Hungry for more e-commerce tips?
Register for free ticket to see Erik's speech —> click here