In the world of retail and e-commerce, every day is a celebration.The days where businesses solely focused on upcoming big holidays are long gone. In this digital age, every event — even the most obscure ones — is a golden ticket for businesses to increase sales as long as they know how to capitalize on it. With so many events occurring each month, keeping up with all of them can get extremely challenging. To make things easier, E-commerce Berlin Expo 2022 media partner, Parcel Monitor, has put together an e-commerce holiday calendar with all the key dates that retailers should take note of. While the first quarter of the year is coming to a close, it is not too late to make 2022 your most profitable year yet.
Quarter 2 2022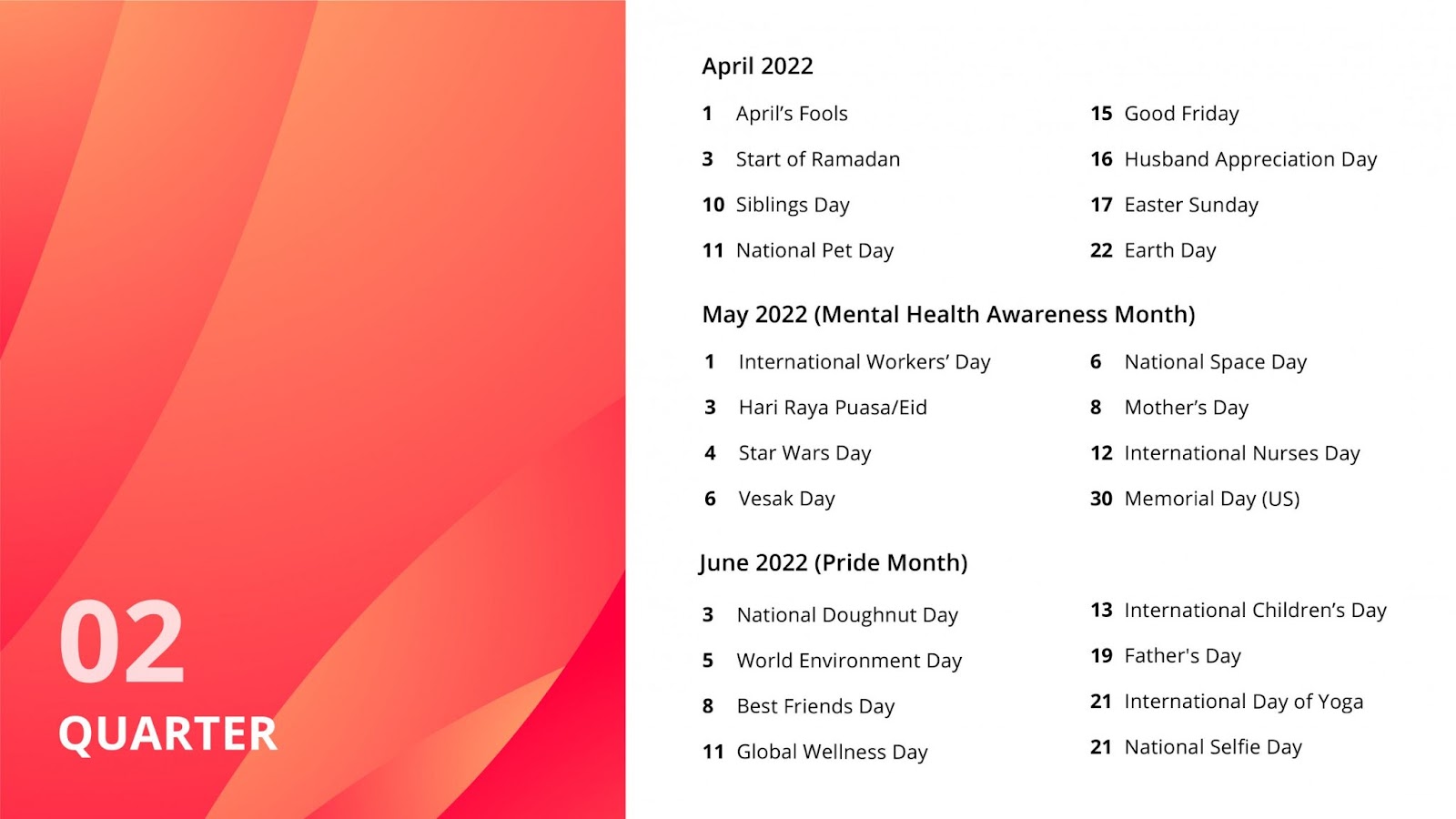 (Image Source: Parcel Monitor)

17 April – Easter Sunday
Easter Sunday is one of the most festive occasions for Christians all over the world. It is a day of joy and celebration to commemorate the resurrection of Jesus Christ. With each passing year, more businesses appear to be holding spring sales around this time of year, offering special deals on clothing, home decorations and food items.
If you are a retailer or an e-commerce business, make sure not to miss out on this golden opportunity to boost sales. As there are diverse ways to celebrate Easter globally, you will surely find an angle that aligns with your brand. Start out by putting yourself into customers' shoes and analyze what they would need to buy for this special event. Then, proceed to promote them in a special discount scheme. Get creative by holding an online Easter egg hunt or even a social media giveaway to engage with your shoppers.
An example to follow is the American clothing brand Banana Republic. As part of their "Easter egg hunt", consumers had to comb through their website for hidden "eggs". When they clicked on the eggs, they would be taken to a page with a special discount coupon. This is not only a great way to bring in new visitors to the store, but it also increases the chances of conversion among the existing ones.
(Image Source: Gabe Pierce, Unsplash)

8 May – Mother's Day
Did you know that Mother's Day is the second-largest gift-giving holiday in the US, following close behind Christmas?According to the National Retail Federation (NRF), Mother's Day spending was predicted to reach a new high of $28.1 billion in 2021.
Though not all countries celebrate it on the same day, Mother's Day is one of those special holidays that hold a universal significance to everyone, regardless of one's cultural or religious background. After all, it is a day honoring some of the most important women in our lives — our moms (and other mother figures).
Go the extra mile this year by putting together some heart-warming campaigns that highlight their hard work and sacrifices. Since social media contests are always a great way to reach out to the audience, consider having one where you get your customers to share their favorite pictures or touching stories of/with their mothers. At the end of the competition, choose a few that stand out the most and reward them with gifts or vouchers that can be spent in your store.

19 June – Father's Day
Let's not forget the men in our lives too. Despite being nowhere near its counterpart, the average spending on Father's Day is increasing year after year. Approaching this holiday, many consumers seek out opportunities to buy their fathers the best gifts they can find. Father's Day this year falls on 19 June so be sure to make the most of this day that is dedicated to praising fatherhood in our society.
Toyota's "my bold dad" campaign is an excellent example of an effective marketing strategy on father's day. They made an engaging story via a video, which not only included an emotive voiceover on what it means to be a father, but also included some fantastic product placements. Execution is indeed everything when it comes to a successful marketing campaign.

Quarter 3 2022
(Image Source: Parcel Monitor)

2 September – Teachers' Day
Teachers' Day is a special day to honor the individuals who have made a difference in our schooling years. Celebrations on this day involve gifting teachers with thoughtful presents and even ceremonies that recognize their exceptional achievements to a certain field or the community at large. Take this opportunity to launch some personalizable items that will surely make any teacher feel appreciated for the great work they do. Do avoid promoting expensive products in your campaigns as most cultures consider them inappropriate to be given to teachers.

17 September – (Start of) Oktobers' Fest
Oktoberfest is the world's largest beer festival and traveling funfair that takes place in Munich, Germany. The Oktoberfest attracts an average of 6 million visitors annually and we can expect no less this year, especially since borders and restrictions have been loosened after the global administration of COVID vaccines.

(Image Source: Louis Hansel, Unsplash)

First and foremost, let's put up promotional posts and infographics to get the word across. You have to choose a suitable media platform to run your campaign. Then you can put up tons of promotional posts on it to boost the visibility of your page as well as raise awareness of your event. Your post content should be attention-grabbing, relatable and to the point. Using bright colors and fun graphics is also advisable. Doing giveaways never hurts as well since they help to increase enthusiasm for the event among customers, many of whom derive immediate satisfaction just from participating in the giveaway.

Quarter 4 2022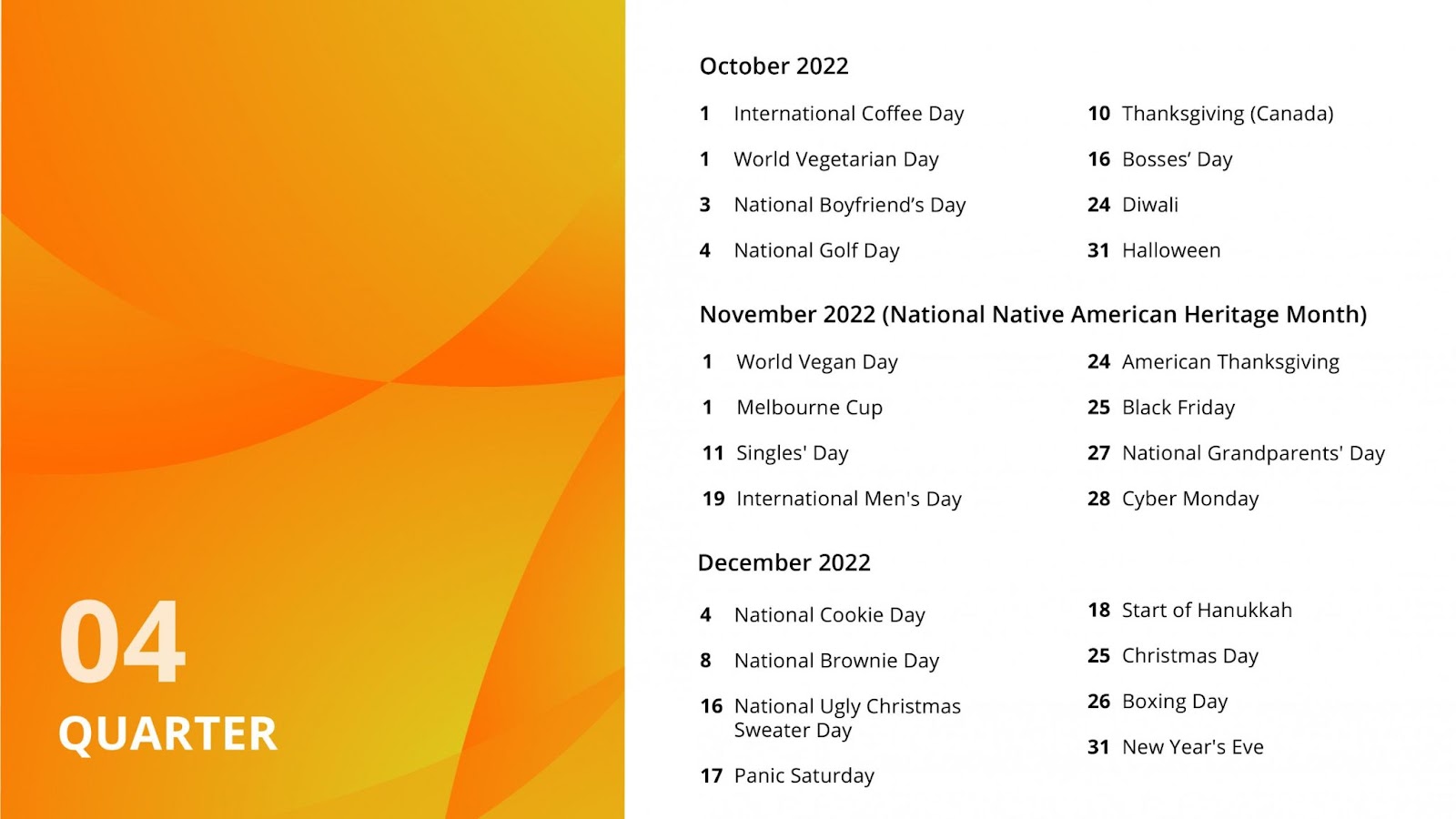 (Image Source: Parcel Monitor)

31 October – Halloween
Halloween has been celebrated for over a thousand years. Originally a religious holiday, it became increasingly secular throughout time, until its religious overtones were almost completely lost. Today, Halloween is seen as the season for dressing up and having a good time, especially for young children. Costume parties, pumpkin carvings and trick-or-treating, customers are just a few of the many time-honored traditions that people look forward to during Halloween.
As for e-commerce businesses and retailers, Halloween is one of the ideal times of year to let your imagination run wild and come up with crazy marketing ideas. If you have never done any Halloween campaigns, fear not. Start by giving your online store a spooky look so your customers can experience Halloween spirits just by surfing the net. Next, consider incorporating themed templates for your email campaigns to get your audience pumped for the upcoming festivities. You can even impress your customers through creative product packaging, just like the one by Heinz's.
Last year, Heinz's launched the limited edition of their product ketchup "Tomato Blood". This ketchup version was dressed with a new spooky-looking label that adds to the fright factor. The promotion was intended to provide a "complete Halloween experience," and included a pop-up store in Los Angeles where visitors could make costumes using fake blood, as well as an online Halloween Heinz Blood costume kit.

(Image Source: JP Valery, Unsplash)

25 November – Black Friday
The Friday following Thanksgiving is known as Black Friday. As it marks the start of the Christmas shopping season, it is common to see retailers offering substantial discounts on this day.Keep in mind to implement your most impressive marketing strategies around this date. Offering free shipping is also a good choice as it encourages customers to spend more at your online business. Furthermore, ensure that your website is functioning properly in all areas. Be prepared for massive traffic while maintaining high-quality, fast-loading landing sites. In fact, nothing will cause your sales to plummet like a non-responsive, non-functioning website. If customers cannot find their way around or check out quickly, they won't hesitate to shop elsewhere — especially during the most competitive shopping period of the year.

17 December – Panic Saturday
As its name implies, Panic Saturday is the last Saturday before Christmas where everyone rushes to do their last-minute shopping. In other words, it is a big revenue-generating day for merchants as it marks the end of the shopping season for the year. It is thus not surprising that Super Saturday retail sales totalled $34.4 billion in 2019, up 7% from the year before and 10% more than the retail behemoth Black Friday.
Group your best-selling items together on one landing page so that customers can find them much easier to buy. People can readily share these pages with other panic shoppers, and there's also the possibility of upselling. Moreover, exclusive discounts and free & instant shipping are also desirable for cost-sensitive shoppers.Now that we have covered some of the biggest events of the year, it is up to you to utilize them to your advantage. To see results, you must start preparing your holiday marketing campaigns ahead of time. A marketing strategy template calendar can help with this. Add these aforementioned dates to your 2022 calendar and never worry about missing a potential marketing opportunity again!
About Parcel Monitor:
Parcel Monitor is the leading platform for e-commerce logistics insights. By leveraging on our data capabilities, Parcel Monitor creates an open space for the ecosystem to discover, collaborate and innovate.
Through data and the collective wisdom of the community, we believe we can inspire change in e-commerce logistics and deliver a better experience for consumers, merchants, and carriers.