The pandemic surprised us all. Its effects have affected not only the stationary trade but also e-commerce. Based on the Germany 2020 Ecommerce Country Report, we discussed the most common and severe problems that the COVID-19 pandemic caused to German e-commerce.
Consequences of the pandemic
There were plenty of consequences of such a crisis. The most common one (almost 60% of the business were hit by it) is delivery delays. This is quite understandable. In principle, all companies had to limit the number of employees working in one shift or simply stopped their activities. There were fewer employees but not necessarily the orders.
It is also worth adding that by introducing sanitary rules, which take more time than those we are used to, employee productivity has decreased. It also had a huge impact on the time of delivery.
The whole situation has its effects to this day. Some companies did not endure the crisis and unfortunately had to close the business. This means that other companies must look for new suppliers etc. which causes chaos and delays in the operations of companies still present on the market.
Another consequence connected with delivery is a delay in assortment planning due to travel limitation. Transport between countries was limited and at some point, even stopped.
It was hard to get an assortment from abroad. Some suppliers had delays due to, for example, staffing constraints, many drivers, decided to take leave due to a pandemic.
What else has greatly influenced business in Germany? A large number of employees on sick leave.
Not only drivers decided on such solutions. Employees at various levels took sick leave to think about their own and their families' safety. You can't blame them. Safety first. Unfortunately, this affected e-commerce very much.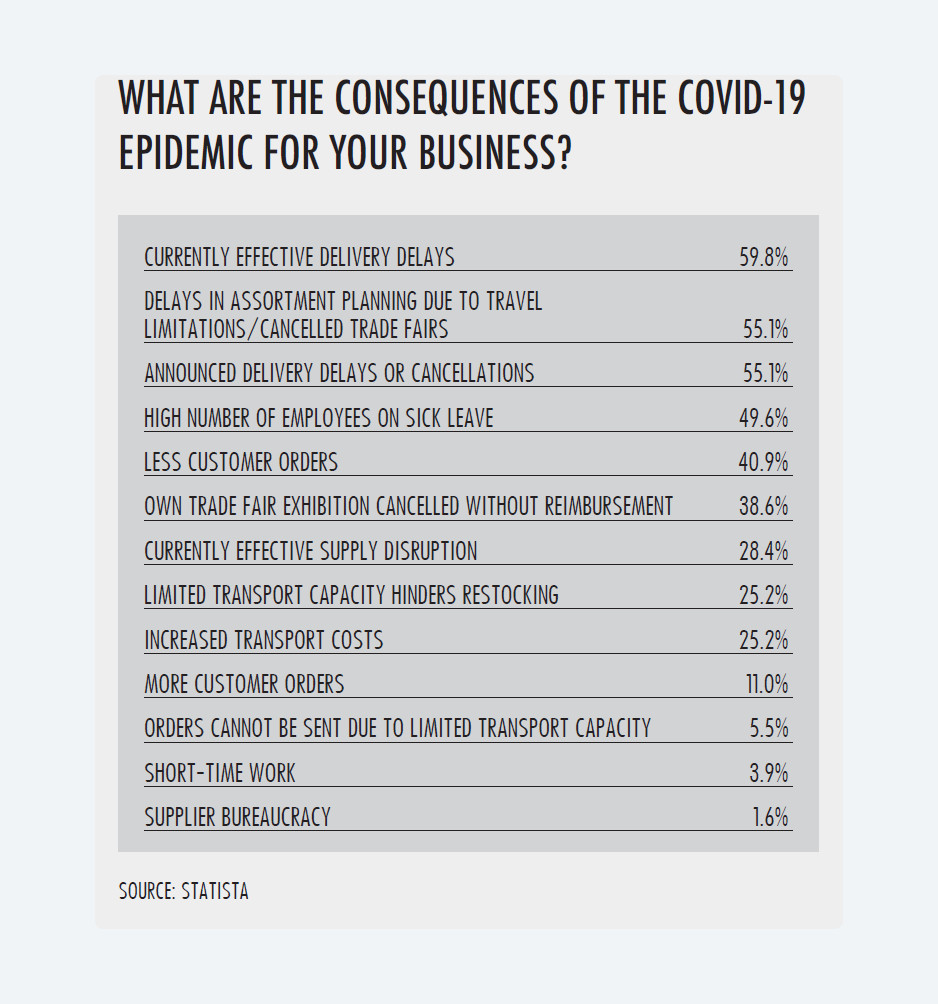 The year 2020 has surprised us a lot. Which business consequences are expected during the rest of this extraordinary year?
Both delivery delays/cancellations for restocking and revenue delays are the most expected one.
Almost 80% of businesses are expected to face them. As we mentioned above, many companies had to face a shortage of staff or cease operations. It will take time to back on track.
Unfortuantely decline in revenue may cause partial or complete closure. There is a big fear for over 60% of e-commerce businesses.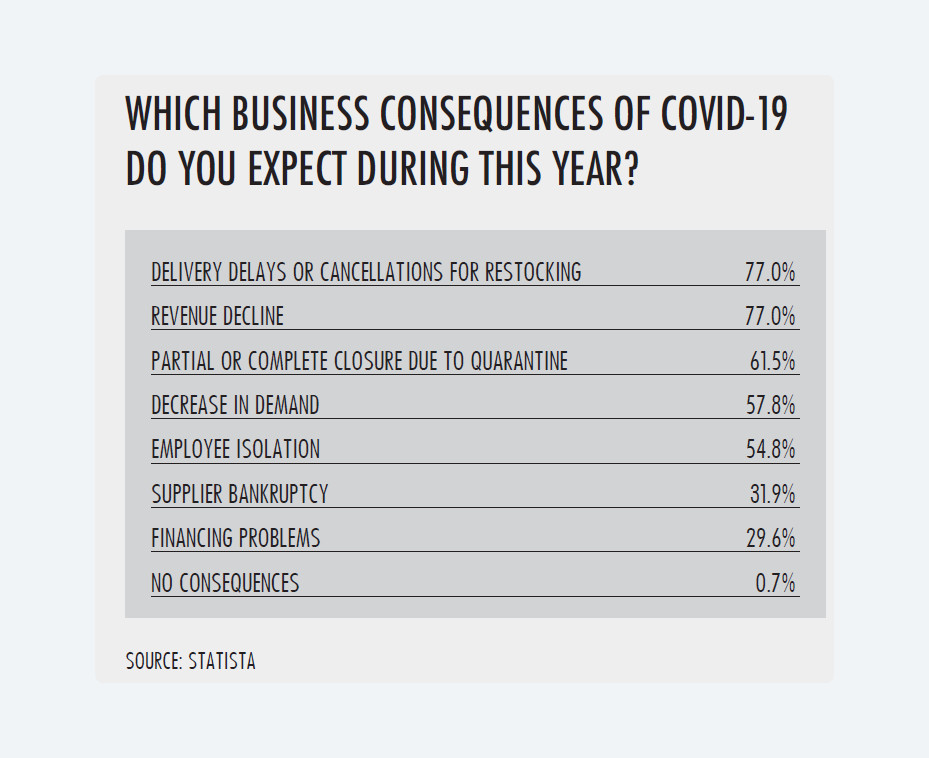 Quarantine shopping
Due to pandemic, a great part of shopping was taking place on the internet. Surprisingly 38% of customers say that they didn't buy products online that usually buys in-store. 35% say that they rarely or never did that. Only 12% admit that they did it more frequently.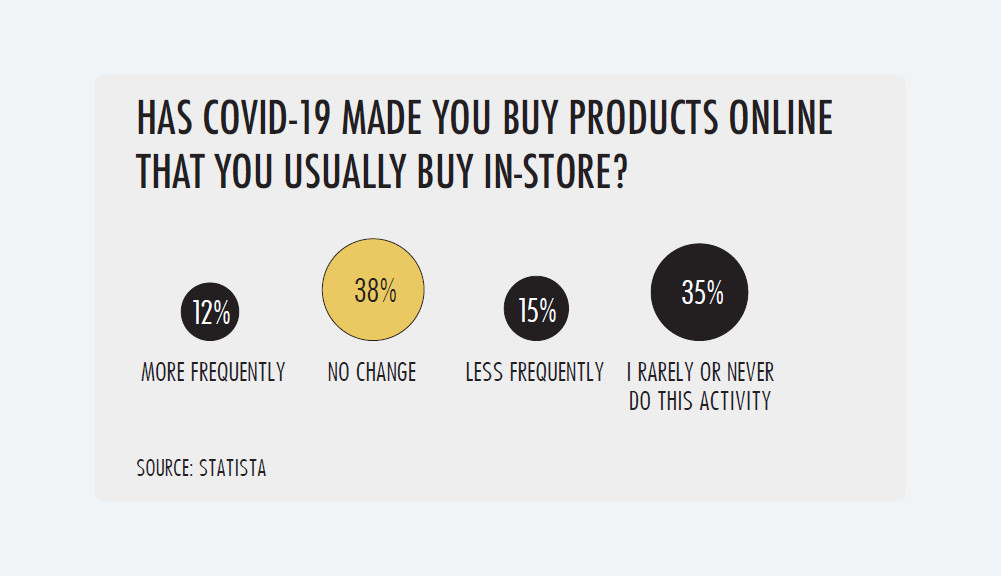 What we buy the most often during quarantine? Clothing, it was one of those purchases that have been made "for better times". It may not seem logical, but it was a comfort shopping – for many of us, it gives hope that life will be back to the rhythm we know soon.
12% were buying medicines and books. Medicines are untestable – we wanted to take care of our health and immunity. Books –  remedy for getting bored.  A little less -1 1% were buying hygiene products such as toilet paper and … order food.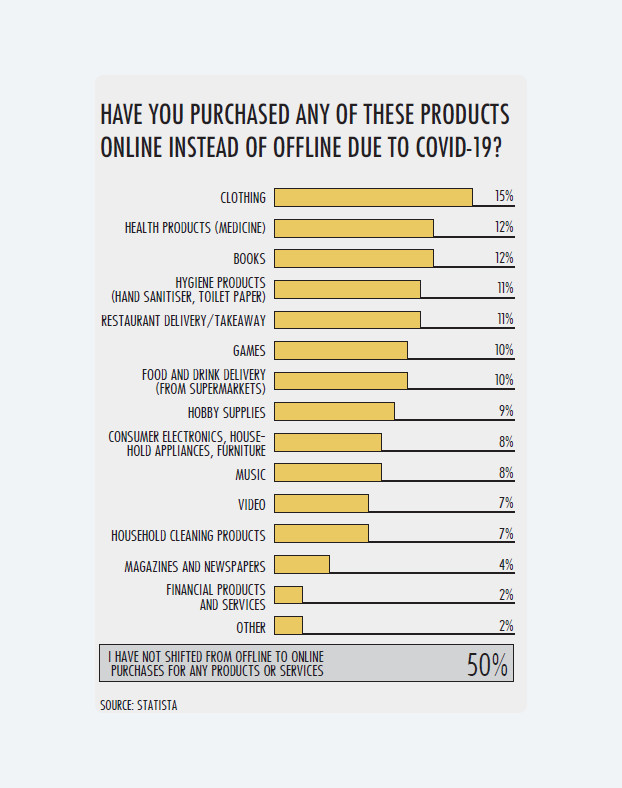 Surprisingly, 50% of consumers declared that they did not shift from offline purchases to online ones.
E-commerce vs COVID-19
It is said that most businesses, especially pandemic stores, moved to the internet. Many stores whose websites did not work very well during quarantine focused on promoting online sales. Seems logical,  it was their only source of income.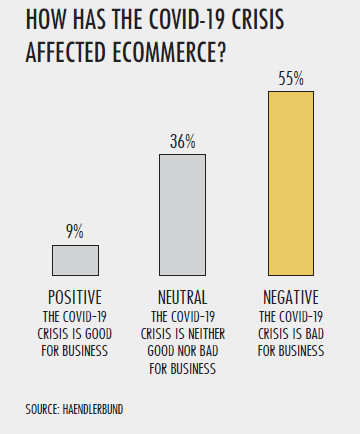 Despite increased internet traffic, 55% of responders said COVID-19 had a negative impact on e-commerce. That shows that behind the online sales stand many people and many connections which during pandemic were problematic. Only 9% said that pandemic has a positive influence on e-commerce.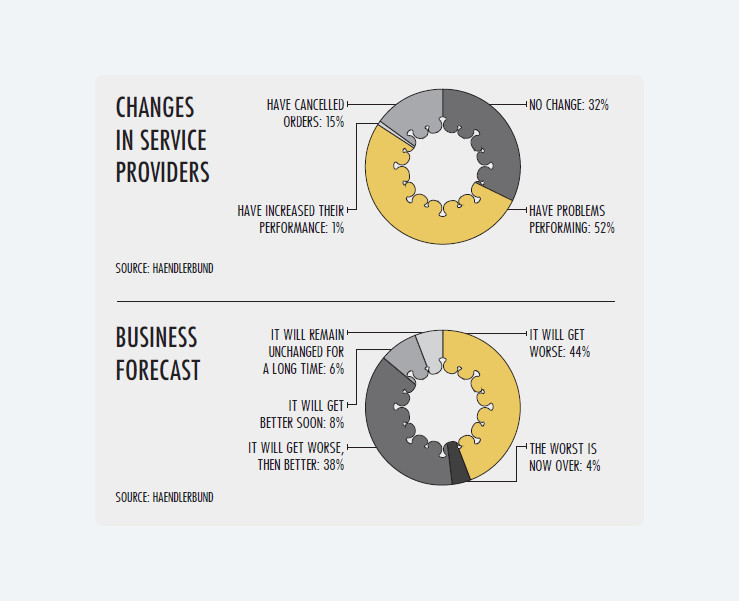 There were also some changes in service providers. 52% of e-commerce businesses faced it. And 15% had face cancelled orders. There were no changes in 32% of e-commerce businesses.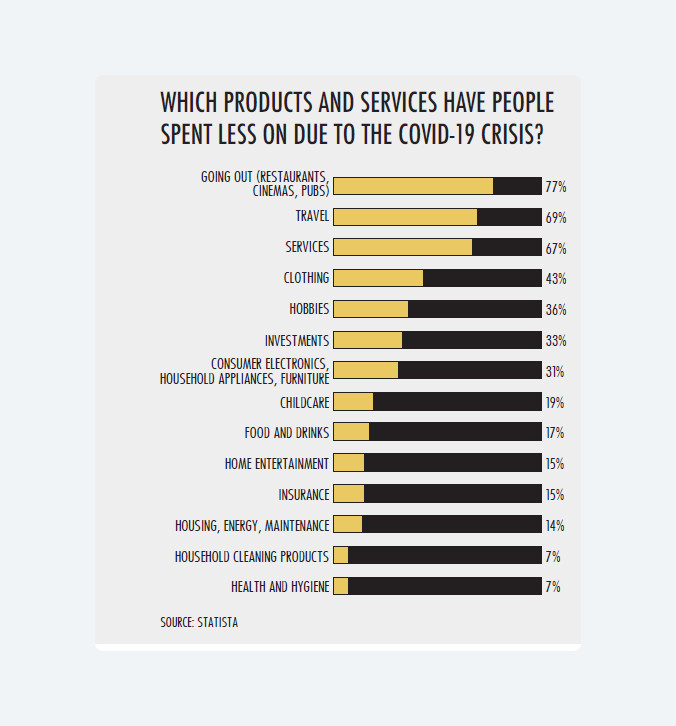 Which business sectors had to face with fewer consumers during the pandemic? Entertainment sector needs to handle a decrease of consumers. First of all, they were closed. Second, even if the pubs etc. were open due to sanitary restriction there were (and still are) much fewer customers allowed to be in the local.
Another sector which suffered by lockdown were travel sector. Statistics say that Germany travel sector declined by 23% only during Q1.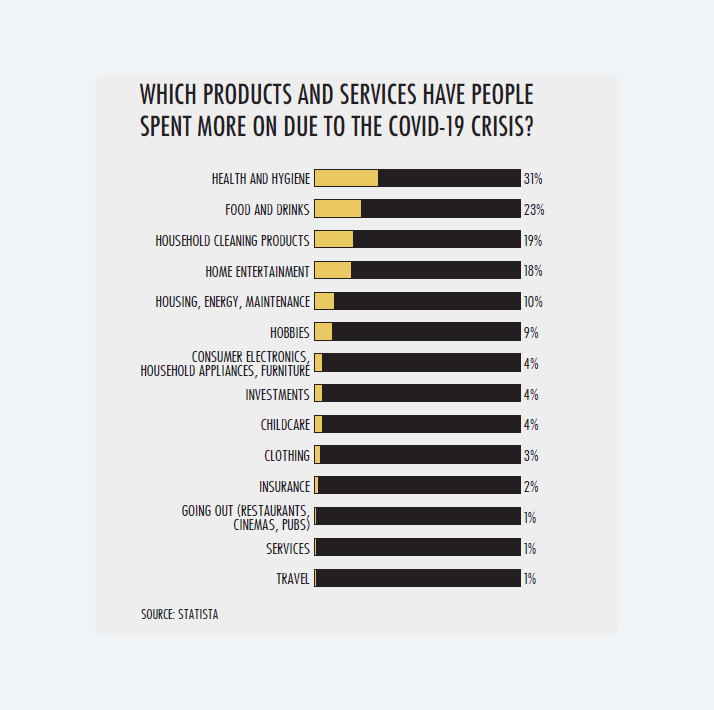 A lot of consumers increased their health and hygiene expenses. No surprises, it was a priority related to health. Second place in the case of lockdown expenses belongs to food and drinks. We all need to eat, and even quarantine, there was a tendency to eat and drink more.
Third place goes to household cleaning products. During the lockdown, many of us decided to do things that we usually (before COVID-19) didn't have time to do.
Cleaning was one of these things, so no surprises, so many of us were buying household cleaning products.  
To sum up
COVID-19 has affected all of us: private individuals, e-commerce, different types of business. This report showed us which aspects were the most severed.
Unsurprisingly, most of the businesses find pandemic as a negative influence.  For some, there were highlights of positiveness. Anyway, we've gathered all information in ane place just for you.