Germany makes one of the biggest economies in the world. Both offline and online it is doing great. Based on Germany 2020 Ecommerce Country Report we have created an overview of this e-commerce market. Let's take a closer look at German e-commerce in 2020.
In 2018 total sales on the German e-commerce market was €1300 bn. In 2019 Germany was 5th ecommerce in the world with total revenue of $78.8 bn. How does it look like when it comes to B2C? As you can see below, turnover in the e-commerce B2C segment is getting higher and higher every year. As the chart below presents in 2020, it is expected to reach €1,530 bn.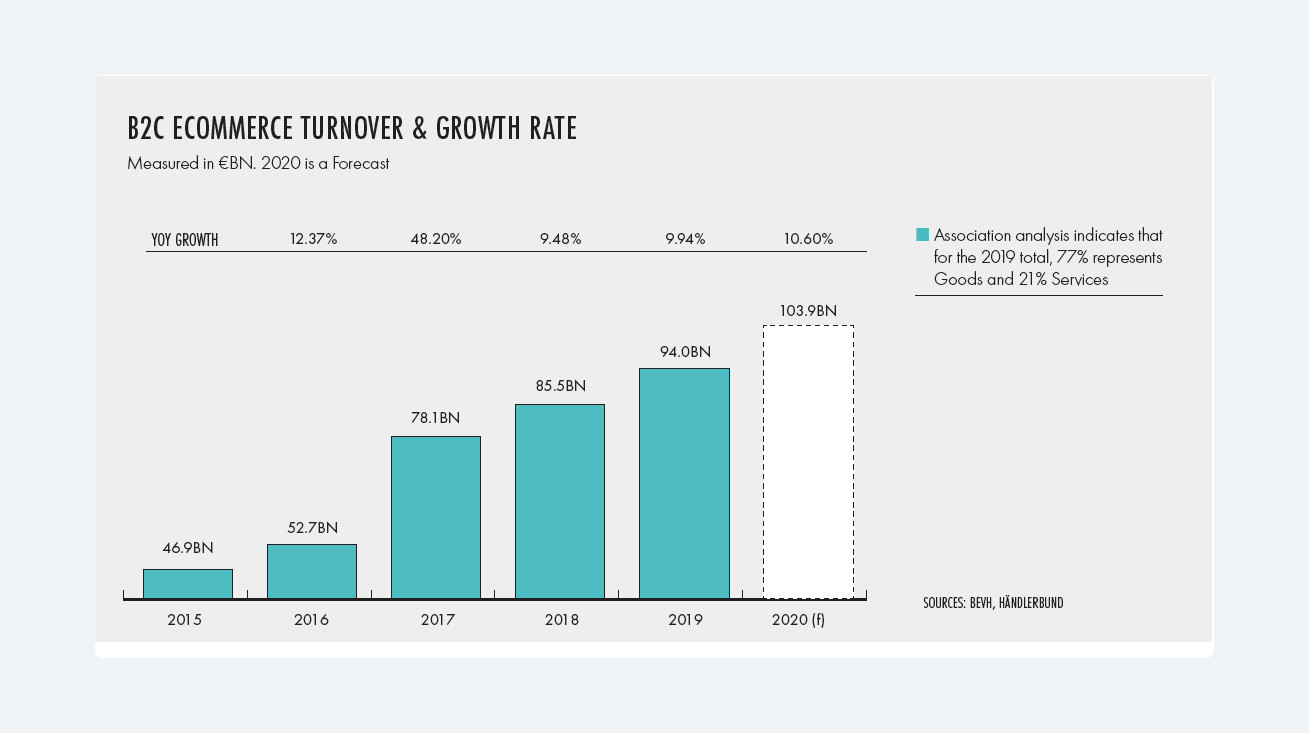 In 2020 it is expected that spending per shopper in e-commerce will reach €1,530. Compared to the previous years, e.g. 2015 it shows how rapidly the German e-commerce market is developing. Over five years, spending per shopper has doubled. It is a very good score!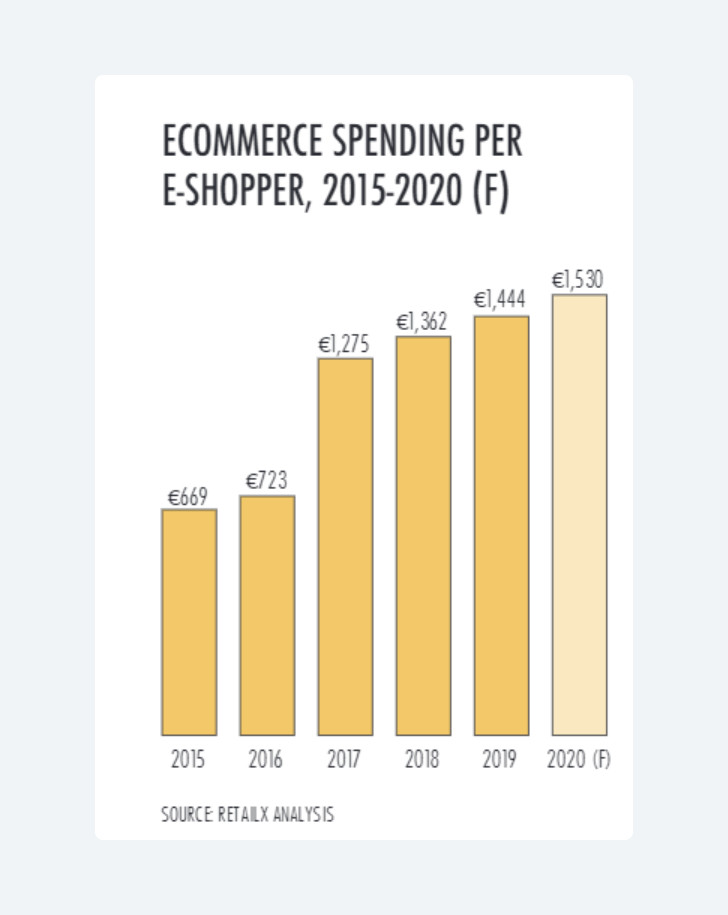 Thanks to B2C ecommerce sales GPD has also benefited. In 2019 GPD has almost 3% of share in GPD. To outline the whole situation, in 2019 GPD of Germany reached €3435. 76
How German prefer to pay?
Germans are not a very trusty nation. That is why online payments are still not their favourite methods. Compared to the previous years when the invoice was their one, and only, right now, many german consumers prefer bank transfers. But invoice is still very popular – 81% per cent of online shoppers choose it. They trust mobile payments at least. Ewallets and online transfers are not so popular either.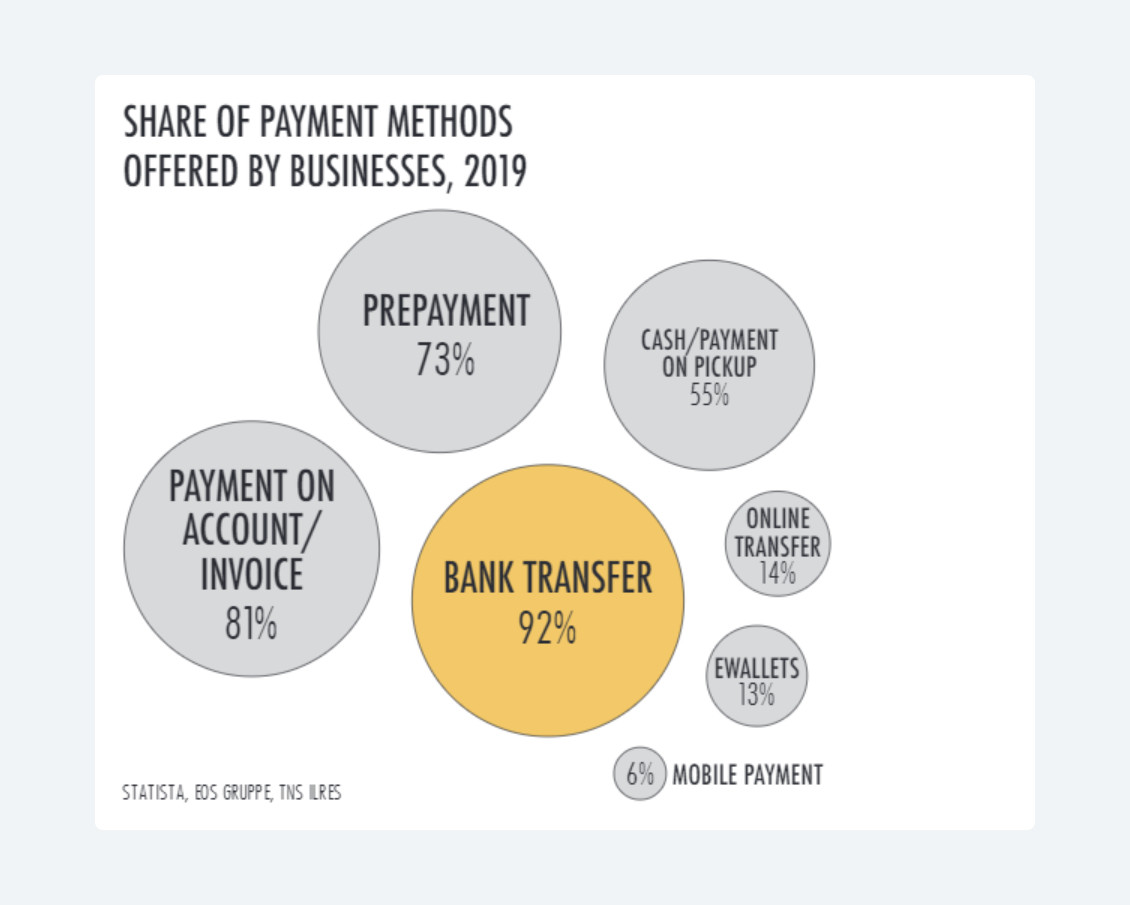 There are some discrepancies when it comes to internet cost. For example in Poland average cost of 1GB is €1.17, in Germany €6.14. The graph below shows how people do shopping online. Before 2018 there was stagnation, but since that year, it is still growing.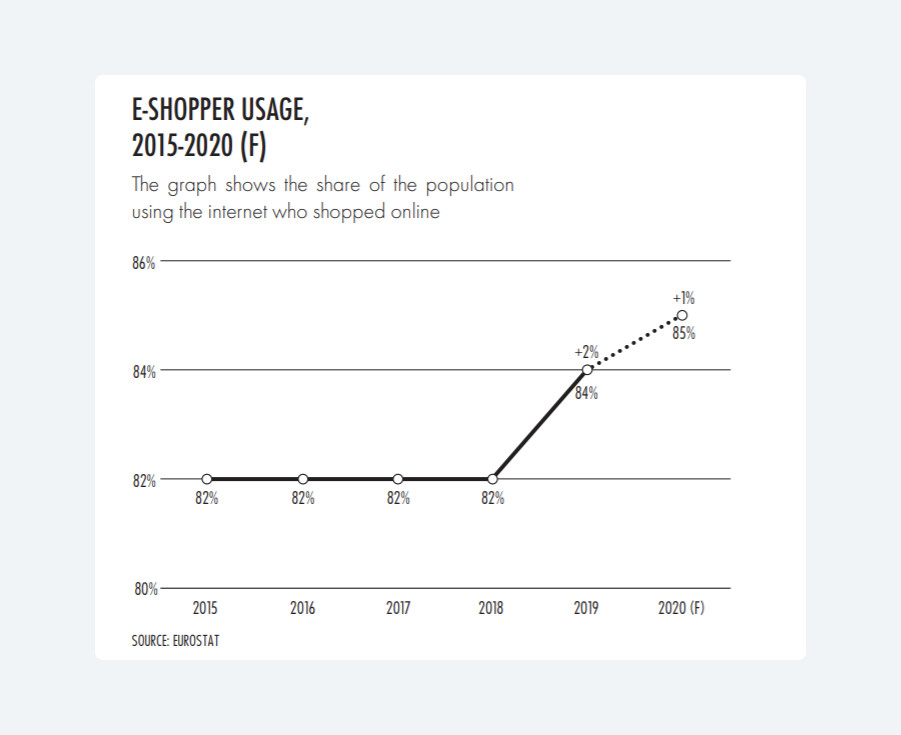 Why and what Germans buy online?
The biggest drivers are direct delivery to their houses and available all day all night. A little fewer Germans say that the reason why they choose online shopping is the fact that they find it more convenient and the prices online are lower.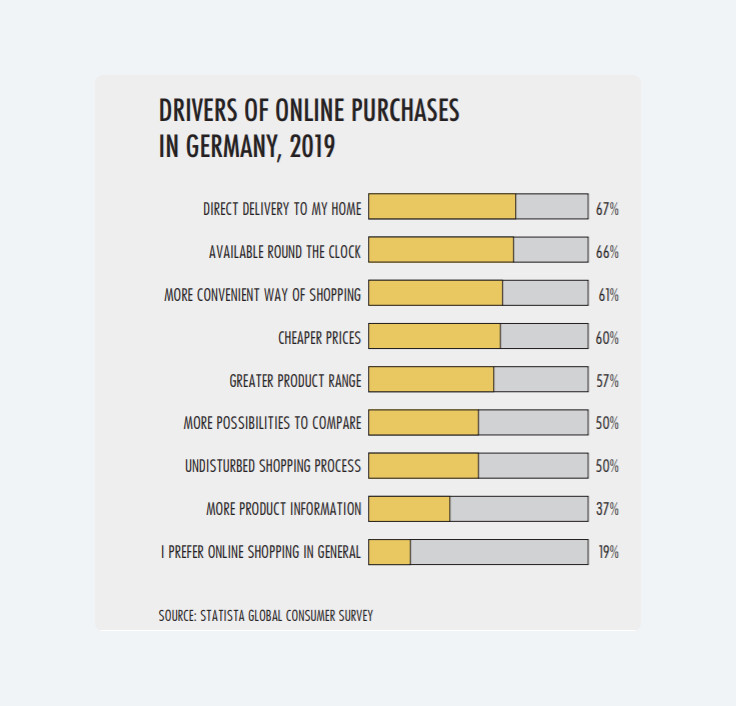 It is worth to mention that doing grocery shopping online is getting more and more popular. As you can see the share of online grocery shopping delivered to German households at least once a week in 2020, it is predicted to cross 55%.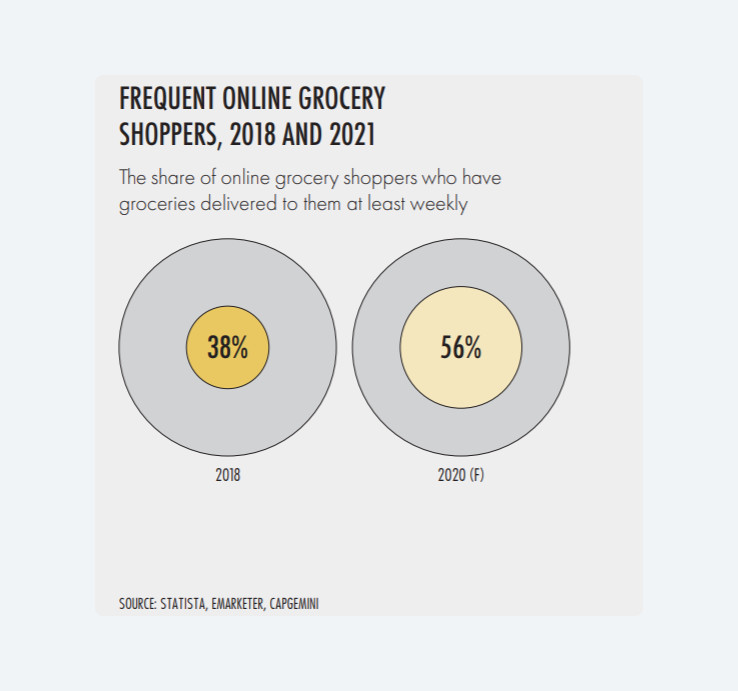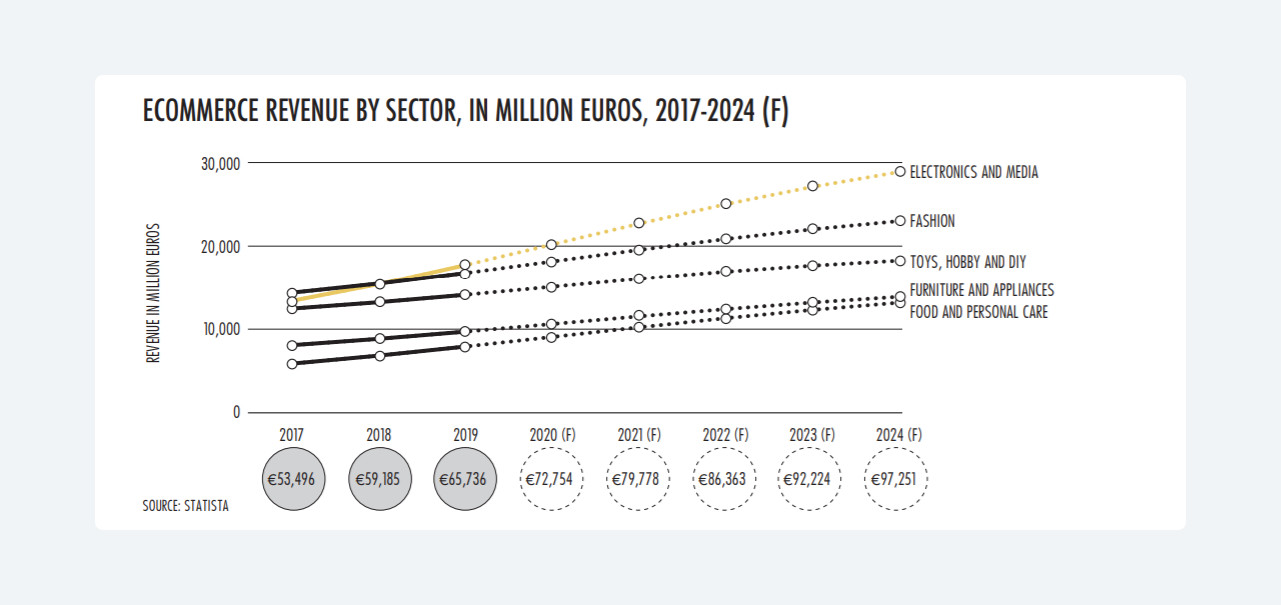 When it comes to what German consumers buy electronics and media are the most popular stuff. Second place belongs to the fashion sector, and then we have toys, hobby and DIY.
Christmas shopping is another significant part of online shopping, not only in Germany. Comparing 2019 and 2019 Germans chose to buy present online because they don't like crowded shops and Intenet offers price comparison websites. And German love to compare prices. What is interesting that delivery straight to the doors was less important for them than in the previous year. The most popular Christmas presents are clothing, shoes, textiles then books and toys.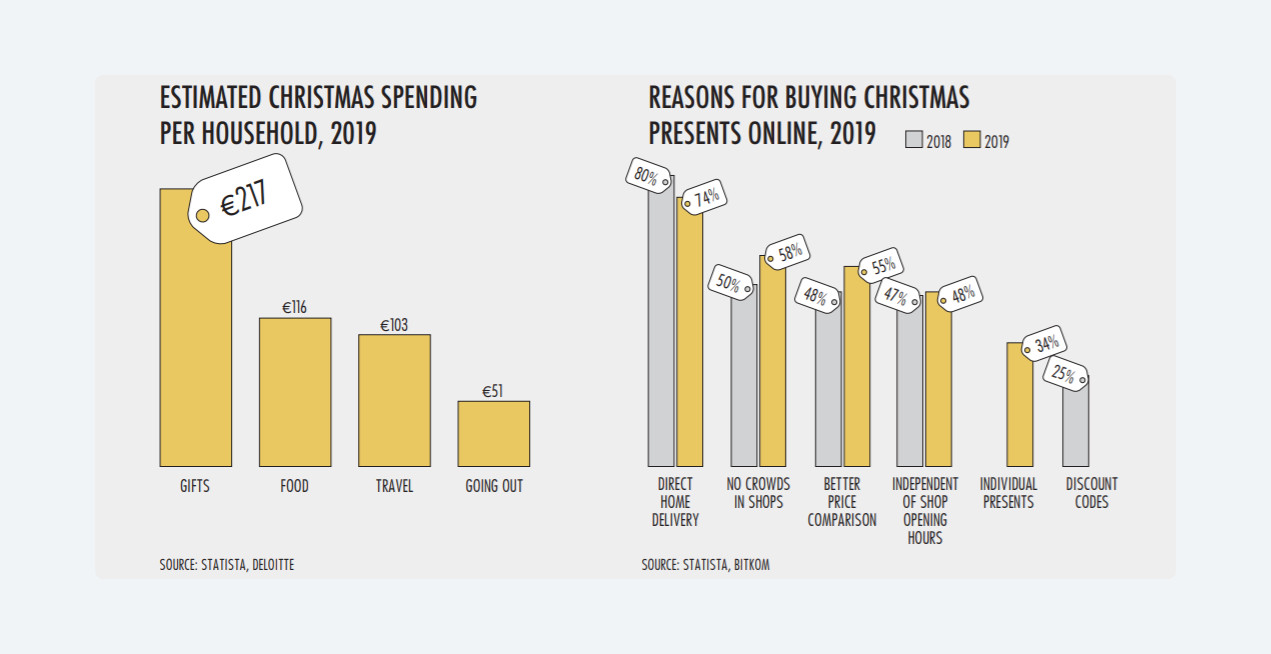 What do Germans use to online shopping?
Almost half of Germans use their smartphones every day, and 15% are daily users of laptops. The most popular device to do online shopping is a laptop – almost 60% of Germans choose it. 49% do shopping from mobiles and 42 from desktops. The most often bought items via mobiles are clothes, then books and plane/train tickets.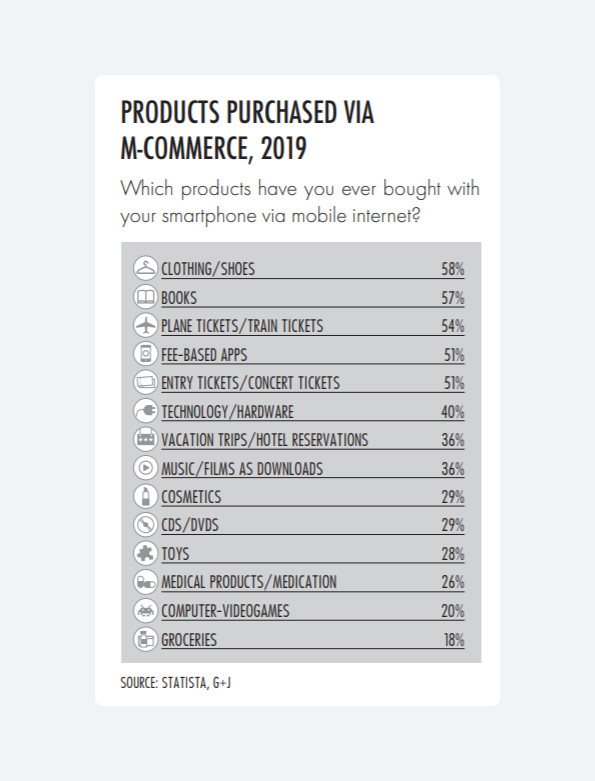 When it comes to choosing over half of Germans prefer desktops (54%), then mobiles (41%) and tablets (4%).
Delivery
The most popular carrier choosing by retailers is DHL. Over 40% fewer retailers offer customer pick up. What is kind of surprising because Germans don't trust much, carrier company included. DPD, UPS and Hermes are available in a similar number of online stores. It also a "Greman thing" that they prefer to choose the place of delivery than the time of delivery.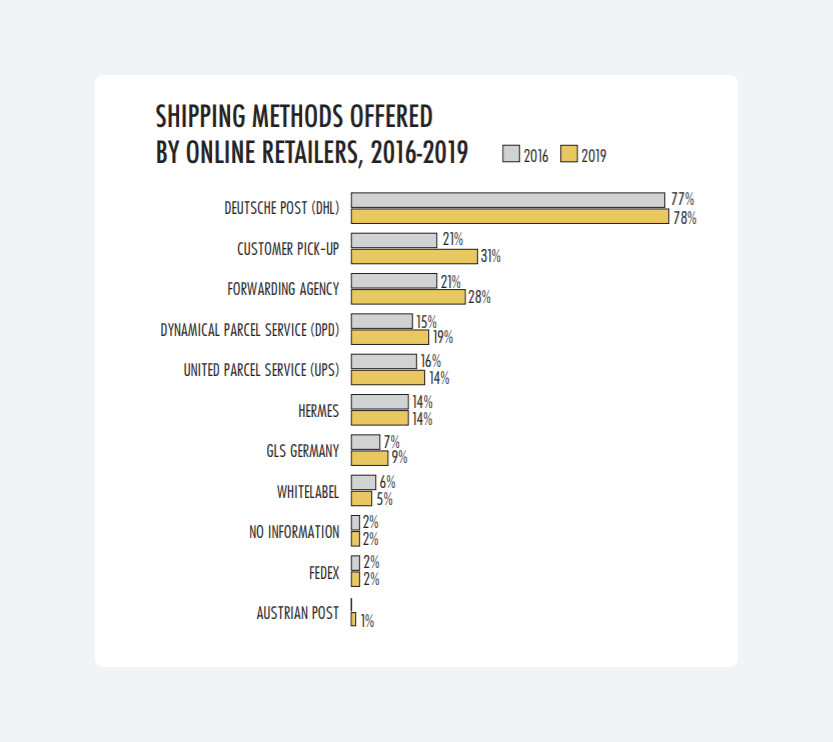 As online food delivery is getting more and more popular worldwide, Germany is not an exception. Year by year it is predicted to grow. It is a global tendency.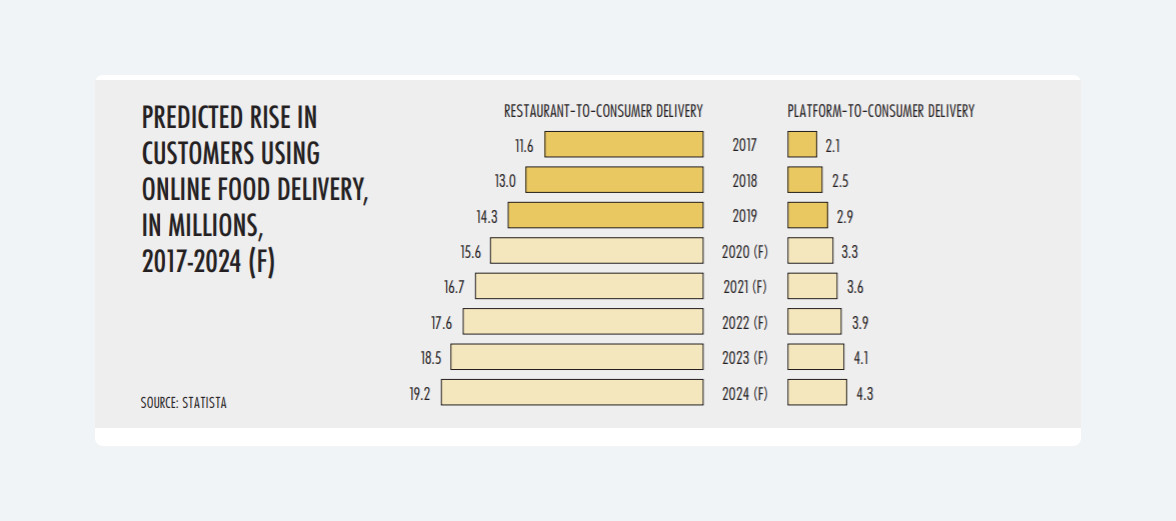 Conclusion
The German e-commerce market is a great place to develop your business, for sure. It has high potential, but you need to be aware of specific Germans' needs as consumers if you want to be successful. Remember that usually, high potential means high competition, too. Thanks to Ecommerce Country Report, we have created this overview for you to have the most significant aspects of German e-commerce in a nutshell always at your hand.