We had a pleasure ask a few questions to Max Laemmle, CEO and Founder at Fraugster. Read on to learn how he created Fraugster and how AI can embrace online stores.
You're a Founder of Fraugster. How did you come up with an idea for this company?
After years of working in the payments industry, my Co-Founder, Chen Zamir and I experienced first-hand the challenges of fraud for e-commerce merchants.
We discovered that all existing anti-fraud solutions were built on inaccurate technologies and therefore not equipped to deal with sophisticated cybercriminals. Rule-based systems as well as classical machine learning solutions can't adapt to new fraud patterns in real-time, hence being inaccurate. Our team of data intelligence and payment experts spent several years designing a proprietary technology from scratch – resulting in an advanced Artificial Intelligence technology which not only eliminates payment fraud but also maximizes revenues for our customers.
How does your usual day at work look like?
I combine leading the day to day growth of the company with achieving our long term goals. My daily tasks also entail being involved in the development of future products, leveraging our data analytics capabilities and managing investor relations, while still being personally engaged with our large clients. Additionally, I take a personal interest in the hiring process, since having a great team is fundamental to our success and a passion of mine.
How does Fraugster use Artificial Intelligence to embrace online stores?
We provide the world's most advanced AI technology to keep e-commerce businesses safe from cybercriminals. We developed the Fraugster AI Engine based on a behavioral science approach that mimics the thought processes of a fraud analyst. Our technology enriches every payment transaction with over 2,500 additional data points using our proprietary algorithms and external data sources. Our AI Engine then translates the enriched data into clear behavioral patterns and determines if a transaction is fraudulent or not. We combine the best of two worlds – human accuracy and machine scalability.
We offer online stores several solutions, depending on their needs. We have FraudFree, an outsourced service where we manage risk for clients and provide chargeback protection and revenue uplift. Additionally, we offer our AI technology to merchants who prefer to incorporate it into their internal risk operations via our AI risk management suite, Fire.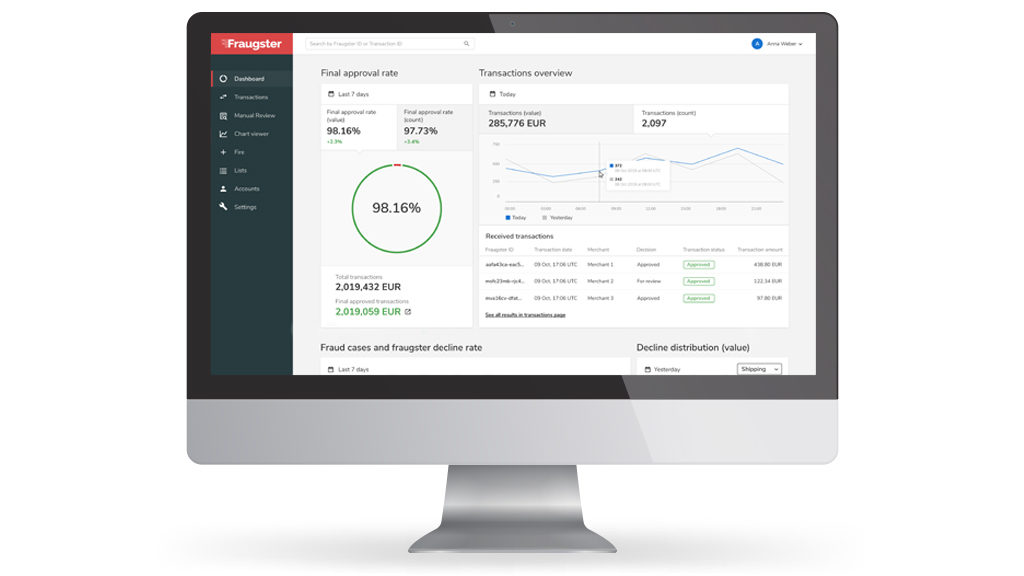 At the upcoming E-commerce Berlin Expo 2020, you're going to talk about "The power of AI in risk management – minimize fraud & maximize revenues". Could you tell us what's behind that topic?
This topic forms the core of what makes Fraugster unique. In essence, we harness the power of AI to provide clients not only with the ability to manage their risk more accurately but also to increase their revenues. This sets us apart from other solutions on the market. We combine the best elements of these approaches with a powerful AI engine that we developed ourselves and spent years training, so that we can offer clients an empathic solution that mimics the thought processes of a human analyst, with the speed and scalability of a machine.
In your opinion, is cybercrime only a threat for big online stores, or should all e-retailers be aware of this issue?
It is definitely a threat for all e-retailers, irrespective of size. Some verticals are more susceptible than others, but in general we see fraud in every industry, from airlines and hotels, to gaming and e-retail. Even NGOs and charities cannot evade fraud. Cybercriminals are very opportunistic and will target smaller e-retailers as well as big ones, as long as they see an opportunity. Fraud does not discriminate. This is precisely why we've developed four product offerings suitable for e-commerce businesses of all sizes. Cybercrime also has a negative effect on acceptance rates, which is a key concern for all e-retailers, regardless of size.
Can you identify any trends in cybersecurity for the next decade?
One trend we can identify is technology bypassing biometrics and becoming more affordable and commonly used by fraudsters. We anticipate biometrics being increasingly targeted by fraudsters. Biometric devices will be hacked, just as passwords and credit card numbers were in the past decade. The next large scale data leak is also likely to hinge on biometric data. The implication of this hypothesis is that in order to catch this next generation of fraudsters, a focus on understanding their behaviour (and how it differs from that of law-abiding citizens) must be reinstated. When the silver bullets of biometrics and multi-factor authentication lose their lustre, businesses interested in protecting themselves from fraud will need to turn to the expertise of analysts and AI – both trained to distinguish between fraudulent and legitimate behaviour. An eternal battle wages on between those fighting cybercrime and cybercriminals. I firmly believe AI will continue to play a key role in helping the good guys win.
Thanks for your insights, Max! 
Hungry for more e-commerce tips?