DMEXCO 2018 was drawing even more attention than usual due to the main organizer parting ways with the event's co-founders at the end of 2017. The digital industry was concerned over the impact of this change on the conference, wondering if the new team manages to maintain the best of what DMEXCO has had to offer since its conception in 2009. As it turned out, the concerns were unnecessary.
Until 2017, DMEXCO was organized by Koelnmesse in cooperation with Christian Muche and Frank Schneider from the KM Digital Marketing Events consulting company. In November 2017, Koelnmesse cut ties with Muche and Schneider, only to extend its partnership with the show's trademark holder the German Association for the Digital Economy (Bundesverband Digitale Wirtschaft or BVDW).
The change was not for worse
Since its conception in 2009, DMEXCO grew to become the largest congress trade fair for the digital industry in Europe. Koelnmesse claims that in eights years the number of exhibitors has grown by more than 300 percent and the event attracted approximately 40 percent of visitors and exhibitors from all over the world.
In 2018, it is as great as it used to be. Literally.
According to the official press release, the 2018 edition hosted over  550  speakers,  1,000  exhibitors  from  40  countries,  and  a  total  of  41,000 trade  visitors, 45 percent of whom were international guests. These numbers surpass the 2017 edition, marking year-on-year growth of DMEXCO despite changes in the organising body.
Also, the size of halls and stages was as impressive as usual. Take this stage looking like a bit downsized football pitch or TV quiz show studio:
No self-congratulatory orgy
First reactions of DMEXCO 2018 exhibitors are enthusiastic. According to the interim  results  of  an  exhibitor survey, the exhibitor satisfaction has grown significantly compared to the previous DMEXCO editions. "We are delighted with the positive feedback, are grateful for the trust placed in us and guarantee the industry that we will continue to innovate " said Dominik Matyka, DMEXCO Chief Advisor.
Positive feedback from visitors follows. In a less formal, yet very telling commentary on DMEXCO's official Facebook page, Thomas Koch, the chairman and CEO of TKD Media added:
"The "new" DMEXCO (Dominik Matyka) had promised to become a platform for more responsibility.
I found that extremely important and [that] would be good for our self-interested industry. And? Does it have that?
Yes. For example, the brand speech of Telekom CEO Tim Höttges will be remembered by me and many others for a long time to come. And hopefully it will have consequences for other companies.
Many other lectures and podiums were characterized by a refreshing degree of self-criticism.
That was new and that was good. If you are still in love with yourself next year and come to Cologne in the expectation of a self-congratulatory orgy, you are definitely on the wrong event.
And one more thing that might have caught the attention of the ladies: Significantly more women's power.
For me, this DMEXCO is on the right track. Keep it up."
(translated from German; see original post below)
Key takeaways from the 2018 edition
As usual, the topics covered by digital  experts  and  marketing  decision-makers  at DMEXCO reflect the hottest trends in the digital economy in a given year. In sum, in 2018 there were ten stages with presentations, debates and other types of knowledge sessions.
During this edition, the speakers talked about  the  effects  of  technological  progress  on  people  and  the relationship  between  marketing  and  users. This means topics such as improving the  user  experience  with  the  help  of  technology, Artificial Intelligence as the new mega-power, applications of blockchain solutions, as well as the  influence  of  political  decisions  on  the  digital  economy.
Watch highlights from DMEXCO 2018:
Some closing remarks from us
Our editorial team visits DMEXCO every year and there are several things to add to the overall positive feedback on the 2018 edition done by the "new" team:
The new team truly rose up to the challenge and managed to keep the event at a high level.
There were not as many "celebrities" as in the past years (recall Facebook's Sheryl Sandberg or Caisey Neistat last year), but at least there was Nico Rosberg. Rosberg is a retired German–Finnish Formula One racing driver and 2016 Formula One World Champion, who is now an investor and a brand ambassador for several national and international brands.
Watch him in action at DMEXCO here:
Stages were packed with C-level professionals from big companies. This sounds amazing, but it does not always guarantee an equally high level of their talks. Unfortunately, quite a few of those top level speakers covered some glittering generalities only. This was discouraging for those who came to get some specific digital marketing knowledge, practical tips or hands-on solutions, as instead they got some very general remarks and loads of political correctness.
Yet, the "Brand Disruptors" panel with Mirko Caspar, CEO at MisterSpex was truly great (here you can read our interview with him published not so long ago). Apart from Caspar, the panel also hosted Adam Singolda from Taboola, Davies Roberts  from Flare Audio, and Verena Hubertz from Kitchen Stories. All these companies are examples of great market disruptors posing challenges to established brands and during their discussion you could really learn how they managed to develop trust and relationships with consumers in a relatively short period of time.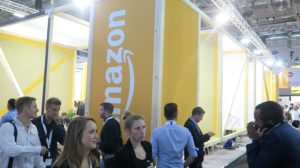 So, did you attend DMEXCO 2018? What are your impressions?