German e-commerce sales grow year after year. In 2017, top German 100 e-commerce retailers generated sales worth €30.5 billion. Compared to the previous year with sales at the level of € 27.4 billion, this represents an increase by 11.3 percent.
These figures have been revealed the study "E-Commerce Market Germany 2018" conducted by the EHI Retail Institute. The study features a ranking of German online retailers based on their annual turnover.
The top position is occupied by Amazon.de with its turnover of €8.8 billion. Although their revenue grew only by 9 percent (€700 million) compared to the previous year, they keeps their competitors in Germany at a distance. The second best is Otto.de with a turnover of €3.0 billion. The third place, as in the previous year, belongs to Zalando.de with €1.3 billion. Together, the top 3 online retailers achieved sales of €13.1 billion and accounted for as much as 43 percent of the total ranking of the top 100 online retailers in Germany.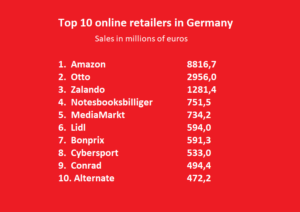 Download the full list of top 100 online retailers in Germany in 2018 from Internetworld.
Online AND offline presence pays off
According to Christoph Langenberg, e-commerce expert at EHI, there is a growing trend in retail to operate both online shops and brick-and-mortar stores. Obviously, companies tend to open online shops as addition to their traditional stores rather than the other way round, but still as many as 68 of the top 100 German players in online retail are also present offline. Interestingly, 57 of them originated from brick-and-mortar stores or companies based on sales via mail order.
Only 11 retailers included in the ranking are former online pureplayers who originated from e-commerce. Among them, there are only three brands that have more than five brick-and-mortar stores – this are Misterspex.de (ranked 10), Cyberport.de (ranked 13) and Mytoys.de (ranked 17). Other leading German online brands such as Zalando.de and Home24.de are available offline only in the form of outlet shops with special sales.
The trend is therefore much in favour of online retailers and those brick-and-mortar players that started conquering their customers online, but overall the strategy of being active in both distribution channels pays off. Thanks to e-commerce, Mediamarkt.de, Saturn.de and Ikea.de are benefiting from above-average relative sales growth of more than 30 percent.
Online drugstores and groceries on the rise
The study also revealed high revenues of online pharmacies and drugstores. The leader in the first category is DocMorris with €394 million in sales in total, including €61 million in online sales (ranked 91).
This year, one of the biggest surprises is Lidl.de who made it into the ranking with €594 million turnover. Other pure grocery brands are represented in the top 100 ranking only by shop.Rewe.de, whose turnover has increased from €100 to €130 million. This way, Rewe has landed on place 48, improving its rank in 2018 by ten places compared to the previous year. With the current e-food activities, it will be interesting to see if more grocery shops are represented in the ranking next year.
Data on 1,000 online retailers to come
The entire study conducted by the EHI Retail Institute includes data on 1,000 online retailers in Germany and will be published on October 10, 2018. The report has been prepared on the basis of surveys, statistical forecasting based on regression analysis as well as company information about the sales of real goods. The figures refer to the net sales of online shops in 2017, adjusted for returns, excluding sales tax and only from the pure business activity of the online shops (excluding any other operating income). In the case of Amazon, service revenues, exports and sales coming from other Amazon offerings were excluded from their German sales figures.