Website launched in 5 weeks, 50 boxes sold in the first thirty minutes, 500 customers in the first month – this is how GLOSSYBOX started. Now, following a lightning-fast growth, the company is becoming the number one beauty box in ten countries worldwide. And still, the next month's box is always the most exciting one.
GLOSSYBOX is on its way to become the ultimate platform for beauty discovery. Since its launch in 2011 in Berlin, you have become the leading provider of luxury beauty samples. How was the idea for the company born?
Susanne Mithoefer, GLOSSYBOX: GLOSSYBOX fulfills the needs of consumers and brands. When GLOSSYBOX was founded in 2011, we were seeing lots of beauty brands not yet available on the German market, but looking for a market entry strategy.
Additionally, as soon as a woman has found what she believes to be the perfect product for herself, e.g. a mascara, she sticks to this brand. Thus, getting into the bathroom of a women can be difficult sometimes. And on the consumer side: who doesn't love a surprise once a month?
So although it doesn't look like this at first sight, GLOSSYBOX fulfills a purpose and makes other people happy.
Can you tell us a bit more about the very beginnings of GLOSSYBOX? How large was the team? How many customers did you have in the first months? What were the biggest problems or challenges that the company had to face at that time?
I only joined GLOSSYBOX in early 2015 when the foundation of the success we are seeing today has already been laid. Before that, the first step in the execution was to secure suppliers – as quickly as possible.
Our website took five weeks to launch and after it went live we sold 50 boxes in half an hour, which then grew to a customer base of 500 customers during the first month.
We expanded very quickly across four new markets in just three months and one of the biggest challenges here was HR. You are only as good as your team and finding 500 motivated and dedicated employees in 12 months was a true challenge.
What has helped you to grow the most? What has had the fundamental impact on the development of GLOSSYBOX over all those years?
As a subscription business, it's not enough to have one great product once, but you have to convince and satisfy your subscribers each and every single month over and over again. Hence, our vision was always to deliver the best product possible each month.
We constantly challenged the status quo. With GLOSSYBOX we are selling a product that nobody necessarily needs, but which is so well executed that once you become a subscriber, we make it very hard for you to leave again, because then you would immediately start missing this "Christmas once a month" experience.
Furthermore, right from the beginning we were strongly focusing on customer retention, compared to many other subscription models that put all their focus on acquisition.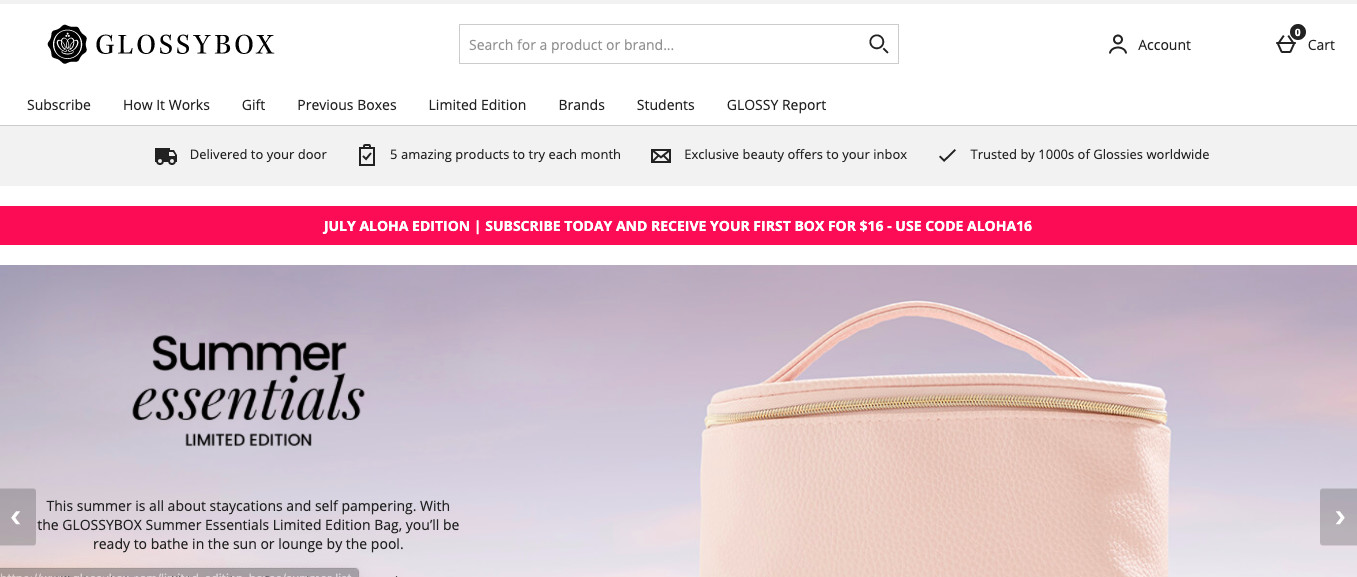 How did you source products in the past – and how do you do it now? Are there any differences?
When we started, we did not have much data on the preferences of our customers. We basically sourced depending on the marketing calendar and product launches of the brands we approached.
Today, we know much more about the products, color preferences and favorite brands of our customers so we can use that data to approach specific brands and to ask for specific products.
Nowadays, many brands also approach us if they have an upcoming product launch or even introduce a product category that is completely new to the market and needs further explanation, or want to do more market research before launching a product. Being in this position is of course great for us, as it allows our subscribers to be the first ones to try out these brand new products.
What are your criteria for sourcing samples? Do they have to come from big luxury brands only – or perhaps you also allow small manufacturers producing craft beauty products? In other words, how hard is it to land inside the GLOSSYBOX?
Each month, we try to create the perfect mix of well-known luxury brands and unknown or upcoming niche brands that we are convinced of and would like to introduce to our customers.
To get the most out of cooperation with GLOSSYBOX, we do advice all brands though to sample at least 10,000 products, to get enough relevant feedback on their products and the full marketing effect.
Providing this amount of products is of course easier for established brands than for smaller start-ups.
You are present in 10 countries – not only in Europe, but also in the USA and Canada. When and why did you decide to go global? How many customers or subscribers do you now have – in total and on individual markets?
We pretty quickly had the proof of concept for GLOSSYBOX in Germany and with the support of our investors we were in a position to rapidly expand to more markets.
The ten markets we are still operating in now have proven themselves over a period of seven years as the strongest both from a B2B as well as from a B2C perspective.
How fast are your markets growing? What do you do to ensure that the number of your customers and subscribers will increment?
In August 2017, GLOSSYBOX has been acquired by The Hut Group, one of the world's largest online beauty & wellbeing businesses.
It was extremely important to us to find the right buyer for our brand, one that complements us and can use its retail know-how and technological capabilities to accelerate and strengthen GLOSSYBOX further in its journey to becoming a global, industry-leading brand – and a well-trusted beauty advisor for our engaged subscribers.
Next to that, I can be very lucky that not only our customers are very passionate about GLOSSYBOX, but our team here in Berlin and in our international offices, too. This day-to-day passion really makes a difference.
Based on the GLOSSYBOX example, is it hard for a European company to enter the US and Canadian markets? Was there anything special that you had to do ensure the launch will be successful?
Apart from Paris and London, New York is one of the most important cities when it comes to beauty. Most beauty brands in the US are located in New York so from a sourcing perspective it made complete sense to make the US one of the first markets we expanded to.
Entering the US is much easier for a European business than entering the multi-lingual European market for a US business. However, operations tend to be a bit more challenging over there due to the vast size of the country.
How different is, say, the Canadian GLOSSYBOX compared to the Swedish one? In other words, how do you have to adjust the content of the boxes to your customers based on their location?
Every market is different in terms of color and product preferences, but we get direct feedback from our customers every single month, so it is quite easy for us to adjust the sourcing to every market's needs.
We have a global sales team that sources products for all countries and a local sales team that only sources products for their specific market. So in most cases two products each months in all boxes worldwide are the same, the rest depends on the market you are in.
You work at GLOSSYBOX as Managing Director Central Europe. What does your job entail? What exciting or particularly challenging projects have you worked on? How large is your team? What is the best part of your job?
I've joined GLOSSYBOX more than three years ago and were lucky enough to experience a lot of challenging projects since then: from the change management process when our founder Charles von Abercron left GLOSSYBOX beginning of 2016, over the acquisition by one strategic investor The Hut Group in 2017 and the following post-merger integration.
The best part of my job is definitely the highly-motivated team: I've never worked for a company where every individual is so passionate about the product.
Although every box is the result of their own day-to-day work, our joined "unboxing moment" in the office is still my highlight of the month:  the boxes arrive at the office, everyone gathers in the meeting area and the moment the boxes are opened everyone starts smiling and their eyes glowing.
It's literally Christmas once a month.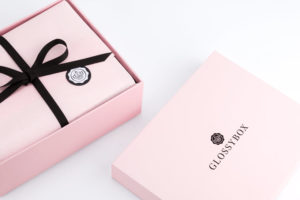 Looking at the niche of "beauty boxes" in Europe, GLOSSYBOX has been the first one – or you have had competition since the very beginning? How much competition do you have now? What do you do to stay ahead of your competitors?
GLOSSYBOX was the first beauty box in Europe and we managed to quickly position ourselves as the number one source for beauty discovery.
Until today, no other box model has stolen this crown from us and no other beauty box in Europe managed to grow as sustainable and constant as we did and still do.
With the acquisition from The Hut Group end of last year we now have a great power house behind us that will hopefully help us to grow even more and expand to new markets.
What plan does GLOSSYBOX have for the future? Any new markets to enter? Any exciting projects or campaigns to come?
Our next box is of course always the most exciting one.
We have, however, a lot more in store for the second half of this year. We will recreate our highly successful advent calendar from last year with a fresh new design and 24 amazing beauty surprises each day in December.
We have two more one off boxes that are not part of our monthly beauty subscription coming up in Q4 of 2018, each in collaborations with two very well-known beauty brands. I can promise it will not get boring this year!
Moreover, we are constantly developing strategies on how to become the leading independent beauty advisor.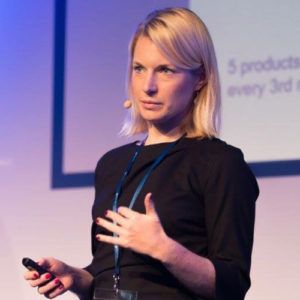 Susanne Mithoefer –
Managing Director of GLOSSYBOX Central Europe since 2017. She has joined the company in 2015 and since then led various strategic and change management projects such as the acquisition of GLOSSYBOX from Rocket Internet to The Hut Group. Before joining GLOSSYBOX, Susanne worked in International Business Development and Investor Relations at Axel Springer SE, the largest digital publishing house in Europe. She holds a Master of Science in Marketing and Strategy from Warwick Business School.
***
Want more interviews with top e-commerce industry professionals? Check out our Interviews section!