What do you see when you hear wellness travel? There is you, sitting in a hot tub with a view of the mountains, sipping champagne? Roland Fricke and his business partners saw pampering treatments as an online business idea and turned Beauty24.de into a leading website with wellness travel deals for Germans.
You have made an impressive way from media and communication scholar to Internet entrepreneur. How did it happen? What made you change your professional path so much?
Roland Fricke, Beauty24.de: Oh, the way is not that far. When I started the Internet business in 1996, the Internet was the star in the sky of the new communication age. For me it was clear that there was my future. I have always been very interested in the changes in communication.
You are the founder and CEO of Beauty24.de, which is one of the leading companies in Germany in wellness travel. How did the idea of this business originate?
The idea for beauty24.de was created in 1998. We wanted to make a portal for "the beautiful things in life". At that time, I and my partners were still on the road as an agency and wrote communication concepts for companies that wanted to go online. Often, we implement the concepts the same way. We also supported large international groups. At some point, an idea to create a portal of its own came. And why not for beauty products. At that time there were still very few websites like this in this segment on the way.
How did you spot the niche of wellness travel? How large is this niche?
Wellness was hype at the turn of the millennium. And we were looking for a complementary segment for our portal. Wellness we found, it was ideal. After all, wellness also has something to do with being pampered. And we aspire to pamper our customers. When we published Wellness Weekends on beauty24.de in 2001, it was a success from the beginning. At that time, the niche was still quite small and could not be spoken of as a spa hotel market. Today about 14.7 million journeys are made in the niche (source: Study Wellnesstrends 2018, beauty24.de, wh-r, gfk).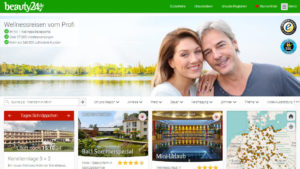 You launched Beauty24.de 15 years ago. How did the portal's growth look in numbers over all those years?
The growth of niche wellness is also accompanied by our growth. In 2013, the GFK determined that beauty24.de is the reach-strongest portal for wellness travel in Germany. A nice success for us.
And what has helped Beauty24.de grow the most?
Sticking to the attractive niche of spa travel has probably helped us most to form a distinct brand. Today, unmistakably, beauty24.de stands for wellness trips in Germany.
Who is your competition – and what is your position among your competitors?
Today we are among the top 3 in the wellness travel market. The spa niche has become so attractive that the competitive environment has grown enormously. These include not only classic tour operators but also voucher or comparison portals. Based on our experience and our creativity, we can assert ourselves quite well in the shark tank.
How do you source wellness packages and deals offered at Beauty24.de? 
The long-term cooperation with our hotel partners enables us to design new offers together with the hotels. Through our experience, we know which products, which offers arrive in the market. This gives us an advantage in the market.
Are these packages and deals from Germany only or perhaps you also cater for some international locations outside Germany? And where are your users from? Are they Germans only?
When we speak of a wellness trip is often meant a spa weekend. This means that customers do not want to go far for the trip. With more than 95% German customers, we have concentrated on Germany and neighboring European countries  such as Czech Republic, Austria and Poland.
Are spa & wellness services offered rather standardized – everywhere there are similar types of massage, baths or beauty sessions – or there are also some really crazy, unique or in any other way extraordinary offers available? Is there anything really special your users can experience?
Unfortunately, customers are not always as experimental as we would wish. Of course, there are extraordinary treatments. My favorite is Pantai Luar, a herbal stamp massage – very exotic. But, customers usually book classic treatments and massages.
What are Beauty24's plans for the future? Do you plan to grow internationally, expand your services or add some new features?
Beauty24.de is excellently positioned in the niche. The selection of wellness trips in Germany is unique. Nevertheless, we still want to continue expanding our portfolio. With us, a guest should be able to book his wellness weekend carefree and be sure to have made the best selection for the best price.
Roland Fricke – Wellness Entrepreneur, Internet Junkie, Travel Expert, Marketing Specialist, Founder and CEO of beauty24.de. Once, media and communication scholar, now Internet entrepreneur. He has over 16 years of experience with online businesses, web design and Internet marketing. In addition, he has a keen interest in the wellness industry, which resulted in 15 years of experience as a tour operator of wellness travel.
***
Want more interviews with top e-commerce industry professionals? Check out our Interviews section!