Micro-fulfillment will be the most important supply chain and logistics asset in satisfying the end consumer's demand for quick, sustainable deliveries in the coming years. How important? Well, a recent report predicts the total addressable market for micro-fulfillment centers (MFCs) will be $10B by 2026. It also forecasts that there will be one MFC for every 10 grocery stores out of the 40,000 in the whole of the U.S. So it's no surprise then that Vivek Sankaran, CEO of the U.S. grocery giant Albertsons, states that MFCs will be "a key element in the store of the future".
This article will explore the micro-fulfillment boom, its benefits for your e-commerce store, and how tech and software play a key role in its successful deployment and operation.
What is Micro-fulfillment?
Micro-fulfillment involves placing highly automated storage and distribution facilities (MFCs) in densely populated urban centers to provide faster, flexible, and sustainable delivery for citizens thanks to more efficient, tech-based order picking and closer proximity to the customer. Unlike traditional fulfillment centers, MFCs are far smaller, often shipping just a few thousand orders each week. Furthermore, they are often set up either at the back of existing brick-and-mortar stores or in repurposed third-party spaces, such as this car park underneath the Shalom Meir Tower – a skyscraper in Tel Aviv. The former is also why you could argue MFCs are de facto turning stores into large 'vending machines' that provide consumers with goods almost instantaneously.
The Micro-fulfillment boom
How the pandemic accelerated the micro-fulfillment trend
Before COVID, micro-fulfillment was already an important piece of the customer experience. However, the pandemic gave it added force, which emphasized the importance of maintaining market share. The introduction of confinement and isolation measures in March 2020 saw a sharp decline in foot traffic in brick-and-mortar stores. At the same time, consumer demand for same-day fulfillment rose exponentially. As you can imagine, retailers were forced to pivot and look for new ways to improve the efficiency of their online delivery services.
The need for 'dark stores' saw the rapid expansion of MFCs to meet the rising demand for fast online delivery. This was especially true in the grocery industry with Amazon's Whole Foods setting up dark stores in Chicago as an early mitigation strategy against the impact of the pandemic in May 2020. Another brand leveraging MFCs is Gorillas: the Berlin-based delivery startup that garnered 'unicorn' status and raised over $300M within just 10 months of its founding. With a network of 40 MFCs across Germany, the UK, and the Netherlands, the firm allows consumers to receive deliveries within 10 minutes of placing an order.
Not a new trend, MFCs were gaining ground before the pandemic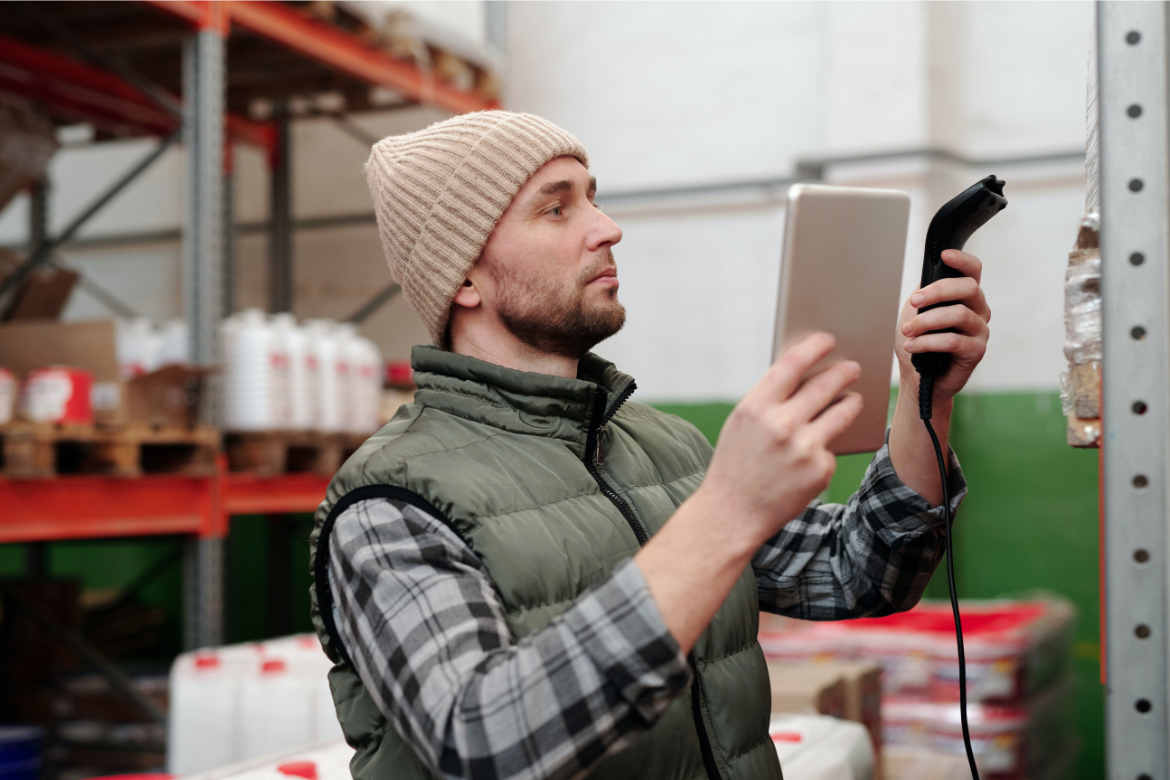 Retailers were already developing their micro-fulfillment capabilities well before the pandemic to account for online shoppers' increasing delivery speed demands. Pre-covid research showed that 80% of consumers expected same-day delivery and 6 out of 10 wanted to receive their goods within 1-3 hours. Besides rising consumer expectations, urbanization has been another key driver of the micro- fulfillment boom. Pre-pandemic estimates suggested that 68% of the global population will live in cities by 2050.
The pandemic has made the benefits of micro-fulfillment obvious. And with purchasing power, urbanization, and the demand for fast deliveries set to continue to accelerate, it's clear micro- fulfillment is here to stay. So, you want to make sure you're not missing out on the benefits of MFCs.
Why MFCs are a big deal for etailers
Offering best-in-class last-mile delivery services is currently the most important contest for market share in retail. This is particularly important as etailers face growing competition as well as increased customer expectations in terms of delivery times and sustainability. MFCs allow you to address all of these obstacles and, ultimately, gain a competitive advantage in critical urban, addressable markets.
Increased conversion rates thanks to faster deliveries
In recent years, the end consumer has become increasingly accustomed to same-day deliveries. Some estimates suggest that 25% of end consumers would abandon their shopping carts if same-day delivery was not available. Similarly, many consumers are willing to pay a surcharge for expedited delivery.
Of course, you may argue that rapid fulfillment can be extremely costly, especially when it comes to distribution. But as faster deliveries drive higher conversion rates, the increased costs associated with setting up and operating an MFC may well be justified. In fact, the D2C brands that have leveraged micro-fulfillment have been particularly successful during the pandemic.
Meeting increasing customer demand for sustainable deliveries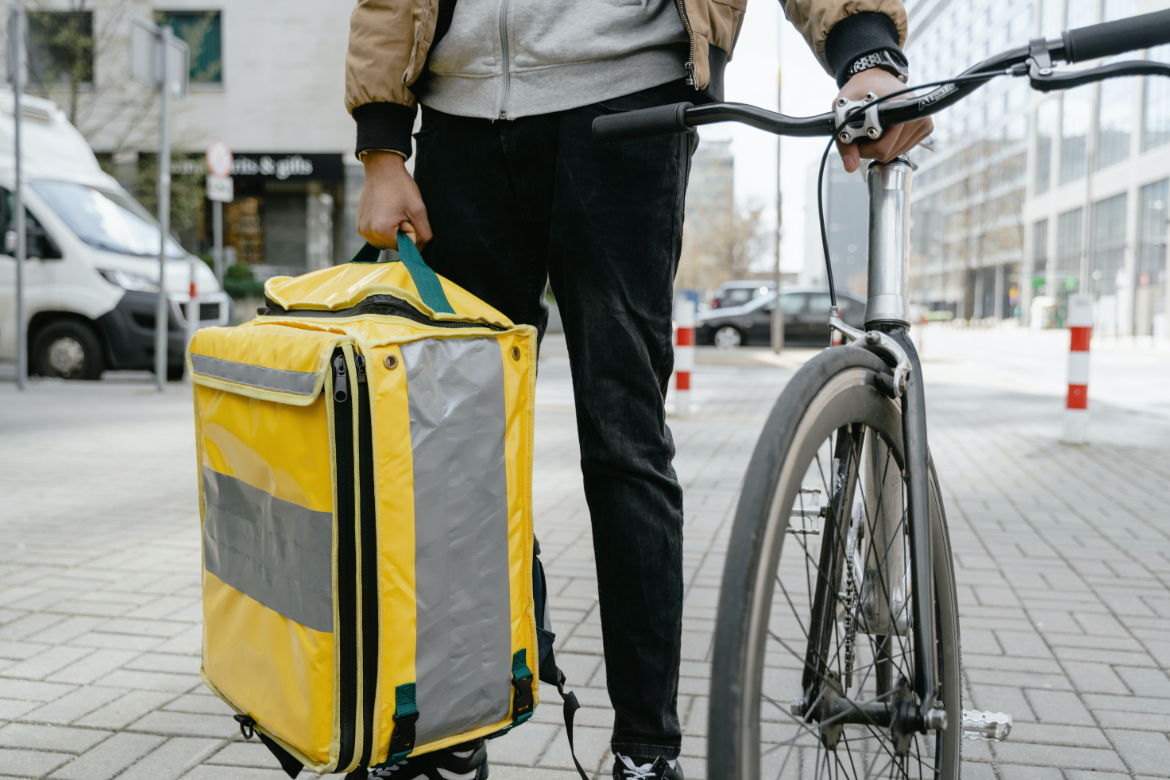 MFCs also minimize the environmental impact of order fulfillment. The last-mile supply chain enabled by MFCs could lower emissions during delivery by up to 25% by 2026 as their proximity to the end consumer makes delivering products more sustainably a possibility. Similarly, it is broadly predicted that they would contribute to reducing traffic congestion in cities. For instance, estimates suggest that using local fulfillment centers for just half of the e-commerce deliveries between 2020 and 2025 could contribute to a 13% reduction of London's delivery traffic, saving 144 tonnes in carbon emissions.
The reasoning behind these figures? Since there is less distance to travel, you can more easily integrate local, sustainable mobility solutions into the last-mile delivery strategy. These can include distribution by bicycles or light electric vehicles (EVs) – clearly, a much more eco-friendly alternative to shipping goods from traditional fulfillment centers in heavy-duty vehicles to a customer's front door.
Incorporating e-fleets into last-mile delivery services benefits communities environmentally and economically. The growing demand for rapid delivery creates substantive opportunities for gig economy work for couriers. So don't just consider MFCs as a way of decarbonizing your distribution and delivery services, but also as a tool for boosting economic activity in communities.
Finally, leveraging MFC-enabled sustainable delivery also benefits your business directly. 43% of consumers express a preference for sustainable delivery options. As MFCs enable the inclusion of greener shipping methods, they allow you to capture an increasingly eco-conscious market. So when considering setting up MFCs, keep in mind all their benefits from an environmental, social, market reputation, and business perspective.
More convenience thanks to innovative, tech-driven last-mile deliveries
Due to their proximity to customers, MFCs enable you to offer a wider range of viable fulfillment options to end consumers. This includes in-store and curbside pickup, lockers, and third-party deliveries. They also create opportunities for disruptive distribution solutions using autonomous vehicles or drones in last-mile delivery.
One of the most exciting examples to consider comes from Arizona, where the self-driving vehicle start- up Nuro partnered with retail giant Kroger to use its vehicles to deliver groceries and medicines in Scottsdale. Similarly, in early 2019, the established East Coast supermarket brand Stop & Shop partnered with Robomart to deliver groceries from its extensive MFC network directly to consumers using autonomous vehicles. You could simply summon an autonomous vehicle using the app. Upon the Robomart's arrival, they would then select the products they needed before closing its doors and sending it on their way.
Leveraging such disruptive technologies not only inspires innovation in communities but also contributes to a downward trend in environmental degradation, with fewer vehicles releasing harmful emissions.
The tech behind efficient, high-performance MFCs
Automated tech and infrastructure – the foundation of MFCs
As MFCs are heavily reliant on automation, their success is largely dependent on the effective implementation and utilization of technology, especially advanced robotics and automated storage and retrieval systems (AS/RS). A typical MFC consists of:
●  Several aisles
●  5,000-8,000 totes (bulk containers)
●  10 meter-high storage to 24' x 2-deep
●  2 decanting stations
●  2-4 pick stations each picking 700-800 UPH (Units per hour)
Software as a principal driver of MFC success
Managing MFCs multiple nodes and de-centralized inventory requires significant tech investment, with software being the main value-add you should consider. Its main applications in MFCs are in robotics, specifically in the automation of order picking. Advanced software is also used in the management and transportation of your inventory. Optimally organizing SKUs (stock-keeping units) is often based on analysis of internal and third-party datasets, social listening, and monitoring local trends. Leveraging all these insights enables you to optimize the entire delivery process. For instance, it allows you to select the most appropriate last-mile provider and maximizes route precision and drop density. Software also goes a long way in helping you reduce complexity and downtime.
In short, while your physical tools and infrastructure are important foundation blocks of MFCs, it's the software that truly drives the success and efficiency of your multi-fulfillment strategies. Successful SaaS solutions like Codept's offer a no-code solution to scaling complex MFC Networks. Codept enables you to connect with the right partners and maintain transparency. You can also connect MFCs and any number of local last-mile carriers to service your customers quickly and sustainably.
The role of Logistics as a service (LaaS)
With MFC adding complexity and creating new challenges, you might want to look to LaaS providers for support. Fast-growing retailers, in particular, might opt for collaboration with 3PLs to develop and leverage more scalable and flexible fulfillment operations to react to demand spikes. We understand that integrating and managing these partners is expensive, time-consuming, and creates added complexity. But this is, again, where logistics SaaS and APIs shine. These tools will allow you to easily access and integrate a wider range of retail partners and logistics providers with your automated MFCs.
Potential challenges of MFCs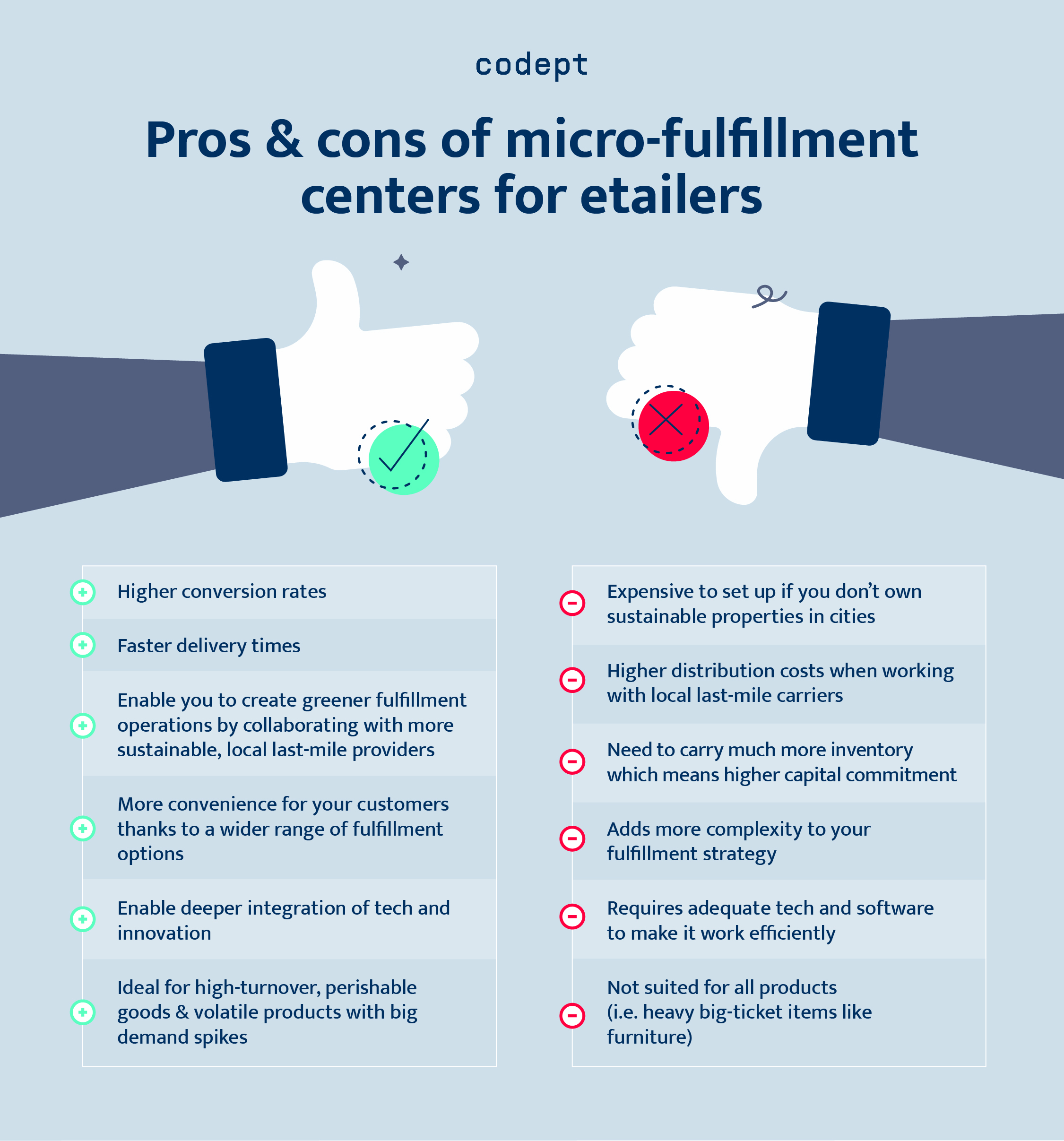 Despite the ease of distribution and environmental benefits micro-fulfillment offers, you should also consider some of its potential drawbacks.
The principal challenge of implementing a micro-fulfillment strategy is a financial one. MFCs can be expensive to set up from a tech and real estate perspective, especially if you don't have pre-existing brick-and-mortar or 'dark' stores in place which you can repurpose as urban distribution hubs. This is mainly due to the high costs of securing urban commercial real estate. In the short term, Amazon showed one way of how you may avoid this by targeting ailing CRE assets, such as vacant department stores, and converting them into MFCs. In the long term, Andrew Benzinger, Business Development Manager at AutoStore, highlights that the benefits ultimately outweigh the cost issues: "Over [time], you can pay for the automation and have significantly more margin to work with, because you're taking up less space and you're using fewer people to serve your customers".
Furthermore, MFCs aren't a suitable distribution channel for everyone. They are ideal for grocery etailers as they sell mainly high turnover, perishable products. Similarly, they are a useful tool for shipping high-volatility products with demand spikes. For instance, leveraging MFCs for faster shipment of gifts during the holiday season or umbrellas when it rains could be a major strategic advantage for your business. Why? Since they enable you to meet demand faster, you can capture a more substantial market share when demand suddenly increases and other retailers struggle to keep up.
But while MFCs are a fantastic distribution channel for fast-moving consumer goods (FMCG), the same can't be said for slower-moving industries, namely luxury goods or furniture. Purchases of the latter are more infrequent and can often involve storage and shipping of heavy, oddly-shaped, or fragile items. This, combined with the higher costs of keeping inventory and distributing items, makes an MFC strategy less suitable for this type of product.
Micro-fulfillment is a tool for maximizing supply chain efficiency
On balance, MFCs are a fantastic tool for maximizing your supply chain efficiency and satisfying your customers' demand for fast, affordable, and sustainable last-mile delivery in cities. With the pandemic having accelerated the consumer shift to e-commerce and urbanization continuing to grow, MFC will play a crucial role in your success in the upcoming decades.
Software is the main differentiator in successful MFCs. SaaS providers for e-commerce fulfillment solutions, like Codept, will be instrumental in optimizing your supply chain efficacy and monitoring the storage and distribution of your products in a last-mile delivery capacity.
How Codept can help
Ensuring that software is effectively linked to hardware is critical to the success of the entire fulfillment process. Codept's SaaS solution can be deployed to optimize your order tracking, inventory monitoring, fulfillment processes, as well as your selection of last-mile delivery partners.
Are you looking for a SaaS solution to support your MFC strategy? Contact us now to find out how we can help.
About Codept
Codept was founded by Jonas Grunwald and Felix Ostwald at the beginning of 2019. With its new approach to data standardization, Codept securely and efficiently connects even complex IT systems from the worlds of e-commerce and logistics. In this way, retailers can find the best logistics service provider. Logistics service providers find their new customers – without having to fundamentally redesign their IT infrastructure.
About the author
CEO Felix Ostwald is Codept ́s expert for logistics and fulfillment. Bevor he founded Codept together with Jonas Grunwald in 2019 he has been working in the e-commerce logistics industry for 8 years. During his time at OTTO and Zalando he was responsible for multiple logistics projects with a strong focus on fulfillment and software implementation.