Why is Content Operations important to achieving your eCommerce targets and goals?
The key to maintaining a successfully operated and profitable eCommerce business is to ensure you are continuously upgrading the Customer Experience (CX) and your personalization-at-scale strategies. CX and personalization are ultimately about understanding your customers, identifying shifts in their behaviours, and knowing how to adapt accordingly to match their needs and expectations.

Creating loyal customers leads to a reduction of inbound marketing spend, as this loyalty brings customers back to the business, again and again, without needing to engage with the full lead generation process. As the brand loyalty grows, sellers' average basket spend will also increase in size. Achieving strong, effective CX and personalization requires a well-thought-out strategy that involves multiple tools and teams. The framework for monitoring all of these various aspects and moving parts is referred to as 'Content Operations'.

Content Operations, as defined by Gartner, is a set of interlinked work steps in the execution of content marketing activities. It begins with planning and finishes with measurement. At first, the full workflow of Content Operations does look quite similar to other common marketing practices. However, when we consider Content Operations in the context of eCommerce, you will see that there are crucial differences to take into account, especially about how they define the success of an eCommerce business.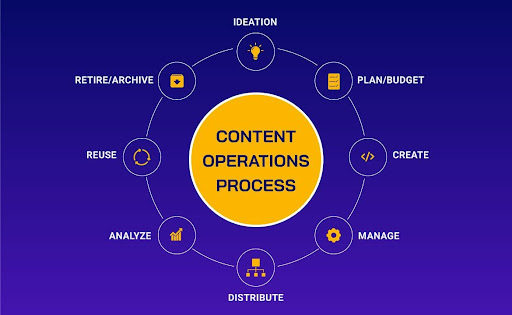 As marketing projects and content workloads increase, alongside the growing need for customer experience innovation, eCommerce teams have less time to spend on activities that are considered non-strategic, and also repetitive manual tasks – such as managing content, distributing product and marketing information, and the recycling and archival of old content.
For any long-term marketing strategies to be implemented tactically, there are some core clusters of tasks that need to be considered more extensively than others, including planning, budgeting, creative work, and analysis. eCommerce teams who know how to focus on achieving these core tasks, within the framework of Content Operations, will reach their business goals earlier and move faster to the next stages of business expansion, in contrast to those who don't have such a strategy in place.
To assist with the removal of manual, repetitive tasks, eCommerce business leaders must explore and ultimately define the roles and levels of automation that can be achieved by MarTech tools and systems that currently exist in the company stack, or that are planned to be implemented.
MarTech tools and systems for eCommerce businesses are commonly known to include:
Product Information Management (PIM);
CMS (Content Management System);
Marketing Work Management (MWM).

What are the challenges and inefficiencies related to Content Operations in today's eCommerce teams?
Understanding your customers is an ongoing mission that needs to be done at speed, to allow you to keep pace with the fast-moving, unpredictable changes of the eCommerce market.
However, there are always inefficiencies and challenges that will occur in the process of trying to capture an enriched data picture of customer behaviours. To stay customer-
centric, an eCommerce team needs to commit more time for data analysis, allowing them to assess their current strategy and initiatives and adjust them accordingly to these
observed customer behaviours – this is key for efficient Content Operations. To help combat the added workloads of analysis and adjustments, it is imperative that manual and repetitive tasks are streamlined and that knowledge and content resources are centralized – enabling the eCommerce teams to focus on strategic actions and priorities.
Out of the above three elements, "Rapid-Reaction Operations" and "Customer-Centric Mindset" are heavily defined and impacted by how eCommerce teams run their Content Operations strategy. Many of the inefficiencies found in eCommerce teams today are related to one of these two elements.
In reality, getting stuck at any step within the cycle of Content Operations will limit a company's ability to adapt and respond to evolving customer, market and competitive conditions – this will ultimately lead to lower conversion rates and poorer revenue achievement.
It's also important to consider that spending too long at any step of the Content Operations process also leads to poor performance – in terms of team member innovativeness and productivity. In this situation, an eCommerce team tends to create a loop of unbalance, between reacting effectively to real-time customers' behaviors and running an on-demand digitized team.
Today, from the perspective of leaders in digital-driven industries like eCommerce, there is no such thing as an "exchanging one for another" type of achievement.
Once companies have invested in MarTech tools and marketing execution, digital leaders must focus on how they will use these tools to deliver revenue and increase collaboration; especially when deployed in hybrid-work (office/remote) environments. These initiatives must also take into consideration cyber-security requirements (e.g., ransomware prevention) and also how ROI will be measured.
There are various reasons why cybersecurity companies still earn decently every year, largely as the cyber criminals never seem to stop attacking, especially in the SMB segment. In 2019, according to Accenture, cybercrime has cost businesses worldwide $5.2 trillion in the last five years. As a company leader, securing marketing data and content as well as any materials involved in the marketing operations process is your key challenge to face and overcome together with your organization.
For the final challenge, you must consider how you will measure ROI for your various marketing operations initiatives. The results of your ROI measurements will undoubtedly impact your strategy, providing insights on what is working well and what could be improved – knowing both of these is key to realising the value of your marketing investments. This begs the question, where do Marketers and Marketing leaders retrieve and assemble the analytical data that proves their MarTech tools and systems are generating a reasonable ROI? Do those Marketing teams have to spend additional days and months after each marketing campaign and project to deliver such an analysis? Breaking down data silos to help unlock important insights, to calculate measurements such as ROI, is a challenge for all types of industry in the digital era, not just for eCommerce companies. Data is the heart of every organization.
Attempting to solve the above challenges has traditionally been difficult, due to the complexity posed by satisfying the needs of different teams and business units, who have different priorities and goals, and often use disparate software tools and stacks – that was until Digital Asset Management (DAM) systems came along and fundamentally changed how companies can approach their Content Operations.
How to streamline your DAM Content Operations to minimise your workloads and maximise your results?
"Why DAM should be central to your Content Operations strategy"
A Digital Asset Management platform (DAM) stores, manages and renders rich media, including text, graphics, photos, video, and audio. A DAM can be sold as a software license or hosted service.
Typically, DAM systems are intended to support a wide range of actors — from specialized creatives to generalist production, to more operational and administrative roles — both inside and outside an organization, often including agencies and channel partners. "
This is a definition by Gartner about what a DAM is and how it fits into the Content Operations of companies.
We can clearly see that DAM supports most of the functional positions in an eCommerce team; from content writer, front-end developer, all the way to senior management.
DAM acts as a collaboration hub that helps people with different tasks and goals to communicate about their ongoing work from a central platform and also helps automate repetitive daily tasks. The most important benefit that any eCommerce team can get from using a DAM is that it enables each functional workgroup to complete their work in synchronization with each other.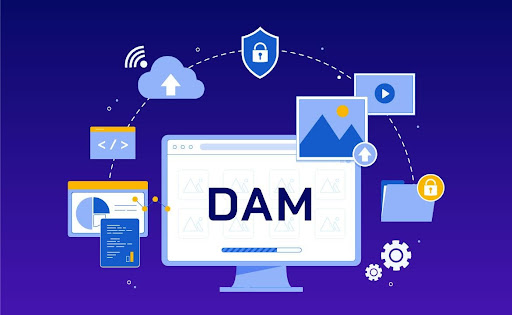 For team collaboration enhancement, with a DAM implemented, eCommerce content creators, digital marketers, or developers can jump into their work without having to ask around about the status of the thousands of media assets in company storage. They will not have to spend too much time creating channels for sharing the media assets, to coordinate with external stakeholders – such as digital agencies, photographers, freelancers, etc. – as the DAM acts as the single source of truth for content storing, sharing and collaboration. With AI-powered features and automation built into the core of DAM solutions, marketing team members reduce up to 70% of their manual tasks, in relation to uploading, editing, tagging and storing huge volumes of assets.
For content creators, the DAM can even support the translation of their asset descriptions and metadata – like in Scaleflex's Filerobot platform – allowing them to maximize the coverage of their marketing material without spending time on laborious and repetitive tasks. Meanwhile, the non-stop evolution of integrations for DAM platforms proves they are becoming an important and innovative solution central to many companies' operations.
One of the most powerful parts of DAM solutions is their ability to enable company leaders to focus on strategic ideation, plan steps for rolling out marketing content strategies and ROI analysis. This helps them to understand how their content and materials have been leveraged and where to improve.
The above examples demonstrate the benefits of using a DAM solution as a single source of truth and complete capability, vs. other MarTech solutions which are often dedicated to purely functional positions. A DAM solution plays various roles in the full cycle of Content Operations.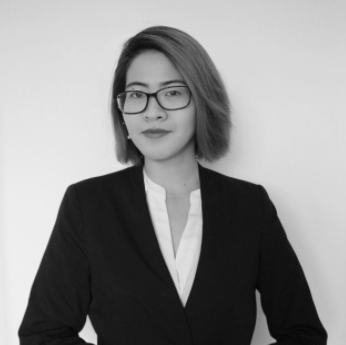 Quyen Nguyen

Marketing Analyst at Scaleflex – Experienced Marketer in B2B marketing for acceleration solutions including Digital Asset Management (DAM), Image Optimization, and possesses background involved with Smart Workplace Solutions.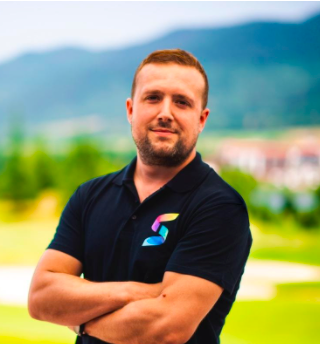 Alex Mackay
Product Marketing Manager at Scaleflex – Expertise in Cyber Security, Content Operations, Digital Transformation, IaaS and SaaS. Possesses management consulting experience at an MBB firm.