Influencer marketing has already become an integral part of the promotion strategy of most companies around the world: about ¾ of successful brands have at least once resorted to working with influencers. Yet, many of them are still sure that an influencer marketing strategy should be based on the idea of celebrity endorsement, while in 2022 this is content that became king. And this content arrives on e-commerce platforms too. How this content is integrated, who creates it, why is it important for brands, and how does it all fit into the seller-buyer relationship model? Let's sort it out.
Sociality: the future of eCommerce
The coronavirus pandemic has dramatically changed online shopping. You've definitely heard it before, but what does it really mean? When many physical retail outlets across the globe were either closed due to lockdown measures or had limited capacities, people had first not many options but to shop online and then got accustomed to it. So e-commerce became a part of their lives – even for those who previously preferred to do shopping offline. Businesses had to evaluate and find an approach to these new customers, to make them loyal and show them the opportunities online shopping offers.
However, lots of global surveys showed that despite the rise of e-commerce globally, an average online monthly spending per shopper has dropped markedly. That's absolutely normal as far as in the period of uncertainty people are more susceptible to conscious consumption – they try to make better decisions and are looking for higher quality products at lower prices.
Beyond that, there is another category of customers – those just willing to chill and to have some fun while surfing the Net. According to Joom, a global mobile marketplace, up to 50% of its customers are using the app like a pass time, that's their way to spend the evening or a weekend, to escape the routine and change their minds. What do these two categories of customers have in common? They both have to be convinced to shop, they need something else on top of the wide range of quality goods. So businesses should first gain their confidence, amuse them and seduce while offering an entertaining way to do shopping. That's how social mechanics and particularly influencer marketing saw their meteoric rise as a great driver of long-term customer loyalty.
Influencer marketing: the sexiest of marketing channels
According to the global web index, the average time spent per day using mobile internet is about 3 hours 43 minutes worldwide, i.e. more than 56 days a year! And at least half of this time is spent on social media apps. And this share continues growing.
This trend affects customers' shopping habits as well resulting in the rise of what is commonly called social commerce. Consumers use social media to learn about products and brands and find inspiration. They need to discuss their purchases, they like to have some reviews from other customers or give them advice based on their own experience.
People do not buy only a product. They buy a lifestyle. Influencers create this unique look and feel necessary for making a purchase decision. This is especially true in the context of a slowdown in activity due to the coronavirus pandemic.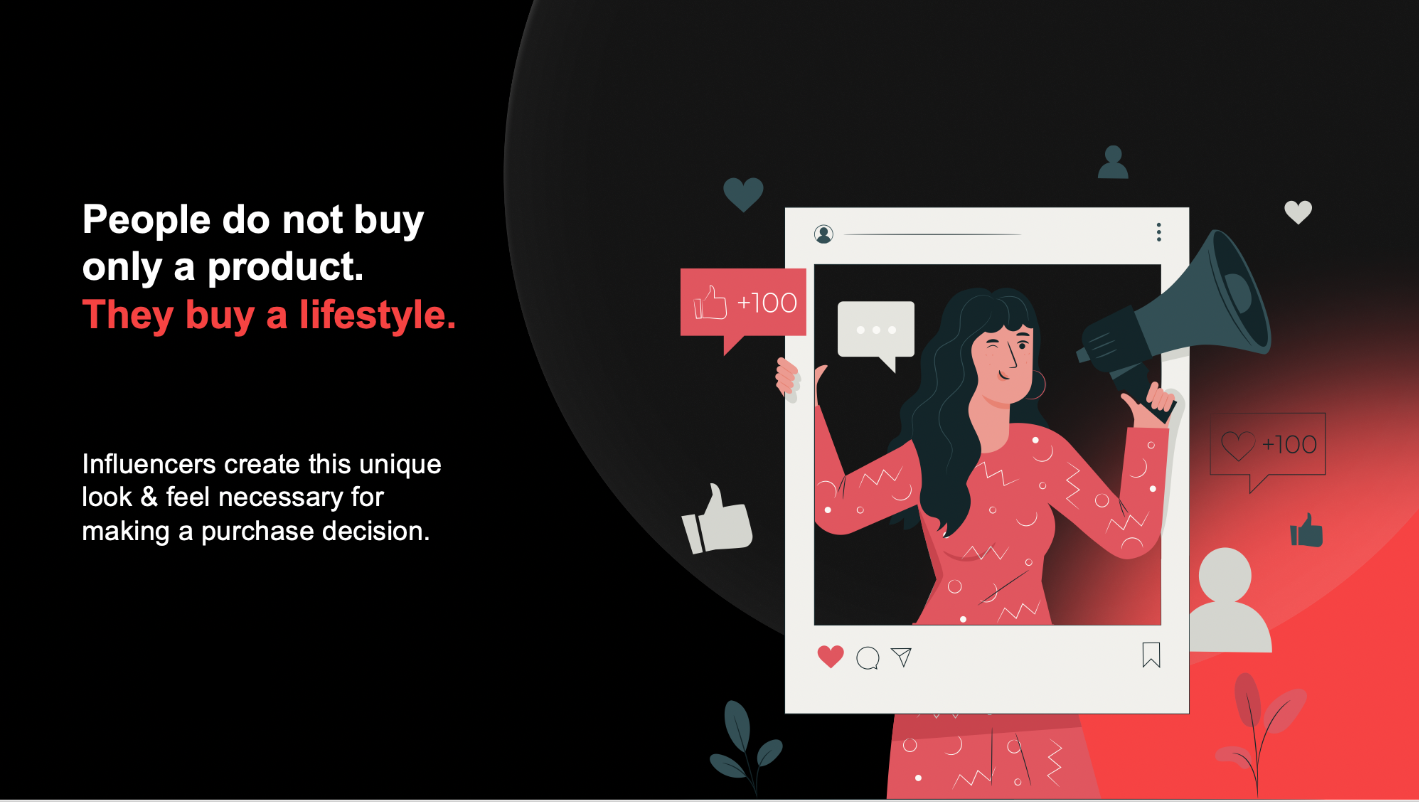 Even though influencer marketing is not the product of pandemic, last couple of years changed a lot the approach brands adopt working with influencers "to include a different type of engagement with a different type of content creator, – Deloitte says, – experts and everyday enthusiasts whose knowledge and zeal for a specific subject, activity or product category, combined with their engaging voices and platforms, give them credibility and trust among their audiences".
Influencers: the power of community
So how influencers can help your business?
Depending on their followers count, Influencers allow you to develop the visibility and increase notoriety of your brand in a more or less massive way. Numerous adblockers, constantly changing rules of advertising platforms make it more and more difficult to reach the audience in an effective way, while choosing the right influencers to communicate on your brand and products may help you find your customers. Besides, a "natural" and authentic storytelling will help users identify themselves.
Yet, the task is more complicated than just seducing potential customers. In order to make them return, a brand should build a relationship with them. The greatest power of influencers is their loyal followers. Normally, fans consider an influencer they follow almost like a friend: they know a lot about his/her/their life, tastes and interests and have a sense of complicity and affiliation same as for their real entourage. According to HubSpot, 92% of people trust more people they know, so if they know that an influencer whose opinion matters for them has confidence in your brand, they are more susceptible to advocate it as well.
Sometimes influencers may become your source of valuable knowledge. Consumers' tastes may vary from one country to another and be affected by local trends. To have a precise idea of what is happening you'll have to conduct a research – it takes a lot of time, effort and money. You won't probably have them all at a time, though If you have a large community of influencers from different countries they'll help you better understand your customers through the portrait of their followers. Thus, you'll be able to make hypotheses on what products and at what moment will be the most relevant ones for the audiences in question.
By the way, local trends do matter a lot. You may ride the wave and see your sales grow dramatically or, if you are completely off the context, your campaign/promo/product launch might slip through the cracks.
In March 2022, a then unknown Korean brand came in sight of one of the Joom community's influencers from Poland. This brand was not particularly special and offered prices above average of the marketplace. So how did it manage to get a meteoric rise in its sales in a week?
The influencer working with the brand knew that peptide serums were extremely popular at the moment. She picked one particularly trendy product and made an exhaustive Youtube review in an engaging and authentic manner inviting her followers to test it themselves. As a result, the brand became a huge hit in Poland making the greatest part of Korean origin's sales in the country. The sales of the reviewed product grew 100 times and present around 50% of total brand's sales. The effect of this March promo is still lasting. No bad, right?
Finally, influencers may help you increase loyalty to your brand by sharing their honest reviews on your products and thus developing the sentiment of trust to them within their communities.
After price, reviews are the second-most important factor to customers making a purchase decision. 97% of consumers typically read product ratings and reviews before making a purchase. 72% of consumers trust online reviews as much as personal recommendations of real people. 68% of consumers go to social networking sites to read product reviews. Displaying ratings and reviews on product pages is proven to lift conversions by up to 115%.
Online reviews reduce the number of returned products by 20%.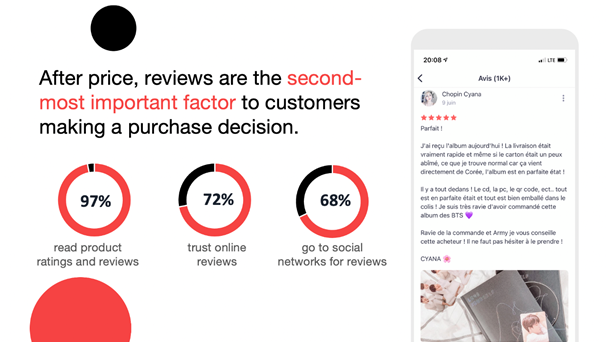 Market research shows that clients' reviews play a crucial role in other customers' decision making process. If, on top of that, these are influencers' reviews, the effect is even more impressive. According to Joom, an influencer review increases conversion by 187% versus 28% for a regular review from a user.
"Social trialism": the new marketplace model
Now, when the interest and the importance of working with influencers is beyond dispute, what to begin with? It seems that an effective influencer marketing campaign requires much time and impressive budgets that small and medium size brands are not always ready for. Doing research, defining guidelines, communicating with influencers – so much to do apart from managing your sales that it may become frustrating. Well, one option that will help you optimize your effort is hiring one of a plenty of agencies working with influencers that will give you access to a bunch of profiles at a time. Yet, there is no guarantee that this selection of bloggers will match your objectives, so you'll have to try again.
These reflections and observations about the absence of a universal interface to work with influencers and the immaturity of existing tools to get informative reviews, gave the founders of Joom the idea to create a new marketplace model that brings together not only sellers and buyers, but also influencers.
What does it mean? In fact, Joom has integrated a real social network into the app. This allowed customers to get something more than just a marketplace, because they needed a place where they could relax, look at beautiful pics, get inspired by bloggers' publications, and share their opinion. Something that could create a feeling of belonging. And Joom lets them get inside and create this place: discuss everything they want, share experiences, be involved in communication so that they are willing to return. On the other hand, the platform aimed to fulfill the urgent sellers' need of having a tool that will allow them to get full, highly informative and honest reviews.
The core of this social network is Joom's Influencer Program: an easy-to-use platform where a seller can nominate a product to promote and choose an influencer to do it based on his/her/their region, style, interests etc.
How does it work? The influencer program is nominally divided into three parts.
The seller panel has a tool where sellers can post free items, i.e., the samples that influencers can apply for. Then sellers select the influencer and send him/her the product in exchange for a review. The tool also offers automatic selection according to specified criteria, if the seller, for one reason or another, does not want to select a candidate manually. It is important to remember that the key success factor for this collaboration is authenticity – for both brand and blogger. Recent Deloitte's digital research says that 90% of customers mention authenticity as an important factor in deciding which brands they like. And 88% say authenticity is the key trait they want to see in the influencers they follow. This is the reason to consider many things beyond follower count: trustworthiness, sincerity, proximity to the audience. Besides, the time when brands were controlling strictly the content has passed. The more liberty a content creator has in delivering the brand's message, the more authentic content the brand will get and the more engagement it will observe. 
Apart from this tool, Joom's efforts in influencer marketing are driven by the initiative of key account managers assigned to each seller on the platform. They follow both the influencer community and the development of brands on the platform, so they can quickly connect them for the most effective promotion. Applications for promotion from managers are received for all products, whether they are new or those available on the platform for a long time. The applications are sorted by countries where a brand wants to promote/sell the product and/or the language to communicate in. The team collects a list of priority regions and, together with community managers, selects the best marches for this specific brand. 
Finally, none of Joom's big promotions like Black Friday, 11.11 or Joom Birthday, as well as local actions go without well planned collaboration with influencers. As part of these sales, the marketplace asks bloggers to order products related to the sale (for example, French products to support French Days), which in different situations may be highlighted by an Account Manager (for example, top products), or can be chosen by the blogger himself. Again, the platform selects the most relevant products for the influences in order to meet their interests and content style. Upon receipt of the products, influencers leave honest reviews for these products within the application, as well as talk about them in their external social networks, thereby attracting a new audience to the platform.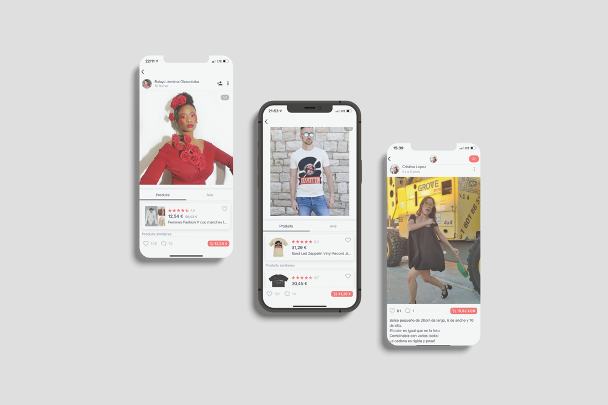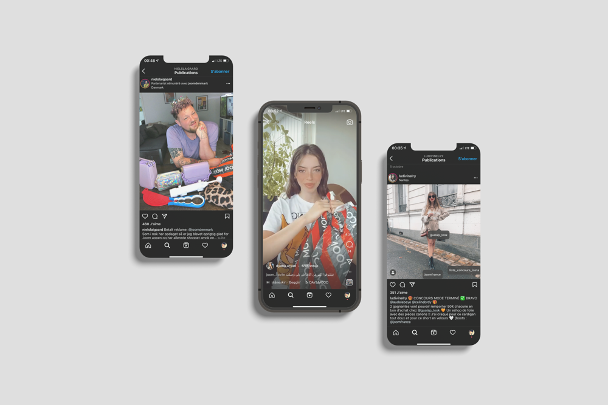 To sum up, this Influencer program helps sellers get quality product reviews, enable bloggers to receive goods for free and earn on reviews on the social network, and brings new users from external blogger accounts. So, it makes it much easier for brands to reach new audiences and enjoy influencer marketing benefits without investing their money, time, or effort. They just need to reach out to influencers (or the platform will do it for merchants), send free samples, check the publications, and track sales.