Running a multilingual e-commerce website is important. This is especially true if it's a new area for your business. What's more, if you want to hit the lucrative Deutschland, Austria, and Confœderatio Helvetica (DACH) market – i.e. Germany, Austria, and Switzerland – you'll have to enter three new markets at once.
For this post, we're going to look at how to translate your e-commerce store in order to best enter the DACH market. First, let's talk about why this is a challenge in the first place.
Why DACH Markets Present a Challenge for E-Commerce Businesses
While Germany, Austria, and Switzerland are Western countries with a progressive outlook in a number of areas, the way they carry out e-commerce transactions is different in many ways compared to the likes of the US and UK.
We cover some of the key differences (and more) in another Ecommerce Germany post. However, here's a brief summary of the key points:
In general, the DACH market doesn't use upfront card payments as a primary transaction. Instead, you'll use open invoices, to give the customer a chance to try a product.
Even so, each country within the market prefers to use a different final payment method – whether that's a card payment, e-wallet, bank transfers, or even cash on delivery.
Customers in the DACH market expect super efficient and near-perfect delivery logistics, and it will be a key tenet of your level of service.
While German is a dominant language for the entire DACH market, you'll also find each country has a mix of different languages. For example, the Swiss speak French and Italian, while Austria has a number of regional dialects that we can group as 'Bavarian' languages.
It's this final point we want to focus on here because, without an e-commerce website that a visitor can read, you won't be able to sell anything. Let's get into languages, and how to best translate your store.
How to Handle the Translation of Your E-Commerce Store (3 Tips)
For the rest of this article, we're going to offer a few tips on how to enter DACH markets, specifically how to translate your content. You'll also find we break down some of the concepts into further tips and tricks. Let's take a look.
1. Use Multilingual SEO to Your Advantage
Search Engine Optimization (SEO) is a popular way to reach a high ranking on search engines, and help potential customers find you online. However multilingual SEO takes this process, multiplies it by the number of languages you want to translate for, then adds in its own specific elements. For example:
It includes using dedicated URLs for each language you want to translate for, using subdomains or subdirectories. Search engines often consider this a mandatory requirement.
Multilingual SEO also means you'll want to translate every aspect of your site. This includes key content such as your metadata, image alt text, meta descriptions, and all 'under-the-hood' text – not just on-site copy.
You'll want to use hreflang tags to help a search engine deliver the right content to the correct locale.
On this last point, you want to help search engines as much as possible to index your content and serve the right pages. A hreflang tag gives a search engine a way to push your content towards the right language and locale.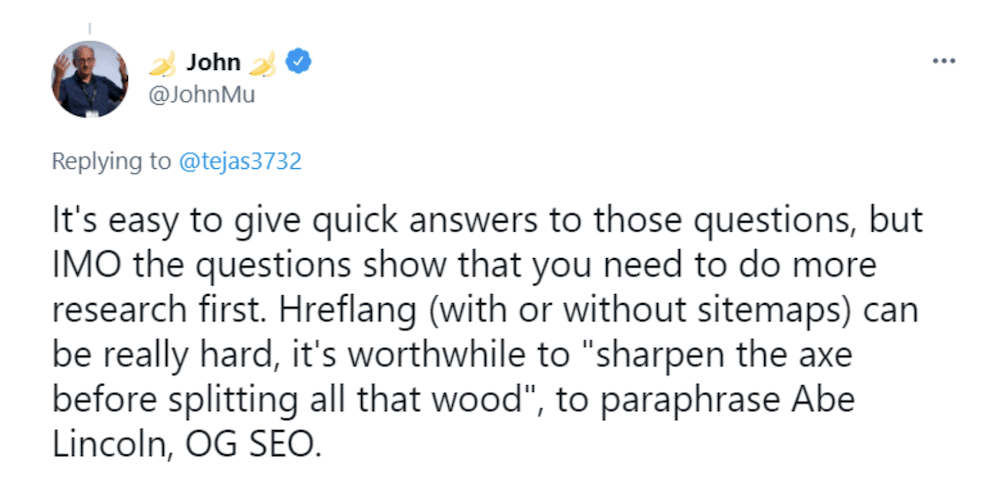 However, this is notorious for two reasons: one, Google considers it one of the most complex facets of multilingual SEO; two, it's hard to implement without development experience.
2. Make Payments and Currencies a Top Priority
It makes sense that a market with three countries and a wide range of languages and cultures within will use various different payment methods. This is especially true for the DACH market.
You'll want to consider what each country in the market prefers, and adapt. This is in contrast to implementing a payment method and currency, and expecting the customer to adapt – they won't in most cases.
This is a topic we cover on Ecommerce Germany, and we can sum it up with the following:
In contrast to faster payment services, German buyers prefer open invoices. This lets them test a product, they buy it outright if they like it. However, you will have a greater operational cost due to a higher return rate.
Between Austria and Switzerland, you'll find that PayPal, bank transfers, and card payments are popular. In fact, the Swiss like to pay with cash on delivery too, which should be an option for your store.
However, it could be that you also integrate a suitable payment solution with your choice of e-commerce platform. For example, Shopify is flexible, and we cover this elsewhere on the blog.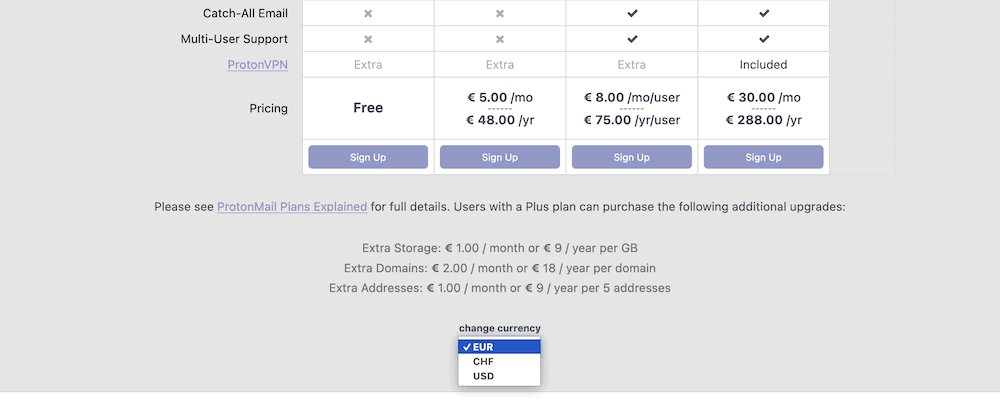 3. Offer Visitors Language options
Regardless of everything else we mention, your store's translations rule. This is because if a user can't understand or navigate a site of any description, they won't get far. This is especially the case for e-commerce, as the potential customer will become part of your bounce rate.
As such, you'll want to pull out all of the stops to make sure you translate all of your content.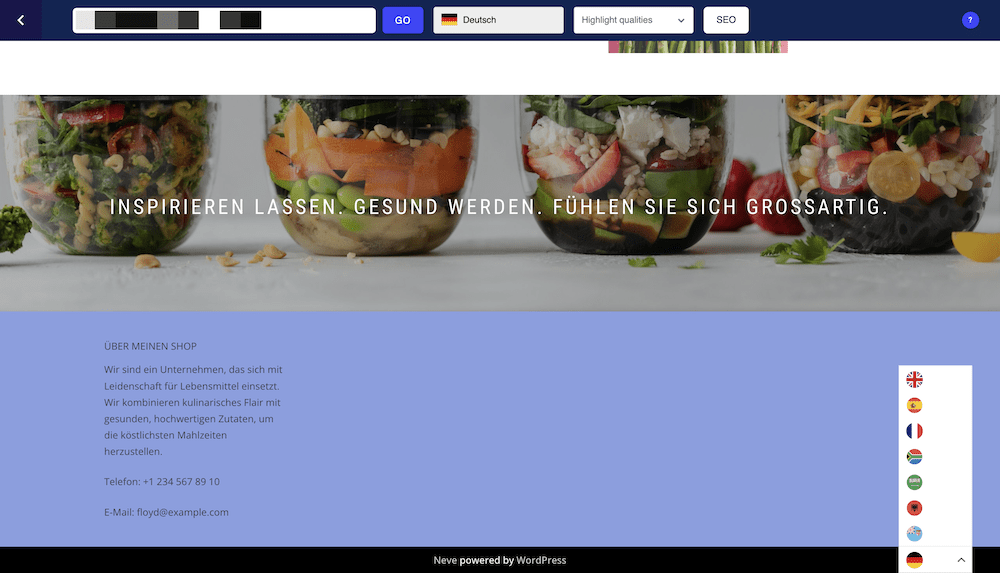 A Typical Translation Strategy
The traditional sense of website translation involves using human translators to translate all the content of your e-commerce store. The process doesn't end there as you'll then need your developer teams to integrate the translations on your website and create separate websites for the new languages you want.
While human translation is a solid strategy, it's often costly. You'll also need to factor in collating all the content of your website so it's ready for translation.
The implementation part is also time-consuming not only on the integration side but also in terms of managing your multilingual website going forward. Most e-commerce websites require regular content updates such as new product launches, so this regular maintenance will require both the marketing and development team to be on hand.
Using a Website Translation Software
The best investment you can make for your potential multilingual site is using a website translation software to automate all of the steps a traditional website translation project would involve. This can provide a number of benefits right out of the gate.
Website translation software, such as Weglot, automatically detects the content on your site, translates it, and displays it under language subdomains/subdirectories. Not only the visible text such as your checkout, but also your metadata, image alt texts, and other 'hidden' content – in other words, 100 percent of your site.
This approach also allows you to combine machine translation and human translators. Offering a first layer of machine translation that can be left as it is or further edited and managed through a separate interface.
You'll also find that good translation software will also implement some of the tougher aspects of multilingual SEO – such as hreflang tags. For instance, Weglot carries out this process on your behalf, without the need for your input or headspace.
Once you have a good approximation of your multilingual sites using machine translation, you can look into refining the wording. You can do this in a number of ways. For example, you may bring in a professional translator. This is going to cost less than bringing them in from the outset.
First, you will already have a high-quality machine translation, second, all they'll have to do is make sure the wording reflects local customs and colloquialisms.
On the whole, website translation software can save you money, time, and automate previously manual tasks. As a result, you'll be able to attack the DACH market, gain a foothold, and grow your e-commerce business.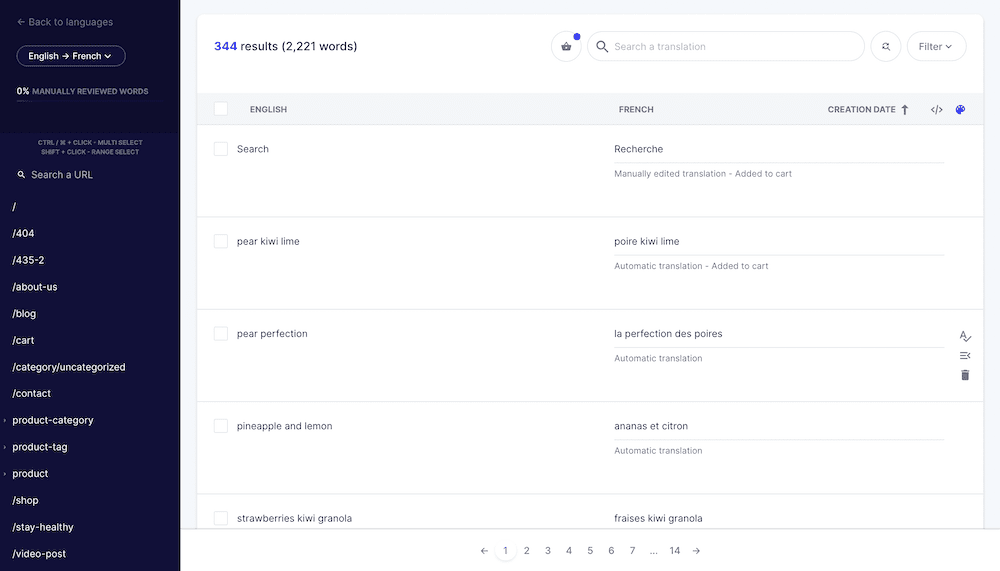 Conclusion
Entering a new e-commerce market is always tough. This is definitely true if it's the first venture for your online store. There's further truth in this if you want to hit multiple markets at once. Store owners who want to enter the DACH markets need a watertight strategy. Fortunately, there are some solid solutions available to you.
You'll want to think of each market as a separate entity, even though there are some cross-over attributes (such as language). This will mean that you offer multiple currencies, such as Euros and Swiss Francs. It also means you'll need to consider not only providing a perfect German translation, but potentially a Bavarian subset for the Austrians, and both French and Italian for those in Switzerland who speak it.
It's fair to say that the DACH market is diverse with regards to linguistics, and you'll want to consider an online translation software such as Weglot to cover all bases.
About the author:
Elizabeth Pokorny is the Head of Content at Weglot, a no-code website translation software that allows you to instantly launch a multilingual website. Weglot is powering 50,000+ multilingual websites around the world, with customers including Microsoft, Spotify, Steve Madden, Murad, Crabtree & Evelyn, and Volcom.