Undoubtedly 2020 has been tough for the global economy. Lockdown has been a burden for stores and supply chains. On the other hand, online channels have experience moments of glory like never before.
One of the industries most affected by the pandemic is the food sector. Casaleggio Associati made a report about this sector in Italy. Let's find out how COVID-19 affected this delicious segment in a country hit massively at the start of the pandemic. If you are interested in reading the full report, you can download it here.
Food sector – background
The food sector in Italy can be called an empire. It is worth EUR 538 billion, which is 1/4 of the country's GDP. Italians appreciate good food and eagerly meet friends for joint dinners. You could say it's part of their culture. The food sector employs approximately 3.8 million people. Italy is dominated by small businesses of less than ten people but employs over 30% of its total workforce. There is no segment of which is the leader; the forces are evenly distributed.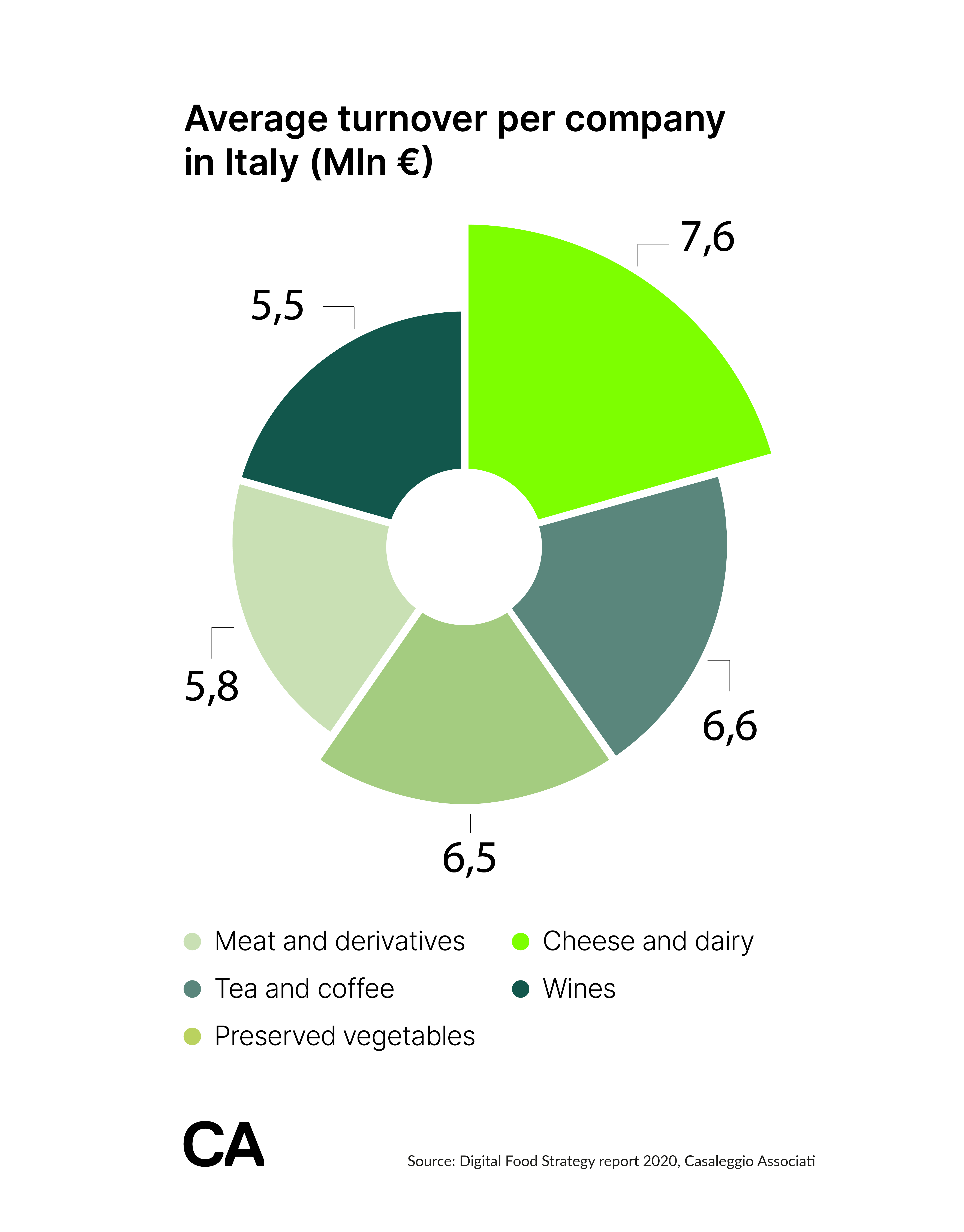 The food sector in 2019 was 3.1% of total Italian e-commerce turnover. The value of the e-commerce market was still below European values. But 2020 has brought some popularity to ecommerce.
COVID-19 vs. Italian food sector
Due to COVID-19 traditional distribution channels have faced a 16/18% drop in turnover and a 2 – 4% increase in sales running costs. Closed restaurants, cafés, and hotels didn't make the situation easier. Lower demand forced the food sector to go digital.
At the start of the year, takeaways and food delivery, as well as online food sales, were predicted to represent $ 653 million (9.8% increase). These forecasts were partially corrected for the effects of the pandemic. It cannot be denied that COVID-19 has accelerated the digitization of the food sector. It had to face ecommerce optimization, which was not an easy task with such a massive fragmentation of companies. It also did not help the logistics industry, which had to face the demand even 400% higher than in previous years.
Ecommerce models
Italian e-commerce has undoubtedly changed a lot during 2020. This resulted in the increasing usage of several models of e-commerce strategies. The type of product sold influences unquestionably the choice of model. The approach to selling fresh fruit is different from that of selling homemade wine. Each type of food has additional requirements as to the place and temperature of storage. Depending on the type of product, the following B2C food brand e-commerce models are distinguished:
Individual products
Customers buy these types of products to meet individual needs. In the case of such products, the producer assumes that presence in e-commerce is necessary and aims to build a strong brand position, often based on one flagship product. The manufacturer manages the entire sales process himself. In online sales, the product is offered in larger boxes or combined with products needed for their consumption (e.g., Nespresso subscription with a coffee machine). Internet exclusivity is very common – products are available only online. This avoids a channel conflict.
Proprietary basket of products
In this model, one manufacturer creates many products and creates own website, offering entire baskets, expanding the range of products. In June, Parmalat launched its online store offering not only its flagship products but also the products of the Lactalis Group, of which it is part. This is a very beneficial model for both sides – the customer has more choice and can buy many products from a trusted manufacturer, while the supply-side benefits from synergy and cost optimization. In this case, the sale is based on customer loyalty and faith in the good quality of provided products.
Basket of goods in partnership
This is a model in which different manufacturers collaborate and create an e-commerce site. An example of such ecommerce is Olivyou27, which brings together producers of olive oil and related products. It is a variant that allows those producers who could not afford independent activity on the Internet to enter the e-commerce market. It is especially expensive for products that have a short shelf life and require special refrigeration conditions. So thanks to this model they have an option.
Household shopping
This model is based on marketplaces. It is a way that allows you to use partners' facilities such as warehouses or logistics. Amazon is an example of this model. However, this channel is rather not chosen as a priority but provides gray visibility for customers.
Online presence
Today, being digital is for many brands to be or not to be on the market. Consumers even require this kind of action. They want to know as much as possible about stores' activities in which they make such an important purchase as food. The pandemic has highlighted this need even more. In order for customers to choose the only one on the market, manufacturers must be as available as possible and know as much as possible about their customers to meet their requirements. In Italy, just over 18% of producers in the food sector have their own corporate website, of which around 16% have an ecommerce channel, and about 12% have an email address for sales communication.
There was research conducted on about 125 manufacturers, which gave surprising conclusions – 30% have their own store integrated with the website, 2% have a store on their website, but they redirect customers to the marketplace to make purchases there. As much as 68% have a showcase website. Many brands are present on the Internet, but their websites are only there for a better image.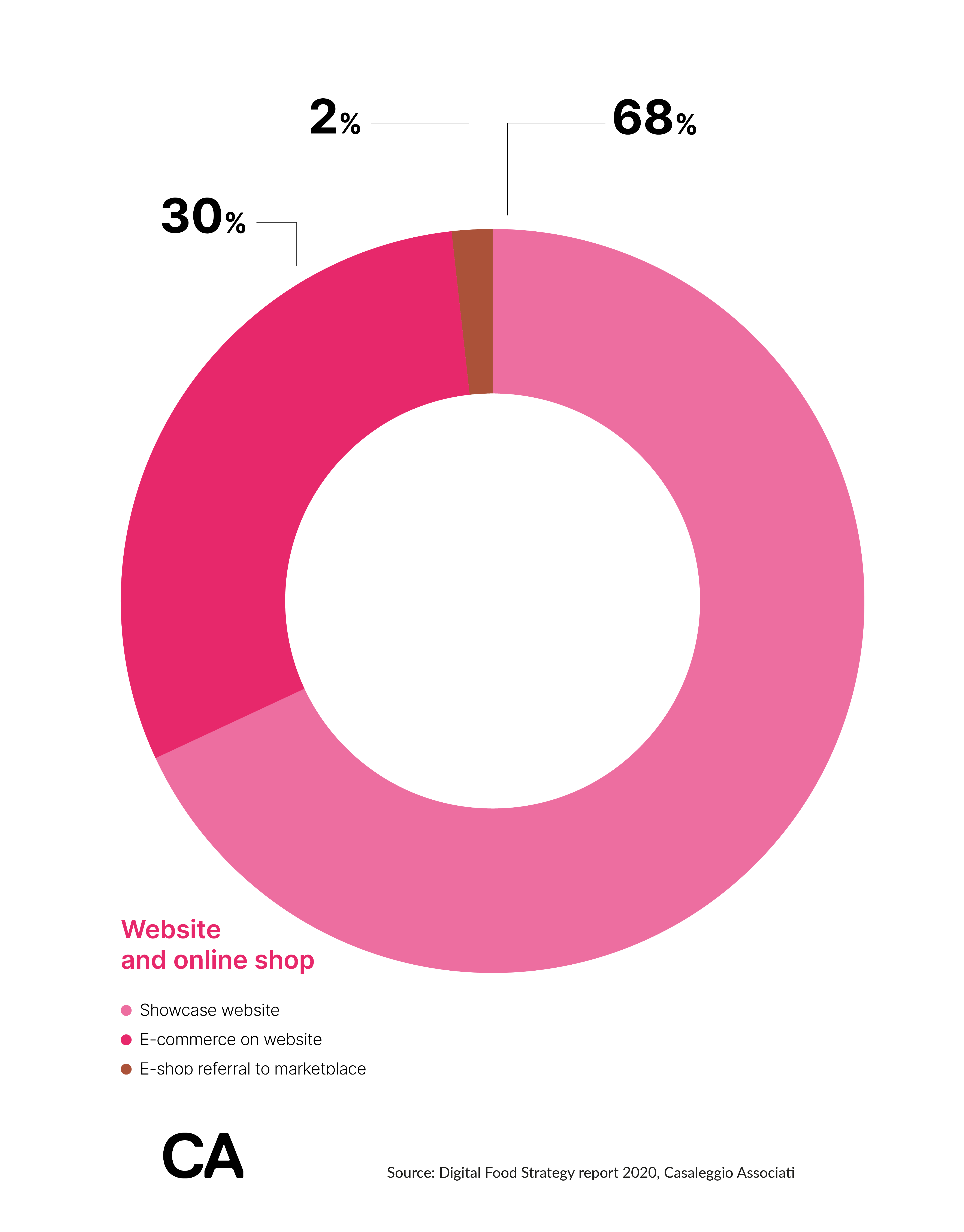 Producers adopt different strategies when it comes to the internet and ecommerce. The vast majority of them have a showcase website but do not have an online store. There are also cases where the purchase can only be made through the official website of the manufacturer. There are also cases where each brand of a given manufacturer has its own website. It all depends on both company and customers' needs.
Marketing and social media
Marketing in the food Italian industry is all about storytelling. Brands are very focused on building relationships with customers. This is probably due to the emotional charge that is attached to food. Many of them are present on social media or have their own blogs. While both emotions and relationships in marketing are the domain of brands, producers focus on sales mainly through email marketing. The content is divided into recipes, product promotion, production chain, and topics relating to sustainability and partnerships. The food sector mainly uses formats such as video, which are needed to show recipes in action. Insta Stories are used very often. IG TV is also very useful in this sector.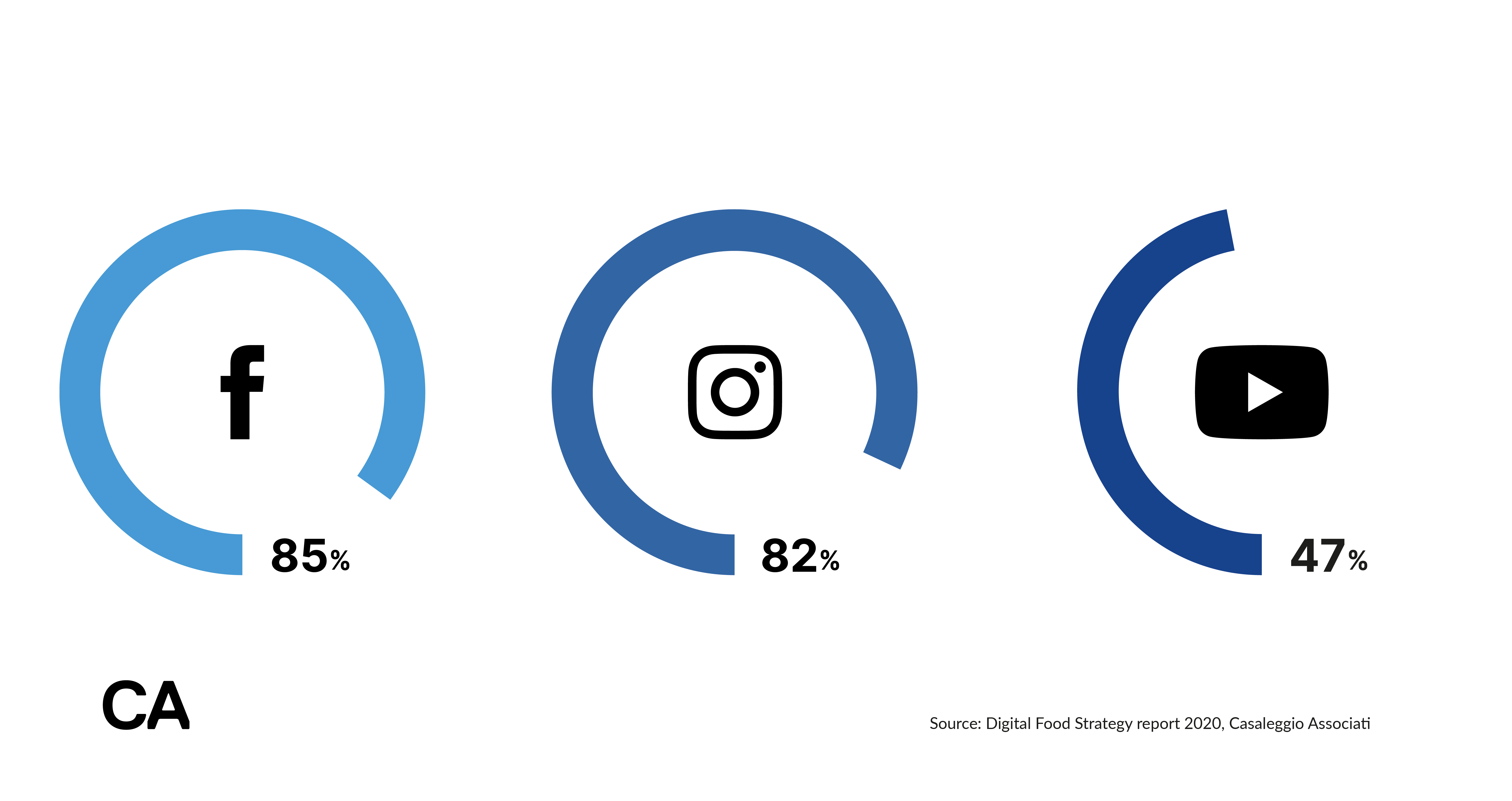 The most popular social media among brands and producers is Facebook; Instagram has little fewer fans. Other social media such as Twitter or LinkedIn has a marginal usage among brands and producers from the food sector.
When it comes to the fanbase, Facebook rocks this matter. The biggest fan base has the beer sector. In general, beverages are popular on social media, sweets, too.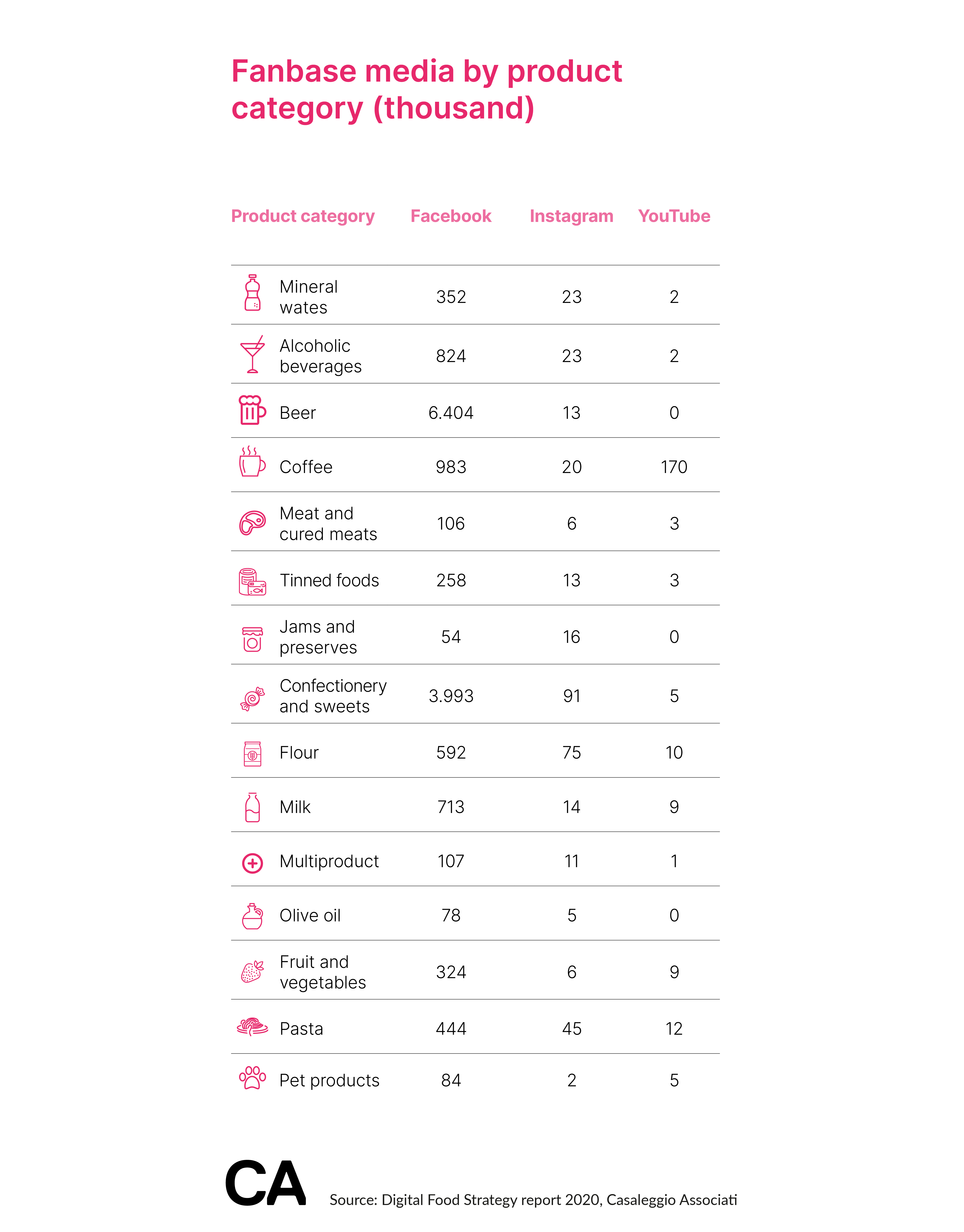 In the case of YouTube, it's the perfect place to share recipe videos and build brand awareness. Despite its great potential, this channel is still underestimated by food sector brands. Rio Mare brand is an example of a channel where you can find several playlists with different content, depending on the country. You can find advertising spots, recipes, and much more. This is a very confusing communication. Good marketing required organization.
When talking about online marketing, influencers cannot be omitted. One of the is Benedetta Rossi, closely related to the food industry. Last year, she had over 3 million followers on IG. Another case of a famous person who collaborates with food brands is Sonia Peronaci, whose collaboration with Salumificio F.lli Coati. echoed widely in social media.
Brands have taken advantage of influencer marketing in 2020. Between May and August, there was a 32% increase in influencer's interactions.
Final thoughts
Italian ecommerce has grown rapidly during 2020. After reading this report you can find that ecommerce in this country still has untapped potential. In this article, you can find only some highlights but the full report provides a huge dose of knowledge about this market.