RetailX provided a report where you can find a list of the best-performing retailers in 2020. It covered six aspects of ecommerce: Strategy & Innovation, The Customer, Engagement, Merchandising, Mobile & Cross-channel, and Operations & Logistics.
In this article, we have provided some highlights from the report. If you want to get to know the whole tab, you can download the full report here. Below you can find the first part of the entire thousand, to know them all – you know what to do.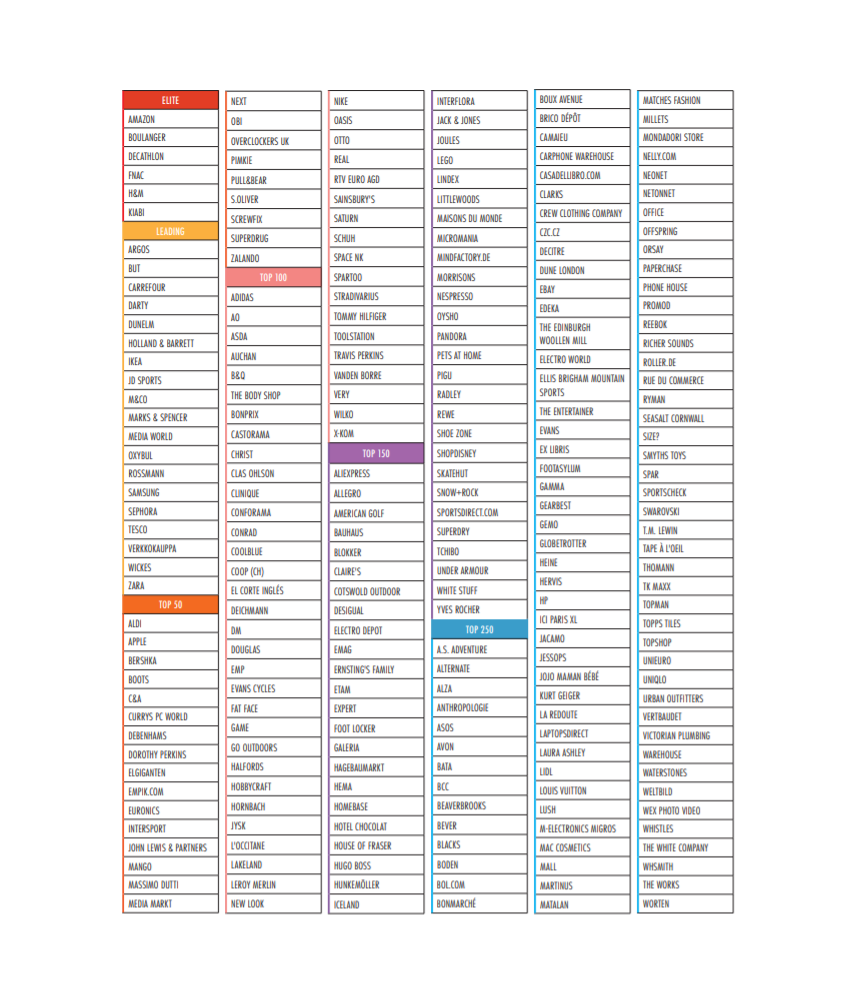 How has pandemic changed ecommerce?
Covid-19 has forced the progress of digitization. The vast majority of purchases had to be transferred to the Internet. For many retailers whose position on the Internet was stable and strong, this accelerated the faster implementation of omnichannel plans. Unfortunately, the pandemic also revealed any shortcomings. For countries like Italy, where over ten years e-commerce has grown by several dozen percent, Covid-19 was a real revolution in e-commerce. 2020 is not over yet, and there has already been a 200% increase in e-commerce compared to 2019. According to research carried out by RetailX, from the beginning of the lockdown, i.e., from early spring, about two million consumers have made their first purchases online, and a large part of them are elderly people.
Omnichannel has basically become a must for online stores. A good example of the power of omnichannel is Zara. Its customers can browse items on the website and check if they are available in the selected store. The customer can book an item or buy and pay by phone without queuing, thanks to this option. Inditex will invest around EUR 1.7 billion in such a solution. Another store that accelerated the implementation of its digital plans is H&M – during the pandemic, this retailer recorded about a 36% increase in e-commerce. After stores reopen in different markets, the pace of return 'to normal' varies due to the variety of restrictions in these countries. However, the situation is more optimistic than expected.
Consumer behavior has also changed. They began to pay attention to expenses – basic and avoidable. In this report, we can read that according to Eurostat, for example, sales of fashion products fell by more than a half. It was not only the pandemic that contributed but also increased environmental awareness and an emphasis on sustainable development. Consumers are now choosing quality over quantity. They also focus on recycling and second-hand purchases. This is largely a money-saving and environmental concern. The percentage of consumers who choose fast fashion in exchange for more expensive and more durable clothes dropped to 14%.
Strategy and innovation – how to stand out?
Ease of use is the basic factor that influences the user experience. Research conducted by RetailX shows a great advantage of the fashion and jewelry sectors in terms of easy navigation. Retailers of food and garden products are the worst. In terms of regions, Great Britain, Ireland, Italy and Austria are the best performers. It is worst in Estonia, Cyprus, and Liechtenstein.
One of the most important factors influencing the assessment of ease of use is the exact description of the product – dimensions and technical data. In this matter, products such as consumer electronics or software performance best – complex products require more detailed explanations. The relevance of searches is also important – bookstores are the best in this matter. As for geographic markets – France, Great Britain, and Ireland. Product presentation is also important. In 2020, the average number of photos per product increased to 4.25. The Czechs are the best in this matter, and the British are the worst.
The location of the internet domain is very important, too. If consumers can choose a website on which they can operate in their native language and currency, they will appreciate the seller more than those who do not offer such options. About 45% of retailers have a location option on their sites, which allows consumers to choose their country. Viewing products and their prices in the native currency will facilitate the purchase and compare them between stores. In terms of currency changeover, there has been a slight increase from 6% to 8%. RetailX research also shows a small increase of 1 pp in the choice of language on the site. The countries such as Luxembourg, Slovenia, and Lichtenstein are the best in this field.

Above, you can find a list of the best innovators and strategists in the ecommerce market.
Optimizing customer experience
As we mentioned before, navigation is an important factor that influences the user experience. The sites with the most intuitive navigation are from the fashion, footwear, and jewelry industries. The leaders here are Great Britain, Ireland, and Italy. When it comes to mobile navigation, the best option here is the hamburger menu. More than 90% of cosmetics, household, and food retailers use this type of menu. This is the most popular type of menu that is commonly known to users.
One-click ordering is another hit when it comes to facilitating sales. This year, around 14% of 150 retailers offer one-click purchases. In practice, this means that the customers only select the products they want to buy, and data such as an address, payment method, or delivery method are selected thanks to their prior registration. In the jewelry industry, about 1/5 of customers use one-click ordering. Geographically – the British and Latvians most often order this way.
Customer service is the core when it comes to customer experience and after-sales services. RetailX research clearly shows that calling is the easiest way to contact e-commerce from the top 1000. About 1/3 of sellers provide the customer service number on their website. In this aspect, the best sellers are sellers who offer their products to countries such as the Czech Republic, Poland, and Great Britain.
Feedback from other customers is an essential aspect of influencing purchasing decisions. Many customers condition their decisions on the opinions of other customers or reviews. A significant number of sellers make ratings available on their website, thus helping customers to make final decisions. Most often, stores offering household appliances and tools provide such information to customers. This is a logical move; while such purchases, clients are afraid to spend more money on equipment that may not meet their expectations. As for countries – sellers from Great Britain, the Netherlands, and Germany lead here.
Reviews are a slightly less common case, though they are most popular in the same category as ratings. Most often, reviews can be found on the websites of British, German, and Polish sellers.

Here you can find ecommerce stores that provide the best customer experience from the whole top 1000.
Meeting customer expectations
Delivery is an aspect of online shopping that very often affects the final customer satisfaction. The pickup option in the store is a very frequently used option. The percentage of sellers offering this method increased from 31% to 36% among 927 sellers. It is often offered by stores belonging to industries such as household products, fashion, and industrial appliances. When it comes to geographical distribution – Croatia, Sweden, and Slovenia rule here. Another aspect, thanks to which sellers meet customers' expectations, is the possibility of online booking and collection in the store. It is still a relatively low proportion – only 6% of the 484 retailers surveyed.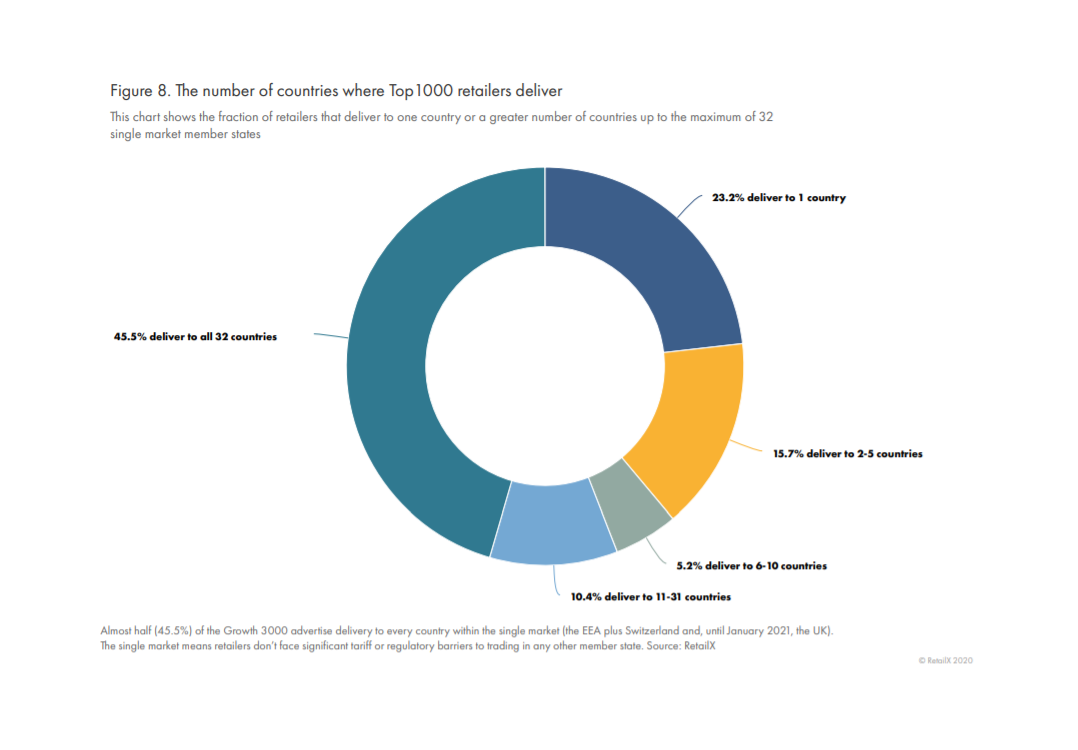 Cross-border shopping is becoming more and more frequent. That is why almost half of the ecommerce providers offer shipping to all 32 countries. On the other hand, the fraction of companies delivered to only one country is still relatively high – about 23%.
The sellers tried to offer the fastest possible delivery in previous years and provided full control over the shipping route. But this year's situation is quite different. Despite increasing demands for quick delivery, the RetailX study showed a decline in the European market's delivery options.
In a matter of quick delivery, fashion retailers dominate – clothing and footwear. More than 1/3 offers next-day delivery. In the case of domestic markets, France and Germany lead here. When it comes to same-day delivery, grocery stores are in the lead. No wonder groceries are necessities with a relatively short expiry date.
Mobile shopping- what to need to know
Mobiles are a big part of the day for many of us. More and more often, consumers make purchases using the phone. How are the companies from the top 100 doing in meeting the expectations of mobile shopping?
It is worth starting with a store finder that will be optimized for mobile devices. A good idea, which 39% of sellers use, is the inventory view – so that customers know whether they should hurry with the purchase or have time to think about it. Mobile apps are also a common solution. Grocery retailers and jewelers offer them to download on landing pages very often. Another omnichannel solution is the store finder – here, garden centers (39%) are lead. This option is rarely seen in fashion ecommerce.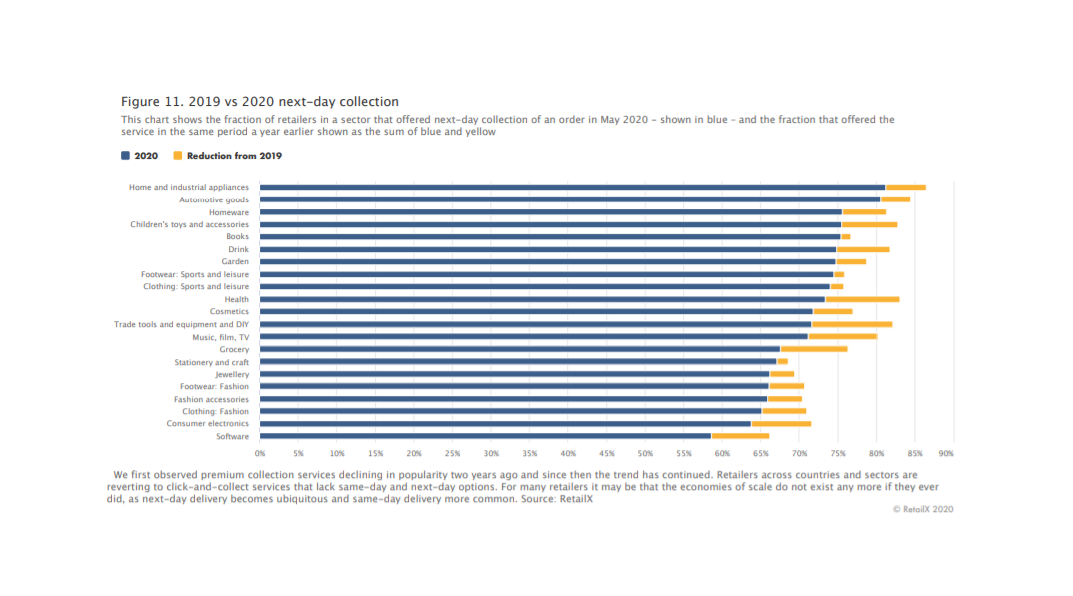 As mentioned before, pickup in stores is a popular solution. It is due to mobile applications that have popularized the click and collect model. But surprisingly it showed a decline, compared with the previous year. The main reason for this may be simple: there have been no places to collect the purchase during the pandemic. Currently, about 36% of brands offer this type of pickup.
Click and collect solutions are the most popular in sectors like home and industrial appliances, automotive goods, and homeware.
To wrap up
To sum up quickly, in 2020, digital has been a huge power. So as omnichannel. Many brands have been forced to switch into high gear in the case of digital strategy to meet customers' needs.
In this article, you can find only a few highlights from the RetailX report. This piece is filled of numbers and interesting information about ecommerce in 2020. Europe Top 1000 Report is really worth reading.