Creating online stores based on Shopware 6 software, which is becoming increasingly popular not only in the DACH countries, offers almost limitless possibilities. To ensure the best usability for your online store, you should consider a few practices right from the store's design phase. What exactly should you focus on?
In today's e-commerce industry, there are numerous challenges. Every entrepreneur who conducts sales through the Internet, especially those with their own online stores, is well aware of this. The COVID pandemic, rampant inflation, the global economic and political situation, fluctuating prices and currency exchange rates, demographic changes, and environmental challenges can be quite overwhelming. Therefore, the choice of software is often a key decision. It should not only meet the technical needs of online sellers but also cater to the demands of consumers.
Shopware 6, a software for creating online stores, is here to help. It began its journey in the technological solutions market in 2019, succeeding Shopware 5. It is available as open-source software as well as commercial versions and boasts over 54,000 satisfied customers. This software was developed with passion, innovation, and attention to detail. As a result, more and more online store owners are embracing the Shopware system, revolutionizing online sales with forward-looking solutions for e-commerce not only in German-speaking countries (DACH) but worldwide.
Appreciate the Benefits of Shopware 6
Shopware 6, the pioneering software for creating online stores, allows the development of Shopware stores with unique designs, following the latest user experience (UX) and user interface (UI) trends. Created with a passion for its users in mind and within the spirit of an open global community, Shopware is transforming commerce and delivering professional e-commerce solutions, regardless of the business model or company size.
Utilizing the latest technologies, such as Symfony, efficient software architecture, open APIs, and high system performance, are just some of the advantages that persuade business owners to choose Shopware for their online stores.
Therefore, make an effort to fully appreciate the advantages of Shopware software, choose those that are essential for your business, and focus on their utilization and development during the online store design phase. 
Create the Most Flexible Frontend
One of the most noticeable novelties in Shopware is the entirely new frontend, which brings multiple benefits not only to online store owners but also to designers and developers. It is based on the Bootstrap framework and the Twig template engine, ensuring fast and excellent performance on all mobile devices, such as iPads and iPhones.
The new frontend translates to lower operational costs, numerous product list sorting options on the website, and a more transparent presentation of products, especially due to improved filtering by properties and variants. Your customers, especially those seeking an intuitive way to select the most suitable product, will greatly appreciate this. An experienced graphic designer preparing the visual layout of the online store should consider this during the design phase (creating the store layout in tools like Adobe XD, Figma, or Photoshop). However, it's essential to ensure this is discussed and clarified during the project kickoff workshop.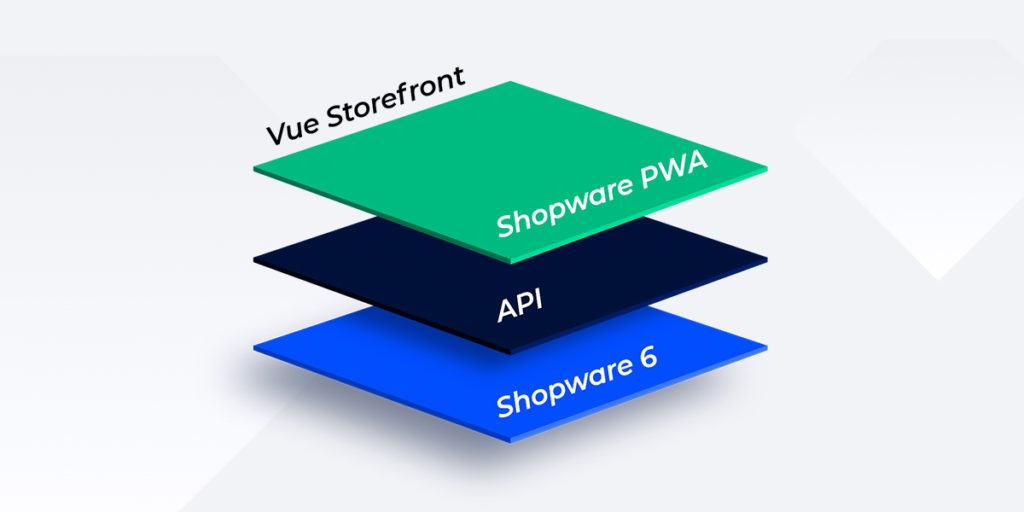 Utilize Shopware PWA for Progressive Web Applications
A valuable feature in Shopware 6 is the Progressive Web Application (PWA) framework, which is integrated with Vue Storefront to provide an even more flexible frontend. PWA is a modern technology that offers nearly limitless creative possibilities for website designers and developers. This technology is efficient and compatible with many features. Shopware PWA is particularly suitable for corporate projects and larger companies looking to enhance their technical infrastructure, such as by developing progressive web applications. Consider your business goals early and think about implementing PWA solutions for your project.
Expand the System as Needed
One of the highly significant features of Shopware 6 is the system's flexibility and modular structure, making it adaptable to various business models (B2B, B2C, etc.) and project requirements for small, medium, and large companies, including enterprises. The modular structure enables rapid expansion of the infrastructure with applications and themes tailored to specific needs. The plugin manager in the administrative panel provides professional and intuitive administration.
Furthermore, the continually evolving ecosystem of the Shopware Community Store is a crucial factor in the product's success. When planning your online store, it's wise to discuss with your developer or e-commerce agency and verify whether you can find interesting plugins there to extend your project with additional features, possibly yielding unexpected returns on investment in a short time.
The modular structure also means that your e-commerce agency or developer can create custom extensions as needed, providing unique, individual solutions that can give you a competitive edge in your industry.
Efficiently Manage Media
Media management in Shopware 6 has been thoroughly considered to optimize workflow and reduce operational time. It includes a clear module for centrally managing all media in the online store, maintaining performance even with a large volume of media. Media can be assigned to appropriate categories and filtered as needed. Moreover, the navigation displays where exactly the media is currently in use.
Before starting your project, it's essential to address the issue of files, such as images (product images, category images, images for "Erlebniswelten," video files, or downloadable PDFs). Prepare a file database in advance that you can provide to your developer before starting work. This will allow the designer to incorporate some elements into the site design, visualizing its appearance better. Also, remember to ensure sufficient server space, especially if you have many files (e.g., instructional videos for each product or group), and optimize page loading speed.
Pay Attention to the Highly Efficient B2B Overlay
Shopware 6 has another significant advantage, an incredibly efficient B2B framework with a rich set of features. The B2B overlay is included in the commercial versions of Shopware and offers many features important for the B2B model. These include customer-centric pricing options, fast ordering, contact and address management, extensive control over permissions and roles, and budgeting processes. With substantial integration capabilities, the B2B overlay adapts well to different business models and optimizes workflows, even in the largest companies.
If your business model involves B2B sales and collaboration with wholesalers or large customers to offer custom sales terms, it's worth considering this feature and evaluating if it's the ideal solution for you.
Efficiently Manage Sales Channels
With easy product uploading to sales channels, you can centrally manage them, whether it's your online store, physical retail locations, social media networks, or sales platforms like Amazon, eBay, Yatego, Hood, or others. You can individually assign different languages and currencies to sales channels, which is especially crucial if you have sales in multiple countries. The API interface allows you to connect to other sales channels at any time.
This feature is of great importance to online sellers who started on sales platforms and want to promote their own online stores over time. They still value diversifying their revenue sources and wish to continue simple and central management of different sales channels, even considering the opening of new sales channels, such as through social media (e.g., Facebook Shop). 
Lastly, Don't Forget About SEO
Search Engine Optimization (SEO) is a crucial but vast topic. A poorly executed redesign of an online store can lead to issues with Google search rankings (SERP). While this topic may be somewhat less relevant when creating an entirely new online store, the necessary links will be created from scratch. However, it's essential to consider on-page and off-page SEO efforts (ALT tags for images, H1 headers, content marketing, backlinks, etc.) and discuss all necessary actions with an SEO agency in advance.
If you are redesigning an existing online store (e.g., from different software), you must ensure that the internal link structure is replicated, and if necessary, create a redirection map so that Google robots can attribute old URLs to new ones without losing their history and ranking power in Google search.
About the authors
Designing and developing an online store can be a fantastic adventure, and for the agency working with you, it can be a fascinating challenge. In our company, CRYSTALCOMP, we've been through this many times.
Therefore, it's crucial to rely on proven practices from the very beginning and adhere to possible recommendations, but never forget one thing – always look to the future. It's said that standing still paradoxically means moving backward, and there's some truth in that saying. Hence, choose software for your e-commerce business that allows you to confidently face future challenges and keep up with technological advancements.
Notably, this includes the rapidly developing field of artificial intelligence and intriguing augmented reality. By choosing Shopware 6 software and following "important benefits," you can achieve more than you initially envisioned. Features like the rule builder, flow builder, digital sales rooms, or AI copilot are just a few of the offerings from this software. And undoubtedly, there will be more to come soon.
***